Bloomberry Plans To Buy South Korean Island, Casino Operator
Posted on: March 17, 2015, 04:14h.
Last updated on: March 17, 2015, 04:14h.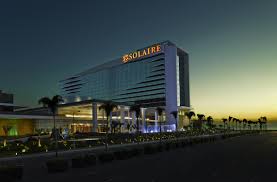 South Korea could be the next big target in the world of Asian casinos, especially if Japan doesn't pass the casino gaming bill that so many operators have been hoping to take advantage of.
The Philippines' Bloomberry Resorts Corporation could be looking to get into South Korea sooner rather than later, as the company announced Tuesday that it wants to purchase both an island and a casino operator in South Korea.
Right now, Bloomberry operates online in the Philippines and operates a South Korean subsidiary, Solaire Korea.
It's Solaire that appears to be the company directly involved in the purchase, as they have apparently signed an agreement to purchase as much as 92 percent of Golden & Luxury Co Ltd., which already owns and operates T.H.E. Hotel & Vegas Casino on Jeju Island.
Island Purchase Could Provide Location for Future Resort
That purchase was combined with another deal that will see Bloomberry purchase Silmi Island, which contains over 51 acres of land, which is part of the Incheon Free Economic Zone just west of Seoul. No prices were announced for either purchase, and the transactions still have to be subjected to government regulations before they can be finalized.
Right now, Bloomberry operates and owns the $1.2 billion Solaire Resort and Casino on Manila Bay. However, the company says that they will be looking to expand into other Asian markets in the near future.
"We are now slightly shifting our focus to other destinations," said Bloombery Chairman Enrique Razon in a statement. "Although this will happen in the next few years, it is good business to start prospecting, and Korea is a likely choice because of its positive investment climate."
It appears that the plan for Bloomberry will be looking to build a tourism complex on the island, one that would include a variety of entertainment facilities. Jeju Island shows that such a plan could be successful: it attracted 2.3 million foreign tourists last year, with 1.8 million coming from China.
South Korea Hopes New Casinos Can Boost Tourism
South Korea has already announced plans to approve two more casinos in an effort to promote foreign tourism. Operators will be expected to invest at least 1 trillion won ($885 million) in their facilities if their plans are approved. For some firms, a decision to invest may come down to whether or not South Korea would allow locals to play at the new casinos: at the moment, there is only one small casino in the nation that allows South Koreans to play, while all others are foreign-only facilities.
Regardless of whether or not Bloomberry manages to build a casino on Silmi Island, analysts say that the general expansion plan will likely be good for the firm.
"Having more presence outside the Philippines would bode well for the company," said Luis Limlingan, an analysts at Regina Capital Development Corp. "They can tap more Koreans, Chinese, and Japanese."
Razon is one of the richest men in the world, ranking second in the Philippines and 29th on Forbes' most recent list of the world's billionaires. That could make Bloomberry a serious player in any bidding process in South Korea or other Asian markets should other expansion opportunities present themselves to the company.