Kazuo Okada Launches Strange Social Media Campaign to Regain Universal Control, Pledges $890K Giveaway
Posted on: March 15, 2019, 09:41h.
Last updated on: March 15, 2019, 09:41h.
Japanese-born billionaire Kazuo Okada is turning to social media in an effort to regain control of Universal Entertainment, the gaming conglomerate he founded 50 years ago.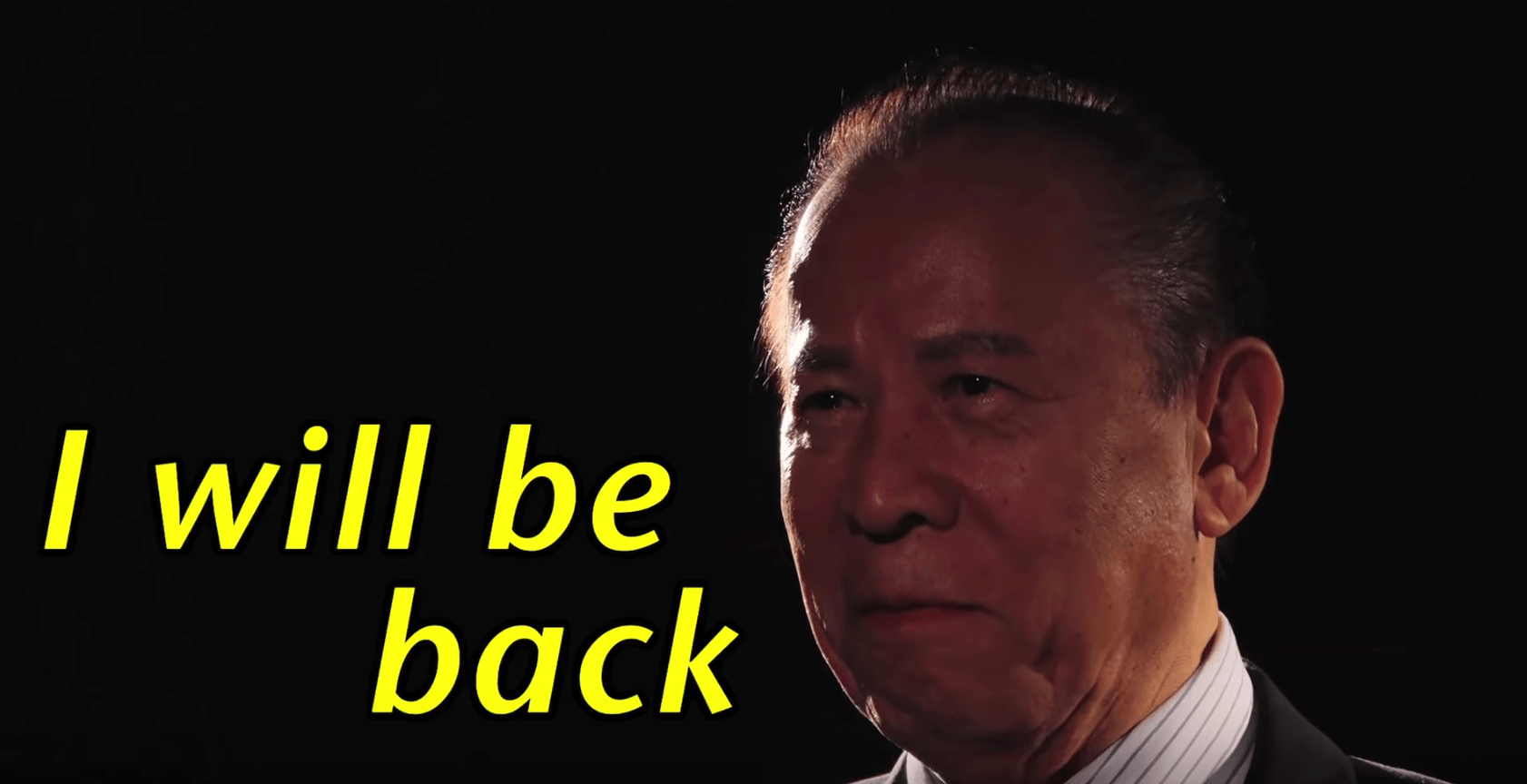 Worth an estimated $2 billion by Forbes, Okada, a Hong Kong resident, launched a YouTube channel and Twitter account this week.
His first video begins in a "Terminator" stylized theme with the same perilous music made famous by the Arnold Schwarzenegger film. Okada emerges from the shadows and declares, "I will be back!"
The billionaire almost seems to chuckle after delivering his line. Following the four spoken words in English, the YouTube video transitions to Okada's native language.
Per Inside Asian Gaming, Okada – who in the clip displays a JPY 100 million check ($890,000) – tells viewers that one of his social media followers will receive the money. He doesn't, however, divulge into specifics as to how one might win the cash.
The "pachinko king" did say that the only way the money would be paid out is if he returns to chairman of Universal Entertainment. As of Friday afternoon, Okada had around 540 YouTube subscribers, and more than 3,500 followers on his accompanying new Twitter account.
There's a learning curve to social media for the 76-year-old. His third tweet explained, "Currently studying hashtags, replies, and so on. Please forgive me for a while."
Name Cleared
Okada made his fortune through the Aruze Corporation, a manufacturer of pachinko and slot machines, as well as arcade games. Aruze later became Universal Entertainment, and today it serves as the parent company to the manufacturing business, as well as the company's $2.4 billion Okada Manilla integrated resort in the Philippines that opened in 2016.
Okada was also an early investor in Wynn Resorts to the tune of $380 million, or roughly 20 percent of the Las Vegas company.
Steve Wynn disassociated from the Japanese billionaire in 2008 after he was accused of bribing officials in the Philippines to gain licensure for the Manila resort. Wynn Resorts subsequently forced Okada out and issued him a note, which it paid last year at a cost of $2.4 billion.
Okada's own children and wife ousted him from Universal in June 2017 after he was accused of unlawfully taking HK$135 million ($17.2 million) from the company to purchase artworks for his own personal use.
The Hong Kong Independent Commission Against Corruption "unconditionally" released Okada in February on the fraud allegations. Now, he wants reinstated at Universal.
Name Change?
Despite Kazuo Okada again a free man, Tiger Resort Leisure and Entertainment – the Universal subsidiary that oversee operations at Okada Manila – is considering renaming the casino resort.
The company said the goal is to grow revenue "on a clean, untarnished slate."
Traded on the Tokyo Stock Exchange, shares of Universal Entertainment were at this time last year around JYP 5,000 ($45). Today, they are around $30.