Big Bets Placed on Gennady 'GGG' Golovkin vs. Canelo Alvarez
Posted on: September 15, 2017, 11:00h.
Last updated on: September 15, 2017, 08:39h.
Gennady 'GGG' Golovkin and Canelo Alvarez step into the ring at T-Mobile Arena on Saturday night in Las Vegas, and sportsbooks in the city and around the state are beginning to take big wagers on the fight's outcome.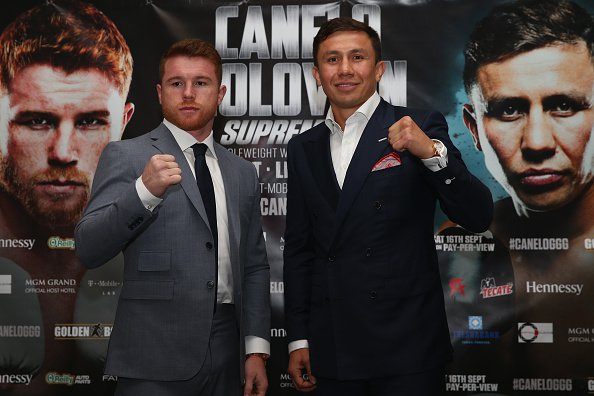 Several low six-figure bets have been placed in Sin City on the boxing match, with money relatively evenly distributed between the favorite and underdog.
The Westgate SuperBook currently has GGG the favorite at -150. A winning $100 bet on the 35-year-old nets the bettor $66.67. The moneyline implies the favorite having a 60 percent chance of coming out on top.
The younger Alvarez (27) is the underdog, currently listed at +130. A $100 bet returns $130 should Canelo emerge the victor. The line means oddsmakers are giving him a 43.48 percent chance of winning.
Though MGM says it has taken a couple six-figure wagers on GGG, the sportsbook isn't providing specifics on the bets. The largest slip made public came at a CG Technology sportsbook. The race book operator says it took an $80,000 bet on Golovkin on -160 odds, as well as a $77,500 wager on the same fighter.
CG Technology operates the sportsbooks at numerous Las Vegas casinos including The Venetian and Palazzo, Cosmopolitan, Tropicana, and Palms.
An Actual Fight
Boxing purists are more than thrilled to get back to real boxing after Floyd Mayweather and Conor McGregor consumed sports media for what seemed like the past year. Though the hyped spectacle was more competitive than many predicted, Money was seemingly in control the entire time against the mixed martial arts superstar, especially after the early rounds.
Golovkin vs. Alvarez returns the sport to its roots, and fans and boxing experts are readying for a great contest.
Tale of the Tape
Saturday, September 16 at 7:30 pm ET. Live on Showtime PPV for $79.99
Alvarez is 49-1-1 (34 KO) during his career. The 5'9″ orthodox fighter from Mexico is a three-time world champion in two weight classes. His only loss came in 2013 against Mayweather, where he was deemed the loser in a 12-round majority decision.
Golovkin, also orthodox, enters the fight a perfect 37-0 record that includes 33 knock outs. The 5'10" boxer from Kazakhstan is the present title holder of the unified WBA and IBF middleweight belts.
Saturday's fight will mark Golovkin's first time fighting in the state of Nevada.
Showtime Predictions
Showtime's first pay-per-view fight following Mayweather vs. McGregor of course won't come close to the record setting event. But the premium cable network is still hoping for strong sales.
It will be Golovin's fourth PPV fight, his biggest home viewing audience coming last September when he defeated Kell Brook. That fight attracted 500,000 PPV buys on HBO in the US, and Sky Sports in the UK.
Saturday will be Canelo's eighth PPV offering, his largest audience of course coming in 2013 when he took on Mayweather. That event pulled in over 2.2 million buys to create revenue of over $150 million.
Unlike Mayweather vs. McGregor, T-Mobile Arena is already sold out.