Bellagio in Las Vegas Lights Up with Boutique Roof Blaze, Firefighters Respond Quickly
Posted on: April 14, 2017, 09:50h.
Last updated on: April 14, 2017, 10:15h.
A dramatic-looking Bellagio shops rooftop fire on Thursday night was quickly extinguished by Clark County firefighters, but the incident created chaos along the Las Vegas Strip, causing a traffic shut down for several hours. As many as 77 fire personnel responded with 10 engines to a situation that the assistant fire chief later described as "extremely difficult" to fight, due to its location.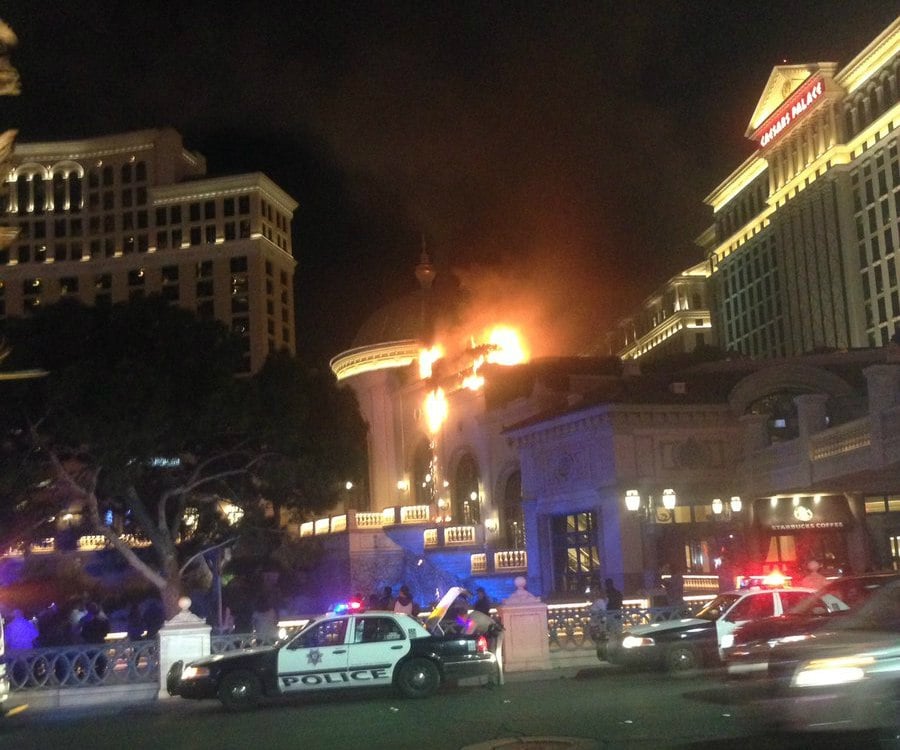 Beginning late Thursday night, blazes raged from atop the roof above Bellagio's upscale retail shop enclave. Fire trucks were quickly on scene, and the inferno was put out in less than a half hour.
In what's being praised as a very speedy and efficient response, Clark County firefighters were at the Strip casino just four minutes after being called at around 10:45 pm local time. Part of Las Vegas Boulevard was temporarily shut down, and onlookers watched and shot video in concern, but there was minimal damage to the building and no casualties or injuries.
"Our guys who work in this area of town knew this hotel like the back of their hands," Clark County Fire Department Deputy Chief Roy Session said afterwards. A dozen firefighters are being credited for extinguishing the blaze.
Bellagio Smash-and-Grab
It was the second time in less than a month that the iconic casino got publicity for all the wrong reasons.
Though Danny Ocean's team, of the 2001Ocean's Elevenfilm, landed over $160 million in its fictitious sting that stretched the bounds of believable reality, a recent real-life event prior to the fire was more bizarre than lucrative in its outcome.
It was just March 25 when three burglars armed with sledgehammers broke into Bellagio's high-end jewelry store and Rolex retailer Tesorini. Concealing their faces with bizarre animal masks, the robbers smashed jewelry cases of the store shortly before 1 am local time, reportedly stole watches and jewelry, and then fled on foot.
One suspect was apprehended on the scene, while the others (two additional from the store, plus presumably a getaway driver) remain at large. Authorities noted that those who escaped had aimed what looked like a gun at a security guard before fleeing the casino's parking garage.
It's been a difficult few weeks for Tesorini. The store is also in the area under where the Bellagio roof fire broke out last night.
Burning Las Vegas 
It remains unclear what precisely caused the Bellagio rooftop fire last night. Authorities told reporters that the roof had a lot of Styrofoam on it, which helped control the fire from spreading below into the actual building. For certain, past flames in the tourist resort have taught professionals many lessons in the importance of quickly extinguishing incidents before they turn into out-and-out disasters.
The shops themselves were not damaged on Thursday night, as the fire was contained to the exterior, due to the quick response of fire fighters and the crews' experience in dealing with this kind of problem. Monetary damage hasn't yet been calculated, but it appears serious damage was averted. In 2008, a fire at the Monte Carlo caused $100 million in damages.
The most infamous Las Vegas fire (and the third-worst ever in US hotel history) remains the MGM Grand fire of 1980, in which 85 people perished, primarily from smoke inhalation. That site has since been converted into what is now Bally's, while the MGM itself reopened after it moved further south on the Strip.
Recent Bellagio Busts
In 2011, the "Biker Bandit" received three to 11 years in prison for his $1.5 million chip heist that he executed by driving his motorcycle onto the casino floor. Anthony Carleo said he got mixed up in drugs once he came to Las Vegas to attend UNLV, and his addiction led to his actions.
And just last November, two Bellagio craps dealers were convicted and sent to prison for participating in a $1 million long-running scam at the dice tables. Along with two outside accomplices who placed the bets, the dealers would take late wagers from the involved gamblers when others weren't looking.
Similar Guides On This Topic