Bally's Could Pay $100 Million+ for Trump Bronx Golf Course
Posted on: September 28, 2023, 10:32h.
Last updated on: September 29, 2023, 09:34h.
The Trump Organization, the business conglomerate controlled by former President Donald Trump's family, could reap a windfall in the sale of its lease on a Bronx, NY golf course to Bally's (NYSE: BALY).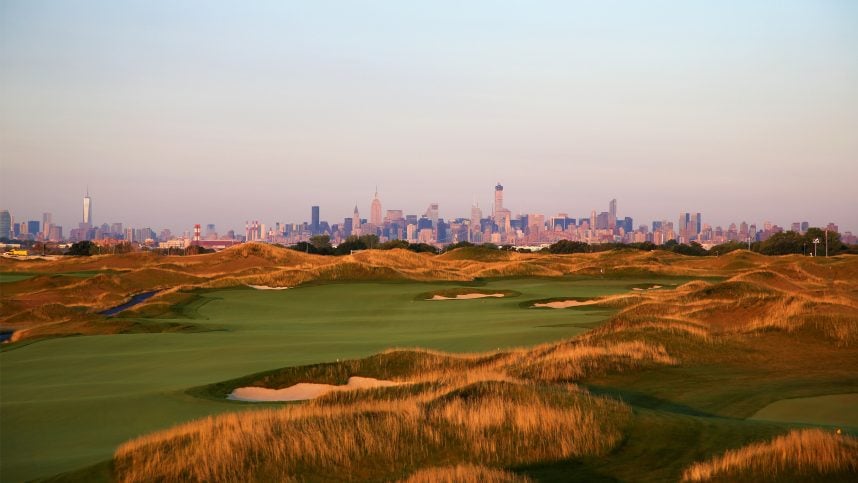 It was reported earlier this month that the regional casino operator will acquire the lease on Trump Golf Links at Ferry Point in hopes of eventually constructing a casino hotel there. At that time, financial terms of the transaction weren't disclosed, but it was expected to be in the tens of millions of dollars. Earlier Thursday, the New York Post reported that the deal could be worth $100 million or more.
Unidentified sources close to the deal told the Post that the 45th president's son, Eric, led the negotiations for the Trump Organization and was steadfast in his efforts to extract the best price possible from Bally's, but an agreement was supposedly struck in the $100 million ballpark because the Trump team was afraid that if negotiations lingered much longer, the deal would collapse.
The Rhode Island-based regional casino operator intends to Strip the Trump name from the course and operate it until it lands a downstate casino permit — something that's not guaranteed to happen.
Bally's Faced its Own Time Crunch
Earlier this week, New York Judge Anthony Engoron ruled that the Trump Organization is liable for fraud and that he'll attempt to strip the company of its licenses to do business in the state. That stems from a case brought by fervently anti-Trump New York Attorney General Letitia James, a Democrat who in 2018 campaigned on suing the then-sitting president.
While Engoron seems intent on ignoring the fact that the Trump Organization repaid all of the loans it received from banks based on allegedly inflated property values, it was believed the case could weaken the company's hand in its dealings with Bally's.
However, the gaming company was up against a time crunch of its own. If it didn't cement an accord to acquire the golf course lease from the Trump Organization, it would later have to buy the lease out of receivership — a significantly longer process.
Having the lease in hand is essential to Bally's fortunes in the New York City casino race because regulators are mandating that bidders have proposed sights identified and under contract prior to bidding for the permits.
Bally's Now Playing Waiting Game
Assuming that an accord with the Trump Organization is officially reached, Bally's checks at least one box in its quest to procure a New York City casino license. Additionally, the operator is already attempting to gain favor with local leaders by announcing plans for a shuttle bus to bring more visitors from other boroughs to the Bronx, and pledging to set aside a portion of the golf course to be used as parkland for public consumption.
After submitting a formal bid for a downstate license, Bally's and its rivals will enter a holding pattern because it could be a year or more before regulators announce the three winners.
Previously, Bally's wasn't viewed as one of the leading contenders, but that door may be more ajar than it was previously owing to speculation that a scandal involving former MGM Resorts executive Scott Sibella could hurt that company in the bidding process.