Average Macau Casino Visitor is 36, Male, Earns $34,000 Per Year
Posted on: October 11, 2017, 02:00h.
Last updated on: October 11, 2017, 02:25h.
Macau's average gambler is a 36-year-old male, hails from one of China's most economically developed cities (such as Shanghai, Beijing, Guangzhou or Shenzhen) and earns 19,000 Chinese yuan, or US$2,900 per month.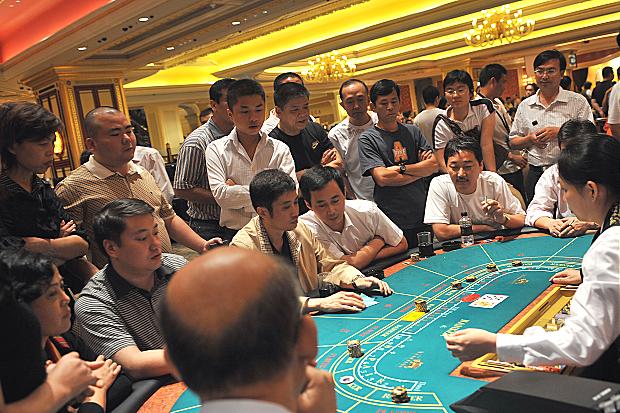 His gambling budget is US$3,035 per trip.
That's according to a study by analyst Sanford C. Bernstein and Co, which aimed to "dig into the characteristics of premium demand" in the world's biggest gambling hub.
"Premium" is a term used by the gaming industry in Macau to denote patrons whose earnings exceed 25,000 yuen, or around per $3,700 per month.
Macau is the largest premium market in the world and the analysts believe the market will expand over the next five years by a compound annual growth rate [CAGR] of more than 25 percent. Nevertheless, Macau casinos' penetration into the mainland consumer market was still low, at around 5 percent of the "addressable market."
Demographic Increasing
Macau has pivoted from its previous reliance on the high-rollers that once accounted for some 60 percent of all revenues, following a crackdown launched from the mainland against graft and ostentatious displays of wealth. The premium market remains key to sustaining growth for the enclave.
"Premium customers remain critical for long-term Macau growth, as wealthier customers spend more and visit more frequently: and the population of this demographic is increasing," said the report.
"Over the next 10 years, Macau is estimated to have 6.4 percent CAGR in gross gaming revenue, with VIP CAGR of 4.8 percent and mass CAGR of nearly 8 percent. The key driver of mass will be premiumization."
Fly in the Ointment
According to the survey, factors most important to the premium customer in choosing where to were "the casino environment," the quality of the hotel rooms, and the non-gaming amenities available.
"Due to its large hotel room presence and critical mass, properties owned by Sands [China Ltd] are, unsurprisingly, the most frequented, while Melco and Wynn have the highest percentage of higher-income customers, while SJM customers are getting older," suggested the report.
Last month, however, Sanford C Bernstein noted a "significant uptick" in anti-graft activity by Chinese authorities, a factor that could potentially damage premium spend, it warned. This represented more of a "fly in the ointment than an outright red flag" but it felt "noteworthy," to the analyst, nevertheless.