Atlantic City Casinos Cut Over 4,200 Jobs, More Reductions Likely
Posted on: August 19, 2020, 04:22h.
Last updated on: August 20, 2020, 08:52h.
Atlantic City casinos are employing fewer people this summer because of  the COVID-19 pandemic, and many more permanent reductions could be on the way.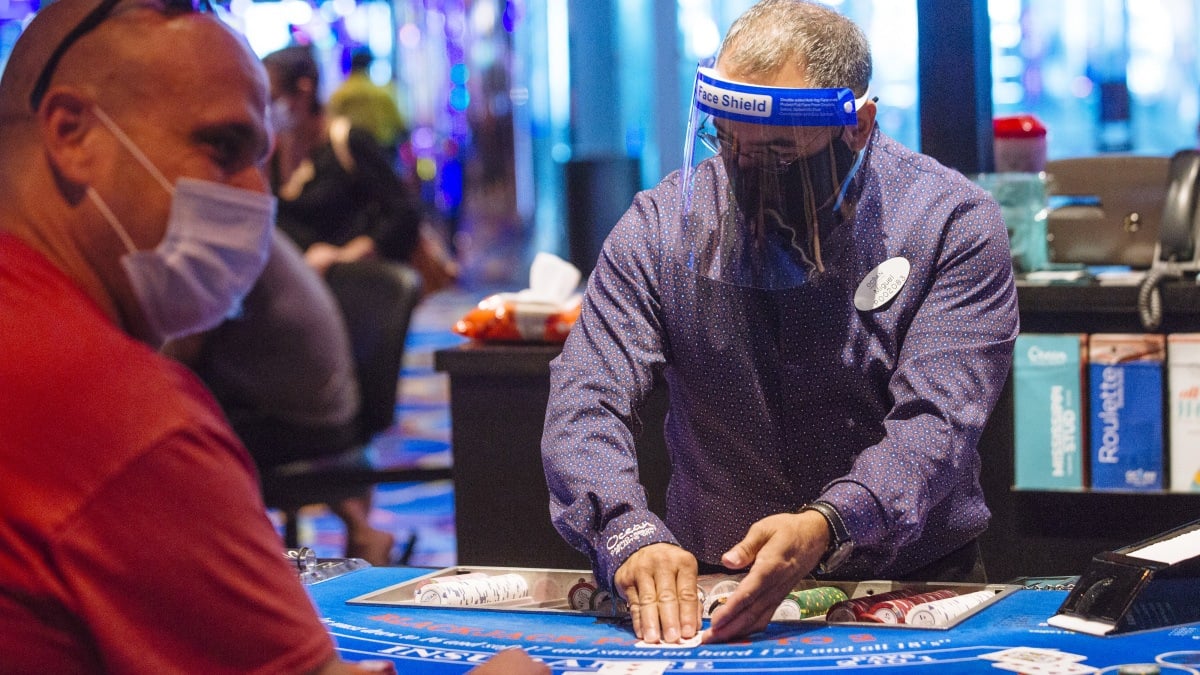 Nine Atlantic City casinos collectively employed 24,880 people in July. That's down 4,261 positions compared with the same month in 2019, according to statistics released this week by the New Jersey Division of Gaming Enforcement (DGE).
The majority of the nearly 25,000 employed workers on the casino books remain furloughed and off the clock.
We may only be down about 5,000 [jobs], but there's a lot more than 5,000 who aren't working," explained Bob McDevitt, president of the Unite Here Local 54 casino union.
The union leader added to the Press of Atlantic City that "less than 50 percent" of his organization's members are back to work.
MGM Resorts' Borgata remains the top employer in the New Jersey gaming industry, the Marina District casino's workforce numbering 5,449. Hard Rock is a distant second at 3,557 workers.
More Layoffs Anticipated
Atlantic City is open, but barely. Anyone who has visited recently is finding a much different Boardwalk, one that few will prefer compared to the pre-coronavirus casino town.
Casinos are capped at 25 percent of their maximum occupancy, indoor dining remains off-limits, and food and beverage remain prohibited on the gaming floors. Casino analysts say these limitations and regulations will lead to more firings unless quickly eased.
Most of our restaurant workers are just sitting out there waiting," continued McDevitt. Caesars Entertainment Regional Manager Steve Callender, who also presides over the Casino Association of New Jersey, added, "We need indoor dining."
"This is a critical moment for our industry. Atlantic City has seen strong gains in recent years, which were abruptly halted because of this global health and economic crisis," Callender stated.
Bleak Winter 
The DGE employment report breaks down the numbers by full and part-time workers, as well as another category, simply titled "Other." In the "Other" grouping, the number of workers includes those who remain on furlough.
Of the 24,880 total Atlantic City casinos have employed, 8,582 — or 35 percent — fall into the "Other" category. 14,852 were full-time employees in July, and 1,446 were part-time workers.
Gross gaming revenue in July was $248.6 million, a 23 percent year-over-year decline. Casino win at the brick-and-mortar casinos in Atlantic City fell nearly 47 percent to $147.7 million. Internet gambling revenue helped offset some of the massive land-based losses.
Atlantic City doesn't have the luxury of year-round good weather like Las Vegas. The New Jersey oceanside town always has a seasonal adjustment with its workforce figures. But the fall and winter of 2020 is expected to see a dire decline in numbers.
Similar Guides On This Topic