Atlantic City Betting on College Students to Spur Revitalization
Posted on: December 23, 2016, 03:00h.
Last updated on: December 23, 2016, 12:35h.
Atlantic City locals are hoping a satellite campus being built by Stockton University will help reenergize the beachfront community and bring a new sense of optimism to the region.
The gaming capital of the East Coast is struggling to retain that title as casinos have spread across the northeast. Revenues have plummeted from $5.2 billion in 2006 to just over $2.5 billion last year.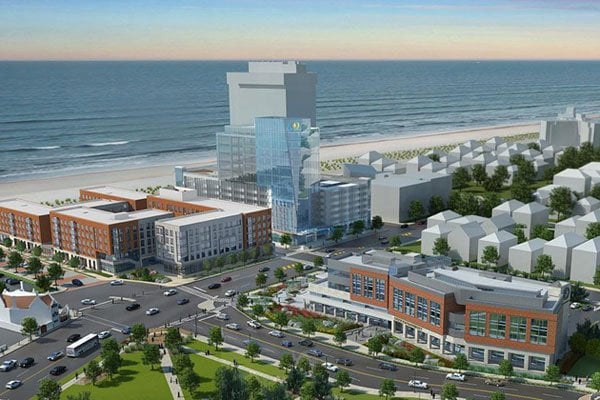 Stockton University, a New Jersey state public institution based in Galloway some 15 miles from the Boardwalk, is building a $180 million remote campus dubbed the Gateway Project. The satellite property will house roughly 1,000 students and come with classroom space to accommodate 1,800.
The campus will be located at the site of the old Atlantic City High School at the intersection of Atlantic, Albany, and Pacific avenues. Stockton's facility will be just steps from the shuttered Atlantic Club Casino Hotel, which was the first of four casino casualties in 2014.
Drexel University Hospitality and Gaming Professor Robert Ambrose is optimistic Stockton's investment to Atlantic City will entice new gaming companies.
"My hope is that once the Stockton project is developed it will create an interest, increasing its value," Ambrose told the Press of Atlantic City. "And perhaps this property will have another life."
Atlantic City Vital Signs
Stockton University remains committed to Atlantic City. The school traces its roots back to the Mayflower Hotel where classes were first held in 1971.
The university also has obvious reasons for building in the struggling town. Like the University of Nevada Las Vegas, Stockton's hospitality program is revered for allowing students to experience a hands-on learning curriculum.
The Levenson Institute of Gaming, Hospitality and Tourism provides students with the chance to operate a full-fledged resort while still pursuing their degrees. Stockton took ownership of Seaview in 2010, a famed hotel and golf vacation destination.
Keeping Atlantic City relevant is of utmost concern to Stockton. Prospective students have an array of factors when considering a college, and choosing a campus situated in the middle of a town littered with vacant buildings isn't good for business.
Second Time's the Charm
Stockton's initial plan was to set up shop at the closed Showboat that Caesars shuttered in 2014 to reduce competition at its better performing casinos. The university purchased the north Boardwalk venue for $18 million in December of that year.
But a deed restriction required the property to function as a casino. After Carl Icahn's neighboring Trump Taj Mahal refused to lift the control in fears of having college students living next to its resort, Stockton sold the Showboat to Philadelphia developer Bart Blatstein.
Icahn later released the Showboat's casino mandate and the building is now a hotel-only facility.
Though businessmen like Icahn and TEN (former Revel) owner Glenn Straub say officials in Atlantic City are doing nothing to spur economic growth, the Atlantic County Improvement Authority provided over $50 million in bonds for Stockton's project.
Housing 1,000 or so college students certainly won't be the answer to the billions of dollars gone missing in Atlantic City, but the campus could turn the tide on the town and encourage new growth.