Aruze Gaming Debuts 'Rock, Paper, Scissors' Slot Machine at Global Gaming Expo
Posted on: October 15, 2022, 12:08h.
Last updated on: October 14, 2022, 06:55h.
Aruze Gaming unveiled its latest slot machine at this week's Global Gaming Expo (G2E) in Las Vegas. And the innovative terminal is based on a hand game said to have originated in China thousands of years ago.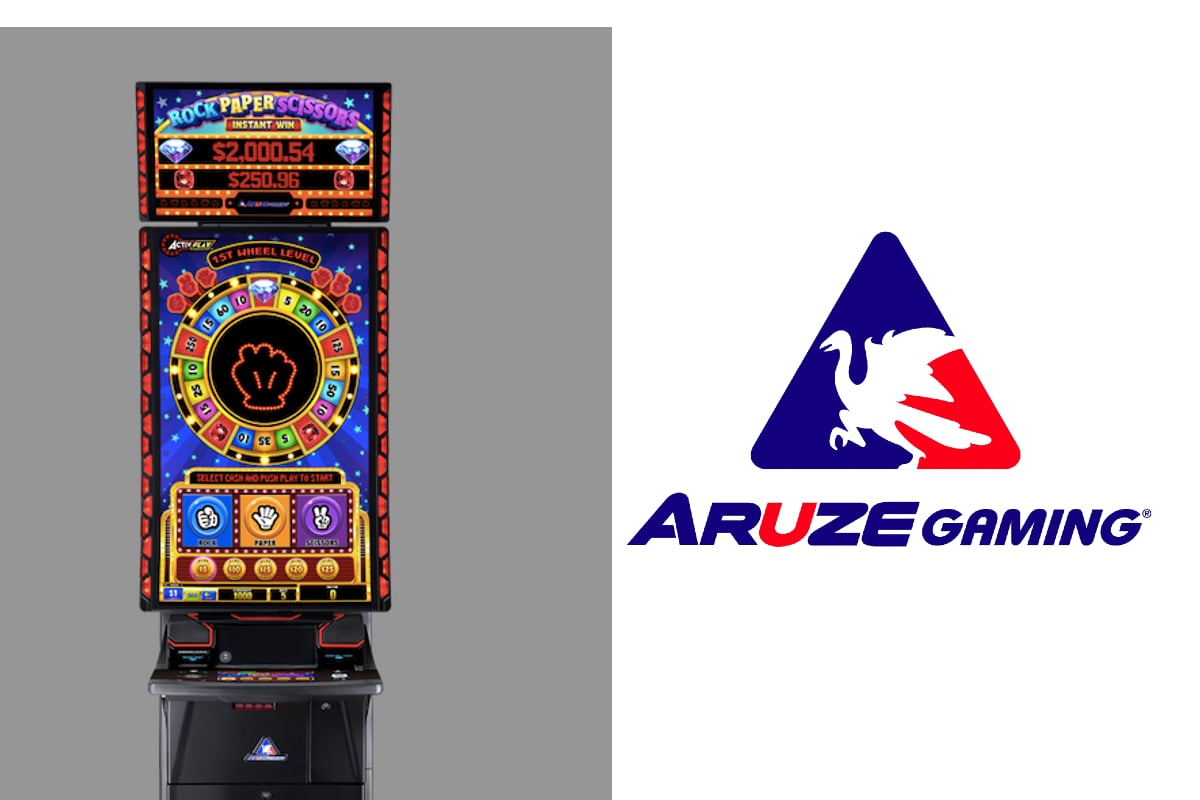 Aruze Gaming, a Japanese-based gaming manufacturer with its US office in Las Vegas, debuted "Rock Paper Scissors Instant Win" for its "Muso Curve 55HB" slot cabinet. Aruze released the new game on the final day of the 2022 G2E.
Rock Paper Scissors Instant Win brings a school-yard pastime to the casino floor. Based on the hand game, which is also called Rochambeau, the slot game challenges players to correctly guess whether the machine will display "rock," "paper," or "scissors" on the next play.
Who would have thought that a game as simple as rock, paper, scissors could be turned into a high-energy, rewarding game that people want to play over and over again. It's the perfect addition to our suite of games," said Lesley Hodges, Aruze's senior director of marketing.
With each win, Aruze says Rock Paper Scissors players receive a prize. Ties go in the player's favor by allowing another round at no cost. Prize values also go up with each tie.
RPS Shoot
The world's leading casino operators and gaming manufacturers did their best to "wow" G2E attendees, which was the convention's largest gathering since 2019. Along with its rock, paper, scissors game, Aruze unveiled a new craps game this past week.
Aruze's RPS product leverages a game that is familiar around much of the world. Rock, paper, scissors is said to trace its origins back to China's Han dynasty around 206 BCE (Before Common Era).
The game quickly spread throughout Asia and became popular in Japan, where it became known as "Sansukumi-ken" — or "fist games."
It was many years later that rock, paper, scissors made its way to the US. One of the game's earliest references stateside came in a 1932 article in The New York Times describing how the popular game in Asia is played.
Since then, RPS in the US has predominantly served as a tie-breaker. Two players count aloud "rock, paper, scissors" or "one, two, three" and then simultaneously say "shoot" or "go." Each player throws either rock, paper, or scissors.
There are four potential outcomes: rock beats scissors, paper beats rock, and scissors beats paper. The other potential outcome is a tie.
Game of Skill, Not Only Luck
While some believe the rock, paper, scissors game has equal odds not unlike the flip of a coin, psychologists say there is indeed a strategy to the game when it's played face-to-face. Psychologists involved in a 2014 study published by Cornell University found that players can obtain an advantage in RPS when playing head-to-head.
Researchers found that players should expect repetition from their opponent in that the person opposite will want to throw the same weapon in consecutive plays. The study also found that when a player loses, they more often change their weapon on the following play.
RPS newcomers or infrequent players also tend to throw rock more than paper and scissors.
Unfortunately for future RPS slot machine players, it will be difficult if not impossible to gain an upper hand on the terminal, as the device uses a random number generator — aka computer — to select its weapon each play.