Arizona Regulators Crack Down on Slots-Like Bingo Machines
Posted on: October 10, 2023, 04:33h.
Last updated on: October 11, 2023, 12:37h.
Charitable organizations in Arizona appear to have been misled about the legality of slots-style electronic bingo machines in the state, and regulators are cracking down.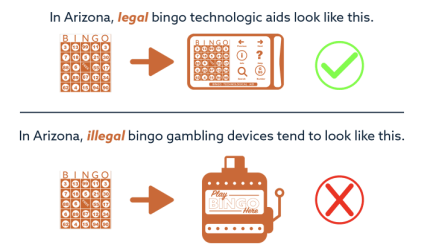 Hundreds of electronic bingo machines have been deployed by charities such as the American Legion and Veterans of Foreign Wars, but state regulators have consistently said that such devices are illegal. The owners of the primary company marketing the devices to Arizona charities are facing criminal prosecution, and regulators are warning charities that they risk legal trouble if they keep the machines in place.
"Possession of a bingo gambling device remains a crime," the Arizona Department of Gaming warned in a recently released notice to bingo licensees (emphasis in the original).
At least 17 facilities around the state have received visits from state regulators tasked with enforcing gaming laws and licensing bingo establishments since September 1. That's when those agencies sent a letter to licensees highlighting the concern, according to news reports.
Arizona law authorizes only traditional live-call bingo games, in which someone pulls balls and calls numbers in front of a group of players. The electronic devices at issue function similarly to slot machines, and allow individuals to play at any time, although their results are based on bingo pulls fed into the machines by employees of the charities where they are located.
2017 Law at Issue
The current showdown stems from a 2017 law that allowed charitable bingo providers to provide electronic devices, in narrow circumstances, to comply with the Americans with Disabilities Act.
According to that law, bingo players should be able to use an electronic tablet if a disability prevented them from marking a paper card. But the law wasn't intended to allow for the proliferation of de facto slots parlors at lodges around the state.
At least, that's how it was presented at the time by its chief sponsor, State Sen. Sonny Borrelli (R), and others involved in drafting the legislation.
All this is really doing is allowing these nonprofits to use a technological aid for somebody that actually complies with the ADA," Borrelli said at a 2017 hearing on the legislation, known as Senate Bill 1180.
Allowing charities to deploy slots-style devices would risk violating Arizona's gaming compact with the state's Native American tribes, which have exclusive rights to offer casino-style games, advocates warned at the time.
Shifting Justifications
Borrelli has since changed his tune and is now accusing the state of going after veterans groups that have come to rely on the revenue from the machines. Borrelli is a conservative Republican who has helped spread the theory that the 2020 presidential election was stolen from Donald Trump.
At a press conference earlier this month, Borrelli surrounded himself with veterans. He released a statement accusing state officials of "sacrificing Arizona's veterans" to benefit tribal casinos.
"That  allegation is as incorrect as it is offensive," wrote Arizona Department of Gaming Director Jackie Johnson and other regulators in a letter to Borrelli after the event. "What we are actually doing is protecting Arizonans,  including veterans and seniors, from unregulated, potentially predatory gambling machines that  are not properly audited or monitored, which is our statutory mandate."
Regulators have been consistent in their interpretation of the law through the administrations of former Republican Gov. Doug Ducey and current Democratic Gov. Katie Hobbs, who was elected last year. In a  2017 notice, regulators warned that electronic bingo devices remain illegal, using similar language to the notice issued this year, although the on-site inspections are new. No charities have faced formal sanctions from the state for offering the machines.
Borrelli's office did not respond to a request for comment from Casino.org Tuesday.
Entrepreneur Being Prosecuted
Borrelli's legislation was written with help from a local gaming entrepreneur, who has boasted of selling millions of dollars worth of the machines to veterans groups and others in the state.
Greg Mullally, the founder of Lynxx Gaming, has boasted of his role in drafting the legislation, and  subsequently, "grossing well over $1M per month," in messages posted to an online message board.
This bill, one I wrote and which was carried through the legislature by Mohave County Senator Sonny Borrelli, will allow us to start placing gambling type equipment off the reservation in AZ," reads an August 2017 post to Mullally's profile on a message board for members of the Helena High School class of 1963.
The Arizona Republic first uncovered the message board posts. Mullally downplayed their significance in an interview with the paper.
Mullally and three other men involved in Lynxx Gaming are facing felony charges in Maricopa County related to the bingo machines. A trial is expected to begin next year.
A call to Mullally's lawyer seeking comment was not immediately returned on Tuesday.