American Gaming Association Recommends Repealing Sports Betting Ban
Posted on: September 24, 2016, 01:00h.
Last updated on: September 23, 2016, 11:22h.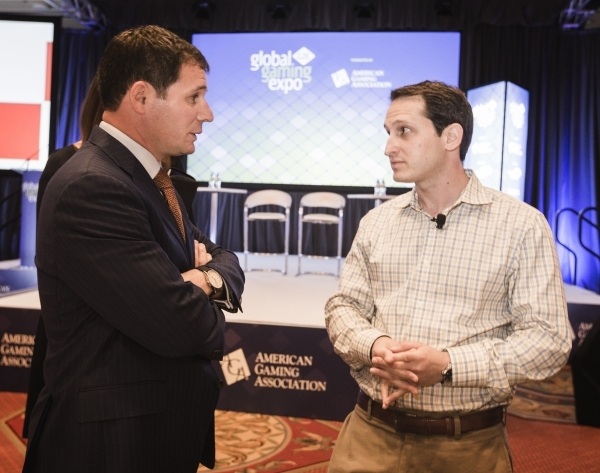 The American Gaming Association (AGA) is recommending to Congress that it repeal the nearly quarter-century old federal ban on sports betting.
The Professional and Amateur Sports Protection Act (PASPA) passed in 1992 prevented states from offering gambling lines on sports. Nevada, Oregon, Delaware, and Montana were granted special exemptions, as all four of those states were offering some variation of sports lotteries in 1992.
Now 24 years later, the AGA believes it's time to annul PASPA.
Last year, the AGA formed its Illegal Gambling Advisory Board (IGAB) led by former FBI Deputy Director Tim Murphy. This week, the board issued five conclusions as to why PASPA should be revoked.
Murphy's IGAB consists of former law enforcement officials now working to expose the massive illegal gambling black market in the United States.
"The current approach to sports betting in the United States is not working," Murphy said this week in a statement. "It's fueling criminal enterprises. The time has come to repeal the current sports betting ban and replace it with rigorous regulations that benefit states, protect consumers and maintain the integrity of the games."
PASPA Strikeout
In its "Law Enforcement Summit on Illegal Sports Betting," the IGAB opines that PASPA did precisely the opposite of what it intended to accomplish.
"Instead of curbing illegal betting, the law has driven sports betting underground, creating a thriving, $150-$500 billion black market with no consumer protection," the IGAB reports.
The IGAB believes illegal sports betting fuels criminal syndicates, and that an open, transparent, and regulated sports betting industry would deliver a blow to those rogue gambling rings.
Though the NFL, MLB, NBA, and NHL, along with the NCAA, recently won a federal appeals court decision against New Jersey to block the state from offering sports gambling, the leagues are slowly easing their hardline stances.
The NHL is bringing a franchise to Las Vegas for the 2017-18 season, and NFL owner Mark Davis is trying to bring his Oakland Raiders to Sin City. Leagues have traditionally opposed Las Vegas due to its legalized sports betting.
NBA Commissioner Adam Silver is also on board. "We have no idea what's going on and there's no transparency," Silver said in May. "I think it should be legal; I think it should be regulated; it should be transparent."
Canada Fighting Too
Sports betting in Canada is still illegal, but that was almost changed recently, almost.
Unfortunately for those looking to place wagers legally on sporting events in Canada, a bill to authorize single-game betting was rejected in the House of Commons this week.
The "Safe and Regulated Sports Betting Act" legislation failed 155 votes against to 133 in support.
Much like the AGA, the Canadian Gaming Association (CGA) has been campaigning for a governed sports betting industry.
"I regret that I don't have better news for Canadians," CGA President Bill Rutsey said in a statement. "Those who understand what is at risk, and the benefits that could exist by implementing regulation, are frustrated and dissatisfied by the vote."
The CGA estimates over $10.5 billion is wagered illegally on sports by Canadians each year.
Most Read