American Gaming Association Study Seeks "Rational Alternative" to US Sports Betting Regulation
Posted on: November 27, 2015, 09:00h.
Last updated on: November 22, 2015, 12:54h.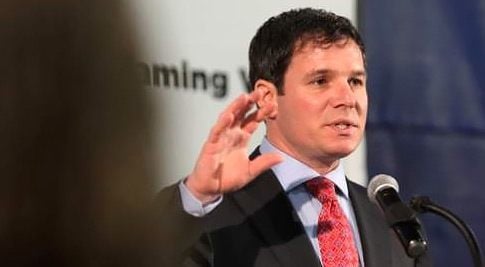 The American Gaming Association (AGA) has vowed to devote its resources throughout 2016 to the pursuit of "a rational alternative" to the US sports betting status quo.
The trade association said it would "build a broad coalition" that would explore different approaches to the current law through "robust research, aggressive communications and partnerships with a variety of voices with interest in sports betting."
The AGA'S position is that while only four states are permitted to offer some form of sports betting, with the vast majority of legal bets taking place in the casinos of Nevada, elsewhere a thriving black market in bookmaking helps to fund organized crime.
According to AGA estimates, Americans will spend $138.9 billion on illegal sports betting this year alone.
Crusade Against Illegal Betting
The organization has hardened its stance against illegal sports betting in recent months. Speaking at the recent Global Gaming Expo, AGA President Geoff Freeman presented a new study to demonstrate that illegal gambling was not a victimless crime.
Examining 40 federal gambling convictions throughout 2014, which included online and land-based sports betting, unregulated casinos and animal fight rings, the research found that a quarter of all cases were linked to organized crime gangs, from the New York and Philadelphia Mafia to Texas drug traffickers.
In each of these cases, an average of $3 million was seized, some of which would surely have been plowed into other criminal enterprises, said Freeman.
"The casino gaming industry is aligned that the status quo is unsustainable," he said in a press release earlier this month. "We look forward to working with law enforcement, sports leagues and other interested parties to consider effective approaches to protecting consumers and the integrity of sports."
Threat to Consumers
According to the AGA, possible solutions might include "strict regulation, rigorous consumer protections and robust tools for law enforcement to eliminate illegal sports betting and strengthen the integrity of games."
"The culmination of a thorough process within our industry positions us to work with a wide variety of stakeholders who agree that rampant, unregulated and illegal sports betting is a threat to consumers and the sports we enjoy," said Jim Murren, AGA chairman and MGM Resorts International chairman and CEO.
"As the head of the largest private sector employer in Nevada, I'm confident that the entertainment experience we provide in Las Vegas, which is unmatched anywhere else in the world, can continue to excel even as our country takes a fresh look at our approach to sports betting."
The AGA said it would work with gaming leaders, law enforcement officials, regulators, legislators, and professional sports leagues over the coming year in order to achieve its aims.