American Gaming Association Celebrates 10 Years of Online Casino Gaming in the US
Posted on: November 6, 2023, 10:21h.
Last updated on: November 6, 2023, 12:52h.
The American Gaming Association is marking a milestone. This month marks 10 years since the launch of online casino gaming in the US.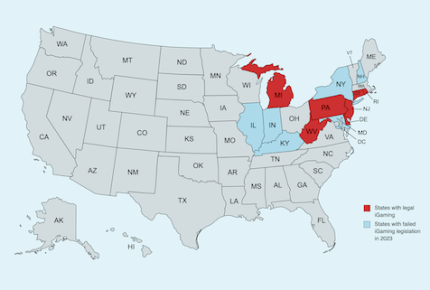 And there's something else to celebrate; iGaming is on an upward trajectory. iGaming operators have generated $16.3 billion in total gross gaming revenue (GGR), which has produced more than $4 billion in tax payments, according to the AGA.
Pennsylvania tops the list for total iGaming revenue, accounting for $1.83 billion in tax revenue. The second spot finds New Jersey and Michigan running closely together at slightly more than $1.3 billion.
So far, in 2023, iGaming states netted slightly more than $3.9 billion. That's a 22.7% year-over-year increase.
Where is iGaming Legal?
iGaming is currently only available to about 13% of the adult U.S. population.
Seven states have legalized iGaming. New Jersey, Michigan, Pennsylvania, West Virginia, Connecticut, and Delaware currently offer full-scale iGaming. Rhode Island became the seventh state, and the first in 2023 to approve iGaming. It is in the prelaunch phase, which is likely to be completed in Spring 2024.
Reining in the black market was among the goals of legal online casinos, and it's a goal still largely unmet. Americans still wager as much as $338 billion a year with illegal operators, according to the AGA, because the legal options are still limited.
AGA Focusing on Casino Industry Economic Impact
In October, the American Gaming Association released a study highlighting the casino gambling industry's impact. The AGA study showed nearly $329 billion a year in economic activity. It was the first study released by the association since 2018. The study showed that 2023 is on pace to exceed records.
I think it speaks to the continuing popularity of casino gambling in the United States," said David Schwartz, a gambling historian at the University of Nevada Las Vegas.
The AGA is looking toward the 2024 legislative calendar in several states for the potential of successful new iGaming bills. New York, Illinois, Indiana, Kentucky, Maryland, and New Hampshire were among the states where online gaming bills failed to pass in 2023.