Advertising Rules Unwritten in Ontario as Ads go Full Throttle
Posted on: August 2, 2023, 01:25h.
Last updated on: August 2, 2023, 01:25h.
Sports betting ads are ubiquitous in Ontario and according to some, the situation has gotten out of hand. Now at least one Canadian senator is pushing for national rules to deal with the 'torrent' of ads.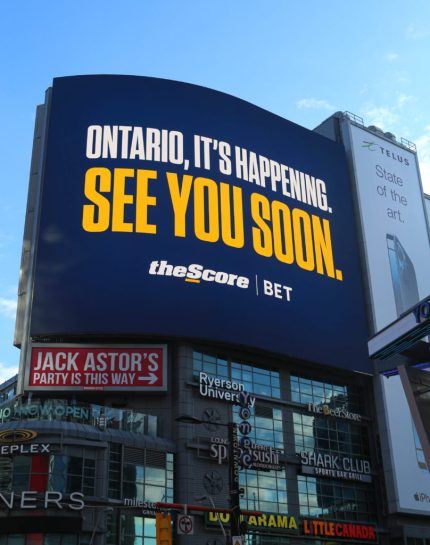 "The number of advertisements encouraging people to bet on sporting events is both annoying and dangerous," says Martha "Marty" Deacon, who represents Ontario's Waterloo region as an independent.
Single-game wagering has been legal in Canada since 2021, but rules around how it can be advertised are few and far between.
Deacon says ads often include celebrities or athletes and are "very attractive, and addictive and sensational," which draws in young and vulnerable people.  As a result, she's proposed legislation to create a national framework to regulate sports betting advertising and limit or ban celebrities and athletes from being in the ads. Her proposal would also limit the number of ads played or shown in a location.
The talk of gambling and the segments of advertising have really, really increased at a rate that nobody anticipated. Did we anticipate some? Yes, but this is a consequence that's come so quickly and with such force that we have to do something about it now," she added.
The idea, Deacon says, is similar to ad regulations applied to alcohol and tobacco.
Too Many Ads in a Thriving Market
Canadian sportsbooks closed strong for FY 2022-23 with about $433 million in revenue (CAD) from about $7 billion worth of accepted wagers for the initial 12 months that included single-event wagering.
Deacon says she supported single-game sports betting in Canada to better regulate the industry.
Basketball was Canada's most popular sport for wagering in terms of handle at 29% in FY 2022-2023, followed by soccer at 15%, and football at 13%. Hockey came in fourth at 9%, but sports wagering began in the final weeks of the 2021-22 NHL regular season.
Sports fans and bettors say the ads are always on and commercial breaks are "like it's being flooded."
One hockey fan said it was particularly noticeable while watching the Toronto Maple Leafs during the NHL playoffs when there were more than eight minutes of sports gambling ads during Game 1 of the series against the Florida Panthers.
Mobile phone users see ads when watching in addition to the TV ads, including soccer where some players have ads on their jerseys. Nearly two dozen teams in the Premier League in the UK agreed last spring to do away with that practice beginning near the end of the 2026/26 season.
Deacon believes, as some fans have also stated, that sports betting companies need to be socially responsible in promoting their products and remind people gambling can lead to financial problems.
Advertising Rules Push Gaining Momentum
A University of Toronto campaign launched by the faculty of kinesiology and physical education goes by the name of Ban Ads For Gambling. There are some notable names associated with it, including retired Olympic speed skater and cyclist Clara Hughes.
While not calling for a complete ban herself, Deacon says there should at least be rules for the road.
"Sooner would be wonderful, but get this done and get it done right. I would be very happy if we could be through and done in a year or less," says Deacon adding that she's heard from Canadians worried about the potential impact of the ads on children.
The process takes time, she notes, as the senate bill will need to go through a second and third reading, before going back to the House of Commons for members of Parliament to weigh in on it.