Adelson Donated $20 million to GOP PAC Day Before "New RAWA" Introduced to Senate
Posted on: September 29, 2016, 05:17h.
Last updated on: September 29, 2016, 05:19h.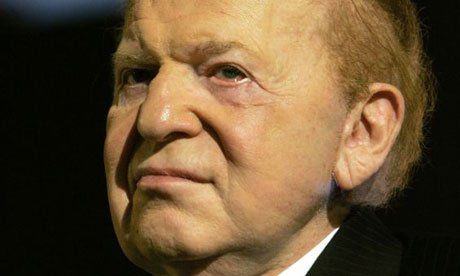 Sheldon Adelson is a Republican "mega donor." So there's nothing necessarily unusual about his donation, made public this month, of $20 million to a GOP super PAC called the Senate Leadership Fund.
His recent donation of $25 million to the Trump campaign makes him the biggest donor of either party of the 2016 election cycle, even if it was short of the $100 million he initially pledged.
Over the years he has contributed well over nine figures to Republican causes.
But eyebrows were raised at the Washington Post this week by the timing of the donation, just one day before three GOP senators introduced a bill to ban online gaming in the US.
Sheldon Adelson has previously declared he would spend "whatever it takes" to wipe internet gambling off the face of the earth.
As the WP noted, the donation was made public on September 20, while, on September 21, Senator Tom Cotton (R-Arkansas) filed bill S.3376 in the US Senate. S.3376 was co-sponsored by longtime Senators Mike Lee (R-Utah) and Lindsey Graham (R-S. Carolina).
Bill S.3376 Contents Published
The contents of this bill remained unpublished until yesterday, but the brief description that accompanied it on the Congressional website was enough to reveal we were dealing with the latest incarnation of the Restoration of America's Wire Act (RAWA). RAWA sought to dismantle the fledgling regulated online gambling sectors of Nevada, New Jersey and Delaware, and to ban all other states from regulating in their wake.    
The text of the bill keeps things short and sweet. Its aim: "To ensure the integrity of laws enacted to prevent the use of financial instruments for funding or operating online casinos are not undermined by legal opinions not carrying the force of law issued by Federal Government lawyers."
Its method: "The Memorandum Opinion for the Assistant Attorney General of the Criminal Division of the Department of Justice, dated September 20, 2011, shall have no force or effect for the purposes of interpreting section 5362(10) of title 31, United States Code."
So What Does it Mean?
And that's pretty much it. It's clear that S.3376 wants Congress to agree to ignore the 2011 opinion of the DOJ, which judged that the Federal Wire Act prohibits sports betting only over the internet and not casino games or poker.
"Laws enacted to prevent the use of financial instruments," refers to the Unlawful Internet Gambling Enforcement Act, which prohibited financial institutions from processing online gambling transactions. Exceptions were made when the three states regulated in 2013 and S.3376 wants these exceptions to be revoked.   
Section 5362(10) of title 31, United States Code is merely the legal interpretation of "a bet or a wager," which is described as "staking or risking by any person of something of value upon the outcome of a contest of others, a sporting event, or a game subject to chance, upon an agreement or understanding that the person or another person will receive something of value in the event of a certain outcome."
In short, RAWA is back, and, once again, it is offering no carve-outs for Nevada, New Jersey or Delaware.