Adelson Casino Wages Ad War Against Pennsylvania VGT Expansion
Posted on: June 6, 2017, 05:49h.
Last updated on: June 6, 2017, 05:54h.
An aggressive $1 million advertising campaign backed by Sheldon Adelson, chairman and CEO of Las Vegas Sands, is attempting to block legislation in Pennsylvania that would allow video gaming terminals (VGTs) in truck stops, restaurants, bars, and off-track betting facilities.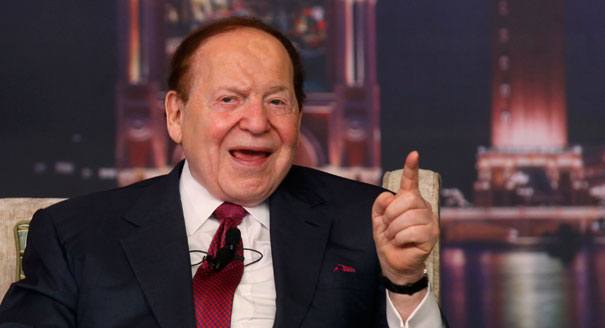 Adelson's Sands Casino Resort Bethlehem is leading the fight against House Bill 1010, which would permit certain establishments to install VGTs offering real-money blackjack, poker, and other casino games.
There are currently nearly 27,000 VGTs in Pennsylvania, all of them in the state's 12 casinos. If HB 1010 passes, the number could more than double.
John Cunnane, a Wall Street gaming and leisure analyst for Stifel Investment Services, told the Allentown Morning Call that such an expansion of VGTs and authorized VGT locations certainly could hurt established gaming facilities.
"That's an insane number of VGTs, and we've seen the impact that's had on casinos in places like Iowa and Illinois," Cunnane said. "It won't cause a mass exodus from casinos, but they will feel the pain, no doubt."
Media Wars
Through Sands Casino Resort Bethlehem, Adeslon gave $1 million to Pennsylvanians For Responsible Government (PRG), a newly formed lobbying organization producing the ads for TV, radio, and social media.
The million-dollar ad campaign launched just two weeks after a $1.3 billion deal to sell Sands Bethlehem to MGM Resorts fell apart, supposedly because of the threat the legislation posed.
The ads feature "doom and gloom" prognostications outlining how VGTs in places anywhere other than a currently licensed casino will destroy Pennsylvania neighborhoods and cost the state $1.4 billion in tax revenue.
The claims are largely unsubstantiated, or at best use out-of-context "facts" and figures to mislead viewers about what the bill's proposing and its impacts.
Deceptive Tactics
State Rep. Mark Mustio, (R-Allegheny) criticized the ads for using deceptive tactics to mislead Pennsylvania citizens about the issue.
"They are trying to create a boogieman and I'm not interested in playing that game," Mustio told The Morning Call. "If they can spend $1 million for an ad campaign, maybe we should raise their taxes."
The Sands is the only one of Pennsylvania's 12 casinos currently participating in the astroturf alliance. Company spokespeople say they are certain more will join soon.
Part of PRG's message is that HB 1010 will cost thousands of jobs if gambling laws are changed to allow taverns to offer video casino games.
"This proposal would destroy the brick-and-mortar casino industry and risk the nearly $1.4 billion in tax revenues that these establishments generate annually," said PRG spokesman Michael Barley. "Worse yet, because VGTs are designed to operate without employees, the 18,000 people casinos collectively employ in Pennsylvania will be put in serious jeopardy."
The ads put out by the group also say that the VGTs could be just a gateway provision legislatively that would eventually expand to allow slot machines on virtually every corner.
Latest Casino Stocks:
Retrieving stocks data...
Retrieving stocks data...
Retrieving stocks data...
Retrieving stocks data...
Retrieving stocks data...