NHS A&E Waiting Times: England's Worst Regions Revealed
The National Health Service (NHS) is one of the most important pillars of UK society — and has been since it was first established in 1948. Forget the royal family, the universal healthcare service, is what regularly tops polls as being the institution Brits are most proud of.
Yet, despite over 70 years of providing highly-trained professionals — also known as complete and utter everyday heroes — to save lives and preserve the health of the nation, it's no secret that the system is under increasing strain.
As well as funding cuts leading to staff and equipment shortages, more and more people are also visiting already stretched A&E departments.
In England alone in 2019/20, there were 20,872,457 total recorded attendances at A&E departments, putting severe pressure on the NHS' target time — currently set at four hours — in which to see each patient.
Which English Region Has The Worst A&E Waiting Times?
Our experts have been busy analyzing NHS England data from the past year to find out exactly how many patients were, or were not, seen within that four-hour timeframe.
Take a look at our infographics, which break the stats down into bitesize chunks, region by region, to find out which hospitals you might not want to end up in…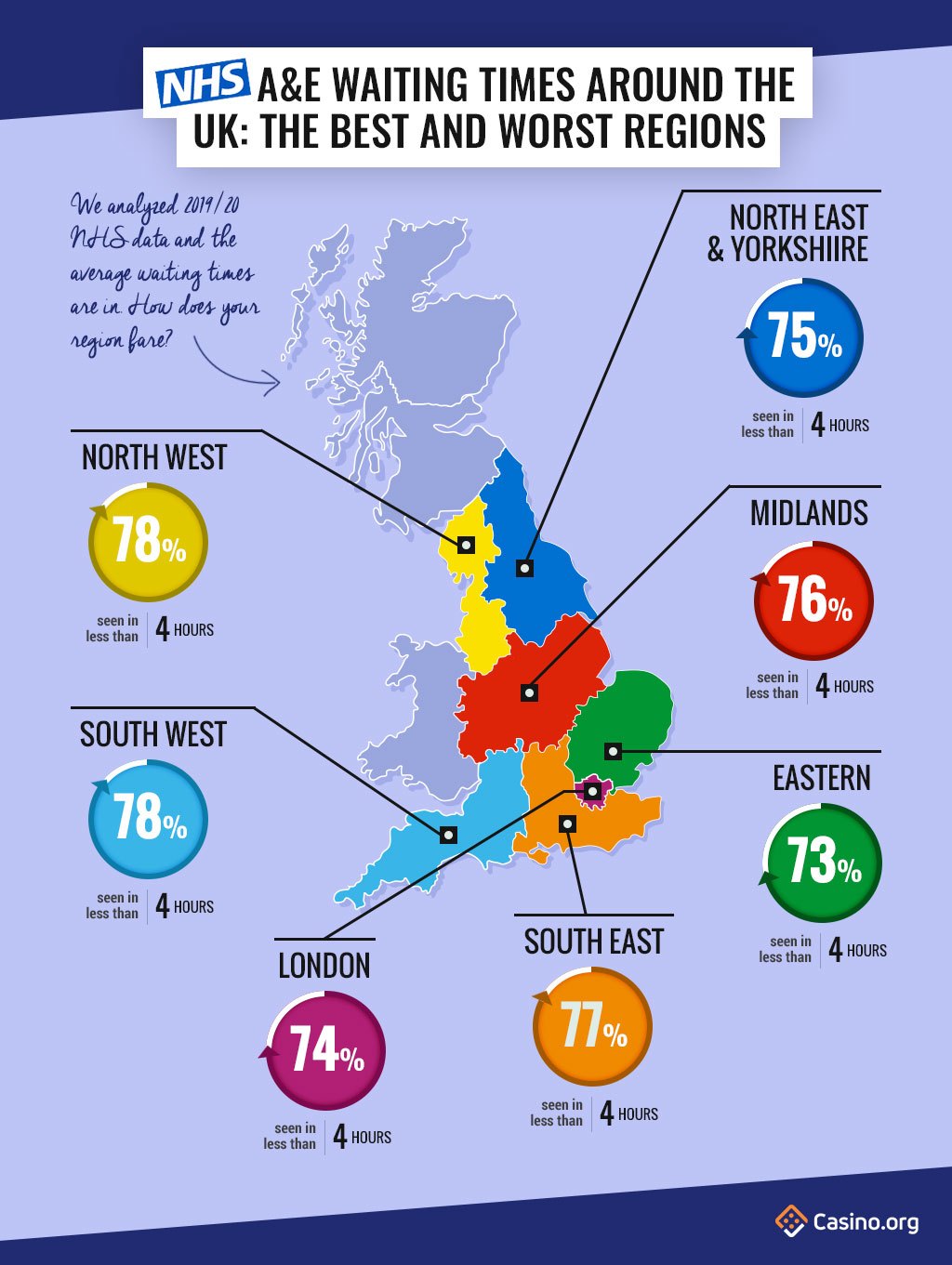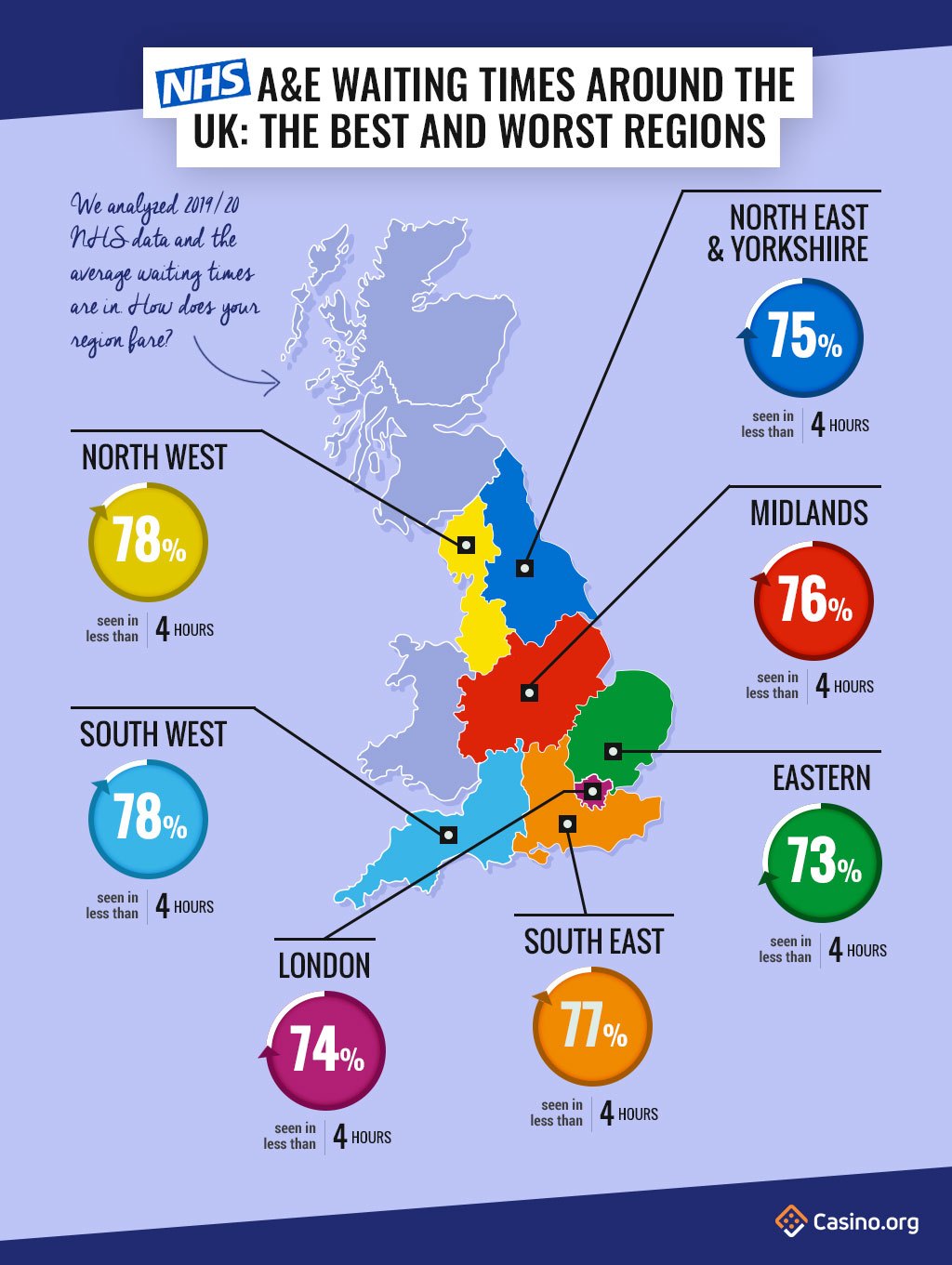 Our digital whizzes have calculated the average A&E waiting times in percentages, for each region across England. How does your area fare?
The North West, including Greater Manchester and Merseyside, and the South West, which encompasses counties including Bristol, Devon and Cornwall, came out tops. In these areas, 78 per cent of patients were seen in four hours or less. Not bad.
Meanwhile, patients in the East of England and London faced the longest time twiddling their thumbs, with only 73 and 74 per cent being seen in less than four hours.
That might not sound great, but it's worth noting that seeing over three quarters of patients within four hours is still pretty impressive.
These Are Officially The Worst English Hospitals For Waiting Times
Now that you know the worst areas of England to be in for waiting times overall, what about the 'worst' performing hospitals by region? We take a look at where the longest A&E delays occur.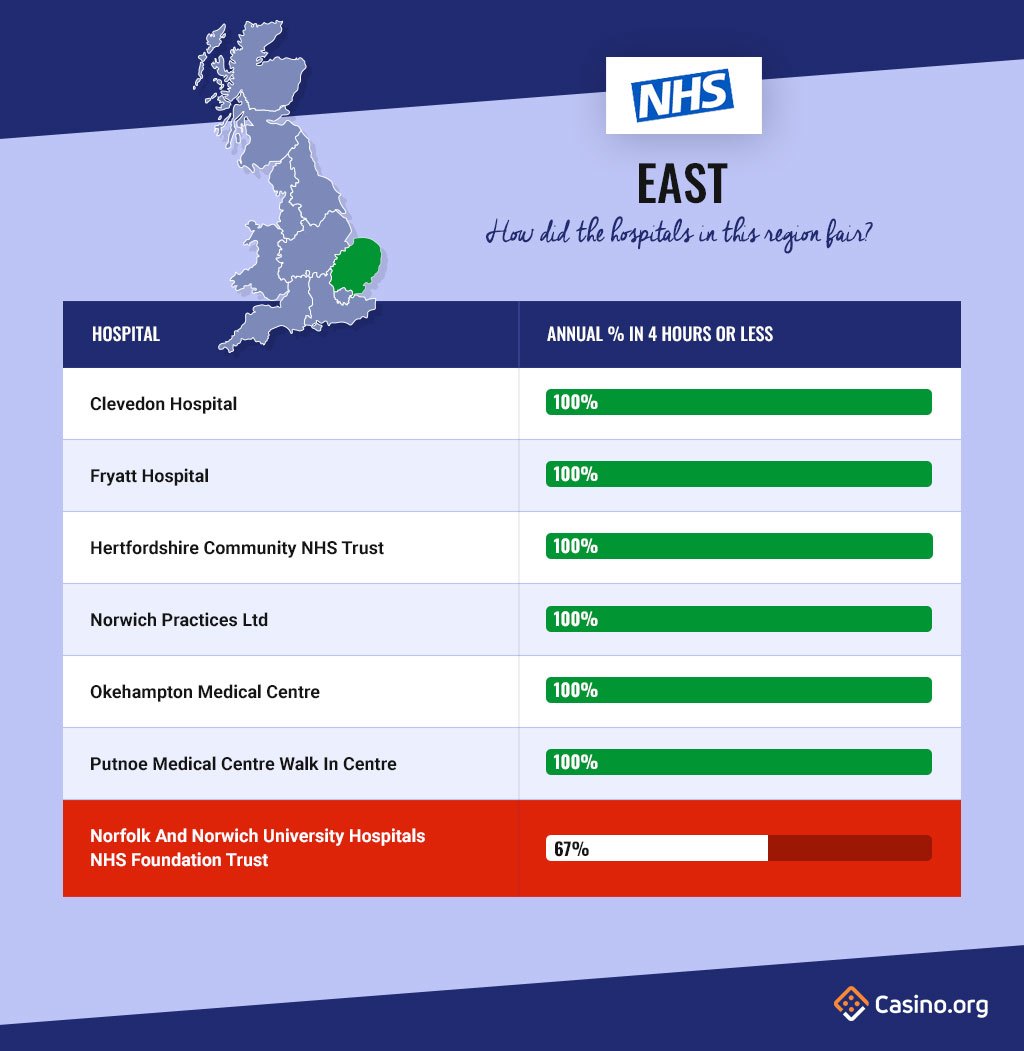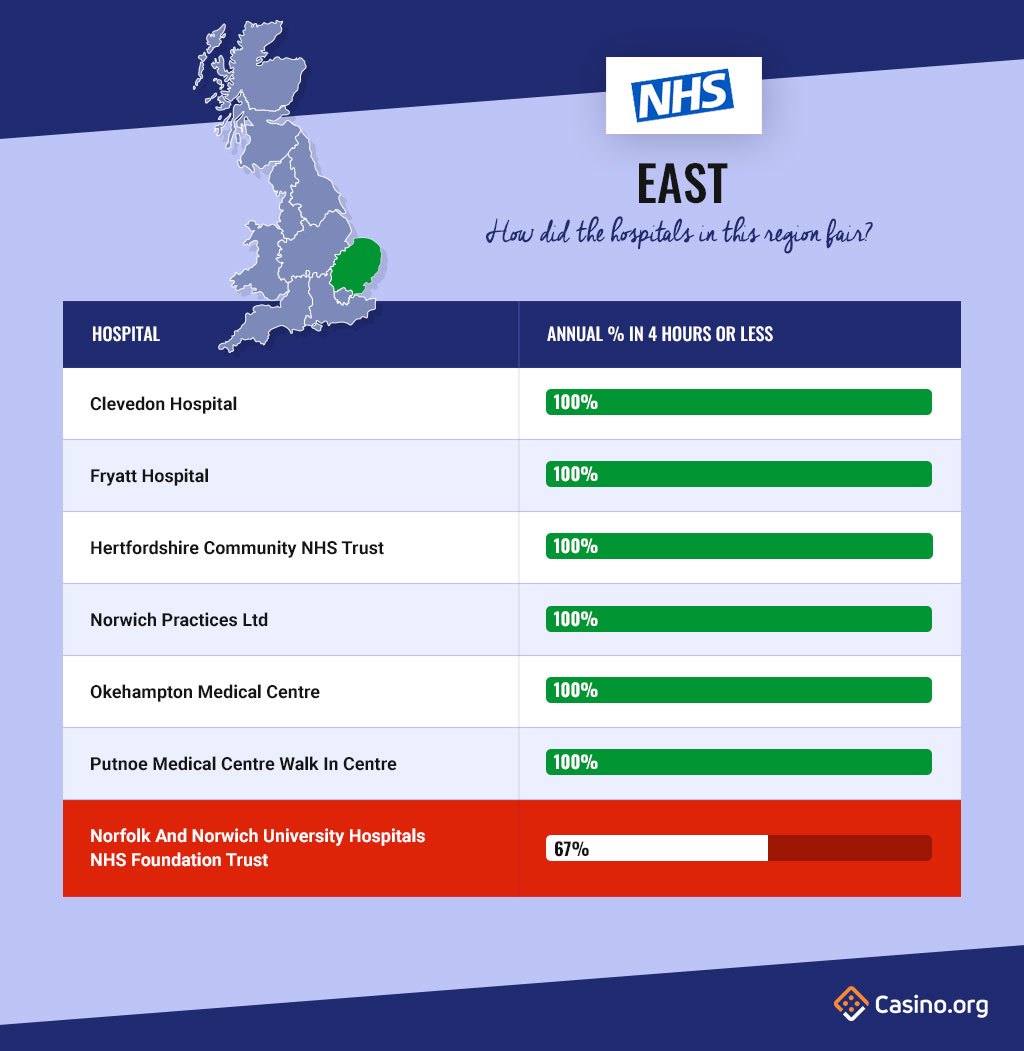 In East England, where 264,218 people waited over four hours to be seen last year, Norfolk and Norwich University Hospital NHS Foundation Trust ranked bottom.
At the university hospital, which was officially opened by Queen Elizabeth II in 2004, just 67 per cent of patients were seen within the four-hour timeframe.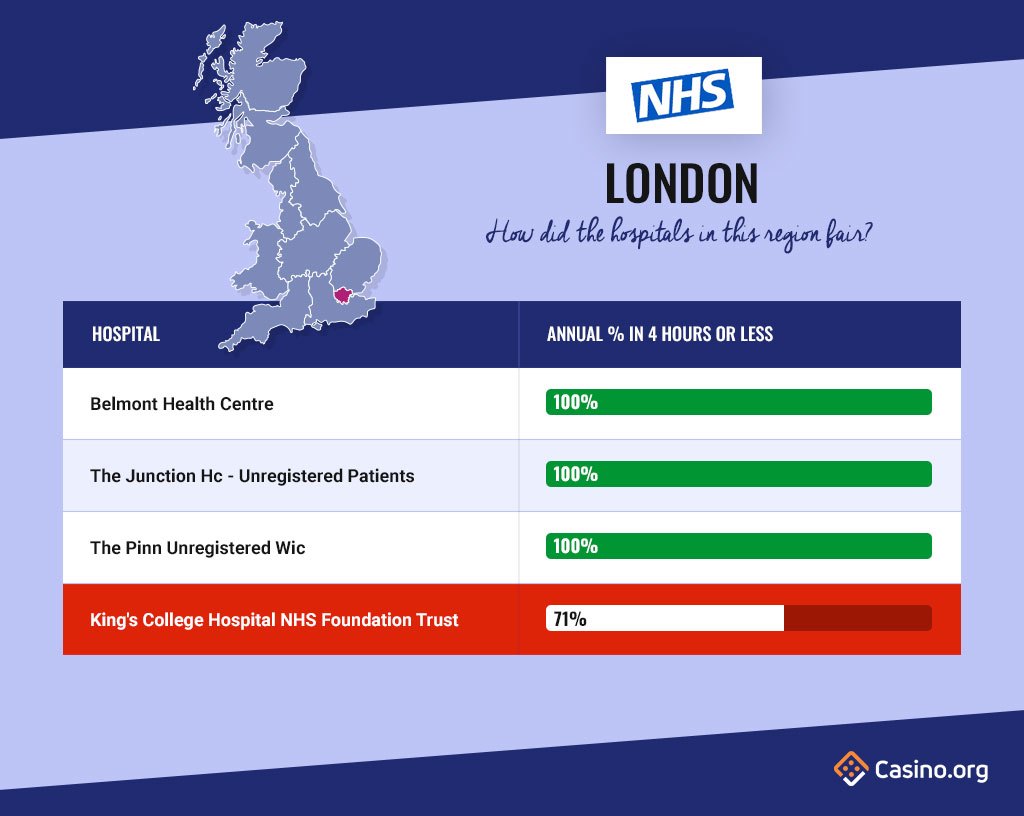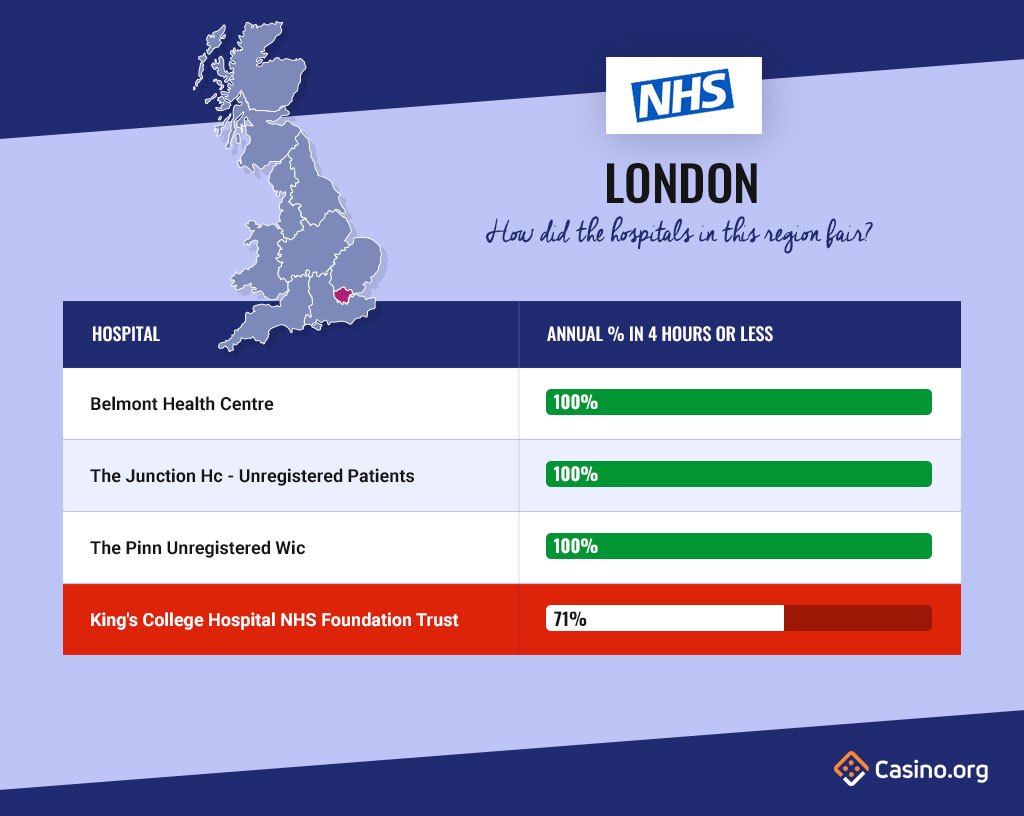 Whereas in London, the second worst region for delays, 510,200 admissions waited for over four hours.
It was King's College Hospital NHS Foundation Trust, in the news recently after a patient was recorded playing the violin during brain surgery, that snagged the unwanted mantle of being worst for wait times in the capital. King's saw 71 per cent of its patients in the ideal four-hour window.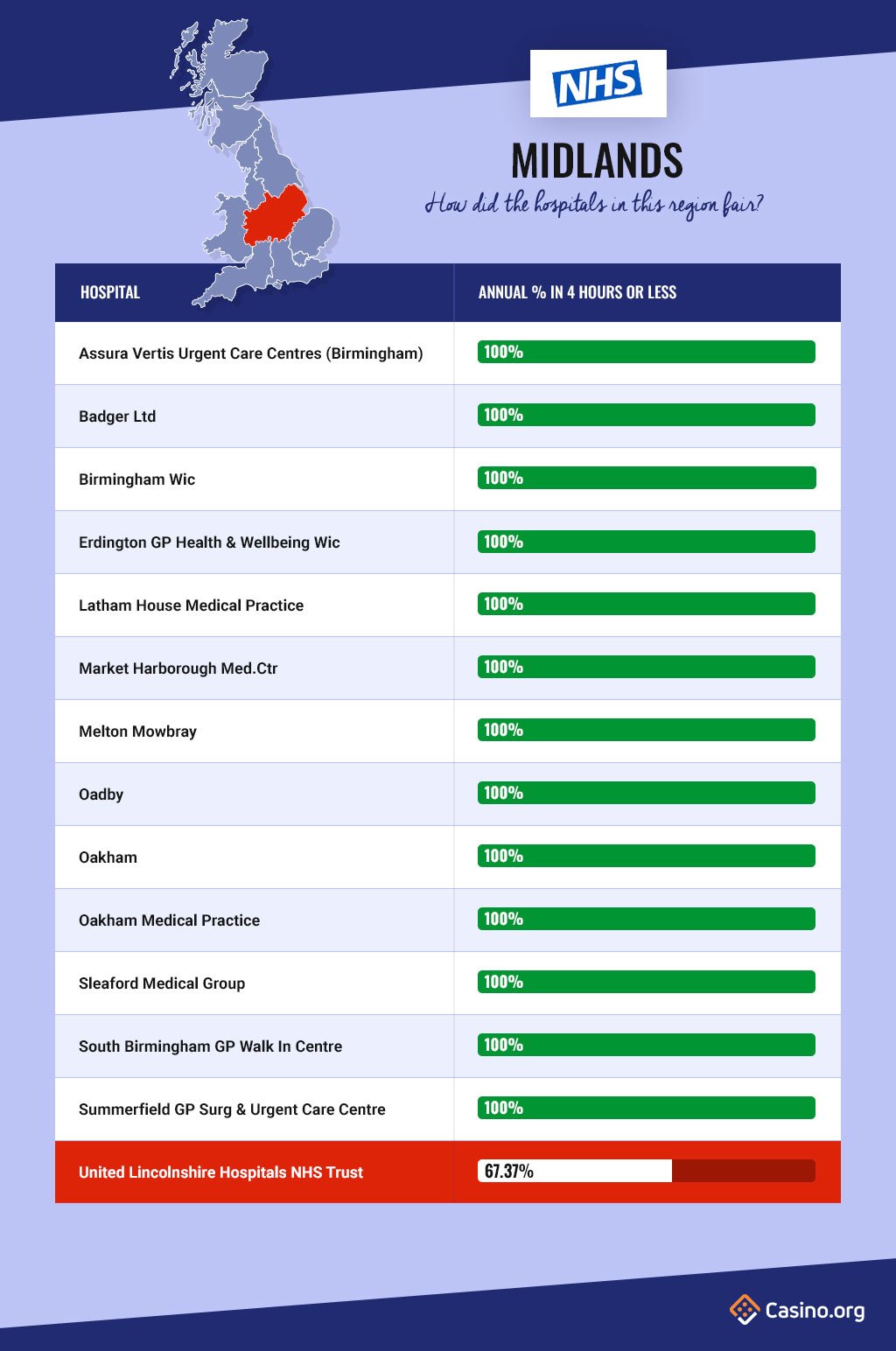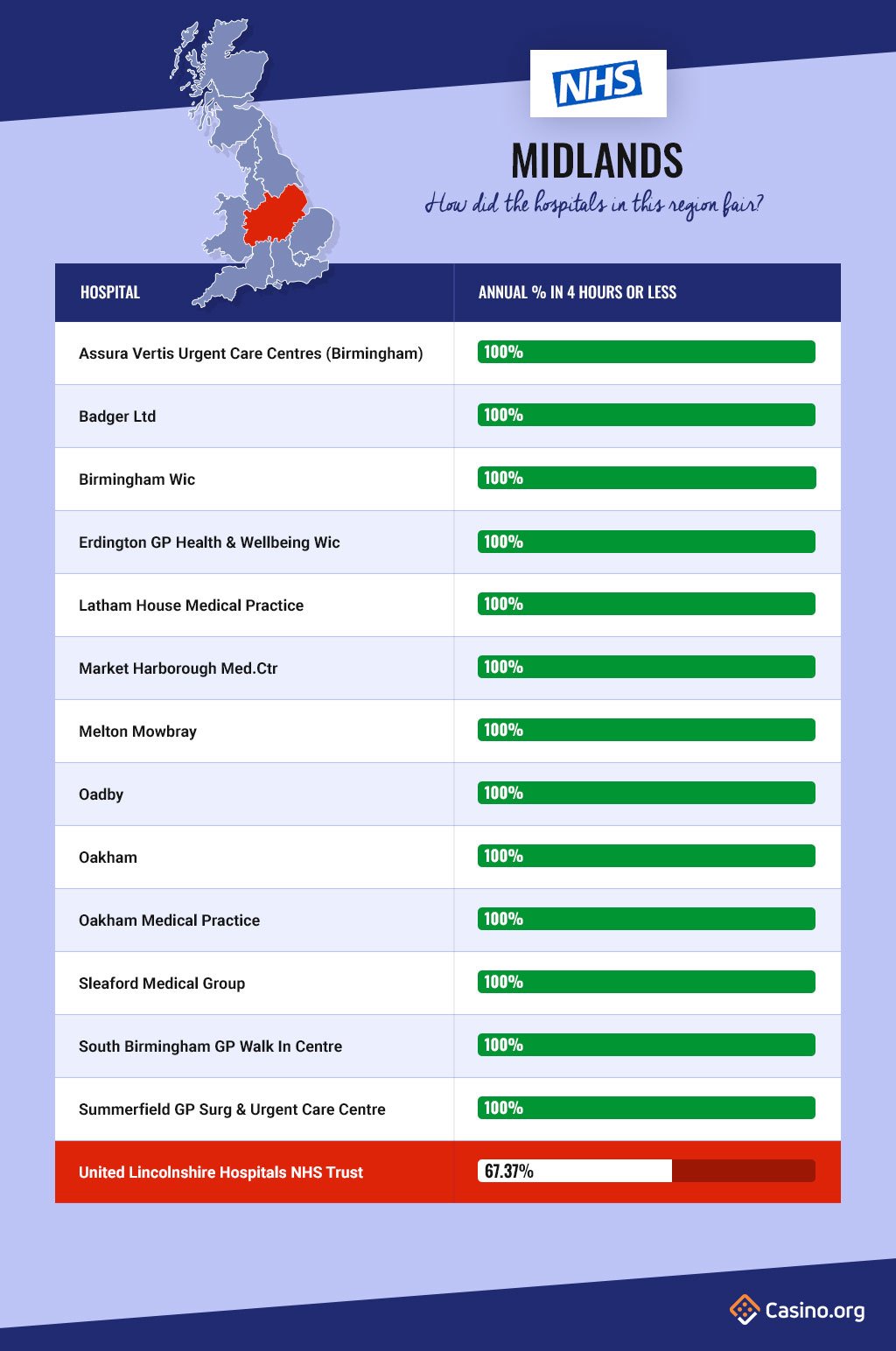 Over in the Midlands, United Lincolnshire Hospitals NHS Trust pulled up in last place among local peers.
The trust, which was previously found to have the highest number of ambulance delays (of more than 30 minutes) in the country, saw only 67.37 per cent of A&E patients in four hours or less, over the course of the last year.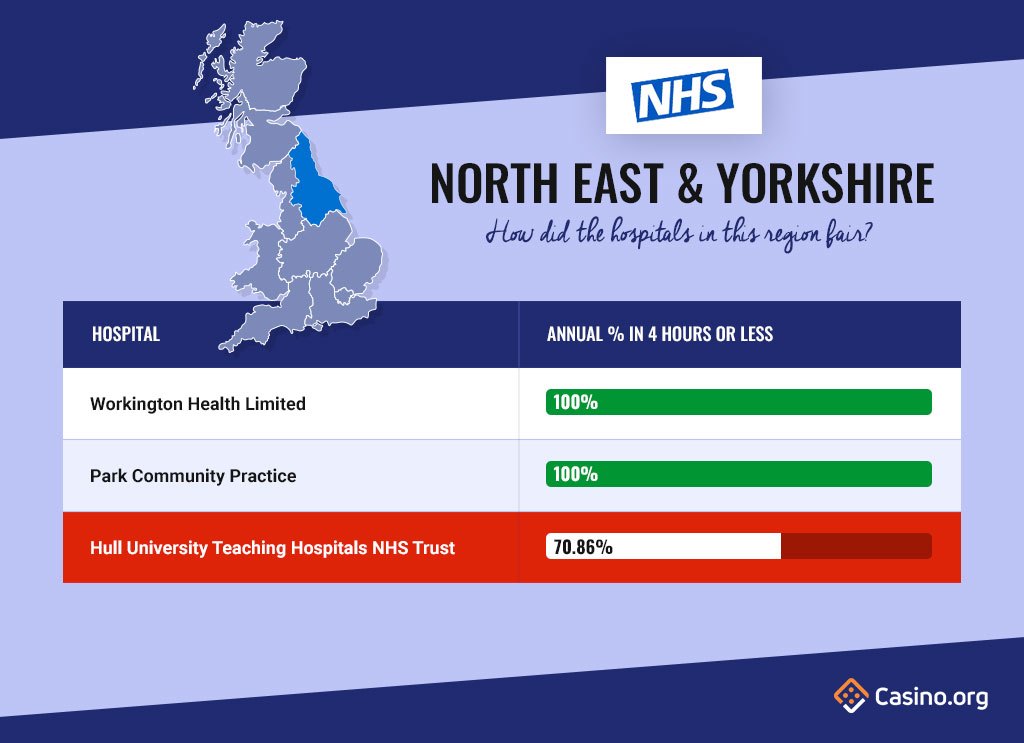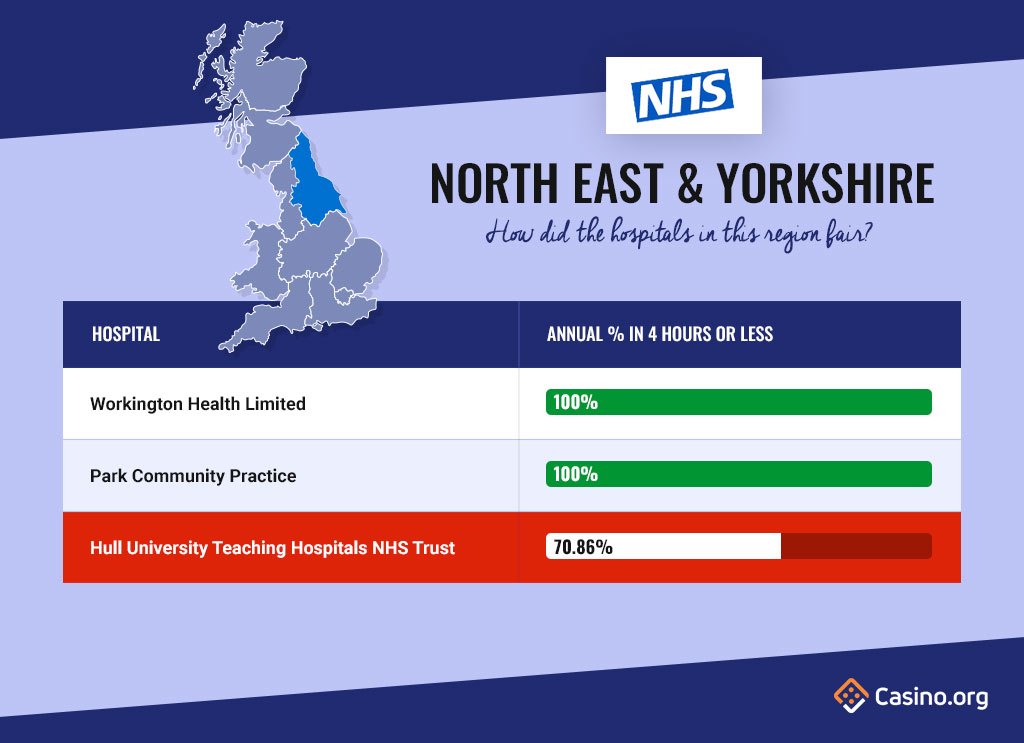 Across the North East and Yorkshire, Hull University Teaching Hospitals NHS Trust — a name you may not be familiar with, since the organization only changed its name as recently as February 2019 — attended to 70.86 per cent of its A&E admissions in four hours or less.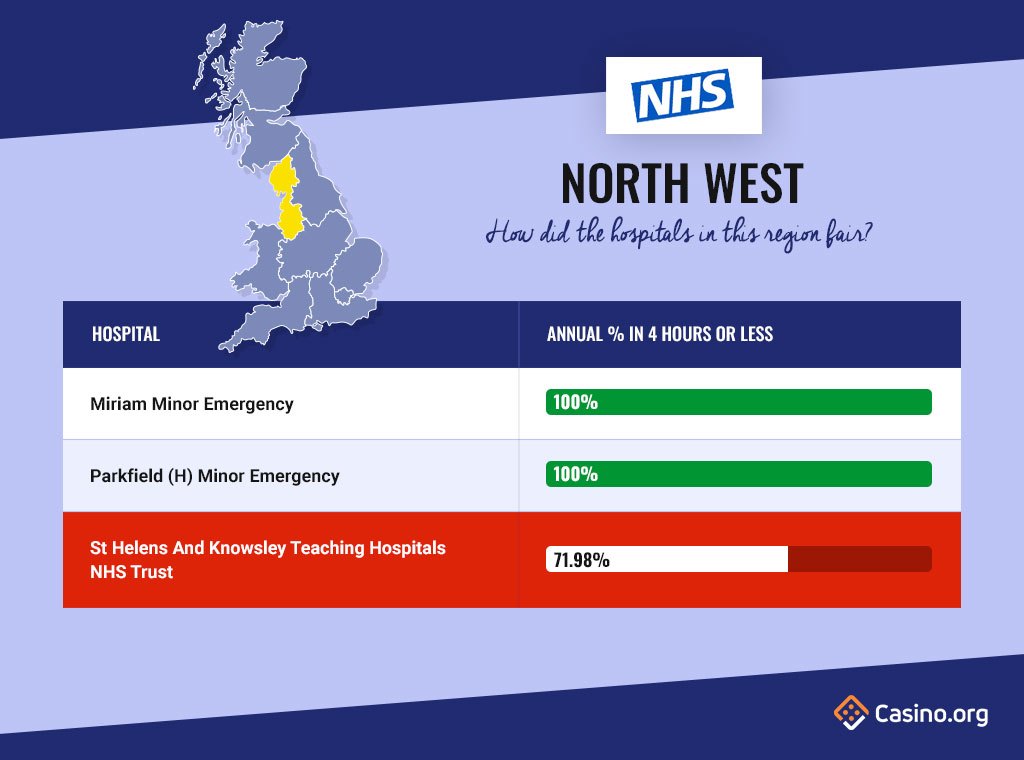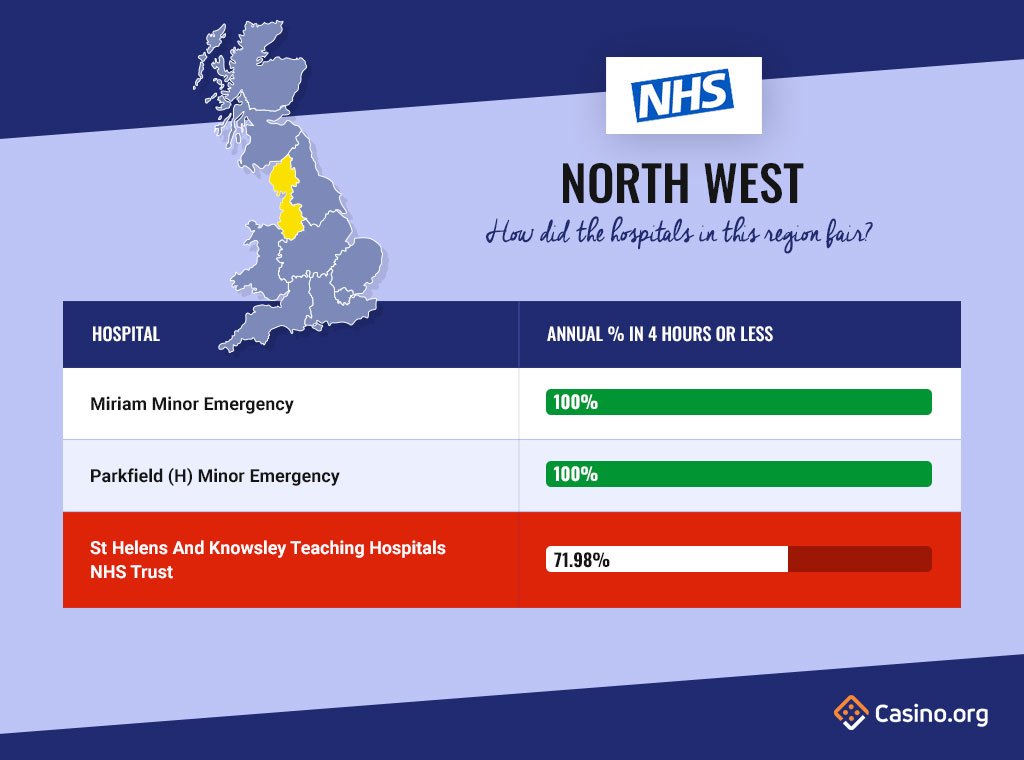 The North West may have been a joint-top region for waiting times, but St Helens and Knowsley Teaching Hospitals NHS Trust was its worst performer.
The trust, which was the first in the country to stop using paper medical records, saw 71.98 per cent of its patients in four hours or less.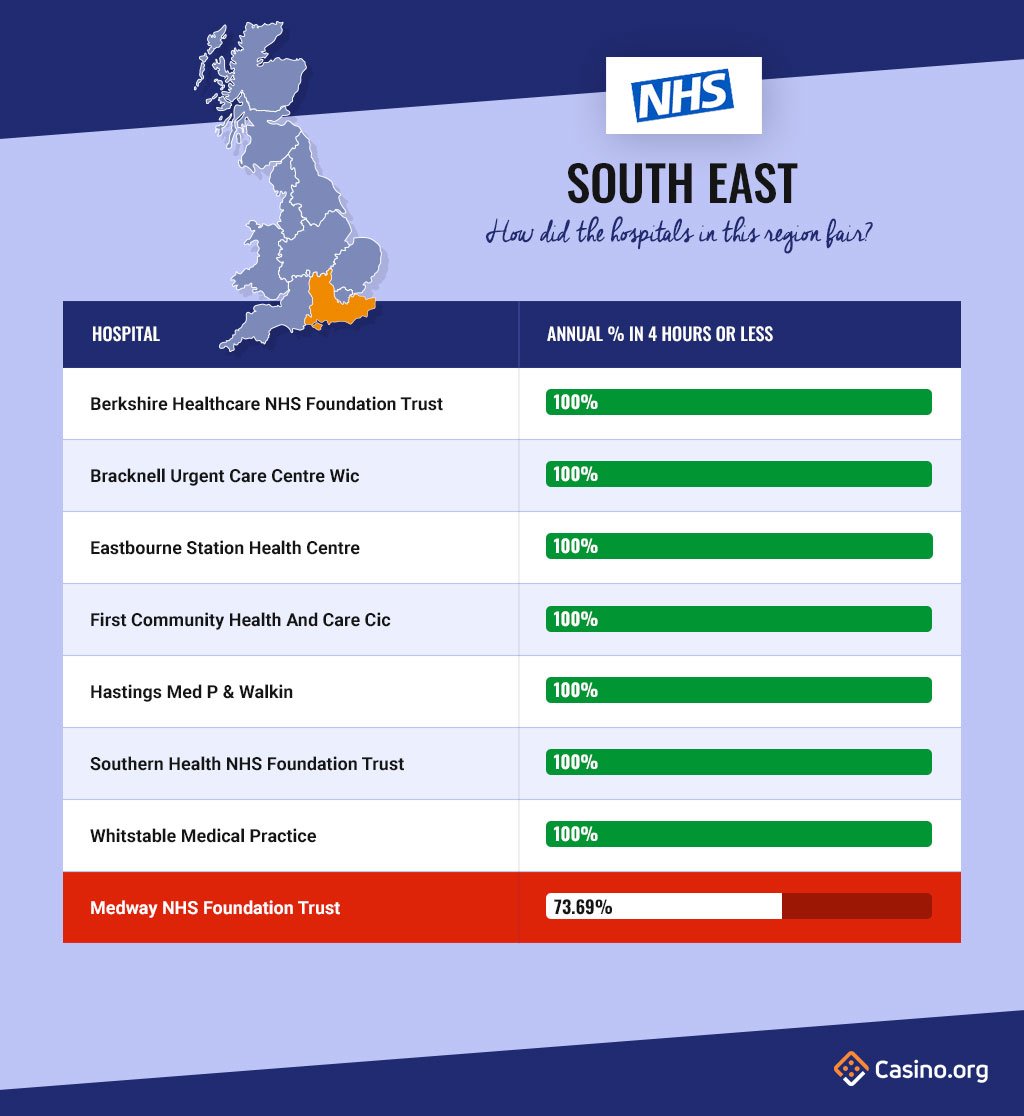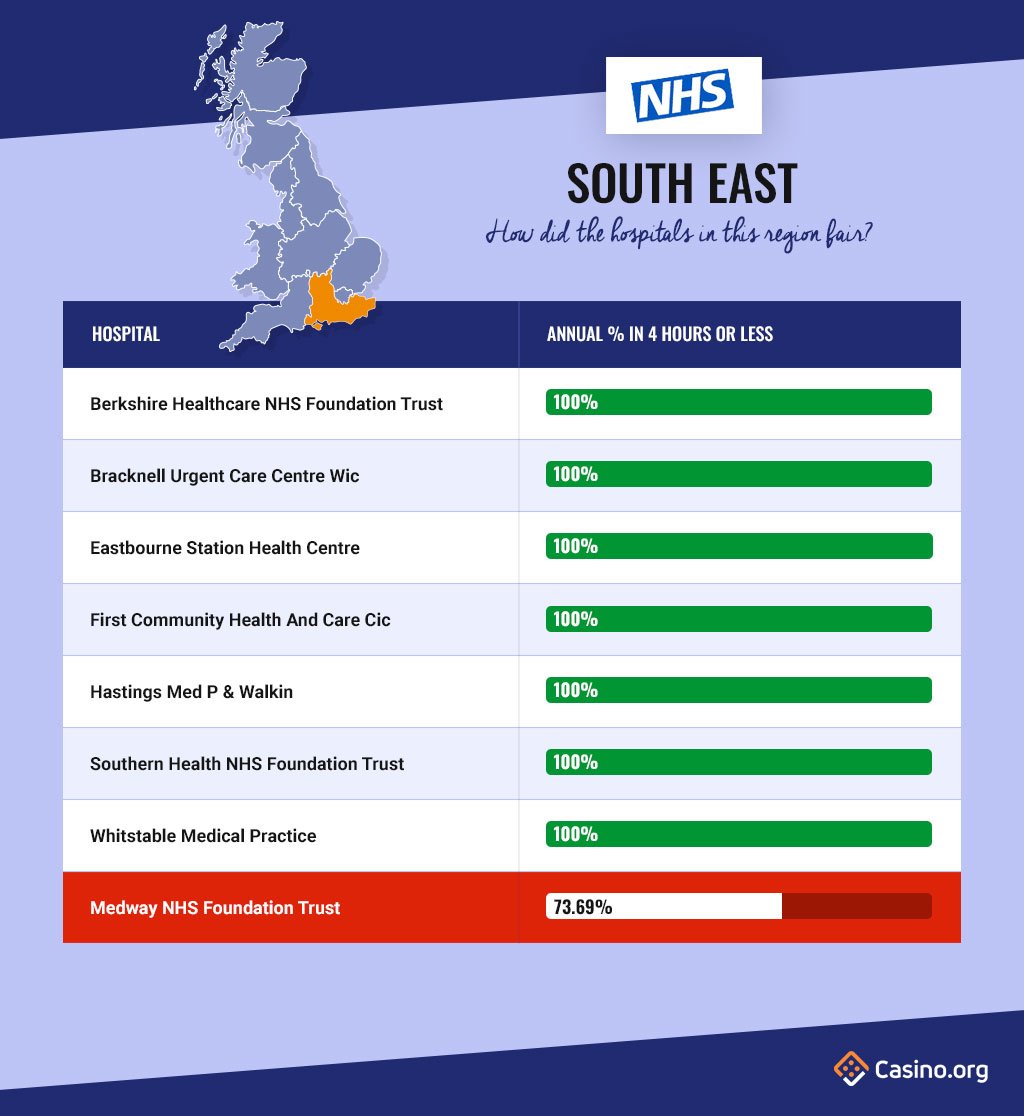 In the South East, Medway NHS Foundation Trust — which has a rich history owing to its past as a Royal Navy hospital and its opening by King Edward VII in 1905 — is where you're likely to wait the longest.
Its annual percentage was 73.69 per cent of people being attended to in four hours or under.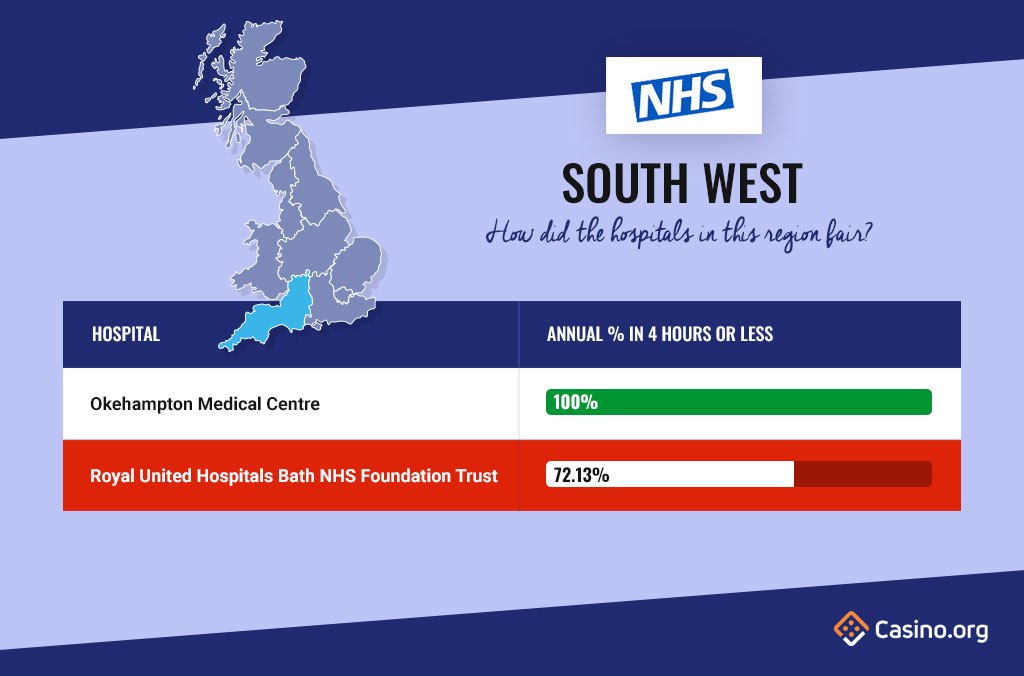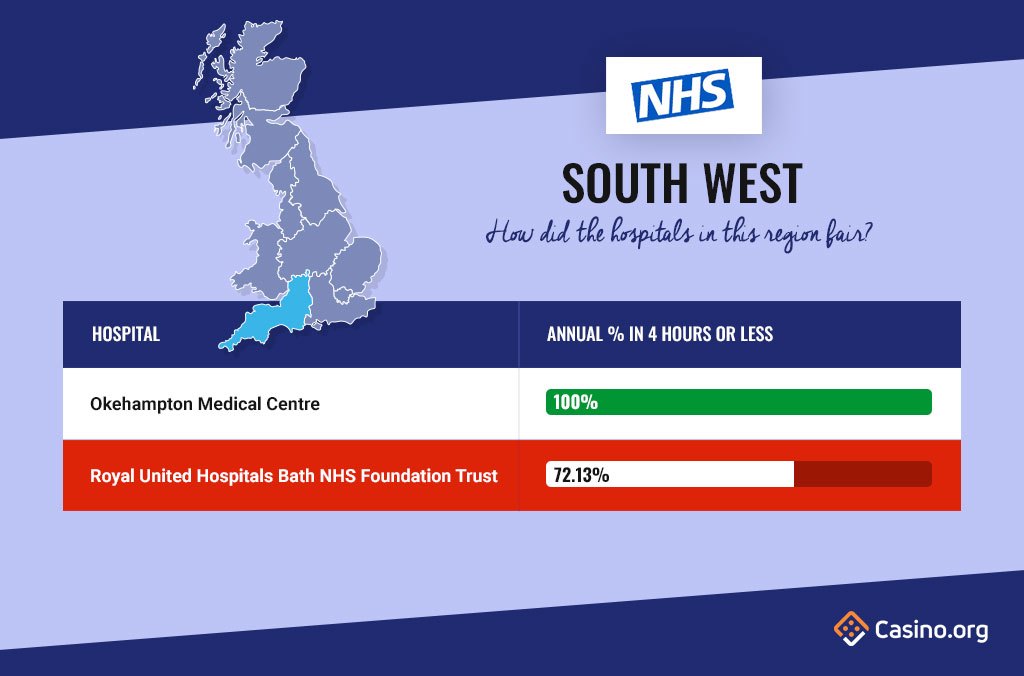 The South West is a joint-top region when it comes to A&E wait times, but the Royal United Hospitals Bath NHS Foundation Trust was its wort performer annually, with only 72.13 per cent of patients seen in the recommended timeframe.
The hospital can trace its heritage back to the 1700s, and was even handed its 'Royal' title by Queen Victoria.
As for those facing the really long waits — from the decision to admit to an admission — there were over 1,805 patients who spent 12 hours or more waiting to be seen in London during 2019/20.
The Most Ridiculous Reasons People Visit A&E
It can be tricky to get your head around the stats — and the sheer number of people visiting already inundated A&E departments. The majority of cases will require immediate medical attention, but some folks seem to be unsure about which ailments merit an emergency.
We've researched a few of the strangest reasons why people have visited A&E, with staff reporting cases that include:
A paper cut
Finger splinters
Broken false fingernails
Hiccups
Being unable to sleep
Needing help cooking or carving a turkey
Rude words inked onto somebody's head
A hangover
A dog that swallowed a golf ball
A verruca
Maybe it's not so difficult to understand those long waiting times after all…
Conclusion
Overall, on average, our data reveals you're best placed to be seen within the NHS' four-hour target time if you live near an A&E department in the North West or the South West of England.
Yet you may face the biggest waits if you visit one of our 'worst' hospitals in the East or the Midlands, or in London.
But while our stats illustrate which hospitals you might not want to end up at, it's important to remember that dedicated healthcare teams up and down the country are doing their best to meet those targets every day.
You may have a longer than average wait in some of these hospitals, but the UK — one of the first nations to formerly and officially introduce a universal healthcare system — is still reportedly one of only 43 places in the world to offer free and universal healthcare treatment upon arrival, with no upfront payments.
There is some good news, too.
In 2019, NHS England released stats that revealed its 'urgent care advice line' 111 had prevented over 12 million 'unnecessary' visits to A&E departments, and also around three million 999 calls, after it fielded a whopping 80 million calls between April 2011 and September 2018.
But what else can we do to see improvements? Perhaps we can start by using our local A&E departments only when we need to. Yes, we're looking at you over there with the broken false fingernail.
For the complete data set please contact our Head of Marketing, Paul Taylor, on paul.taylor@casino.org.
Data:
NHS A&E Attendances and Emergency Admissions 2019-20
Sources:
https://www.theguardian.com/society/2016/feb/09/which-country-has-worlds-best-healthcare-system-this-is-the-nhs
https://www.statista.com/chart/5835/what-are-british-people-most-proud-of/
https://www.itv.com/news/2018-06-07/britons-most-proud-of-nhs-survey-finds/
https://en.wikipedia.org/wiki/List_of_countries_with_universal_health_care
https://www.internationalinsurance.com/health/countries-free-healthcare.php
https://www.health.org.uk/news-and-comment/news/desperately-struggling-to-stay-afloat
https://www.theguardian.com/society/2019/nov/14/ae-waiting-times-in-england-hit-worst-ever-level
https://www.independent.co.uk/news/uk/home-news/nhs-crisis-worst-reasons-people-visit-ae-when-they-shouldnt-a6954296.html
https://www.england.nhs.uk/2019/05/nhs-111-prevents-unnecessary-ae-visits/
https://www.independent.co.uk/news/uk/home-news/nhs-crisis-worst-reasons-people-visit-ae-when-they-shouldnt-a6954296.html
http://home.bt.com/news/odd-news/nhs-crisis-ridiculous-reasons-people-have-turned-up-to-a-e-revealed-11363953299086
https://www.independent.co.uk/news/health/nhs-latest-cuts-miscalculation-billions-public-sector-pension-costs-a8562491.html
https://www.theguardian.com/commentisfree/2019/oct/25/boris-johnson-conservatives-nhs-funding
https://www.edp24.co.uk/news/health/nnuh-improves-a-e-patient-delays-in-january-2020-1-6512544
http://news.bbc.co.uk/1/hi/england/norfolk/3326629.stm
https://www.walesonline.co.uk/news/uk-news/incredible-footage-shows-patient-playing-17776279
https://www.hsj.co.uk/7021390.article
https://www.hey.nhs.uk/news/2018/11/19/name-change-to-attract-more-healthcare-staff-to-hull/
http://www.hsj.co.uk/resource-centre/supplements/notes-that-can-still-be-useful/5064816.article#.UnqdQPlT6UM
https://en.wikipedia.org/wiki/Medway_NHS_Foundation_Trust
https://en.wikipedia.org/wiki/Royal_United_Hospital
http://www.nationalarchives.gov.uk/hospitalrecords/details.asp?id=1219
https://www.ruh.nhs.uk/about/history.asp?menu_id=1?menu_id=1
https://en.wikipedia.org/wiki/United_Lincolnshire_Hospitals_NHS_Trust