What Ever Happened To Annette "Annette_15" Obrestad?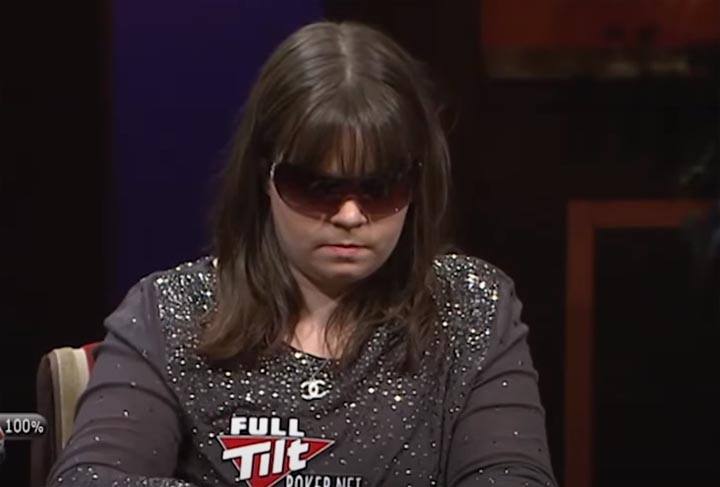 The Norwegian poker star has pretty much disappeared from the poker public eye, but she was filling headlines of all the poker media outlets a few years back.
Annette Obrestad was born on September 18, 1988, in Norway. She took up poker when she was just 15 years old, and that's the story behind her famous "Annette_15" online nickname.
In her many interviews back during her days of fame, Obrestad claimed she never made a deposit and built her online bankroll playing freerolls.
Obrestad's early poker days may be interesting, but what really put her on the map was her performance in the 2007 inaugural WSOP Europe Main Event in London.
Featuring the buy-in of £10,000, the first World Series of Poker Main Event on European soil attracted 362 participants. The young Norwegian managed to outlast every single one of them, becoming the youngest player ever to win a WSOP bracelet.
Annette Obrestad played the final hand of the WSOPE main event one day before her 19th birthday.
The victory hit the headlines all over the world, and it wasn't just the poker media writing about the Norwegian poker phenomenon.
To win such a prestigious title at such a young age – and especially as a female in a male-dominated sport – was quite a story.
It was the beginning of what was looking like a truly promising career.
And, for several years, Annette kept the grind going, doing well on the live and virtual felt alike.
However, after a few years, she almost completely disappeared from the poker scene, playing an odd tournament here and there.
So what happened?
The Story Of Making "Annette_15"
Annette discovered and fell in love with poker at a very young age. However, it wasn't until she turned 15 that she decided to give the game a proper try.
Although she was still legally not allowed to play online poker, this didn't stop her from opening her "Annette_15" account with PokerStars.
She had to lie about her age during the registration process, and she knew she wouldn't be able to withdraw any money from the site until she actually turned 18, but Obrestad wasn't overly concerned about this.
She was eager to play and develop her poker skills, initially playing freerolls and building a small bankroll to work with.
As it turned out, Annette was naturally talented at poker, and her love for the game meant she didn't mind working hard to get better. These two factors combined would make the young Norwegian a force to be reckoned with in a few years' time.
By the time she turned 18, Obrestad had managed to build a big bankroll on PokerStars and several other sites.
She was now ready to take the poker world by storm, having spent several years studying the game and gathering the money.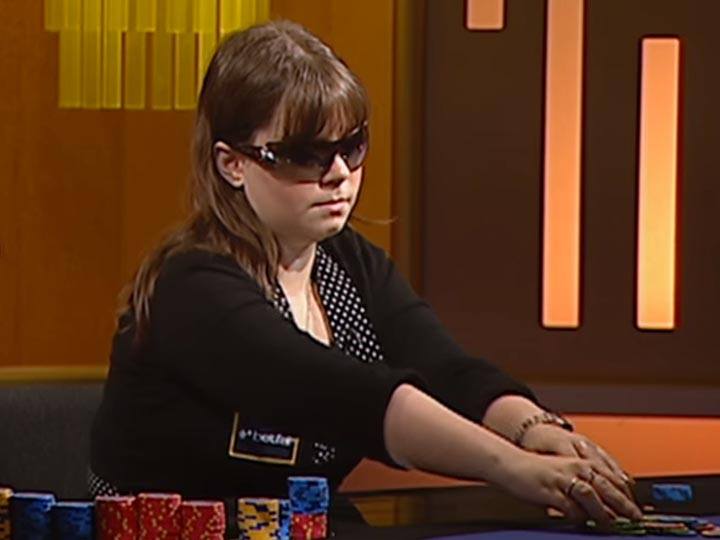 It's interesting to note that Annette was actually able to access her winnings and withdraw them, which would most likely be confiscated in today's poker world.
"Annette_15" Wins A Tournament "Blindfolded"
One particular story show just how talented of a player Obrestad was. She was able to win a 180-man sit and go tournament on PokerStars without looking at her cards.
She did this to demonstrate the importance of position in poker, and it was an impressive feat.
It probably took Obrestad quite a few attempts to accomplish this, but that doesn't take away her success. If anything, it shows how determined and iron-willed she is.
Funnily enough, she said that more players knew her for this feat than for the fact she won the WSOP bracelet.
But, to be fair, it was such a wild story back in the day that poker forums were buzzing about it.
People win major tournaments all the time as someone has to win eventually, but who plays an entire tournament without looking at their cards and wins?
Obrestad uploaded her tournament history to a poker forum to show she was telling the truth and the story checks out.
She was folding huge hands out of position and playing all sorts of trash when in position. It was a pure demonstration of just how important skill is in poker.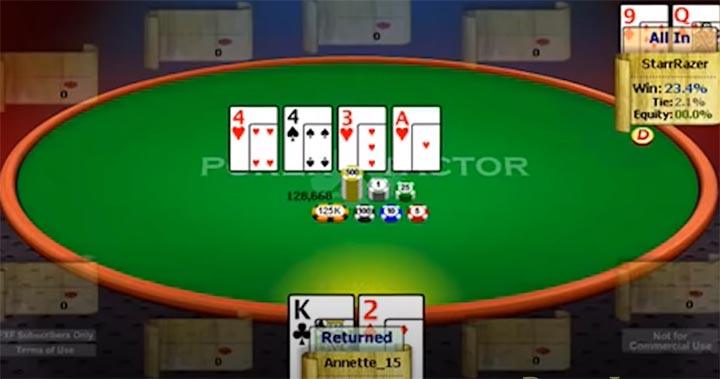 Annette Obrestad Taking On The Live Circuit
With a bankroll north of $500,000 and finally legally allowed inside the casinos in Europe, Obrestad decided to test her skills on the live poker circuit.
Her first notable appearance was at UB's Aruba Poker Classic, where she made it to the last few tables, eventually busting out in 37th and banking $12,000 for her efforts.
Almost exactly a year later, Obrestad came to London to compete in the World Series of Poker's first-ever European leg.
Although every poker player hopes to win every tournament they enter, Annette probably couldn't have dreamt just how big of an impact that decision would have on her life.
The young Norwegian took everyone in the tournament by surprise. Annette's aggressive and fearless playing style wasn't something they expected.
A few days and many big pots later, Obrestad was the last player standing, claiming the golden bracelet and the £1,000,000 first prize, which was around $2,000,000 according to the exchange rate at the time.
Her great run continued in October of the same year when Annette got to the EPT Dublin Main Event heads up.
Although she fell just short of the title, losing the final battle to Reuben Peters, Annette took home close to $430,000 for her performance.
After this, Obrestad became quite a celebrity, appearing in different poker shows over the next few years.
Although she kept playing in tournaments around Europe, Annette could never replicate the results from 2008.
She was doing well for herself playing as "Annette_15" on major online rooms, but her live career hit a bit of a dry spell.
In January of 2010, she came close to another big score but fell short in the end, busting out in 7th place in the Aussie Millions Main Event.
Later that year, she did manage to take the win in the EPT London Heads Up Event, banking close to $190,000 for her efforts.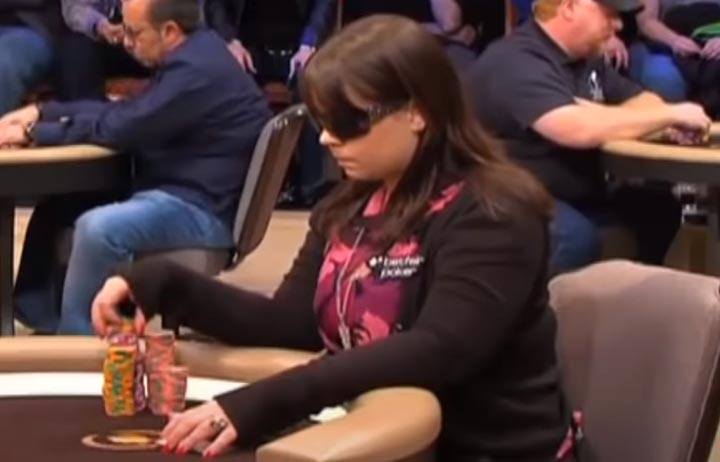 Annette Obrestad's current live tournament winnings stand at $3.9 million, and that number isn't likely to change in the near future.
After 2014, the Norwegian became a rare sight on the tournament circuit, only appearing for a few selected tournaments every year. According to Hendon Mob, her last recorded live cash was in June of 2018.
The world had big expectations for Annette Obrestad, and she had several sponsorship deals with major rooms that allowed her to travel the world and play the game.
But, despite all of it, it seems her drive for poker has subsided over the years.
There was no big exit that we've become used to with poker celebrities these days, who love to announce their "retirement."
The Norwegian phenom somehow faded away; all of a sudden, she was nowhere to be seen.
So, what happened to Annette "Annette_15" Obrestad and what is she up to now?
From Poker, To Fitness, To Makeup
Annette Obrestad currently has a YouTube channel dedicated to makeup.
Her channel, Annette's Makeup Corner, lanched in 2018 and has more than 41,000 subscribers.
But how did Annette end up doing makeup videos, of all things?
I'll admit that I didn't know the story until relatively recently, but she explains it all in one of her early videos:
Basically, around 2015, she switched her focus from poker to fitness. As she grew more obsessive with her eating and fitness, she was spending less time studying the game.
Her passion for poker faded away and, without putting in the required work, she could no longer make money playing. The game continued to evolve without her.
Apparently, she was fine with that, as she no longer enjoyed playing as much and was turning towards other interests in life, fitness being one of them.
But, bad beats don't just happen at a poker table.
Annette started to experience chronic pain, first in her leg and then in her back, pretty much preventing her from doing any serious exercises.
With two of her greatest passions now being off the list, Obrestad had to find something completely new to immerse herself into.
She started watching makeup channels on YouTube and fell in love with them.
After deliberating for a long time, she finally mustered the courage to launch her own makeup channel in 2018, and it seems she's done fairly well for herself.
Just Annette, Not "Annette_15"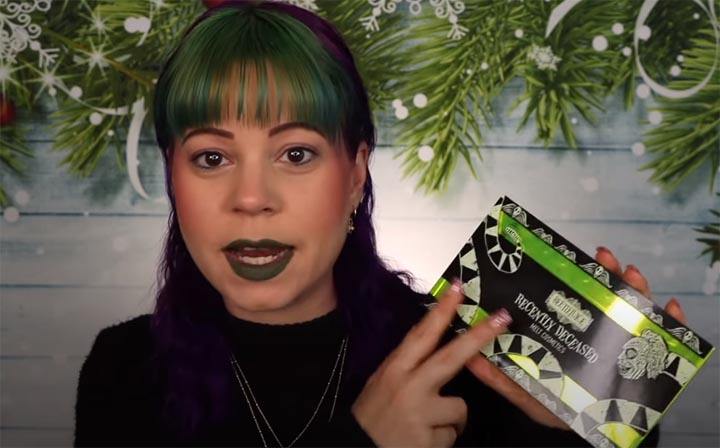 Although it was challenging, Obrestad says she loved the fact that very few people knew her as a poker champion in this space.
If you go through the comments on some of Obrestad's videos, this seems to be the case.
As strange as it sounds, many of those regularly watching her makeup tutorials have no idea she was the youngest WSOP bracelet winner in the history of the game.
To them, she's just Annette, a girl who knows her way around makeup.
Annette Obrestad: The Girl Who Bailed On Poker Too Soon?
In some ways, Annette Obrestad had it all.
Natural talent, love for the game, and some good runs at the very start of her career put her in the prime position to be a great poker success story.
But, while her story was definitely one of success, it feels like it came to an end way too early.
Did she decide that the kind of effort required to stay near the top was too much? Or was it just the case of burnout after so much success in such a short period?
It seems like even Annette herself isn't too sure about it.
It's nice to see she's managed to find another passion and that she is doing something she loves.
One must wonder, though: If she was still around, how would she stack up against the new breed of GTO wizards coming out of the woodwork?
Check out more poker players in this series: