Top 10 Horse Racing Tracks In The World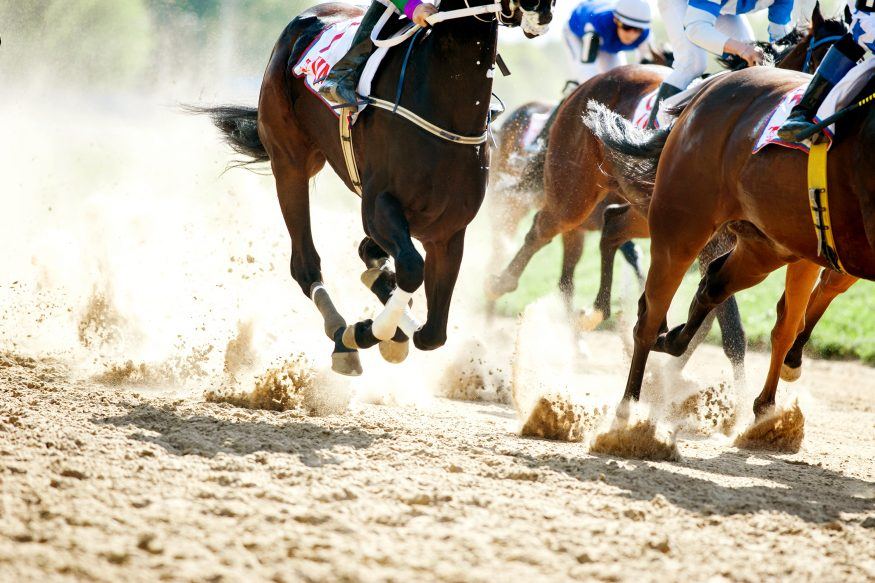 There are few things in life that match the experience of going to a horse race track for a big day. This is one of the oldest spectator sports in the world, evoking images of packed colosseums for the chariot races of Classical times.
Most English-speaking countries and many other nations have iconic horse racing venues that make for a perfect outing with family and friends. What about the best racecourses in the world, though?
Just like the best jockeys, the top 10 horse racing tracks is a highly subjective debate. We have picked out racecourses from the UK, USA, Australia, Europe, and even the Middle and Far East.
Each horse race track on our list has a something special about them. Whether it's storied history, lore or mystique, just mentioning these famous horse tracks conjures up memories of great sporting moments.
With the addition of an honorable mention, here are top 10 racecourses of all-time:
10. Santa Anita Park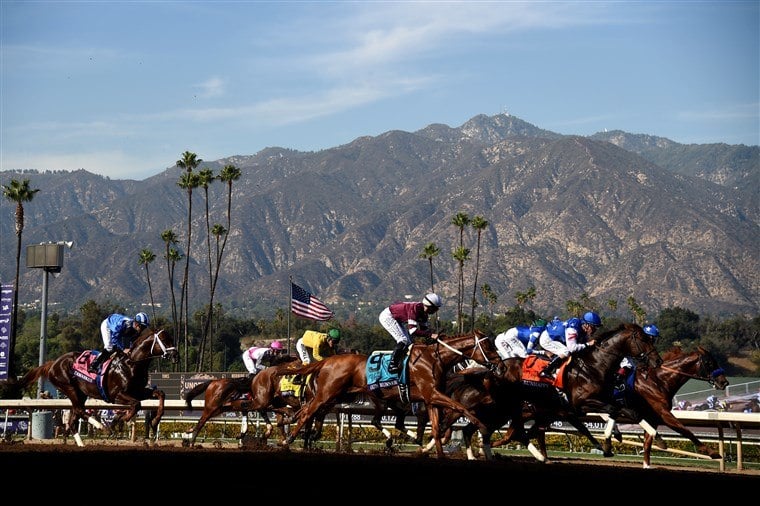 Location: Arcadia, Los Angeles County, California, USA
Orientation: Counter-clockwise (left-handed)
Opened: 1934
Famous Races: American Oaks, Santa Anita Derby, Santa Anita Handicap
Any track that has hosted a record 10 Breeders' Cup World Championships has to be among the best racecourses in the world.
That is what Santa Anita Park in California has done. Home to 13 Grade 1 Flat races annually, the sport here takes place against the stunning backdrop of the San Gabriel Mountains.
Complete with an art deco grandstand that has room for 26,000 fans, the horses race on dirt around a mile oval with a tighter turf course on the inside.
Many of the events run at Santa Anita have plenty of history behind them. The Santa Anita Derby and Handicap have been held here since 1935.
Other races, including The Gold Cup at Santa Anita and Shoemaker Mile, were inaugurated from the end of the interwar period too.
9. Epsom Downs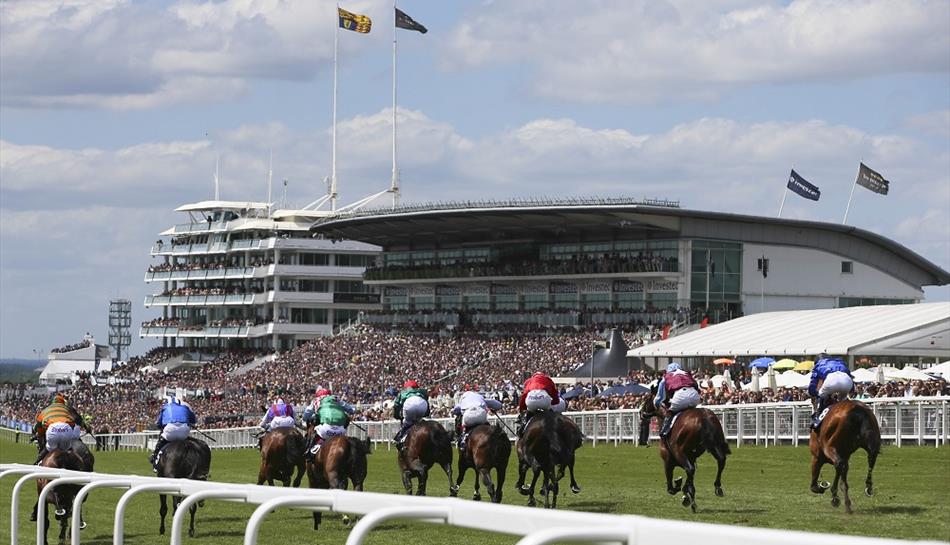 Location: Epsom Downs, Epsom, Surrey, UK
Orientation: Counter-clockwise (left-handed)
Opened: 1661
Famous Races: Epsom Derby, Epsom Oaks, Coronation Cup
Epsom Downs in the southeast of England is the site of the premier British Classic, which also happens to be one of the biggest horse races in the world – and richest in the UK.
For the three-year-olds taking on the rigors of the Epsom Derby and Oaks, this is not only one of the most famous racecourses in the UK but the most unique.
The Epsom track twists and turns, including the famous bend at Tattenham Corner, while thoroughbreds hurtle downhill. Not all horses take to this test and can become unbalanced.
The undulations are even more demanding than at other British Classic horse racing venues Newmarket and Doncaster.
What also makes Epsom Downs one of the best racecourses in the world is the fact that the land around it is open to the public.
Most other tracks are entirely enclosed, so crowds can swell to over 100,000 on Derby day as horse racing fans flock to see equine sporting history made.
8. Flemington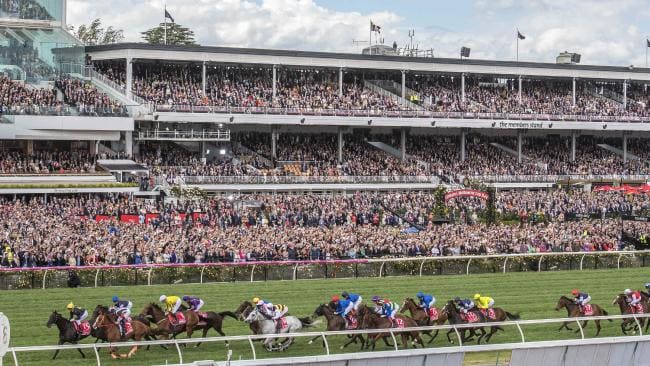 Location: Flemington, Melbourne, Victoria, Australia
Orientation: Counter-clockwise (left-handed)
Opened: 1840
Famous Races: Melbourne Cup, Black Caviar Lightning, LKS Mackinnon Stakes
If you head Down Under to watch horse racing, then it may well to be see the race that stops a nation. Australians treat Melbourne Cup day on the first Tuesday in November as a national holiday.
After all, it's the richest handicap for Flat stayers in the world so it attracts a lot of global attention.
Flemington Racecourse is not a one trick pony, though. Built on Crown land by the banks of the Maribyrnong River, this pear-shaped track is simply the jewel in the Victoria Racing Club's crown.
The Spring Carnival held across several horse racing venues in and around Melbourne during what is the Northern Hemisphere's autumn is a real gala of equine excellence in Australia.
Besides Melbourne Cup day where the three grandstands on the "Straight Six" home stretch are packed with racegoers, Flemington hosts other Group 1 action in October, February and March.
Like Cheltenham, it even has its own railway line and station. There are 13 elite horse races run here in total.
7. Tokyo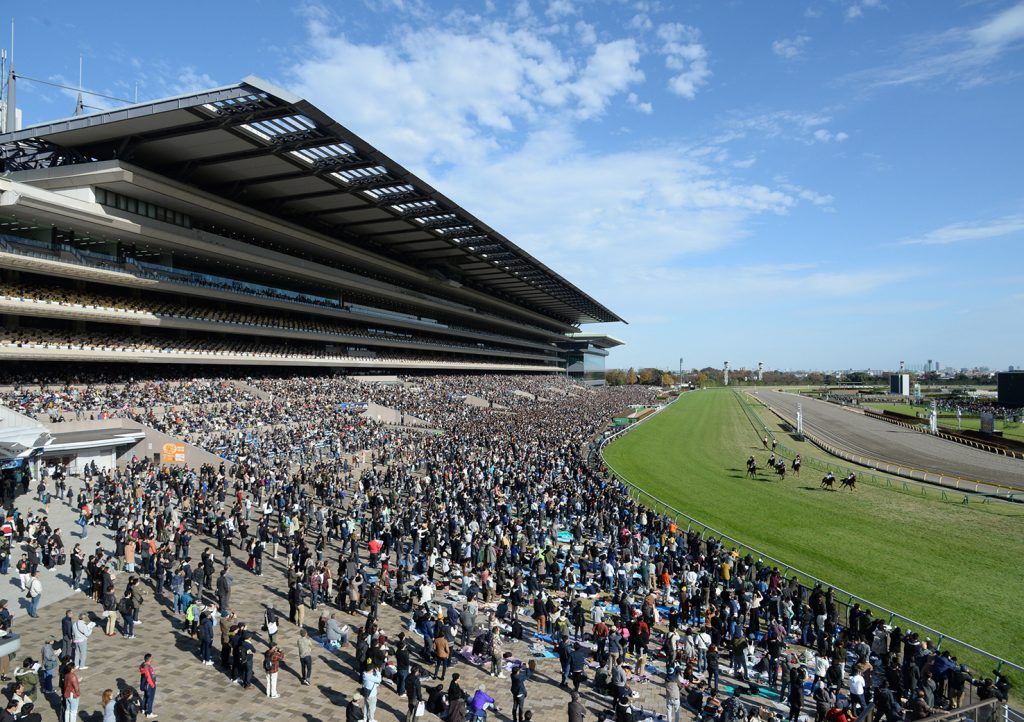 Location: Fuchu, Tokyo, Japan
Orientation: Counter-clockwise (left-handed)
Opened: 1933
Famous Races: Tokyo Yushun (Japanese Derby), Tenno Sho (Autumn), Japan Cup
Any list of famous horse tracks has to include "The Racecourse of Racecourses" as Tokyo is known.
Complete with one of the largest video screens anywhere in the world, the Turf Vision, this venue is another undulating one. The home stretch is all uphill, with the dirt track inside the turf course.
More than 220,000 horse racing fans can pack into Tokyo Racecourse. They don't do things by halves in Japan, with eight Grade 1 stakes races held at this track from February through until November.
As the home of the Japanese Derby and Oaks, and a leg of the Asian Mile Challenge, Tokyo is one of the premier racecourses in the Far East.
6. Saratoga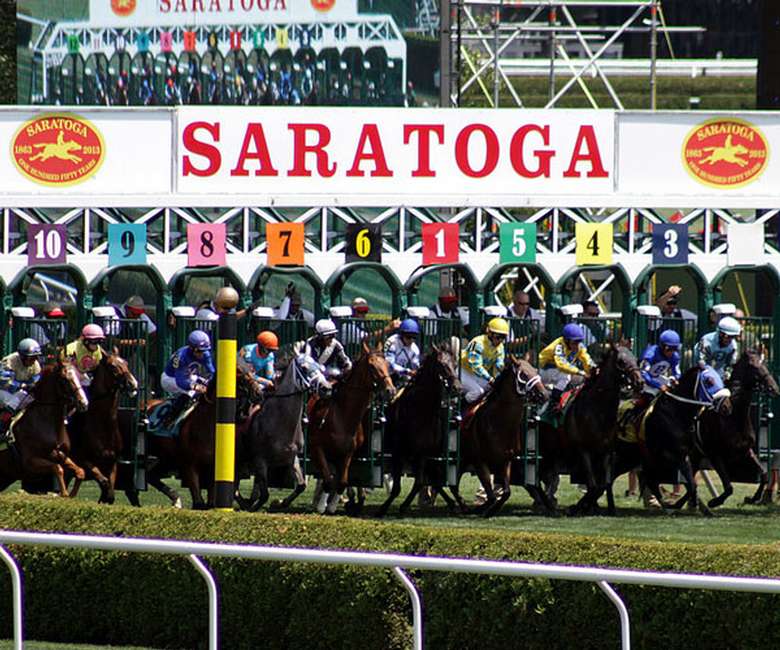 Location: Saratoga Springs, Saratoga County, New York, USA
Orientation: Counter-clockwise (left-handed)
Opened: 1863
Famous Races: Travers Stakes, Whitney Handicap
Saratoga Race Course is widely recognized as the one of the oldest sporting venues in America.
While it may not have Triple Crown events like fellow New York track Belmont Park or Pimlico in Baltimore, there are still 16 Grade 1 races throughout the year here.
The site of the only defeat for Man O' War, other legendary American thoroughbreds and top racehorses have graced Saratoga down the decades.
With feature contests including the Travers Stakes and Whitney Handicap having implications for the Breeders' Cup, this oval track of nine furlongs for dirt racing has a round mile turf course on the inside.
Saratoga is famed for its mineral springs, and you should listen out for the famous bell. This is rung 17 minutes before the off time of a race to summon jockeys into the paddock.
5. Aintree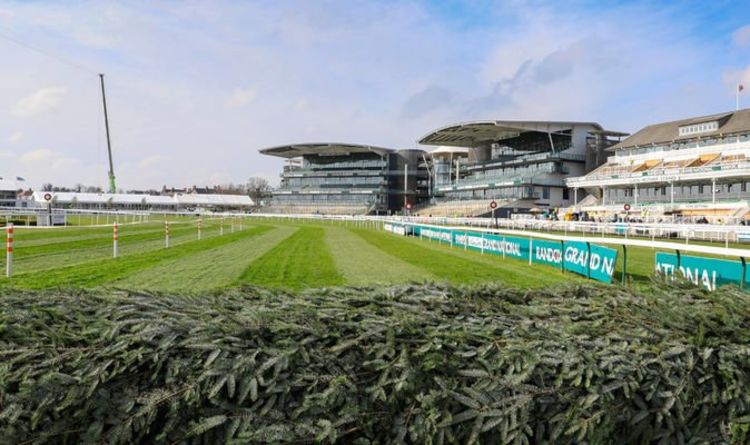 Location: Aintree, Liverpool, Merseyside, UK
Orientation: Counter-clockwise (left-handed)
Opened: 1829
Famous Races: Grand National, Liverpool Hurdle, Aintree Bowl
A shoe-in to be among the top 10 horse racing tracks, some of the fences jumped at Aintree near Liverpool in northwest England are so famous that they even have names!
Ever heard of Becher's Brook, The Canal Turn or The Chair? These are unique obstacles covered with spruce which horses must clear in the world's most famous steeplechase: the Grand National.
While equine stamina is stretched to its very limit in that race which has hundreds of millions of viewers worldwide every year, there is also the Mildmay course on the inside. This is tighter as a result and used for many other Grand National Festival events in April.
Aintree has horse racing events at key points in the National Hunt season: near the beginning in October, approaching halfway in December and towards the end.
It is a major achievement for any jockey to complete the Grand National course as it's the ultimate test of horse and rider.
4. Meydan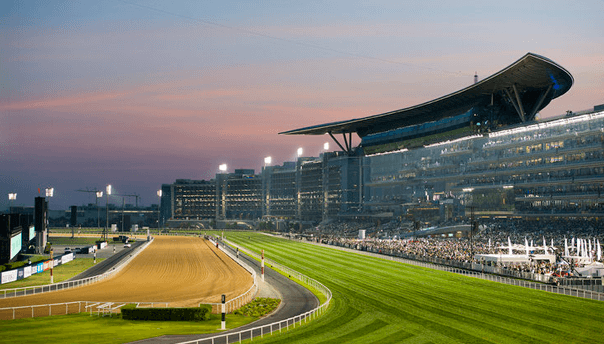 Location: Meydan City, Ras Al Khor, Dubai, UAE
Orientation: Counter-clockwise (left-handed)
Opened: 2010
Famous Races: Dubai World Cup, Dubai Gold Cup, Sheema Classic
This might be the youngest on our list of best racecourses in the world, but the mile-long grandstand gives 60,000 fans stunning views of horses in action at Meydan.
It has more than replaced Nad Al Sheba as the premier horse race track in the Middle East.
Everything here is geared around the Dubai World Cup Carnival during the Northern Hemisphere winter months. That culminates in Dubai World Cup night itself at the end of March.
No one card of horse racing events anywhere on Planet Earth is worth more prize money than this, so it attracts worldwide entries.
It may seem strange to have a turf track in the heart of the Arabian Desert, but Meydan caters for all. The dirt track is on the inside here.
Arabian purebreds also get their chance to compete at this venue, so horse racing is ingrained in the culture of this ultra-modern course.
3. Longchamp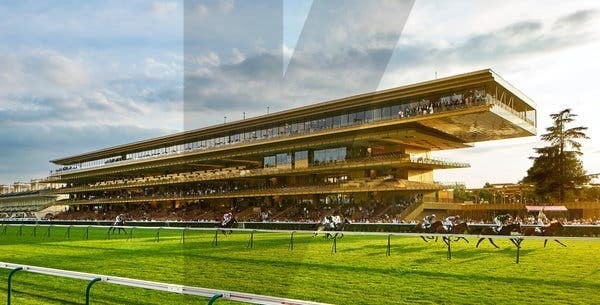 Location: Bois de Boulogne, Paris, France
Orientation: Clockwise (right-handed)
Opened: 1857
Famous Races: Prix de l'Arc de Triomphe, Prix du Cadran, Grand Prix de Paris
Sometimes called ParisLongchamp, the Hippodrome de Longchamp is the site of Europe's richest horse race.
The Prix de l'Arc de Triomphe run on the first Sunday in October has its own storied history dating back a century. Horse racing in Paris at Longchamp goes even further than that, however, to the time of the Second French Empire.
Over half of the Group 1 races in France are held at this track on the banks of the River Seine. Longchamp is most famous for its false home stretches. They always get horses racing far from the winning post, increasing the emphasis on equine stamina.
Arc weekend at Longchamp is a coming together of Europe's top Flat thoroughbreds. Races take place here from spring right through until November, though.
Longchamp has had recent renovation to increase grandstand capacity, and sits head and shoulders above other Greater Paris tracks like Saint-Cloud, Chantilly and Auteuil.
2. Ascot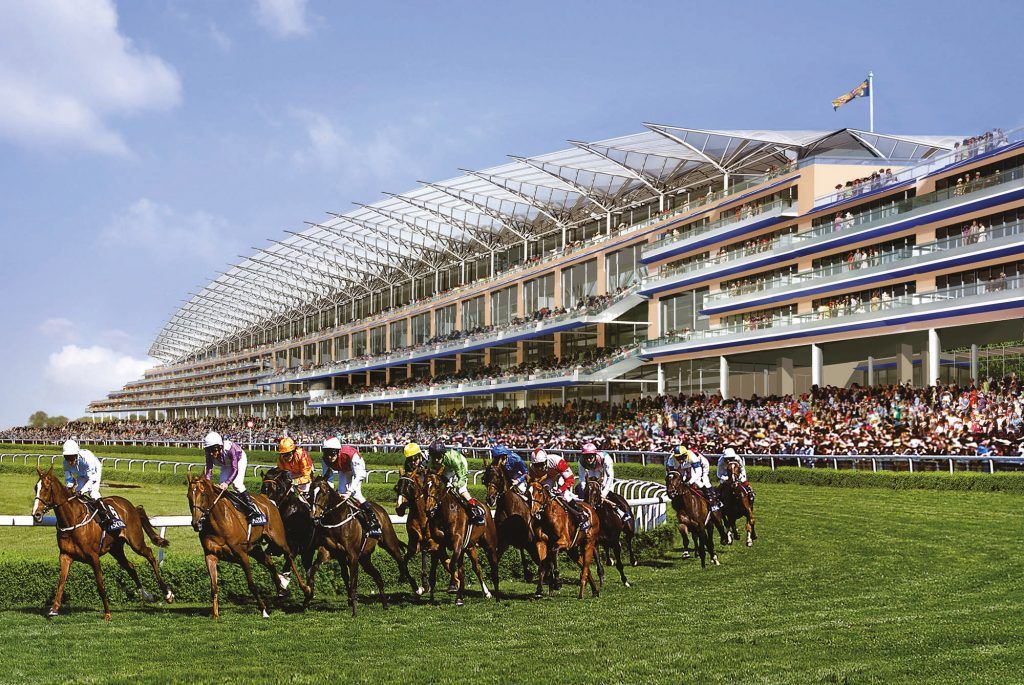 Location: Ascot, Berkshire, Greater London, UK
Orientation: Clockwise (right-handed)
Open: 1711
Famous Races: Royal Ascot, British Champions Day, Clarence House Chase
Dating back to the end of the Stuart period in England, the horse racing mad Queen Anne founded Ascot.
It has since developed into a global sporting phenomenon. Royal Ascot, where Flat thoroughbreds descend on this leafy corner of London's commuter belt from all over the world to race in front of royalty, is the zenith of British equine activities.
That five-day festival in mid-June is a major social, as well as sporting occasion. Morning dress is compulsory in certain enclosures.
With Royal Ascot races including the Gold Cup, King's Stand and St James's Palace Stakes, the action comes thick and fast. There are millions of pounds in prize money doled out here.
Ascot has more to it than the royal meeting, though.
It is also home to British Champions Day in October which officially ends the Flat turf season in the UK. During the winter months, the focus switches to jumps action.
The stiff uphill finish from Swinley Bottom, the lowest point on the track, makes any race on the round course at Ascot tough.
1. Churchill Downs
Location: Churchill Downs, Lexington, Kentucky, USA
Orientation: Counter-clockwise (left-handed)
Opened: 1875
Famous Races: Kentucky Derby, Kentucky Oaks, Clark Handicap
It just had to be Churchill Downs topping our list of the top 10 horse racing tracks anywhere on the planet. Wouldn't you agree?
The most exciting two minutes in sports happen here in the Bluegrass State on the first Saturday in May when the Kentucky Derby is run. That is America's most famous horse race by some way.
The first of three legs in the US Triple Crown of Thoroughbred Racing, Louisville grinds to a halt on Kentucky Derby day. Also called the race for the roses, it is broadcast worldwide and has horse racing fans glued to their screens.
Besides that, Churchill Downs has hosted nine editions of the Breeders' Cup and seven Grade 1 events take place here each year.
Whether you like a mint julep or not, the Kentucky Derby makes an obvious case for this track being among the best racecourses in the world.
Churchill Downs is a mile dirt oval with a turf track on the inside, but it is known all around the globe as the place where the best horses run stateside.
Honorable Mention: Cheltenham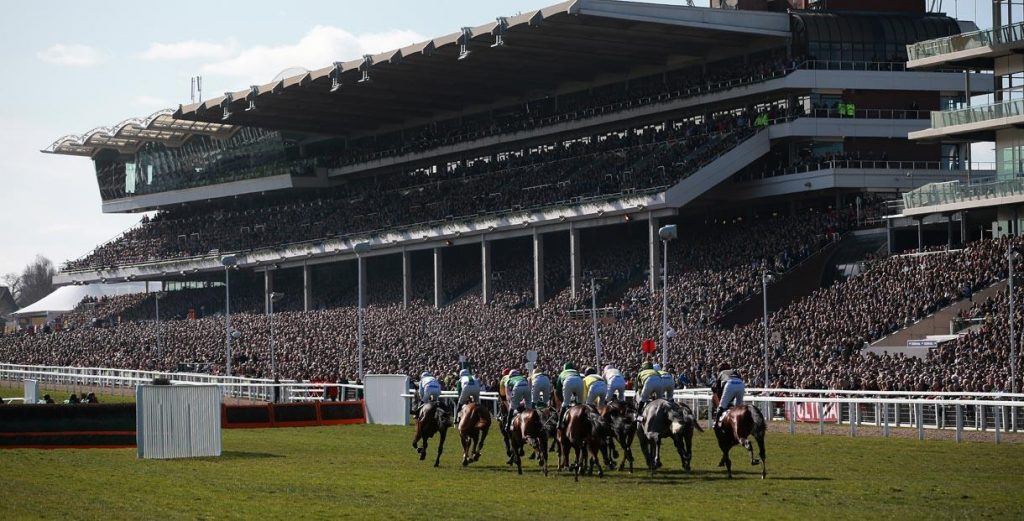 Location: Prestbury Park, Cheltenham, Gloucestershire, UK
Orientation: Counter-clockwise (Left-handed)
Opened: 1831
Famous Races: Cheltenham Gold Cup, Champion Hurdle, Queen Mother Champion Chase
The premier National Hunt festival takes place here in this natural amphitheater in the Cotswolds' hills each March. All of Britain's championship races over jumps, and 14 Grade 1s in total, take place here.
Prestbury Park has an undulating track that sees racehorses climb Cleeve Hill in its back stretch, then descend before a separate uphill finish.
It is a real test of stamina and even shorter distance jumps races require equine endurance to win. There is even a Cross Country course in the middle of the complex.
The Cheltenham Festival is huge in the UK with National Hunt owners and trainers planning the entire season around races that include the Champion Hurdle and Queen Mother Champion Chase.
As well as many novice events and competitive handicaps, the blue riband race – the Cheltenham Gold Cup – is one of two ultimate tests for steeplechasers.
If you're planning on a trip to one of these incredible race courses, make sure you're clued up on how to bet on a horse race before you go.