The Top 10 Horse Racing Courses In The World Ever
Top 10 Racecourses of All Time
There are few things in life that parallel the experience of going to a horse racing track. One of the oldest spectator sports in the world, almost every nation has their iconic tracks that make for a perfect outing with family and friends.
But some tracks have a lore about them that is almost to the point of myth. Just mentioning these names conjures up images of their most famous races, traditions, and contributions to thoroughbred racing.
Below are ten of these famous racecourses, our top 10 greatest of all time.
10) Santa Anita
Location: Arcadia, United States
Opened: 1934
Famous Races: Santa Anita Derby, Santa Anita Handicap
Often called the most beautiful race track in the world, Santa Anita Park has California's San Gabriel mountains serving as its backdrop. If you can tear your eyes away from the scenery, you'll also appreciate the 26,000-seat Art Deco grandstand, a track infield that includes trees and picnic tables, and of course a one-mile dirt course that has held a record nine Breeders' Cups.
The park has had an important influence on horse racing as well: it was at Santa Anita the use of electronic starting gates, finish line cameras, and electronic timers were first introduced to American thoroughbred racing.
9) Aintree
Location: Liverpool, United Kingdom
Opened: 1829
Famous Races: Grand National
You know a course is famous when its steeplechase obstacles–Canal Turn, Becher's Brook, The Chair–are as famous as the course itself. Home to the one of the world's most challenging steeplechase races, the Grand National, the Aintree Racecourse is situated in the Merseyside parish of Aintree.
Its almost 190-year old history has produced many legendary races, including the 1928 Grand National in which 42 horses started the race but only two finished. Unique to Aintree, its fences that bar the water jumps are covered in a total of 100 tonnes of spruce.
8) Flemington
Location: Melbourne, Australia
Opened: 1840
Famous Races: Melbourne Cup, Victoria Derby
Next to the Maribyrnong River in Melbourne is a pear-shaped behemoth of a racetrack that is home to the richest two-mile handicap race in the world, the Melbourne Cup. Among many features, the Australian National Heritage Site has a six-furlong straight called the 'Straight Six', three grandstands, its own railway line, and a capacity for over 120,000 fans.
In total, Flemington hosts 13 G1 races, ranging from 1,000 meters to the 3,200 meter Melbourne Cup. So popular is racing at Flemington that many other tracks around the country receive their best attendance on Melbourne Cup days just to partake in off-track betting on the race.
7) Tokyo Racecourse
Location: Fuchu, Tokyo, Japan
Opened: 1933
Famous Races: Japan Cup, Japanese Derby, Japanese Oaks
In the Fuchu part of Tokyo, you'll find what the Japanese refer to as "The Racecourse of Racecourses." And upon entering, it's not difficult to see why. The Tokyo Racecourse is home to one of the largest video screens in the world and has the capacity to hold 223,000 horse racing fans.
The track has five different grass course options, a dirt track, and a jump course. Throughout the year it is home to eight different Grade I stakes races including one that is part of the prestigious Asian Mile Challenge.
6) Saratoga
Location: Saratoga Springs, United States
Opened: 1863
Famous Races: Travers Stakes, Alabama Stakes, Whitney Handicap
One of the oldest sporting venues in the country, few things are more distinctly American than Saratoga. The track has survived two World Wars, anti-gambling legislation, and periods of terrible reputation. The most famous non-Triple Crown (American) race course, it's particularly notable for seeing some of the most famous horses ever lose on its 9-furlong dirt track. This includes Man o' War's only defeat, Triple Crown winners Secretariat, Gallant Fox, and American Pharoah all losing in the Whitney Handicap.
Some of Saratoga's many unique features include its mineral spring and a bell that is hand-rung exactly 17-minutes before each race to signal the jockeys to the paddock.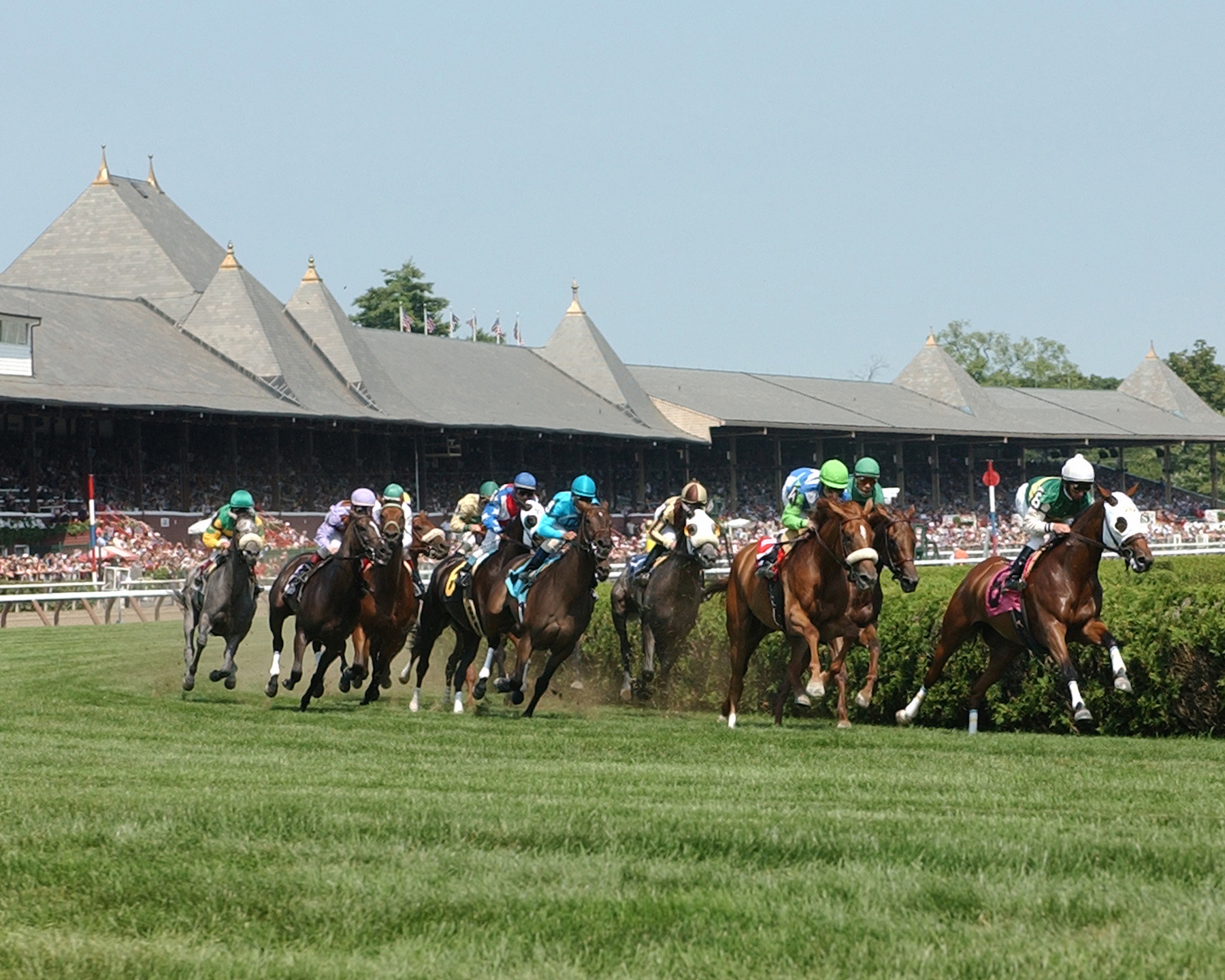 5) Meydan
Location: Dubai, United Arab Emirates
Opened: 2010
Famous Races: Dubai World Cup
For being less than a decade old, Dubai's Meydan Racecourse has done quick work in making a name for itself. Its main grandstand stretches longer than a mile and can seat 60,000, making the longest structure on the planet.  Inside that mile is a five-star hotel, racing museum, restaurants, and corporate suites used by businesses throughout the year.
So big is the entire complex (620 hectares), it is divided into four sub-districts and referred to as Meydan City. On race days of course, it hosts VIPs and high rollers, especially on Dubai World Cup night, the richest day of racing in the world.
4) Epsom Downs
Location: Epsom, United Kingdom
Opened: 1661
Famous Races: Epsom Derby, Epsom Oaks
In the southeast of England sits Epsom Downs. It is here originated the term 'derby', now applied to many different types of sporting events. But originally it referred to only The Derby (aka the Epsom Derby), Britain's wealthiest horse race and the most famous of the five British Classics Races.
The first recorded race here dates back to 1661, though historians speculate that races were run there even earlier. Situated on public ground, the Downs has fielded crowds of nearly 120,000 and a £23.5 million stand was added in 2009 that can hold an additional 11,000 spectators.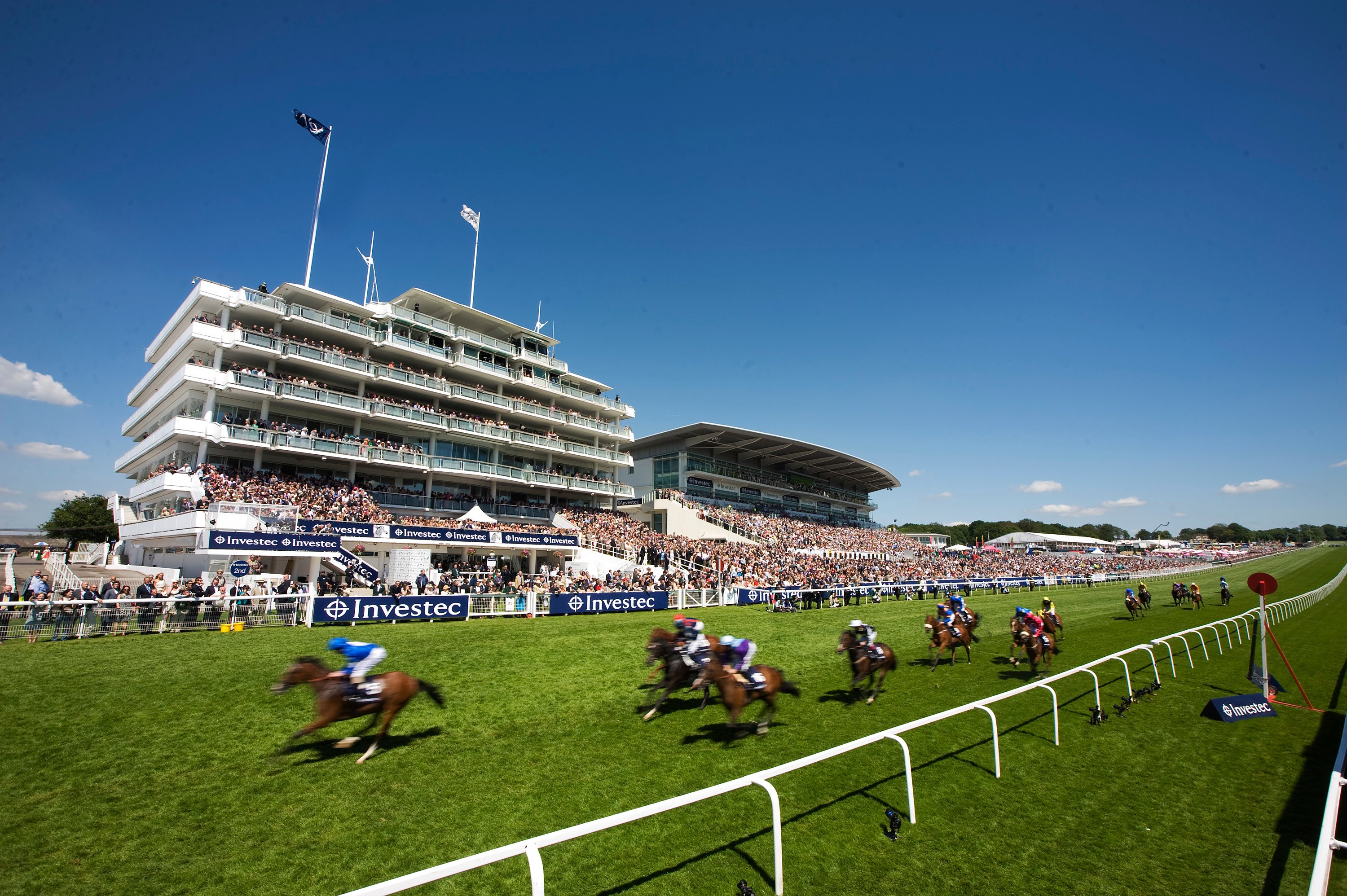 3) Longchamp
Location: Paris, France
Opened: 1857
Famous Races: Prix de l'Arc de Triomphe
l' Hippodrome de Longchamp is a 140-acre racing complex located on the picturesque banks of the Seine River. Over half of France's GI stakes races are held on the courses several different racetracks that range from 1,000 to 4,000 meters.
Most famous of these races is the Prix de l'Arc de Triomphe, often called Europe's most prestigious race. The first weekend of October, over 50,000 fans pack the course to watch the world's richest turf race. Renovations are currently replacing two of the dated grandstands with one state-of-the-art gstand that will give spectators increased visibility of the track and surrounding scenery.
2) Ascot
Location: Ascot, United Kingdom
Opened: 1711
Famous Races: The Gold Cup, King George VI and Queen Elizabeth Stakes
You know a racecourse is famous when a piece of clothing bears its name. The Ascot Racecourse in East Berkshire is home to nine of Great Britain's 32 GI races, most prestigious of them being The Gold Cup and the King George VI and Queen Elizabeth Stakes.
Since 1711, the Royal Ascot race week has been a staple of the British social calendar, attended by members of the British Royal Family (Windsor Castle is just miles from the track). During this week (which includes the Gold Cup on Thursday), over 300,000 people visit the course to watch more than £5,000,000 in prize money be doled out.
1) Churchill Downs
Opened: Louisville, United States
Opened: 1875
Famous Races: Kentucky Derby, Kentucky Oaks
The home of the Most Exciting Two Minutes In Sports, Louisville's Churchill Downs hosts the Kentucky Derby the first Saturday of May. This race is often the best-attended sporting event in the United States, with a record 170,513 packing the ground in 2015.
Donning lavish outfits (especially oversized hats for the women) and sipping mint juleps, 51,000 fans sit beneath the iconic twin spires of the main grandstand on Derby Day. Others dressed a little more casual spend all day in the infield where the small price of admission grants you a "looser" party environment. In addition to the Derby and the Kentucky Oaks, racing is held at least four days in most weeks of the year, and the course has hosted the Breeders' Cup on eight occasions.