Meet The Men Who Gambled Away Up To $200 Million
The casino industry's got a special name for the people who gamble so much money that they keep the business going. They're called whales.
The average casino will earn 80% of its yearly profits from whales, even though they only make up 20% of customers.
To qualify as a whale you'll have to part with at least a few million dollars. Some players featured in this list have even spent $200 million and over.
These high roller players are so important that the casino gives them anything they want, from rent-free luxury penthouse suites to private jet rides and hareems of Vegas' most expensive escorts.
What's It Like?
Picture looking at your bank account and seeing a nine-figure sum. Hundreds of millions of dollars just sitting there. Imagine the warm feeling of satisfaction washing over your body as you realize that you'll never have to worry again.
Now imagine how you'd feel when you lost it all playing high-stakes casino games.
You should have quit while you were ahead but now it's all gone, every last cent. How will you tell your partner that the lavish millionaire lifestyle you've shared is over?
That's exactly what happened to these guys. Except for one. And he's the only player who managed to game the system so hard that he even got the casinos to change the rules for him.
Whale Hall Of Fame
Terrance Watanabe
Terrance Watanabe is an American business man who is estimated to have lost a total of over $220 million gambling. In 2007 alone he lost $120 million in Las Vegas.
He's unusual when it comes to casino whales. That's because he didn't just play skill games like blackjack and baccarat. He often spent hours at the roulette tables or playing slot games and keno.
In fact, casino management referred to him as a 'house player' because he went for the games where the casino had a good house advantage over him.
Watanabe later claimed he was a compulsive gambler and that Caesars Palace casino had exploited him. He says the casino even supplied him with illegal and prescription drugs, as well as alcohol, in an attempt to keep him gambling for as long as possible.
Some employees also say that Mr Watanabe was often seen floating in and out of consciousness while playing at the tables.
These allegations only surfaced when Caesars Palace tried to take Watanabe to court over $14.75 million of bad checks he'd written at their venues. Despite the mudslinging, both parties eventually settled out of court.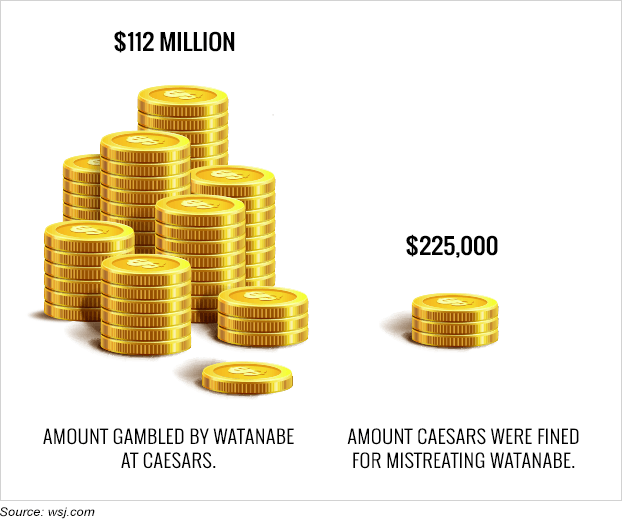 Gambling regulators hit Caesars with a $225,000 fine after an internal investigation revealed, 'Senior managers didn't respond appropriately to allegations that Mr. Watanabe was using illegal drugs on company property and was making inappropriate sexual advances toward Caesars employees.'
Don Johnson
On a happier note, Don Johnson is one whale who bucked the losers trend. He managed to win nearly $15 million from The Tropicana Casino in Atlantic City and Las Vegas' Borgata and Caesars casinos.
Johnson played Blackjack but didn't cheat. Instead he exploited the fact that there was a massive downturn in casino revenues at the time. In late 2010 casinos were desperate to make a profit and they wanted to lure any high rollers they could to their venues.
Johnson used this competitive element between the casinos to negotiate special perks for himself. He had to guarantee spending $1million in a session and in exchange he was allowed to bet $100,000 per hand, given a 20% rebate on his losses and he could split up to four hands at once. Meanwhile the dealer had to deal cards from a hand-shuffled six-deck shoe and had to stick on 17.
According to Johnson this brought the house edge in the game down to one fourth of a percent.
Johnson has been quoted as saying "I just think somebody missed the math when they did the numbers on it."
Zhenli Ye Gon

From 2004 to 2007 this Chinese-Mexican businessman lost a hefty $125 million, mainly at the Las Vegas Sands Casino. It also turned out that Zhenli Ye Gon was well known for being the head of Mexico's biggest meth trafficking business too.
A court case was opened in 2007 to try to find out if the money he was gambling with was actually ill gotten gains from his drug empire. The Las Vegas Sands Casino was also brought in front of the judges to explain why they didn't report the massive bets Ye Gon was making, as regulations say they should.
The court case eventually ended nine years later and he was extradited from the US back to Mexico.
Charles Barkley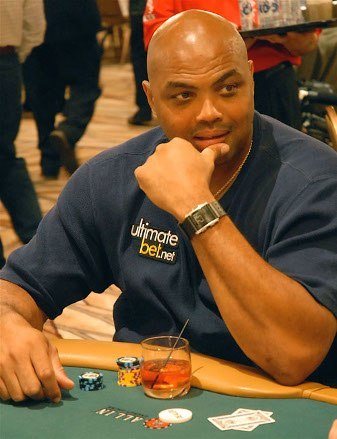 Former NBA player Charles Barkley loves to gamble. He reckons he's lost about $30 million playing blackjack over the years and says he had to cool it down for a while.
He once told an interviewer that he'd set himself the target of winning a million dollars every time he hit The Strip. After pocketing half a million, he'd keep going but would usually lose it all. He realized this wasn't going to end well and said, "I quit for two years."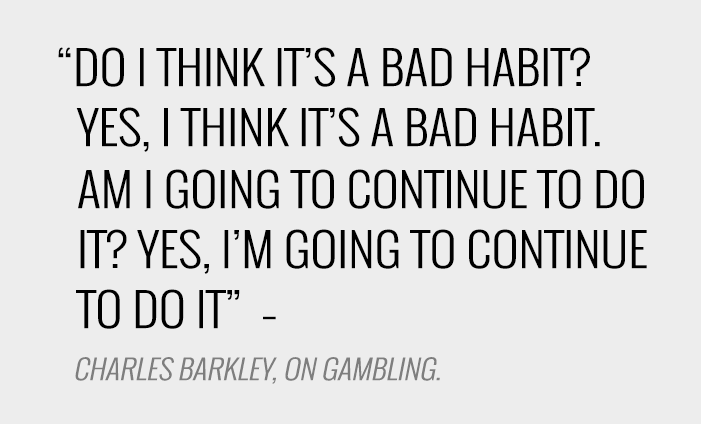 The 'Round Mound of Rebound' as he was known on the basketball court, was also banned from Vegas' famous all you can eat buffets.
According to the Huffington Post, Barkley's appetite was just too much for them to handle. The MGM issued a statement saying, "David Copperfield isn't this good at making stuff disappear."
Barkley knows how to keep the crowd entertained too. This is him doing Karaoke at Harrah's Lake Tahoe Casino:
Kerry Packer
Kerry Packer held the title of the world's biggest gambler for a long time in the early 1990s. The Australian business mogul is said to have won over $33 million in one session at the MGM Grand. In just 40 minutes he also won $20 million at blackjack.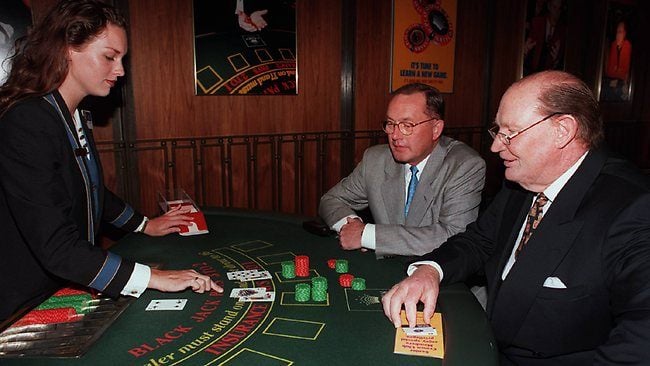 One of the most famous stories about Packer involves a seriously expensive visit to a London Casino. At the unnamed gambling venue he is reported to have bet $30 million across four roulette tables and lost every single bet.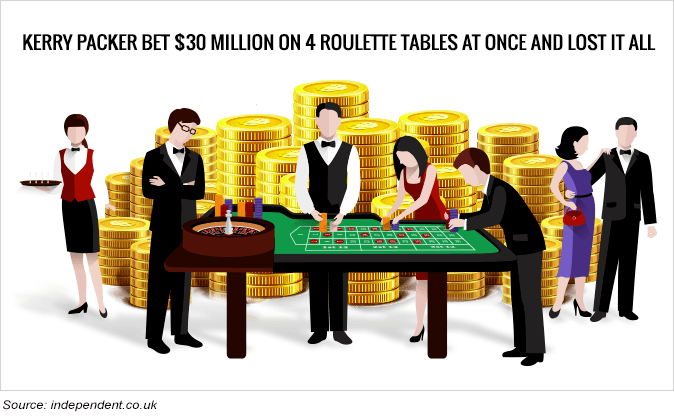 Packer also enjoyed stepping out of his room at London's famous Savoy Hotel and taking short trips to the upmarket casinos nearby. One executive at the Savoy said, "He gambled when he was bored, and he gambled often because he was often bored".
It wasn't just Packer who was taking a gamble. He was betting so much money that the casinos were taking a risk by letting him play at their tables. could either make enough money to have a bumper year or lose so much they would be bankrupted. Aspinalls Club in London closed down in 1990 a week after Packer had won $600,000 there.