Interview with Dusty Summers: Las Vegas' First Nude Magician
A member of the burlesque Hall of Fame, author of three books, casino pit boss, dancer and nude magician, we speak to Dusty Summers about her life on stage and at the casino tables. We warn you though, you are going to wish you'd done half this much in your lifetime.
Dusty also takes the time to walk us through her highs and lows in Vegas, as well as offering some tips to new players.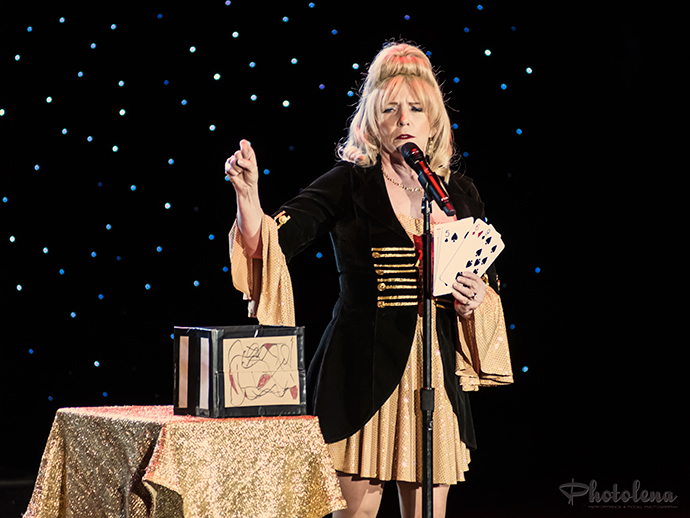 Tell us a bit about your background? 
I have been a burlesque dancer, a magician, an emcee, and a former nightclub owner (1983-1990) which also had the first "Just for Fun" blackjack table in San Angelo, Texas in about 1990. I moved back to Las Vegas 1991 and learned blackjack and roulette. Eventually, I broke in at Golden Gate, went to work at Circus Circus as a multi game dealer in 1991.
I also finished my degree Bachelors of Science in Business Administration (California Coast University by correspondence) and have a thesis "Women In Gaming" in the UNLV Gaming Library. I was promoted to the floor at Circus Circus in about 1996, and retired from there in 2005, returning briefly in 2006 and then back to entertainment, appearing all across the country and most recently in the show Vegas Nocturne at the Cosmopolitan, which closed in 2014 after eight months. In 2013 I was really pleased to be inducted into the Fans' Entertainment Hall of Fame for Excellence in Entertainment. It was a real honor to be in the same company as Roy Hamilton Sr., Fielding West, Berri Lee, Carme Pitrello, Linda Kristy, Jazzin Jeanne Brie and Bill Baily, Bill King, and Georgette Dante.
I have written several books including "No Ifs Ands or Butts, I Can Teach You to Play Blackjack" (my husband and I sold it as we traveled in across the country in 2006. We probably only sold a half dozen copies! I have also written "The Lady Is a Stripper", "The Golden G-String" and "How to Be a Professional Stripper".
What did you do in Vegas? 
In the 1970's I appeared at the Palomino, Cabaret, Sahara, Maxim Hotel, Royal Las Vegas, Jolly Trolly, The Treasury, and others as Las Vegas' Only Nude Magician. I also wrote a column for the Vegas Visitor called The Magical World of Burlesque.
I left Las Vegas in about 1983 and, after a national tour, moved to San Angelo and opened Dusty's West and also published an entertainment newspaper called City Lites. I have been a performer since about 1965 starting as a go-go dancer in Phoenix, Arizona.
What did your average day involve working the casino tables?
Customers used to ask me what I did as a supervisor. I told them I just walked around with a pen, looking professional or like I knew something they didn't. Actually, I rated players to determine comps, monitored dealers, settled disputes in gaming situations, counted cards, ordered fills for tables, and did lots of paperwork. I also reported to the shift bosses as games lost, or won, money.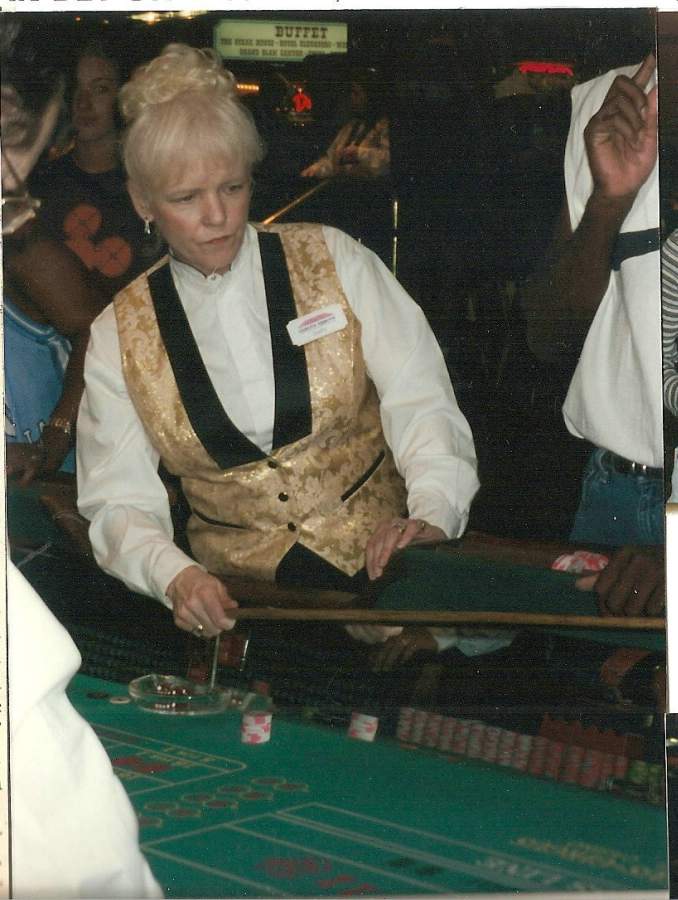 What was the strangest thing you ever saw/had happen to you? 
I halted a dice thrower and made him pass the dice to the next player because he kept throwing them too high in the air. The players and the dealers were surprised there wasn't a riot because they'd never seen anyone do that before. But I've learned you can do almost anything if you do it firmly. No one left the game including the customer that was throwing the dice. And the point remained the same for the next thrower.
How many hours did you work?
Eight hour shifts, except holidays which were generally 12-hour shifts.
Did you ever gamble yourself? 
I got hooked on video poker for a few years and, after getting tired of losing my money, I quit. I rarely gamble anymore: maybe twenty dollars on Megabucks after the movies or dinner, and sometimes we buy Lottery Tickets.
What was the best/worst thing about your job? 
The best thing? I loved my fellow dealers for the most part, although there were a few that were pains in the butt. I hated having to write anyone up because I didn't want someone to lose their job. I also loved the customers which were from all over the world
What is the nicest thing to ever happen whilst at work/in Vegas? 
During the days of 9/11, the dealers and management tried to let our fellow employees who were from the Middle-East know that we didn't hold them responsible. We were shown the photos of the two that they thought had spent time in Las Vegas and they did look familiar, but seeing so many customers through the years made it difficult to actually recall them specifically. I did notice that Middle-Eastern men did not like it when I had to tell them what to do. Neither did gang members from California!
The funniest thing that happened to me when dealing craps was that I had to stand on a box and wear heels because I am 5'1″ and couldn't reach across the table. One day I nearly fell into the table having lost my balance while reaching to pay a bet near the stick man.
I didn't get a lot of help dealing craps because the boxmen didn't like having women in the game. Eventually, when I became a supervisor, I taught blackjack, roulette and craps to customers. I told them, "if a blonde can deal the game, then they can learn to play it." Craps is particularly intimidating to new players.
Do you have any advice that you'd give to casino goers? 
Learn something about the games you are playing. Learn the basic strategy for blackjack, what the payoffs and the odds are for roulette, craps or other games. You've worked hard for the money you made, so work a little bit more so you can play longer on your investment and, just maybe, win. And, if you do win, walk away! If you are losing, walk away. Take a break. If you don't understand the rules of the games such as, "Why can't I touch the cards?" ask the dealer. Always speak up if you don't understand something. It is your money!