Finding Love Online – What Are The Chances?

The days when finding a partner was a matter of pure romantic serendipity are long gone. In the digital age, anyone interested in locating that special someone has a ton of online options.
So here at Casino.org we decided to see what the odds are that you can find a life partner online, by analyzing data and working alongside a team of experts from the dating industry.
Our expert contributors include: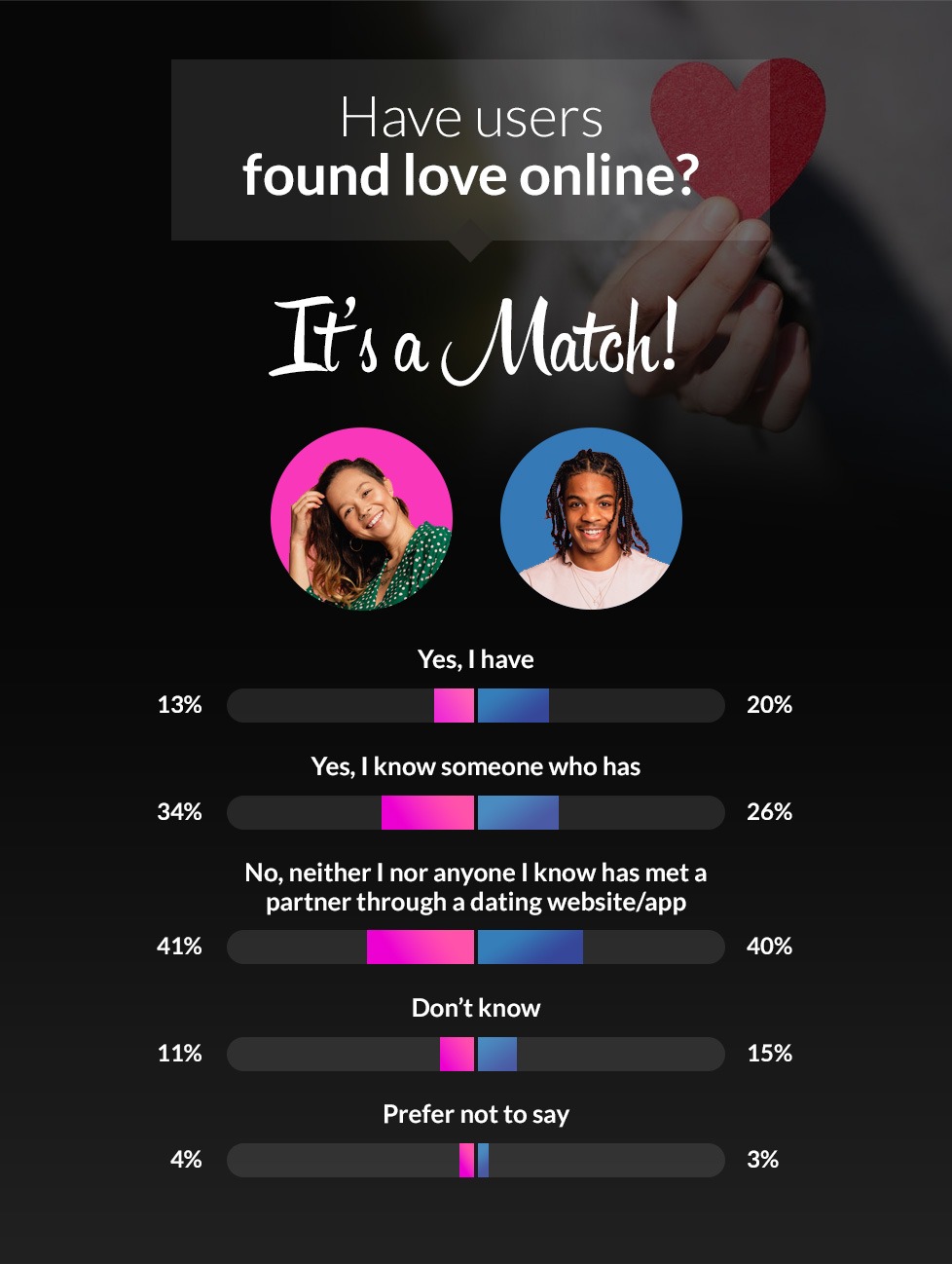 A recent study in the US showed 20% of men and 13% of women had found a romantic partner online. That means the actual odds for men are 4/1 (5.0) and for women about 6/1 (7.0).
However, the flipside is that nearly half – 40% of men and 41% of women – had been unsuccessful in their search.
Finding your soulmate used to be a matter of art, and the fact it can now be done via science isn't to everyone's taste. Dating Coach and Matchmaker, Lucie Luvida, addresses how dating apps have transitioned over the years: "You will find people who just want to make new friends, chat, or who are just there out of boredom. People's romantic goals on dating apps have changed, from looking for an exclusive partner to looking for hookups, looking for something casual, or even couples looking to spice it up."
"The old purpose of dating apps was to be a tool that allowed two people to be introduced," she continues. "Unfortunately, that concept has changed over time, and now some people never even get to the meeting point of the process, leaving them stuck swiping forever."
We want the convenience of having plenty of choice, but at the same time the romance of meeting someone naturally and growing a rapport in the old-fashioned way.
According to Author and Dating Advice Examiner, Kevin Darné: "The key to dating success both online and offline is finding someone who wants what you want and there is a mutual belief you have found it in each other."
What can go wrong?
As Shakespeare wrote, the course of true love never did run smooth. But even the Bard in all his wisdom could not have foreseen the kind of issues that all too many users of online dating suffer.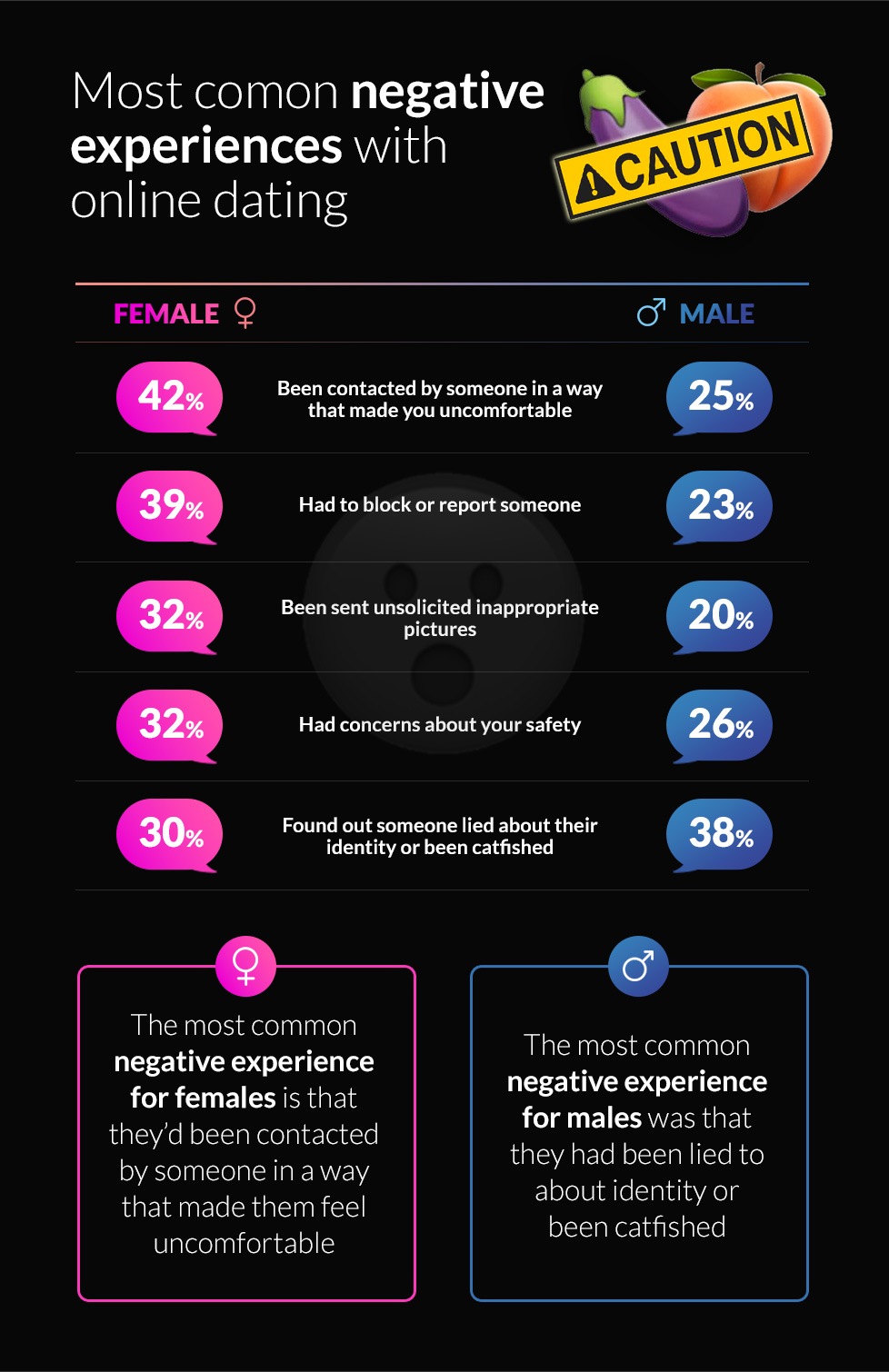 Nearly half, 42%, of female respondents to a recent survey said they had been contacted in a way that made them feel uncomfortable. Almost as many women, 39%, had had to report or block someone, while 32% had been sent inappropriate pictures.
Intriguingly, more men than women – 38% to 32% – had found out someone had lied about their identity. This is known as "catfishing", one of many terms from online dating that have now become common parlance.
Justin Lavelle, CCO of Peoplelooker.com, has provided us with a few tips on how to identify a catfisher early on:
When you talk on the phone, the connection is poor. Scammers rarely give out a legitimate phone number. Instead they'll use VoIP (voice over internet protocol), which is routed through a Wi-Fi connection instead of cell towers.
They're ridiculously good-looking and have an impressive career. […] A reverse image search could reveal the truth.
They call you "dear" or "sweetie" up front. Using pet names right away could indicate that a scammer is trying to hastily forge an emotional connection
Lavelle shared his expertise on some precautions you can take: "Before you get too invested in anyone you meet online, do some research and run a public records search to make sure they're legit." He adds: "If you're not finding any proof of their claims, though, it's time to move on […] trust your gut."
There's also "ghosting" – simply disappearing from an online relationship without explanation. Its extreme form, where they block the other person from all their social media, is called "cloaking".
Then there's "submarining" – that's resurfacing in someone's life without explanation after ghosting them.
"Kittenfishing", meanwhile, is the milder form of catfishing. Not actually lying about your identity, but presenting an unreal, airbrushed version of yourself to the world.
Being hidden behind a screen makes this all too easy. Lavelle explains that: "The anonymity of tech has really allowed bad behaviors to take off. As some may argue that video games have desensitized a generation to violence, some may also argue that technology has emboldened those to act poorly in the dating arena."
It's well worth checking out some of the latest safety advice around dating apps and sites. Some of these tips relate to the digital space you occupy; others are about ensuring your personal safety.
So why do people do it?
It's interesting, and heart-warming, to learn that the most popular reason why people in the USA use online dating sites is still the old-fashioned one.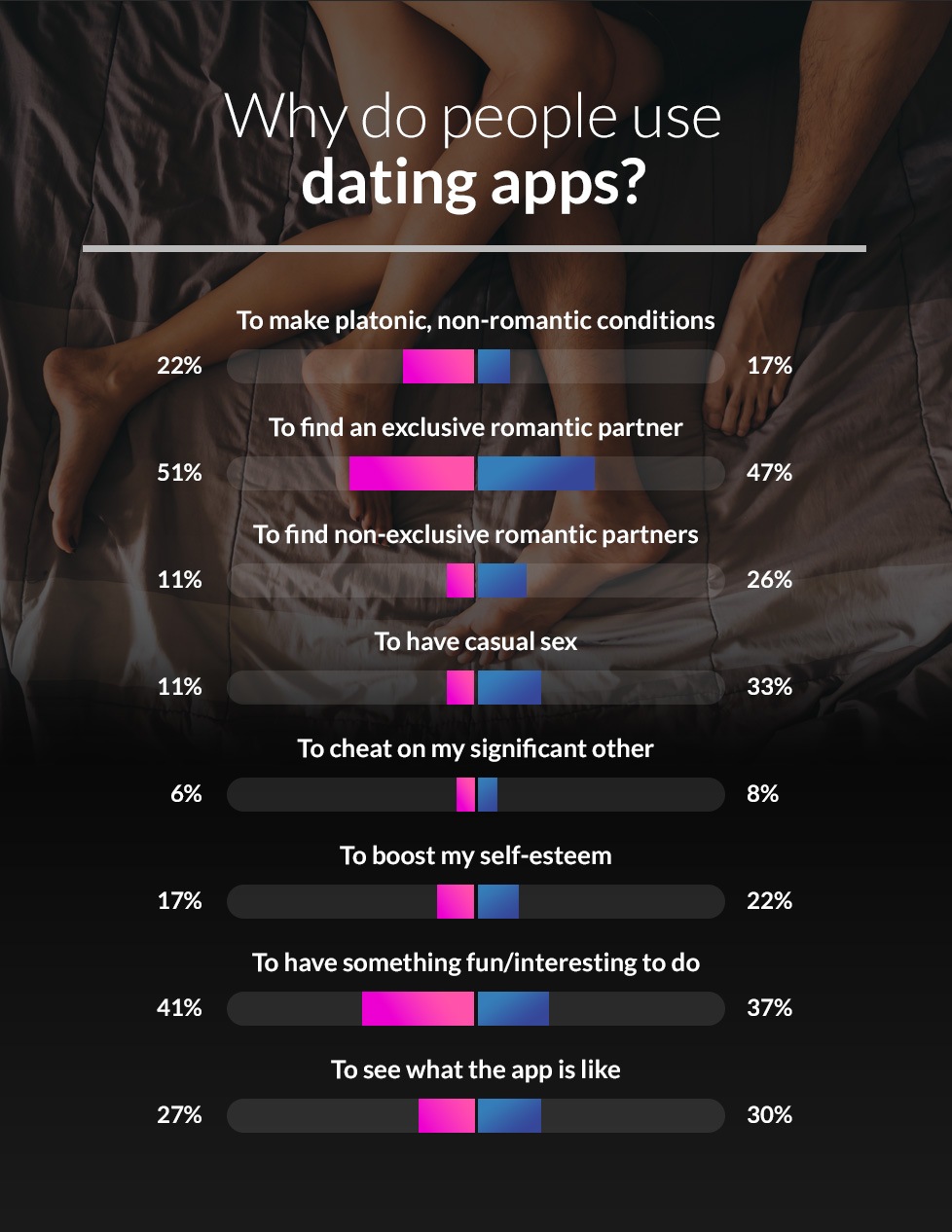 "To find an exclusive romantic partner" was the top choice for both men and women surveyed recently. That was the answer given by more than half of women, 51%, and by 47% of men.
The second most popular reason among both sexes was "to have something fun/interesting to do".
However, three times as many men as women admitted they did it "to have casual sex" – 33% to 11%.
And kudos for honesty to the 8% of men and 6% of women who use online dating "to cheat on my significant other".
However, it is worth contrasting the high percentage of those respondents who say they are looking for a life partner with the actual results (see above).
Only 20% of men and 13% of women said they had actually found a romantic partner online.
The search goes on…
So you've made contact – what's next?
You've swapped messages and like the look and sound of each other. What do you do before actually, you know, meeting up in person?
It's time to do a little research. There's no harm in being a bit cautious. Plus, the risks of online dating are real. Every few weeks, it seems, a story emerges of someone being scammed by a prospective partner they met online.
So it's worth doing a little bit of checking before agreeing to turn up for that all-important first date.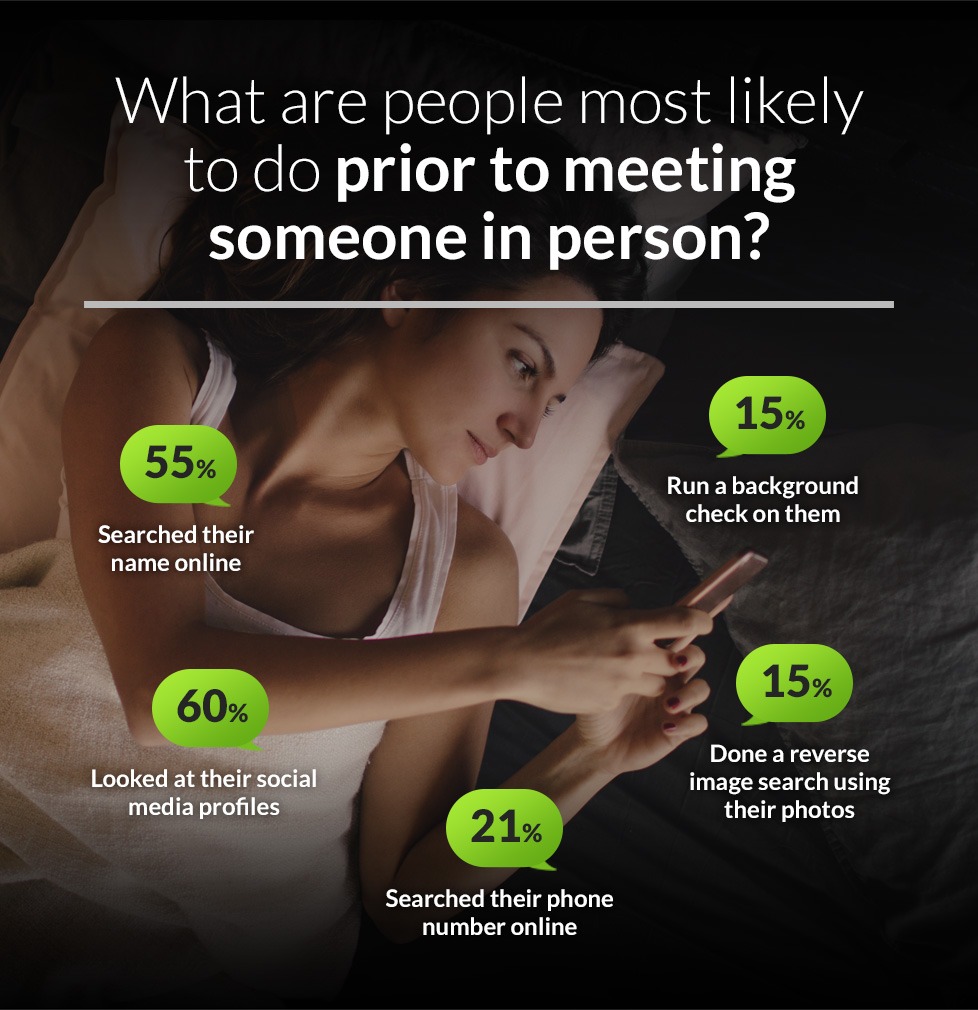 Indeed, latest figures show fewer than a quarter of people, just 23%, do no background research at all.
More than half, some 60%, of online dating users will check social media profiles of prospective dates, while almost as many, 55%, will search for their name online.
It's very unusual these days to find someone who has no social media presence at all. Indeed, a complete absence from the digital space might in itself raise some questions about your new partner's suitability and intentions!
Can you put a price on love?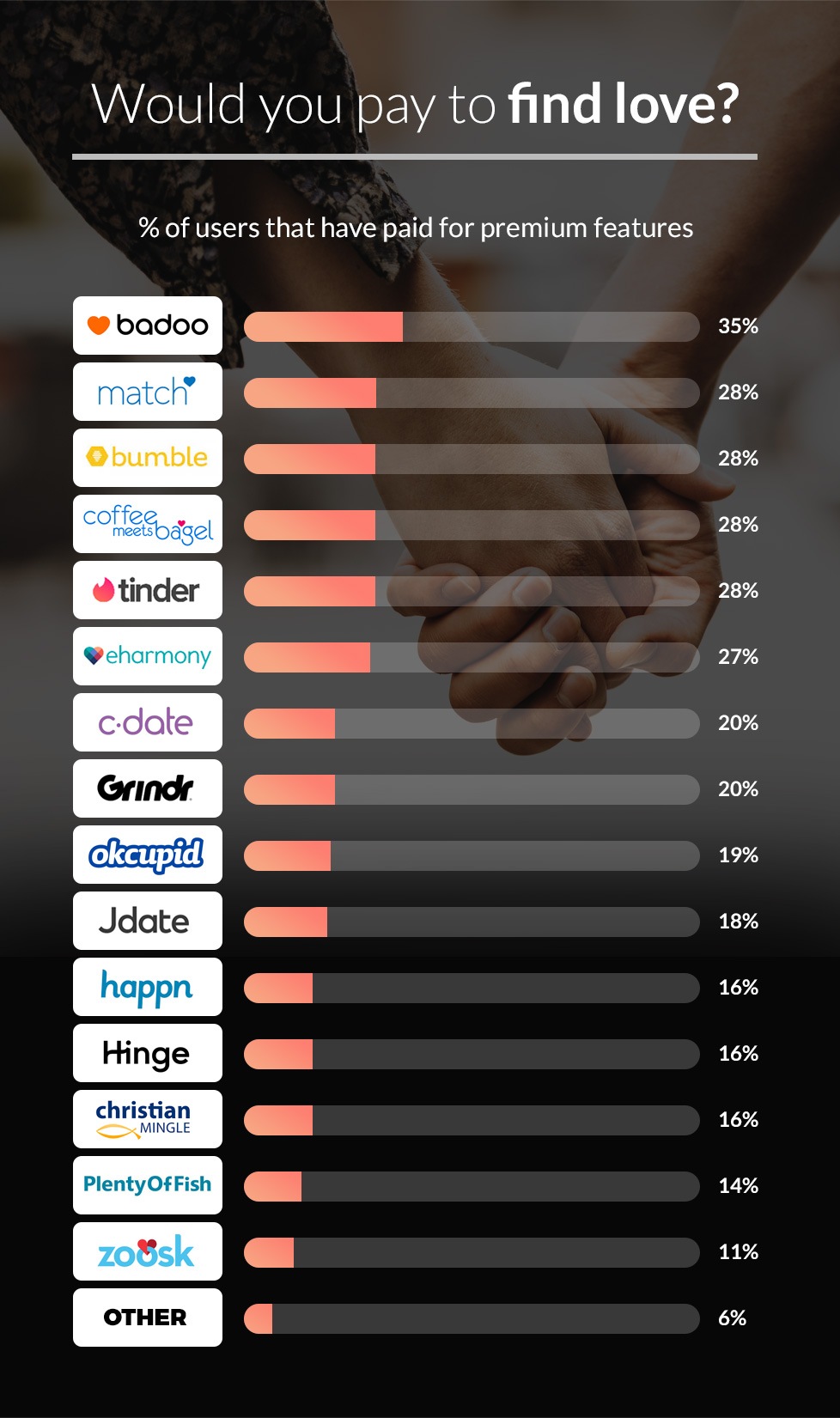 You pay your money; you take your choice… or do you?
Many dating sites and apps offer basic membership for free. This is probably a good place to start when you're first dipping your toe in the waters of online dating.
PlentyofFish offers you a personality test, allows you to specify what sort of relationship you are looking for and you can communicate free with other people on the site. However, while this is all free you have to upgrade your membership – $35.40 for three months – to see who's viewed your profile and to increase your traffic.
OkCupid is the other giant of the free app dating world. The USP here is that you are matched with others based on the way you answer a set of introductory questions. Again, the option is there to upgrade to get more from the site at rates starting at $14.95 for one month.
For those who are committed to finding commitment, investing in a subscription is more likely to be the right tactic.
Match.com has a range of subscriptions; three months will cost you between $17.99 and $20.99 a month for a service that uses keywords in your profile to match you with others. There's also a guarantee that if you don't find someone in six months, you get the next six months for free.
eHarmony starts you off with a very detailed set of questions and is specifically targeted at those wanting long-term relationships. It costs $39.99 a month for a three-month subscription.
So how do you decide whether to start paying for online dating? Some respondents to a recent survey said that being able to see who liked them first made a big difference to their confidence in using an app. 
Which app is the one for you?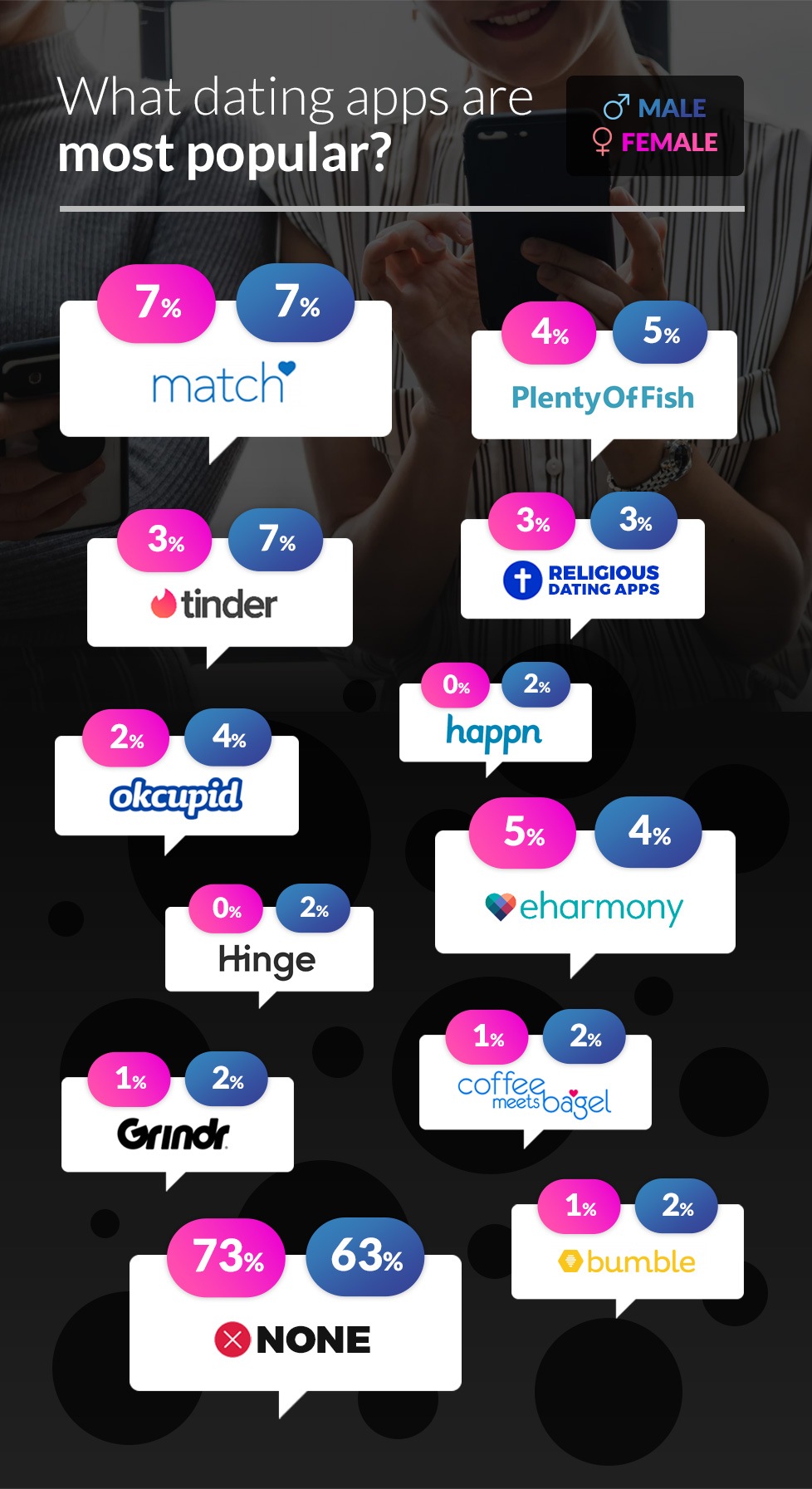 We calculated an average across all age groups to find out which dating apps are most popular but, unsurprisingly, different dating apps appeal more to different age groups.
Recent research in the United States showed the following breakdown of popular apps by age:
18-29: Tinder
30-44: Match.com
45-54: Match.com
55-64: Match.com
65+: eHarmony
Perhaps it's not a shock that Tinder appeals most strongly to the younger end of the spectrum, as it's the app that's known most widely for being the place to go for a casual hook-up rather than lifelong romance. Interestingly, the same stats showed that 0%, none at all, of the over-65s surveyed said Tinder was their favorite dating app.
And it's worth pointing out that 88% of that age group don't use dating apps at all, a figure that drops to just 47% among those aged 18-29.
It's clear that certain apps are known for certain types of relationships. Badoo – the biggest dating app in the world with nearly 400 million users – and Tinder encourages you to go for quantity over quality.
As Lavelle points out: "Opponents would say that dating apps have made dating less about meeting someone special and more about the numbers. By numbers, it means some people become more concerned with how many dates they go on. It turns into a game."
But, partly as a reaction to that, apps like Coffee Meets Bagel (which has been labelled the anti-Tinder), eHarmony and match.com target people looking for serious, long-term commitment.
Lavelle continues: "Whether we like it or not, online dating is here to stay and with all the additional online dating apps that are being added almost daily, you now have the ability to fine tune your pool of daters based on lifestyle, interest areas and type of relationship you're looking for."
The simple conclusion has to be that, whatever stage you are at in your search for love, and whatever your immediate needs are, there will be an app for you.
What apps are available for the LGBTQ community?
Online dating has revolutionized the search for a partner among the LBGTQ community. In recent years a series of apps and websites have been launched specifically to cater for this market.
Grindr is the largest social networking and dating app across the community. By early 2018 it had 3.6 million daily users across nearly 200 countries.
LGBTQutie is the place for you if you are looking for more than a hook-up, while Scruff and Chappy cater for gay men and Scissr, HER and Fem are among the leading lesbian apps.
More than half of LGBTQ singles – 56% – say they have dated someone they met online.
Online dating is clearly here to stay
How and why you use it will depend on your circumstances. If you are looking for a casual hook-up, there are plenty of free apps that will allow you to swipe away to your heart's content. However, if your search is for something more serious, it may be worth spending a bit more time and money to narrow the odds in your favor.
The key statistic is that 20% of men and 13% of women have found their life partner through online dating. And more and more of us know someone who has found lasting happiness through the digital space.
In the end, love will always defy rational and scientific analysis. So it will never be possible to tell each person exactly whether or not online dating is right for them.
We're never going to be able to guarantee that a particular course of action will lead to the desired romantic result. But the plethora of apps and websites out there mean we might have an awful lot of fun trying.
Images: GETTY
Infographics: by Casino.org
Sources:
https://www.datingadvice.com/online-dating/online-dating-marriage-success
https://muchneeded.com/tinder-statistics/
https://www.independent.co.uk/life-style/dating-apps-millenials-10-hours-per-week-tinder-bumble-romance-love-a8174006.html
https://www.statista.com/statistics/976259/adults-meeting-romantic-partner-through-dating-app-website-usa-gender/
https://www.bbc.co.uk/news/uk-wales-47224427
https://www.statista.com/statistics/809443/us-users-favorite-dating-websites-apps-gender/
https://www.standard.co.uk/tech/best-dating-apps-websites-2019-a4148771.html
https://www.moneycrashers.com/best-online-dating-sites-free-vs-paid/
https://www.vox.com/the-goods/2018/9/19/17856860/tinder-plus-gold-bumble-boost-okcupid-a-list-dating-apps-premium
https://www.theepochtimes.com/man-scams-80000-from-fiancee-he-met-online-police_2932368.html
https://www.highspeedinternet.com/resources/safest-dangerous-states-online-dating-2019
https://www.statista.com/statistics/976154/following-actions-completed-adults-prior-meeting-someone-met-dating-app-usa/
https://www.statista.com/statistics/809605/us-users-negative-online-dating-app-or-service-experience-gender/
https://www.pareto.co.uk/blog/catfishing-ghosting-and-submarining-they-dont-just-happen-on-tinder–167761/
https://www.bbc.co.uk/news/business-45419105
https://www.rainn.org/articles/online-dating-and-dating-app-safety-tips
https://www.statista.com/statistics/976223/reasons-why-adults-use-dating-websites-apps-usa-gender/
https://www.digitaltrends.com/mobile/best-lgbt-dating-apps/
https://en.wikipedia.org/wiki/Grindr
https://www.pinknews.co.uk/2019/01/02/lesbian-dating-apps/
http://match.mediaroom.com/2016-05-24-Match-Releases-New-Study-On-LGBTQ-Single-Population