Today's Fun Sucker Bet: Craps High Dice/Low Dice
Pretty much all craps players understand the perils of the Big 6 and 8. Those giant red numbers, within easy reach, are such a temptation for inexperienced players.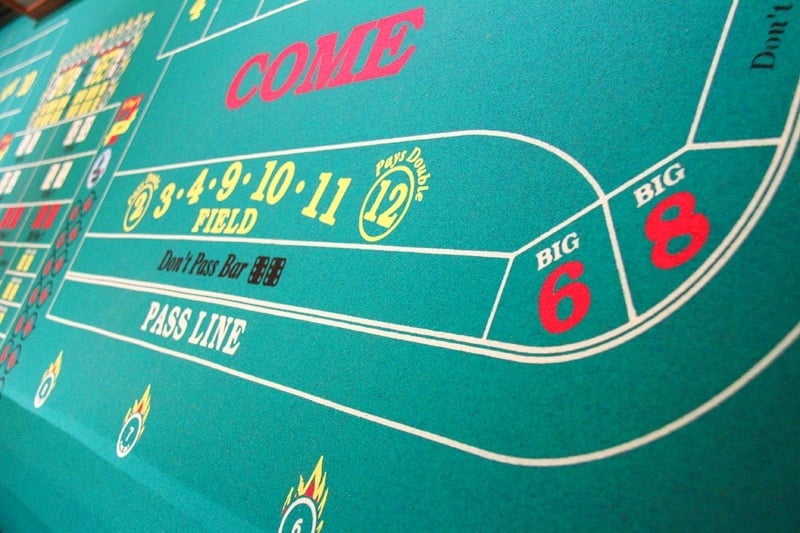 What those tricky craps layouts don't point out, however, is there's another bet on the 6 and 8 that pays more for the very same dice roll. The Big 6 and 8 pay even money ($5 in winnings for a $5 bet), but if you ask the dealer to "place" a 6 or 8, that bet pays $7 for a $6 bet.
The Big 6 and 8 bet has a house edge of 9.09%, and the place 6 and 8 bet has a relatively teensy 1.52% house advantage. Now you know why they're called "sucker bets."
A couple of casinos in town have added a new wrinkle to this craps table real estate by swapping out the Big 6 and 8 sucker bet for a less suckery one, the High Dice/Low Dice bet.
We saw this bet at the Cannery casino, but understand it's also available at the Hard Rock casino.

Here's how it works. It's a one-roll, self-serve bet (the player can bet it directly, as opposed to asking the dealer to do it).
On the Low Dice side, if a 3, 4, 5 or 6 is rolled, the bet wins and is paid even money (you get $5 for your $5 bet). If a 2 is rolled, the bet is paid 5-to-1 (so, $25 for a $5 bet). If a 7, 8, 9, 10, 11 or 12 is rolled, the bet is lost.
The High Dice bet is the flip side. If an 8, 9, 10 or 11 is rolled, you're paid even money. If a 12 is rolled, the bet pays 5-to-1. If a 2, 3, 4, 5, 6 or 7 is rolled, the bet is lost.
It's a fun little side bet and here's why. The house edge is 5.55%. To be clear, that makes it a sucker bet, but it's half the sucker bet a Big 6 and 8 is!
By comparison, the house edge in roulette is 5.26%, so it's on par with one of the most popular table games in Las Vegas casinos.
Let us know how it goes!