Spago at Bellagio is Reliably Unremarkable
Spago has opened at Bellagio and we can confidently report the longtime Strip fixture is still sort of just okay.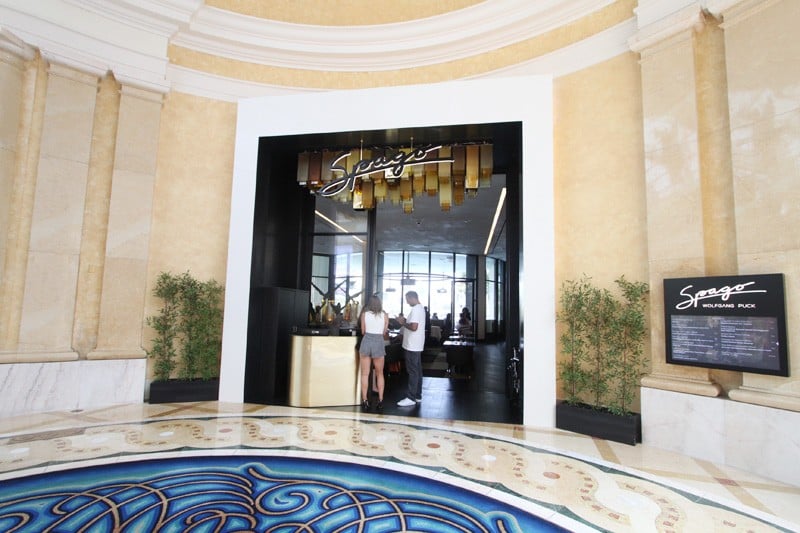 It was big news when Wolfgang Puck's Spago announced it would relocate from the Forum Shops at Caesars Palace to Bellagio after a quarter century in Las Vegas.
Las Vegas media outlets reported the news with little interest in, or perhaps knowledge of, the backstory.
Specifically, business had flagged for several years at the Forum Shops location, and when the Forum Shops threatened to raise the restaurant's rent, it was time to go.
During Spago's heyday at Forum Shops, it was raking in an eye-popping $18 million a year, despite the fact only a handful of restaurants in Las Vegas make $10 million or more.
Spago set its sights on the Olives space in Bellagio. The space was freed up by another turn of events largely unreported, the decision by MGM Resorts to cut ties with the chef behind Olives, Todd English, following sexual harassment allegations. That's also why the Todd English P.U.B. at Aria is now just The Pub. Props to MGM Resorts for taking a stand.
The glorious drama!
Spago opened at Bellagio on June 7, 2018, and we had to check it out, of course.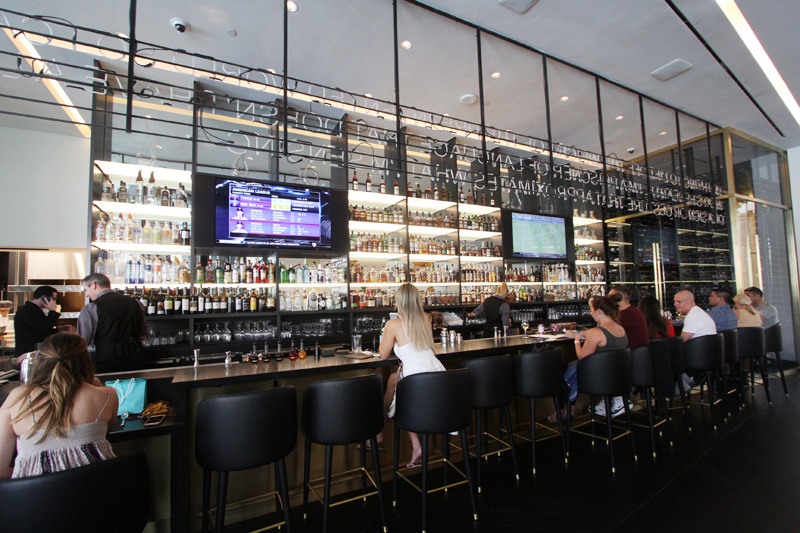 A news release about the restaurant opening said, "Spago is inspired by California living with its casual elegance and farm-to-table ethos. Wolfgang hand selects seasonal ingredients to create the restaurant's market-driven menu, featuring the chef's signature fare paired with modern technique and creative elements."
Ah, news releases.
While the Spago menu offers many of the dishes created by Wolfgang Puck, what the release and news reports haven't shared is Wolfgang Puck isn't really involved in Spago restaurant at Bellagio anymore.
As has become the norm in Las Vegas with celebrity chefs like Gordon Ramsay and Giada de Laurentiis and Guy Fieri, the restaurants boasting their names are operated by the host resort, with licensing fees being the only real connection to the chefs. Ditto Spago.
That means employees of Spago at Bellagio are on the payroll of MGM Resorts. Does it matter? Maybe not, but it's something to keep in mind when deciding whether to dine there or not.
As was the case at the Forum Shops location, Spago serves up reasonably good, but far from great, fare.
One of the restaurant's claims to fame is the smoked salmon and caviar pizza. The basic version is $36, the kaluga sturgeon caviar version is (wait for it) $75.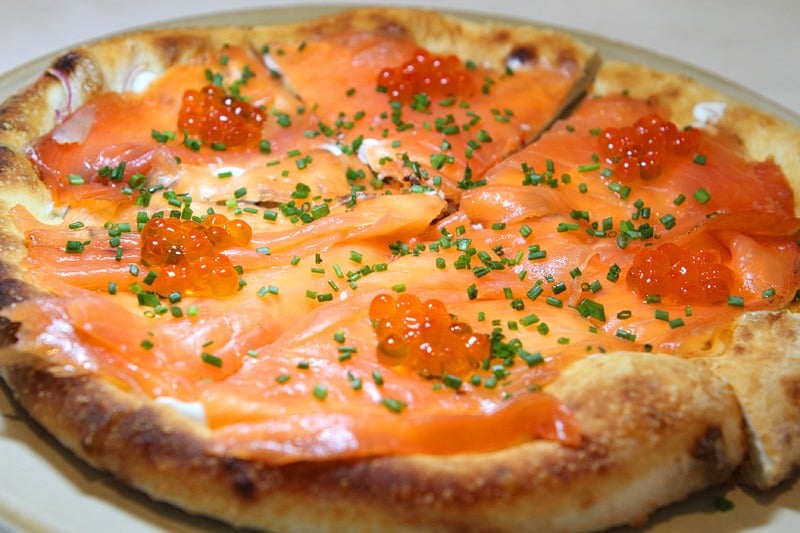 Other dishes are equally forgettable, including the $21 micro portion of spaghettini.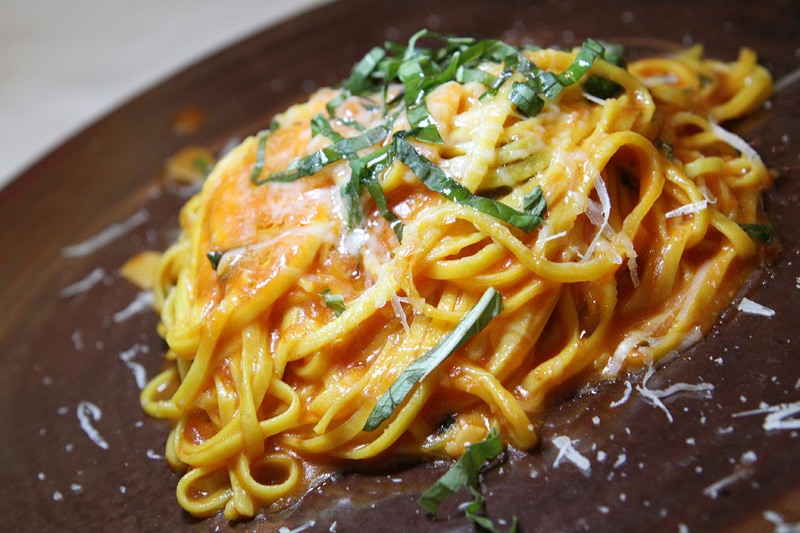 There's also the grilled chicken sandwich ($22). You know you're in "meh" territory when the best thing about a dish is the fries.

Here's the menu for Spago at Bellagio. While we found a menu for the restaurant online, it didn't have prices. Which we're sure is just an unintentional oversight.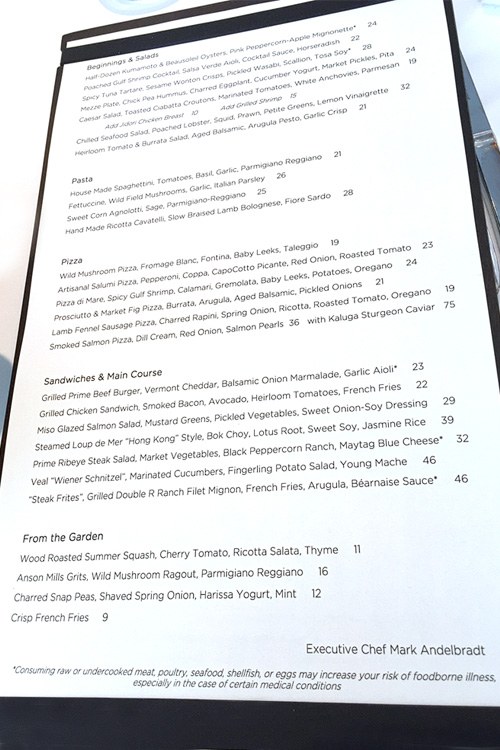 Here's a larger version of the Spago menu to reward you for reading this far.
We were convinced the signature cocktails would be a highlight of the otherwise humdrum offerings at Spago, and if you can get past the sticker shock, the drinks are plenty tasty.
It seems $22 cocktails are the new $18 cocktails. To be honest, we were just starting to adjust to $12 cocktails.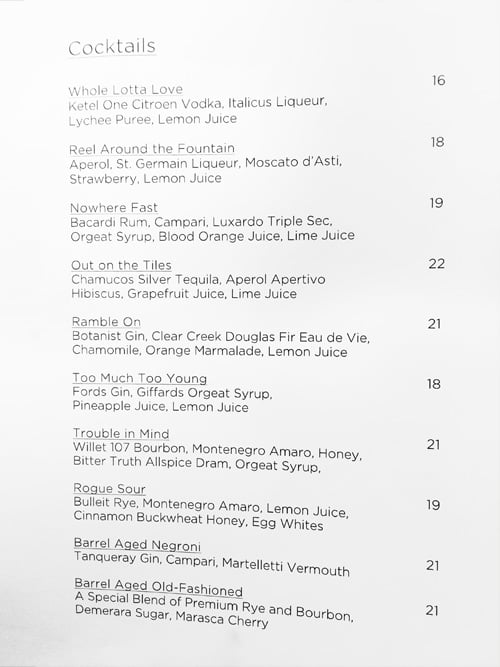 Here's the signature Out on the Tiles cocktail, with Chamucos Silver tequila, Aperol Aperitivo liqueur (made with gentian, cinchona and other words we don't recognize), hibiscus, grapefruit juice and lime juice. A worthy addition to our collection of panty-dropper cocktails.

An undeniably spectacular aspect of Spago is its view of the Bellagio fountains.
An outdoor patio makes it feel as though you're part of the iconic show.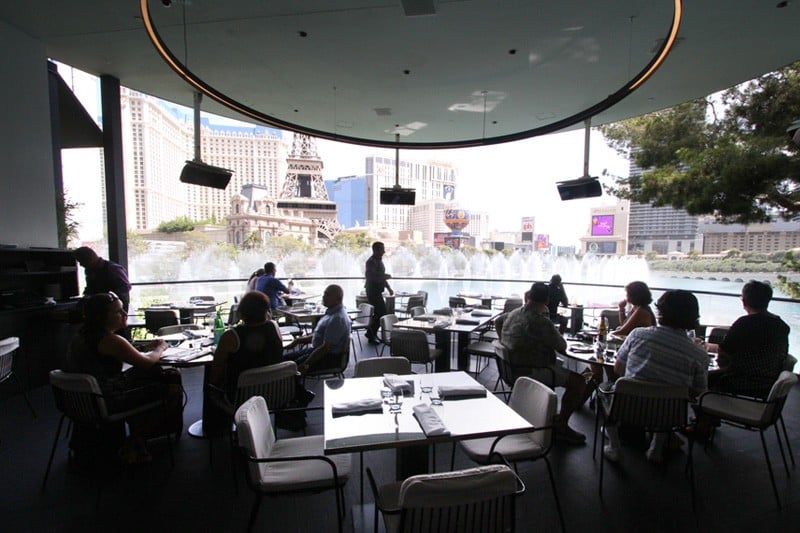 A big plus for Spago is its excellent service and friendly, knowledgeable waitstaff.
It was refreshing when our waiter rolled his eyes at the fact straws are no longer provided at Spago, except upon request. When they were requested, this was the presentation. Note: We are not making this up.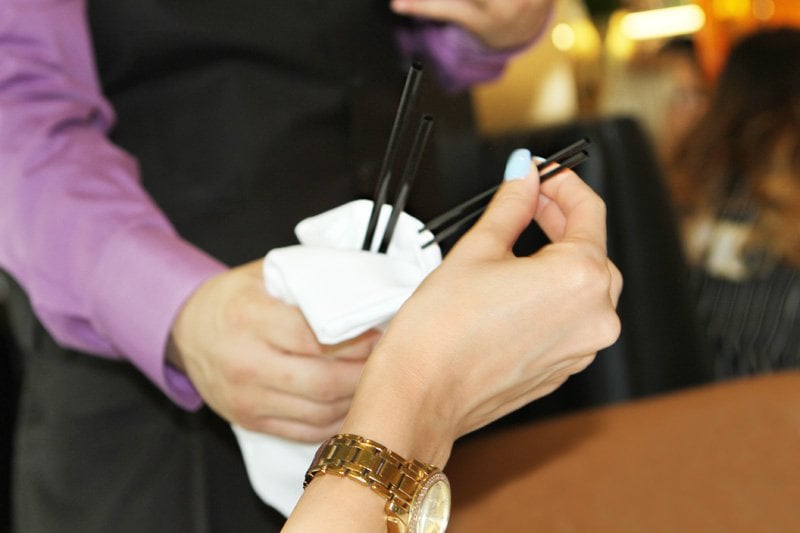 Also classy is the option for guests to choose either black or white napkins.
As is the law, the place is a tad loud, but that's a good sign as it means the Spago name still pulls in a decent crowd. Spago, by the way, translates as "string" in Italian.
Designer Gelila Puck (Wolfgang's wife) collaborated with architects Massimiliano Locatelli and Annamaria Scevola of CLS Architetti to create a bland space you and your kids probably could've decorated better.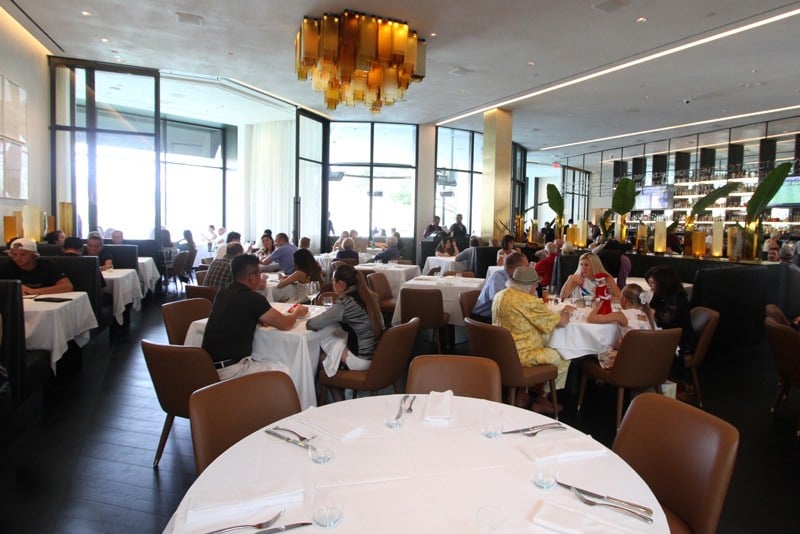 If you decide to try Spago (we'd strongly suggest the nearby Lago restaurant instead, but you know how strong-headed you can be), expect to work up an appetite first.
Spago is in Bellagio's shopping promenade, nearly a quarter mile (about 1,100 feet) from the main hotel entrance. No joke. It's across from Tiffany & Co. and near Bottega Veneta, whatever that might be.
While Spago didn't knock our socks off, it's certainly not bad, and may just be what you're looking for when you're visiting the Bellagio Conservatory or the world's largest chocolate fountain at Bellagio Patisserie, formerly Jean Philippe Patisserie.
Let us know what you think of Spago at Bellagio, and "Bon apetite!" or some other cliche people use in the last sentence of articles.