Six Free, Entertaining Las Vegas Things We Didn't Miss Until They Were Gone
For as long as Las Vegas has been Las Vegas, there has been free entertainment. Granted, in the early days of Las Vegas, that entertainment mainly consisted of watching tumbleweeds roll by, but it was free nonetheless.
In recent years, though, some of the free entertainment has dried up. Like the plants that eventually become tumbleweeds. Ah, the circularity of the universe.
In honor of the Las Vegas entertainment that is no more, we've painstakingly compiled this slapped-together list of things we didn't miss until they were gone.
1. Blue Man Group Parade at Monte Carlo

Before each "Blue Man Group" show at Monte Carlo, band members would stroll the casino floor drumming up business. Literally.
The "Blue Man Group" procession was a lively way to raise awareness of the show and never failed to perk up denizens of the casino. As of Sep 14, 2014, however, the percussion parade is no more.
If you never caught the "Blue Man Group" parade, here's your only remaining chance.
Here's the show's official statement about the demise of the parade: "The final appearance of Blue Man Group's free nightly procession took place on the evening of Sunday, Sept. 14. It is in Blue Man Group's DNA to continue to change and evolve and these recent modifications are a part of Blue Man Group's natural creative progression."
Translation: Not enough return on investment. Or it was a union thing. Or both.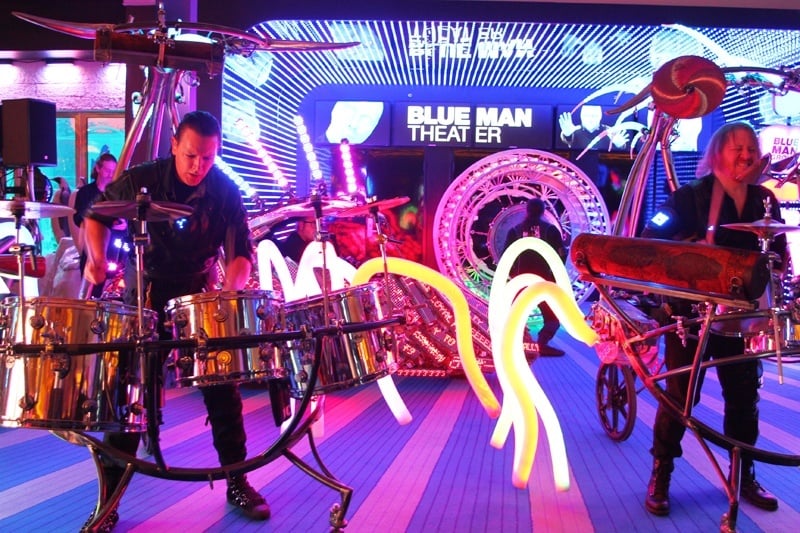 The "Blue Man Group" procession is definitely a case of "You don't know what you've got until it's gone."
Which reminds us, we didn't appreciate Cinderella enough while it was around, either.
2. Dealertainers at The Quad
In case you missed the recent news, The Quad's dealertainers (blackjack dealers who also performed free for guests) have left the building. Forever.
The dealertainers were always a cheesy part of The Quad, dating back to when The Quad was the Imperial Palace, but having learned they were going away, we find ourselves pining for them.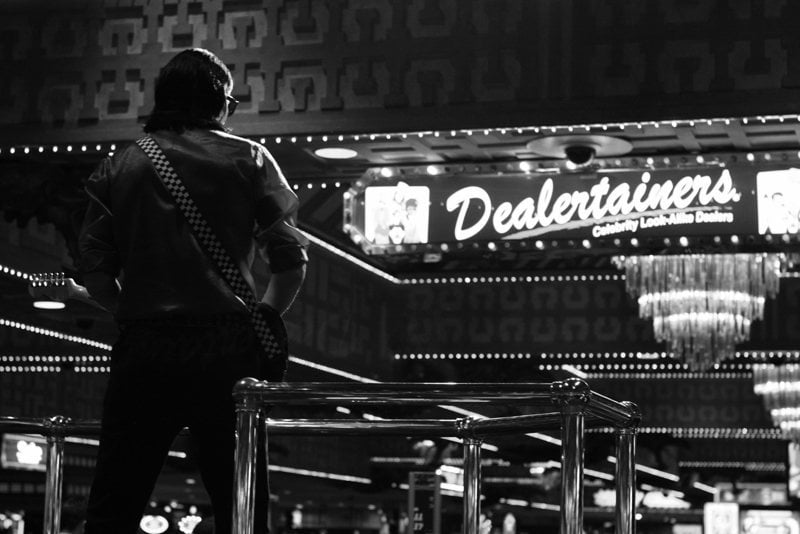 The Quad will soon become The Linq Hotel & Casino, and the dealertainers didn't fit into the hotel's new direction. Please don't ask us what that new direction is, because we fear it may have something to do with fedoras and bottle service.
3. "Sirens of TI" at Treasure Island
What an awful show the "Sirens of TI" was, and some considered it a mercy killing when the show finally walked the plank.
Still, we find ourselves thinking about the Sirens from time to time, wondering whose timbers they're shivering now that the show has closed.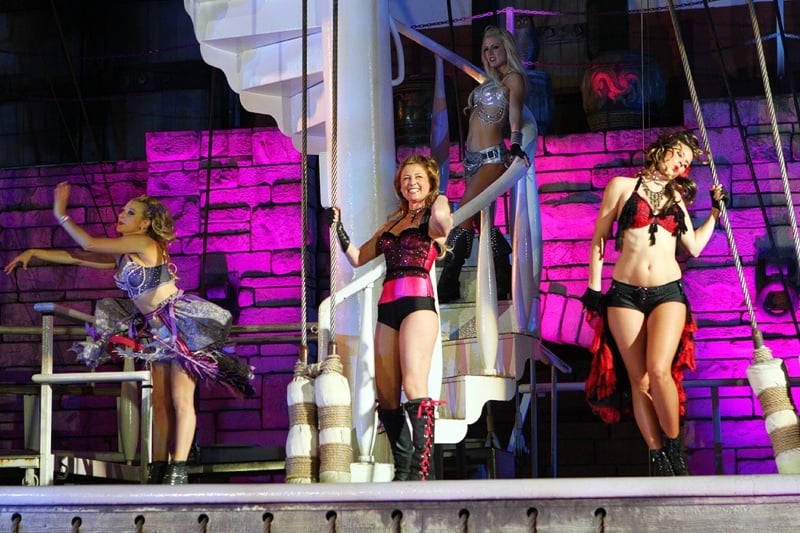 "Sirens of TI," and before that, "Battle of Buccaneer Bay," were wildly popular with visitors, but again, the costs couldn't be justified in a Las Vegas where every square foot has to generate direct revenue.
We started missing the "Sirens of TI" even more acutely when we learned Sirens Cove, also known as Buccaneer Bay, was being carved up to make room for a shopping center.
Cue the saddest of all possible trombones.
4. Masquerade Show in the Sky at Rio Las Vegas
"Masquerade Show in the Sky" immediately leaps to mind when we ponder how Las Vegas has taken away things we didn't pay much attention to at the time.
The free "Masquerade Show in the Sky" opened in 1997 and closed on March 30, 2013. Three guesses as to why. (Hint: Woodward and Bernstein were right to follow the money.)
"Masquerade Show in the Sky" gave guests a chance to ride on the show's mechanical floats while tossing beaded necklaces into the skulls of onlookers, below.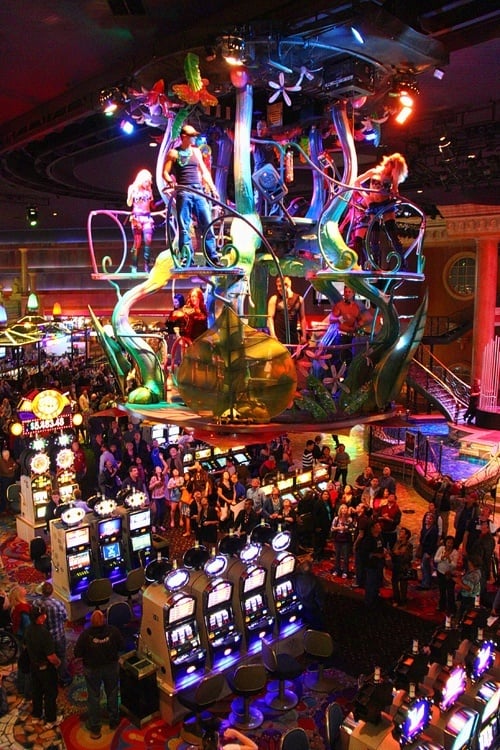 Our optimism is slowly waning, but there's always a chance Rio Las Vegas might dust off its "Show in the Sky" show sometime.
You might even say hope floats.
5. O'Sheas Shadow Dancers
Hardcore Las Vegas fans will recall there was sexy, free entertainment at the former O'Sheas in the form of shadow dancers in the casino's windows.
The O'Sheas shadow dancers were life-like projections, and sadly their plug was pulled when the contract ran out with the company that created the saucy light show.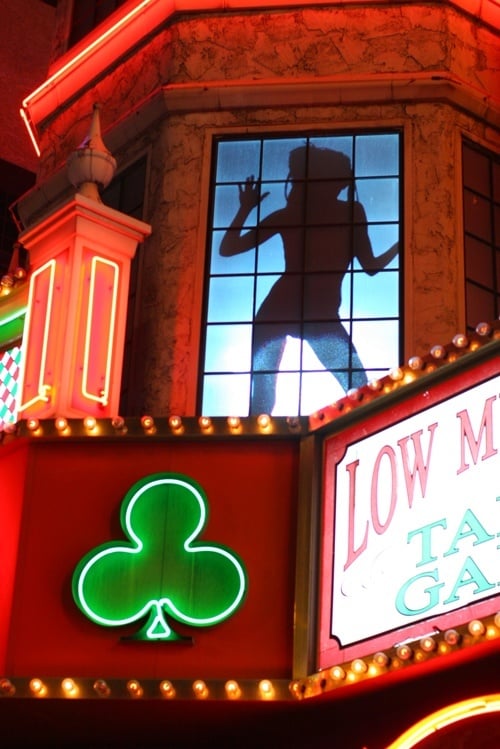 The new O'Sheas, in The Linq shopping promenade, has been an incredible success, but is unfortunately shadow-free. On the bright side, they kept Lucky the Leprechaun. During a drunken stupor, we asked Lucky if he'd give us a show like the shadow dancers. Our groin is expected to heal in a month or two.
6. Cook E. Jarr at Harrah's
Talk about taking someone for granted. Cook E. Jarr is the quintessential lounge lizard, and he has entertained Las Vegas visitors for more than three decades. The beloved entertainer recently had his last show at Harrah's Las Vegas, with no new venue in sight. We miss him terribly, even though we rarely went to see him when we had the chance.
Update: Cook E. Jarr is back! He's currently performing at Napoleon's Lounge inside Paris Las Vegas.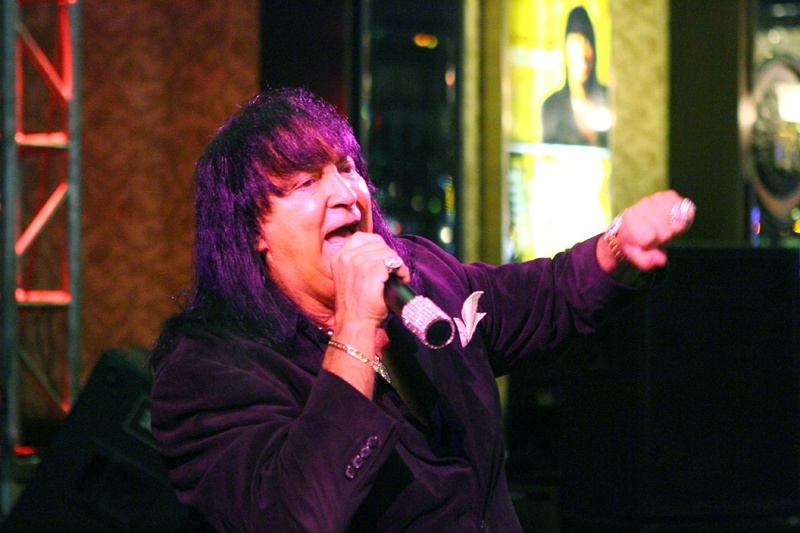 Las Vegas entertainment, it turns out, is like romantic relationships. You sort of get used to having someone around all the time, and it takes them tripping and falling into a wood chipper to realize what you've lost. Then, you'd do anything to get them back.
So, let this serve as a reminder nothing is forever, especially in Las Vegas.
Enjoy the shadow dancers at Shadow Bar inside Caesars Palace while you can.
Cherish every minute of the free circus acts at Circus Circus, the erupting volcano at Mirage, Big Elvis at Harrah's, the flamingos at Flamingo Las Vegas, the Botanical Gardens and dancing fountains at Bellagio.
What free Las Vegas things have you been taking for granted?
For better or worse, it's clear this ain't your grandpa's Las Vegas. Oh, and for the record, we took our grandpa for granted a little bit, too. Damnit.