Rude "Awakening": Wynn Pauses $150 Million Show, Here's How to Fix It
Wynn Las Vegas has an "Awakening" problem.
The lavish production, which cost "north of $150 million" to produce, will temporarily close starting April 17, 2023.
"Awakening" has suffered disappointing ticket sales since opening on Nov. 7, 2022. On the bright side, we know how to fix it.

We, of course, were the first to share the name of "Awakening," and were also the first to report its temporary closure, thanks to a tip from an alert Twitter follower.
Following our Tweet about canceled shows (cast members were informed late on April 5, 2023, and ticket holders were e-mailed about the same time), Wynn Las Vegas got back to us with a confirmation.
The statement from Wynn Las Vegas said, "Beginning April 17, Wynn Las Vegas will temporarily pause performances of 'Awakening' to allow for an extended rehearsal period. Consistent with the resort's commitment to excellence and quality, Wynn Las Vegas is committed to bringing a superior vision of 'Awakening' to audiences. The show will resume performances at the conclusion of the extended rehearsal period."
Basically, the show isn't meeting expectations, so there's going to be some rejiggering to try and stop the bleeding.
Our friends in the industry think the show could be costing $600,000 or more per week to keep the show going, which is about $30 million a year in addition to the up-front investment. That's not the way our friends at Wynn thought it would go, to say the least.
Because we love Wynn Las Vegas so much, we're here to provide some tough love.
We saw the show on opening night and never wrote a review, which is rare, because we tend to have opinions about everything. We had mixed feelings about "Awakening," and continue to hear widely varying reactions to the show from those who have seen it. It's mostly not positive, unfortunately.
Our takeaways: The spectacle—the technology, visuals, stagecraft—was absolutely incredible. Same with the costumes and puppetry. Our strongest impression of the show, though, was it wasn't connecting with us or the audience. It wasn't bad, it just wasn't great or especially memorable.
If we had to describe "Awakening" in a sentence: "Awakening" is 75 minutes of "How in the hell did they do whatever that just was?"

If you haven't seen the show, here's a description from the official Web site: "'Awakening,' the new show at Wynn Las Vegas, invites the audience to join the quest of our beautiful heroine and her two fellow travelers as they seek to restore beauty and love to the world. Travel with them and experience worlds never before seen on their journey in a 360-degree theater custom designed for 'Awakening.' Infused with modern day myth and magic, 'Awakening' comes to life through a combination of dramatic choreography, technology, fantastic creatures, and a custom sound system designed to showcase its breathtaking original musical score. Conceived and created by a world-renowned team of talent behind some of the most iconic moments in entertainment, 'Awakening' features the voice of Anthony Hopkins."
If you're sold, get a ticket.
If not, join the club.
Hang in there, we're getting to the tough love.
Before we give our "Top 10 Suggestions to Fix 'Awakening,'" we should provide some background related to why we are qualified to give advice to some of the most creative and experienced people in the industry. First, we did musical theater in high school. Our Fagin is the stuff of legend, honestly. In our senior year of high school, we attended a statewide Thespian Conference and won first place in four competition categories—Monologue, Group Scene, Improvisation and Mime—a feat which has never been replicated in the intervening decades. In college, we auditioned for Juilliard, which is just like being accepted to Juilliard, with the tiny asterisk of being rejected by Juilliard. We also have an IMDB credit as a P.A. for a movie called "Miracle Beach" starring Ami Dolenz and Pat Morita. During our tenure at the Writers Guild of America, we got to know many professional writers, directors and performers, exactly none of whom were us.
That said, we have written and directed numerous stage productions seen by dozens of people, possibly the same number who have attended "Awakening," all due respect. Seriously, we are in no position to give advice to the folks involved with "Awakening." One thought, though, if you're tempted to say our ideas are stupid: Could they make ticket sales worse?
So, here are our 10 recommendations to save "Awakening" at Wynn Las Vegas.
1. Change the Name
"Awakening" is bland enough to fit any show, which is part of the problem. It is presumably a nod to Wynn's previous show, "Le Reve," French for "the dream." That subtle reference for longtime Wynn fans is clever, but it doesn't have anything to do with the show. At all. Try a title involving "Magic" or "Quest" or "Adventure" or "Fantasy" or "Journey" or "Whimsy" or "Fantastical" or ask ChatGPT to come up with something. ChatGPT actually did a decent job coming up with titles: "Mystic Quest," "Spellbound Adventure," "Magic Realms," "Mystical Journey," "Enchanted Odyssey" and "Mythical Expedition," among them. Mush words together or capitalize them if needed. "MagicREALM." "WHIMSYquest." "FantasticalMAGICRealmEXPEDITION." We're just spit-balling here, but you get the idea.
2. Cut Costs
"Awakening" is extraordinarily expensive, so it's time to rip off the Band-Aid and start slashing. The cast is massive (about 60 people), and we trust the tech crew is as well. Sorry, folks. It's either take one for the team or everyone's looking for work. No more spending like a sailor on shore leave for Anthony Hopkins do-overs, original music, consultants, guest directors—nobody cares. Smaller nut, lower ticket prices. High ticket prices is one of the most common gripes we hear, and while the show doesn't need to be cheap, a more accessible ticket price will help fill up the theater, which in turn drives revenue from rooms, restaurants and the casino.
3. Let Audiences Take Photos and Video
It's a new era and sharing an experience is as important as the experience itself, for better or worse. "Awakening" features magic, and we trust the prohibition against photos and video has to do with revealing how the illusions are done. Dump the magic. Make the show great and let people share it with friends and the world. We talked about this aspect of the show with Las Vegas Review-Journal writer John Katsilometes at lunch one day. We disagree about everything, but agree about this, so it must be done.

4. Dump the Magic
In case you skimmed that last paragraph, the 1970s-era magic has to go. It was a noble experiment to substitute Cirque elements (acrobatics) for magic, but it doesn't work. The stage is a miracle of technology, but it swallows up these throwback illusions that were stale about three weeks after Roy Horn had his encounter with a tiger onstage.

5. Toss the Book
Some of these recommendations are relatively easy, others are very hard. The script has got to go. Not tweaked, ejected. We trust that Wynn's extensive surveying of audiences has indicated folks are "confused by the story." We don't think it needs clarifying. The problem is it's clear, it's just fundamentally flawed. For example, the show kicks off with the star, IO, stealing "magic" from Darkness and Light. Yes, the protagonist is a thief. Now, we're supposed to root for a criminal as she goes on adventures. Anyone tasked with reworking the script must read "The Hero's Journey" by Joseph Campbell, multiple times. Campbell lays out 17 steps in a hero's journey, and "Awakening" could take a few pointers.
It might be easier (it won't be) to understand (you won't) the story if we share the contents of the show's program. This is "Awakening," beginning to end.
Prologue
The Foundational Myth. The origin story depicting the love between Darkness and Light, the birth of Magic and the subsequent shattering of their relationship.
The Heist
A Black and White Ball. One thousand years after the events of the Prologue, a trio of thieves—IO, Bandit and Boo—sneak into Darkness' Black and White Ball, intent on stealing from her guests. Instead, they steal Magic (now caged in Darkness' scepter), sending Darkness into a frenzy.
The Trio
A Dungeon. Magic reveals its power to the trio and determines IO to be a worthy ally. The Narrator sends IO, Bandit and Boo on an epic journey to find treasures in the Water, Earth and Air Realms. Unaware of the significance of these treasures, IO and her friends set off on their adventure.
Water Realm
The Realm of Light's Ego. IO, Bandit and Boo encounter the Light of Water and his zany underwater creatures. When he realizes that IO possesses Magic, things turn nasty. With Magic's help, IO and her friends must outsmart the Light of Water and retrieve his Water Crystal.
Earth Realm
The Realm of Light's Fear. Darkness sets a trap for IO in the Earth Realm. The thieves enter and encounter a beautiful Nymph, who lures them into a treacherous trap. After a tragic turn of events, IO feels all is lost. Moved by her bravery and heart, the Light of Earth forms out of the surrounding environment's trees, rocks and detritus, producing the Earth Crystal and gifting it to IO.
Pas De Deux
A Space Between Realms. Bandit attempts to console IO and they resolve to rescue Boo during a tender pas de deux.
Air Realm
The Realm of Light's Desire. Bandit and IO travel to the Air Realm, where the Light of Air attempts to seduce IO into joining him and his followers in their hedonistic world forever. In the nick of time, IO snaps out of her trance and recovers the Air Crystal.
Alone With Darkness
A Liminal Space. IO and Darkness face off. Darkness demands IO relinquish Magic, but IO refuses.
Fire Realm
The Realm of Truth and Story. IO and Bandit travel to the Fire Realm, where a celebration is underway. A Hunting Party has captured one of Darkness' fearsome Flying Shadows. Aided by Magic, the Storyteller performs a ritual on the Shadow with joyous results. IO, Bandit and Boo cheerfully reunite, but at a price.
Storytelling
In the Fire Realm, The Realm of Trust and Story. With the Storyteller as his vessel, the Narrator describes the true story of Light and Darkness, revealing that the crystals IO has collected from the elemental realms are actually fractured pieces of Light. IO and her friends must risk everything to reunite the Light Crystals in order to bring Light back and free Magic.
Confrontation
The Realm of Darkness. Darkness and her Sentinels prepare for an epic battle with IO and her friends.
Reconciliation
Light and Darkness are reunited. They embrace as Magic fills the theater and the Fire Realm community emerges to join them in celebration.
Celebration
The Realm inhabitants celebrate that harmony has been restored to their world.
"Awakening" obviously has some lofty goals, but it needs to set forth a clearer path. We need to connect with someone, anyone, to root for them. We need a villain who's a villain, not a heartbroken, lonely woman who is the victim of a crime perpetuated by the story's "hero." Make IO the daughter of Light and Darkness, have the villain steal and shatter "magic" so IO and her cohorts can search for the pieces and restore them so Light and Darkness (IO's parents) can live happily ever after. Also, make IO look less like that woman in "Fifth Element," thanks.

6. Change Up the Tone
Along with a major overhaul or replacement of the script, "Awakening" really needs to think about tone. It takes itself way too seriously. Humor could be the magic bullet for this show, honestly. (Verbal humor can be tricky, especially for international audiences, but physical comedy is universal.) Anthony Hopkins was a great get, but an onstage narrator could play off the audience and add a snarky, winking element that's proven to be popular in shows like "Absinthe." The humor doesn't have to be bawdy, people just want to have fun, and "Awakening" doesn't feel fun. Oh, and while a narrator could break the fourth wall, we absolutely hate when the actors in "Awakening" do it (to try and get the audience to cheer for them). Stop that, immediately. If "Awakening" were smart, and this might be controversial, we don't care, they'd let their gays punch up the script. Seriously, have you ever not had fun with gay people? While we are not personally gay yet, despite our musical theater background, we think gays are witty as hell and we're pretty sure there are several involved in the world of theater, so there may even be one involved with "Awakening." Give the gays free reign to make the show fabulous and our services may not even be necessary!

7. Set Egos Aside
It's pretty clear the folks involved with "Awakening" were a little too enamored by themselves. That can lead to blind spots. Awkward. We met lots of the people involved, and they were awesome, but it's time to treat them with a little less reverence. First, stop marketing the show with their names on the ads and billboards. Nobody knows who they are and nobody cares. We're fairly sure the ticket sales for "Awakening" have been humbling, but it's time to get real. The time for a mutual admiration society has passed, now, it's time to fix "Awakening." That means collaboration and real talk and hard decisions and addressing weaknesses and doing a serious retooling, not just a tweak to address audience feedback (they never auditioned for Juilliard) or help "clarify a confusing story."
8. Poach Talent
The magic's out (see #4), so what should be in? Thrills. Adrenaline. Daredeviling. Performers who inspire wonder. In other words, steal acts from "Absinthe" and "OPM" and "Wow" and other variety shows. There's a woman who was in the now-closed "Extravaganza" who could shoot a sheet of paper in half with a crossbow, from the side. The edge of the sheet of paper. No, really. Steal her and fit her into "Awakening." With Wynn's deep pockets, they could gather the best variety acts in the world. Cirque's formula has worked for decades for two reasons: 1) You don't have to know English (or follow a plot) to enjoy the shows, and 2) ridiculously talented circus performers. Find a sway pole act like "Absinthe" has. Or just steal the actual sway pole supermodels from "Absinthe." Get those skaters where the woman hangs from a tiny strap while the guy spins her at supersonic speed and inch from the stage floor. Build a Wheel of Death. Cherry-pick acts and steal (sorry, be inspired by) all the ideas succeeding in other shows. The jaw-dropping "Awakening" stage is the reinvented wheel, but it can't sustain a show. We need some old-fashioned, eye-popping "Holy crap, did you see that?"
9. Give the Puppets More to Do
One of the more incredible aspects of "Awakenings" is its puppetry. There are several larger-than-life creatures who drop in, but they aren't given a whole lot to do. We say give them personalities and dialogue, make them part of the cast. There's a massive whale, make him drunk. Majestic whales are a dime a dozen, but drunk whales? They're a blast. Have the towering Groot plant take on a Don Rickles persona, tearing into the main characters and calling out other parts of the show that still need work. Give the elephant puppet self-awareness and flatulence. See, wonder and snark can co-exist. We should know, we create both every single day on Twitter.

10. Try Something Completely Original
There are so many creative people involved in this show, let them do their thing without having to walk on eggshells. Try something nobody's doing. How about this? Have three endings to the show and let the audience pick which one they'll see in real time via their phones. We know there's going to be a catharsis and celebration, but how it unfolds could be dramatic or absurd or even give the audience an option for a "Crushing Disappointment Ending." If you see it one way, you'll want to go back to see the other versions. People need to leave the theater talking about a surprise or delight, not how they didn't understand what just happened but the costumes were nice.
That's it. We've fixed "Awakening" from the comfort of our armchair, from which we also do quarterbacking.
Just kidding, we needed an analogy.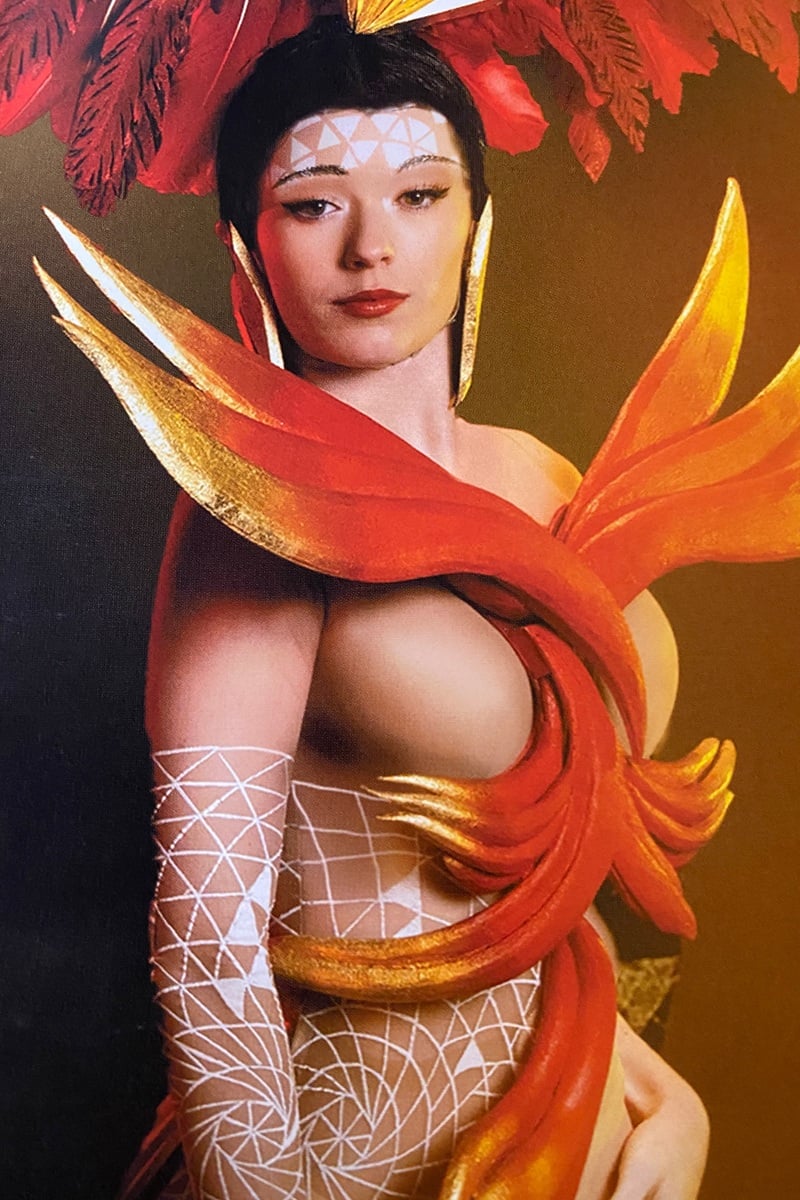 Speaking of analogies, we should say we totally get Wynn pausing "Awakening" at this juncture.
They don't make thoroughbreds race without warming up first.
"Awakening" hasn't really had a chance to warm up, there was an expectation it would be a hit right out of the gate. That has turned out to be an unrealistic expectation, as it was with "Le Reve," a show that also had to be retooled before ticket sales improved.
The challenge with making changes to "Awakening" is infrastructure. The investment has already been made in technology and costumes and sets and a million other things that form the foundation of the show.
Another analogy: It's easier to adjust the course of a canoe than an oil tanker.
The sheer size of "Awakening" is going to make it much more difficult to fix, despite our brilliant suggestions.
Wynn Las Vegas says it will reopen "Awakening" when the show is ready. There are a lot of talented people involved, and we have faith the show, whatever it's called, will be back soon and better than ever. At least it could have more intoxicated marine mammals or flatulent elephants. Fingers crossed.