Rhumbar Lounge Returns to Mirage, Now With More Ultra
Mirage has announced the long-awaited reopening of Rhumbar lounge.
Rhumbar reopens on April 20, 2022, as Rhumbar Tropical Ultra Lounge.
The new iteration of the lounge will have a "refreshed bar program, elevated culinary fare and nightly entertainment."
Yes, we left out the cigar menu part because cigars are disgusting and we don't want to encourage that crap.
Mirage didn't release renderings of the new venue, just some cocktails. Here's how Rhumbar looked during our last visit.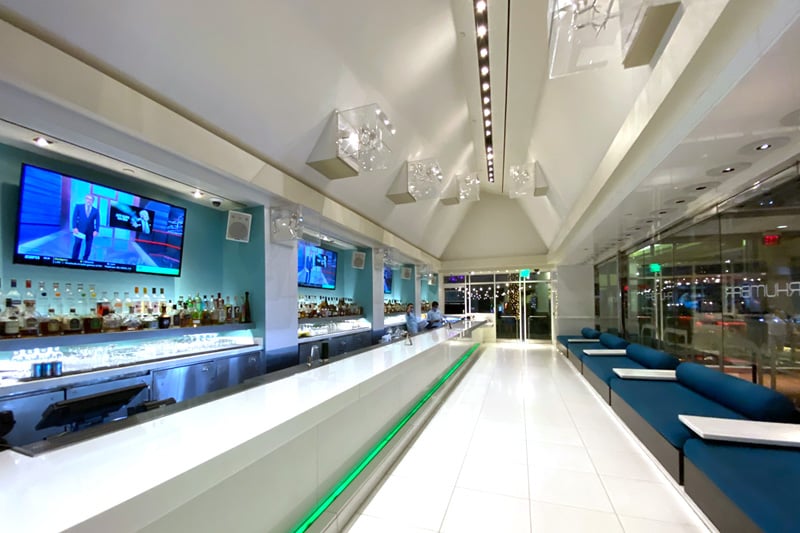 The original Rhumbar lounge closed July 25, 2021.
The revamp cost $2.3 million.
Rhumbar was supposed to reopen in the winter of 2021, but virtually nothing has gone to plan in Las Vegas in the last two years.
One of the most interesting aspects of the reopening of Rhumbar is what it's not. Chatter was Rhumbar was going to be a project in collaboration with Bruno Mars. That plan never came to fruition.
We were really hoping to see a 24k Magic Ultralounge.
The latest is a Bruno Mars venture will take over the Lily Lounge space at Bellagio, although that hasn't been announced or confirmed.
Here's what in store for the new Rhumbar, according to the official announcement, "The venue's playful color scheme of yellow, pink and mint is complemented by opulent greenery and 70s-inspired prints and style that bring energy to the space. The indoor-outdoor lounge will provide an array of entertainment offerings, including live music and special event programming throughout the year."
Here's a peek at one of Rhumbar's new cocktails.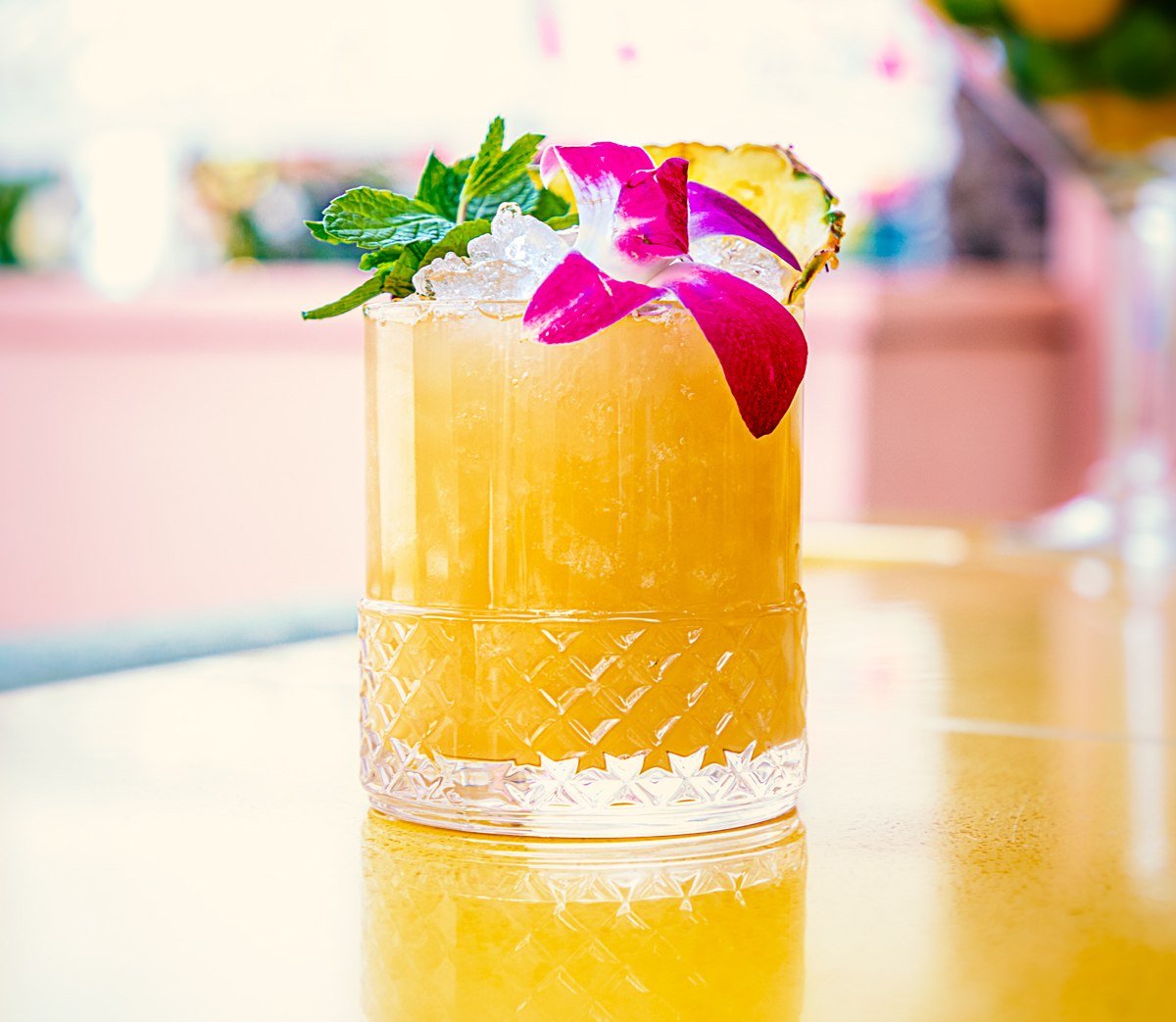 Here's another chunk of words about Rhumbar: "Designed and fabricated by Southern California firm Basile Studio, Rhumbar reflects an atmosphere of mid-century nightlife and elevated comfort. The striking palette of pink, ochre and brass begins indoors with a Basile-built custom host stand fashioned from hot rolled steel and powder coated in the perfect shade of dusty rose. Covering the expanse of the room is a 40-foot linear polished brass bar accented by pink fluted tile, custom fabricated bar stools and a TV hidden behind dielectric gold mirror."
But wait, there's more: "More signature breezeblock gives life to 1960s revelry as guests head outdoors for an alfresco party that never stops. The architectural showstoppers are eight Basile-built custom steel umbrellas with hand-upholstered fringe detail, LED backlighting and pop-down planters. Additional cocktail areas offer an eclectic mix of custom-made lounge furniture reminiscent of the mid-century design period including 'mod' pink bucket seats with brass piping and curved velvet banquettes."
Fun fact: The Architectural Showstoppers was the name of our band in high school.
Yes, it's just a lounge, but more description is required, apparently: "On the far end, Basile drew inspiration from mid-century architecture for the pink scallop bloom bar. Custom starburst tiles play off mint and brass bar stools while a vintage TV built into back-lit liquor shelving plays vintage music video loops. A custom DJ booth fashioned from a vintage 1960s media console will let the good times roll all day and night."
A picture is worth a thousand words. And vice versa, obviously.
The Internet demands renderings, Mirage!
Here's another signature cocktail, and it's adorable.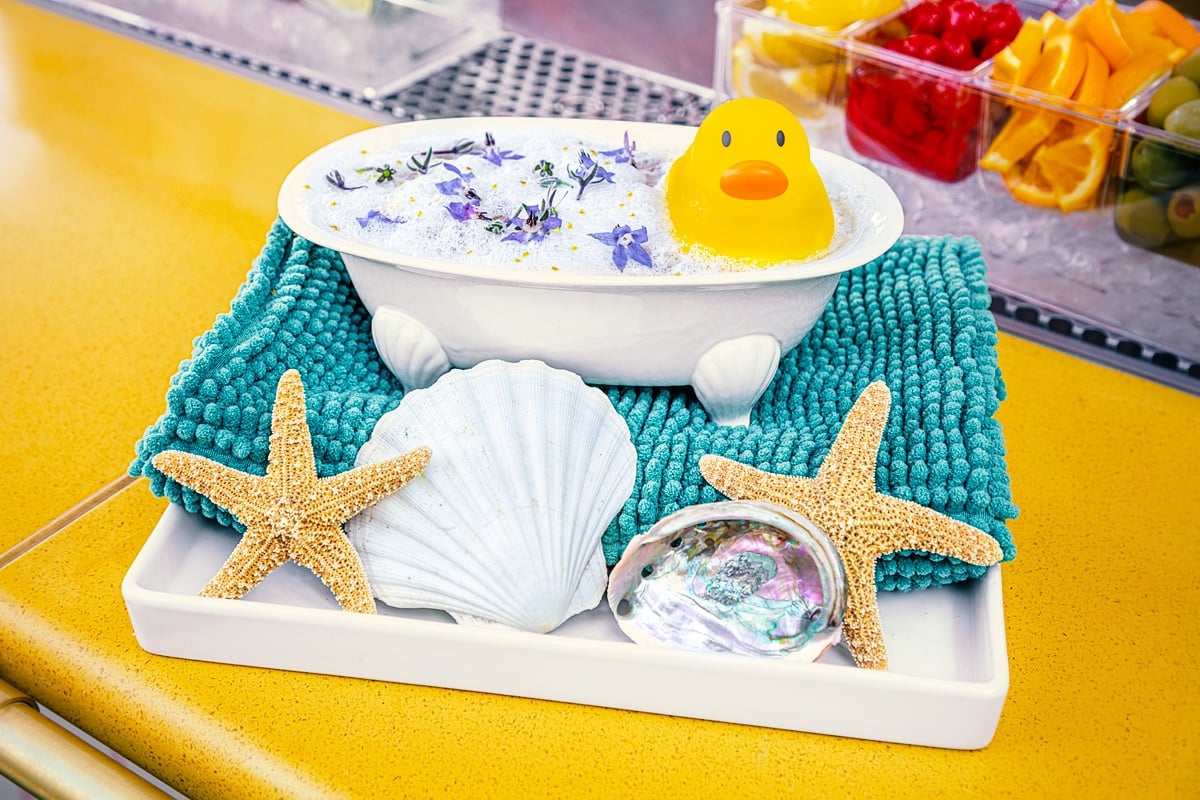 The timing of Rhumbar's reopening is interesting given Mirage was recently sold to Hard Rock International. Mirage will soon be Hard Rock Las Vegas.
We figured new offerings would be put on hold until the new owners come onboard, especially in the case of a Caribbean-inspired lounge that might not necessarily be a great fit with the Hard Rock brand. (It's believed a planned tiki bar was nixed. It was never officially announced in the first place.)
It's great to see Rhumbar back! The lounge sits in a great location at Mirage, on the south entrance walkway.
Rhumbar will operate from 4:00 p.m. to midnight Monday through Thursday, noon to 2:00 a.m. on Friday and Saturday.