Resorts World Las Vegas Completes Hotel Tower Construction
Resorts World has removed the final construction crane from its hotel tower, and that's a pretty big deal.
This noteworthy occasion is made all the more momentous given the history of the Resorts World site, formerly home to the abandoned Echelon project.
We grabbed a pic of Resorts World, sans tower cranes, during a test of the resort's impressive video screen.

The $4.3 billion Resorts World is on track for a summer 2021 opening.
Fun fact: In honor of that scheduled opening date, we have leased numerous additional fingers to cross.
Completion of the Resorts World hotel tower is a much-needed beacon of hope in Las Vegas given recent challenges related the pandemic.
Here's a sweet video commemorating the removal of the final construction crane from the 59-story, 700-foot-plus Resorts World tower.
Resorts World was originally scheduled to open in 2016, but that would've been lame, honestly. We need something shiny in 2021, and Resorts World is just the ticket.
Here's a shot of a different video screen test.

Yes, we are enamored with the Resorts World video screen. That's because it's badass. See it in motion.
While plans for pandas were nixed early on, Resorts World has lots of goodies in store, especially in the realm of entertainment. Resorts World has reportedly signed some hefty checks, and the biggest names in show business are going to have a new place to play, inside a state-of-the-art, 5,000-seat theater.
Here's a look at how Resorts World has transformed into a magnificent erection.

While a lot of the work at Resorts World will now be taking place inside, there's still a lot of work being done in the resorts pool complex and retail area.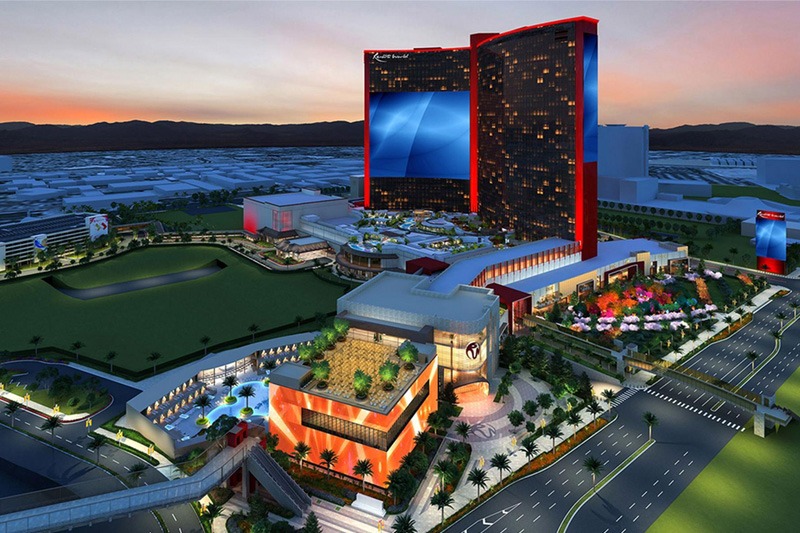 Check back soon for Resorts World updates, scoop, rumors and a lot of sycophantic fawning over that freaking video screen.