Red Rock Resort Preps for 10th Anniversary Hoopla
Red Rock Resort, a popular hotel-casino about 10 miles west of the Las Vegas Strip, is about to celebrate its tenth anniversary in a very big way.
The resort is putting together a Vegas-sized light and fireworks show on April 16, 2016 at 9:00 p.m., and we grabbed a peek at what the hotel is describing as a "spectacle in the sky."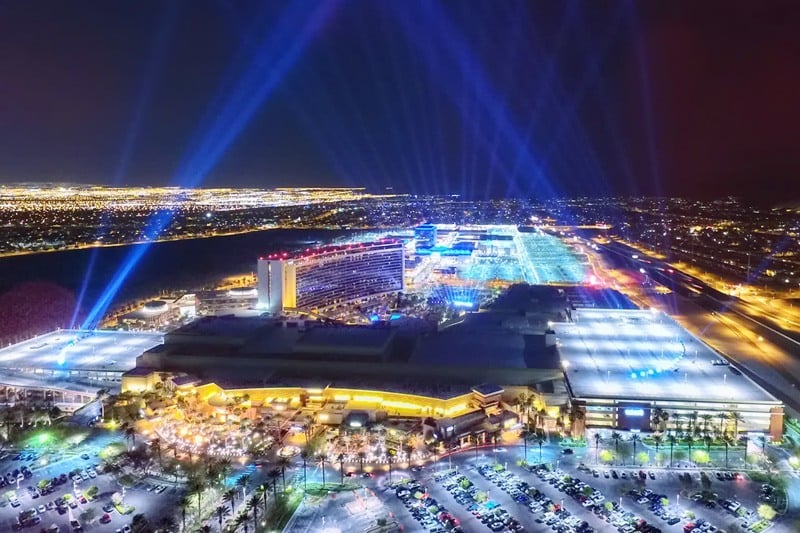 Red Rock Resort has been putting dozens of synchronized lights through their paces, giving a hint of the festivities to come.
Searchlight arrays have been installed on Red Rock's parking garages, creating a grid of light that can be seen miles away. Here's a drone's-eye view of the lights to give a sense of the scale of what's to come.
The fireworks on April 16 are being produced by Fireworks by Grucci, the company that puts on Sin City's New Year's Eve display.
Red Rock is one of the most appealing off-Strip casinos in Las Vegas, and many consider it the best neighborhood casino in Vegas. When it was built, its $1 billion price tag made it the most expensive casino resort ever built off the Las Vegas Strip.
It must be a great place to work, as 20% of those who work at Red Rock Resort have been there since it opened a decade ago.
One of the things that makes Red Rock Resort unique is it was one of the first casinos to have
natural light throughout its casino. Before that, casinos avoided having natural light or windows as it was believed players might notice the passage of time and leave. A remnant of this philosophy is the fact you won't find clocks in casinos.
Red Rock Casino is one of this blog's favorite off-Strip resorts, with a great dining, a fairly spectacular pool area, loose machines and friendly dealers.
Happy birthday and congrats to everyone at Red Rock Resort. And we're not just kissing up to get a pools private poolside cabana and a cocktail served in a pineapple. Probably.