Monte Carlo Undergoes Dramatic Transformation to Become Park MGM
A poplar Las Vegas resort, Monte Carlo, is in the throes of an unprecedented transformation: The casino is becoming Park MGM.
Recently, there was a very visible signal the change from Monte Carlo to Park MGM is kicking into high gear. Here's a peek.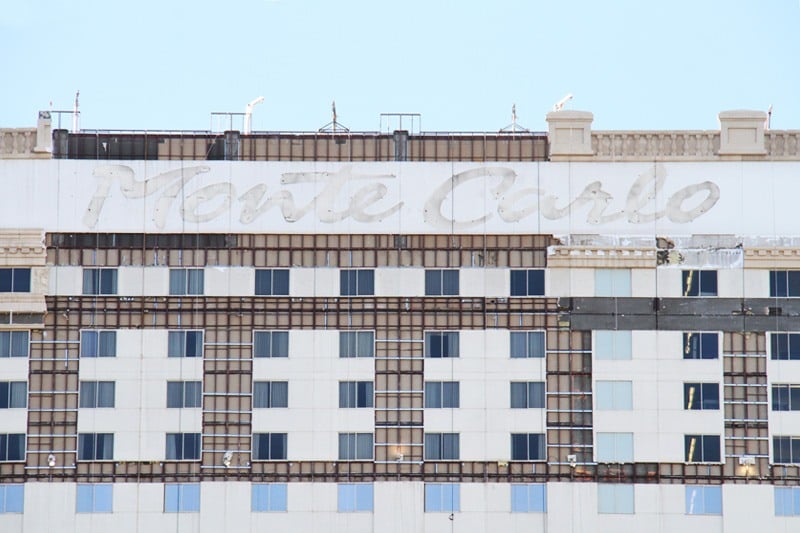 Inside, Monte Carlo is virtually unrecognizable.
Nearly all of Monte Carlo's restaurants have closed, and entire swaths of the casino have been walled off.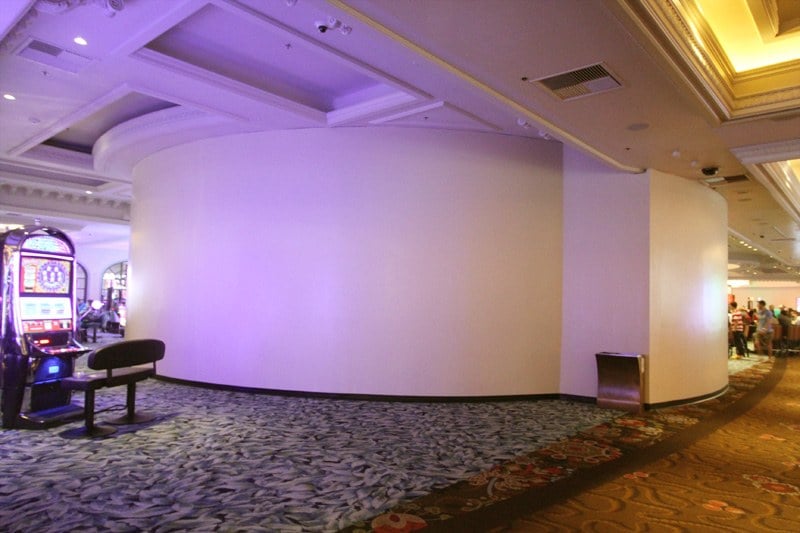 Here's a list of all the Monte Carlo bars and restaurants that have closed in recent months.
The Pub at Monte Carlo
Brand Steakhouse
Andre's at the Monte Carlo
Hit Lounge
Yusho Japanese Grill & Noodle House
Blvd Creamery
D. Vino Italian Food & Wine Bar
Dragon Noodle Co.
The Buffet at Monte Carlo
Food Court at the Monte Carlo

Yes, there's pretty much been a clean sweep of the restaurants and bars at Monte Carlo, all to make way for new offerings at Park MGM.
But wait, there's more.
Most recently, Minus 5 Ice Bar closed (Oct. 29, 2017).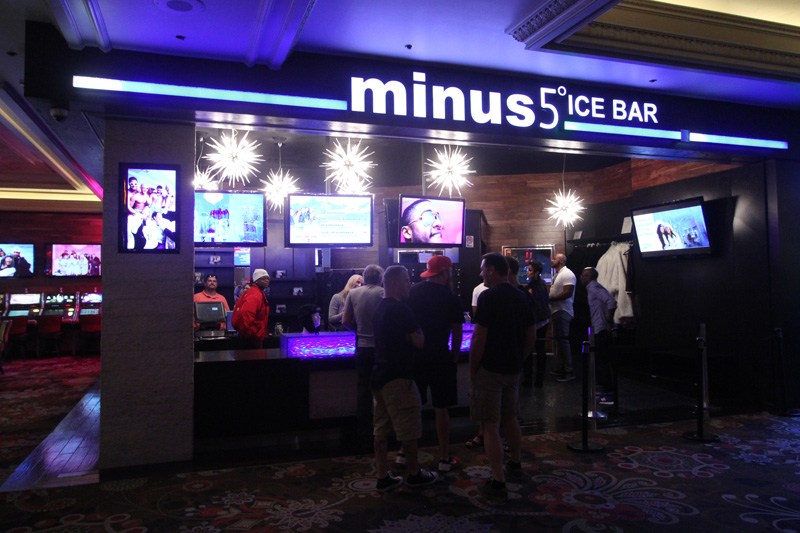 On Nov. 5, 2017, 800 Degrees Neapolitan Pizzeria. The forgettable pizza restaurant will move to New York New York.
The Sambalatte coffee shop closes Nov. 7, 2017.
Also on Nov. 7, Diablo's Cantina will close. We were the first to share this turn of events, way back in Dec. 2016, but we aren't one to brag.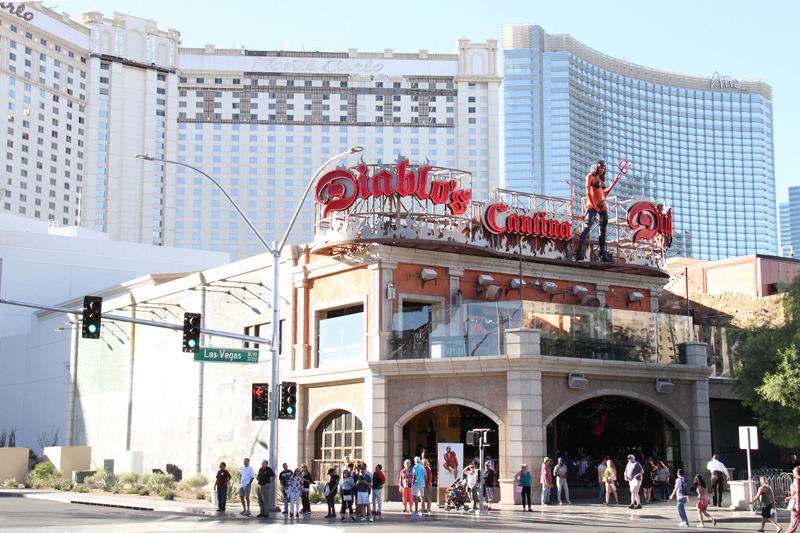 In a strange turn of events, it doesn't appear Double Barrel Roadhouse is going anywhere.
As a slew of restaurants close, two have opened in recent weeks.
We popped in for photos, and look forward to giving these new eateries a taste.
First, there's Primrose.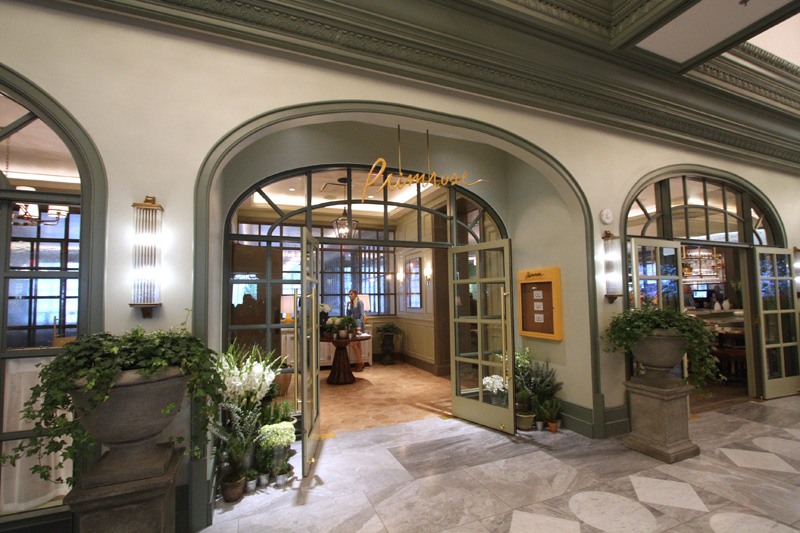 The official Web site says, "Modeled after a country home, Primrose is our tribute to the South of France. Come by for garden-inspired dishes and cocktails in the drawing room, dining room, or beneath the trees in the outdoor terrace and garden."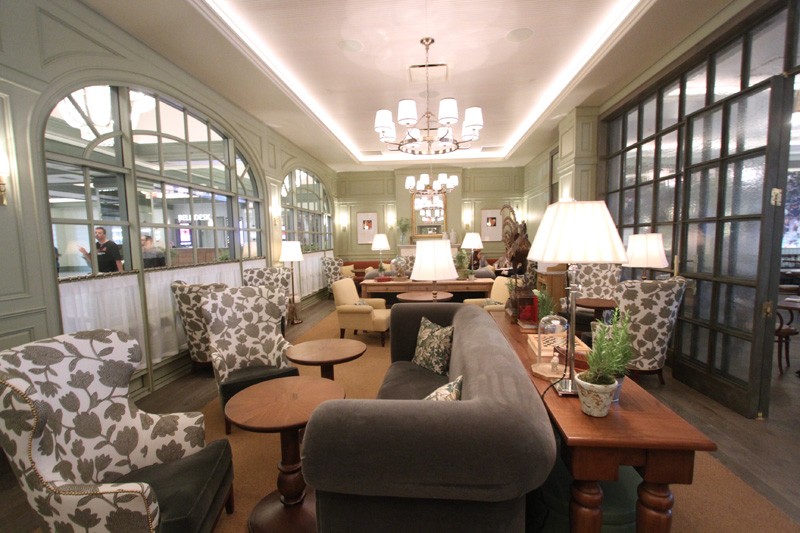 On the restaurant's Web page, the cuisine is described as "French-ish."
And they weren't kidding about the "beneath the trees" thing. A few feet from the entrance to Primrose, in an area being used for hotel registration, there's a massive tree root protruding from the ceiling.

Also new at Monte Carlo, sorry, Park MGM, is Bavette's Steakhouse & Bar.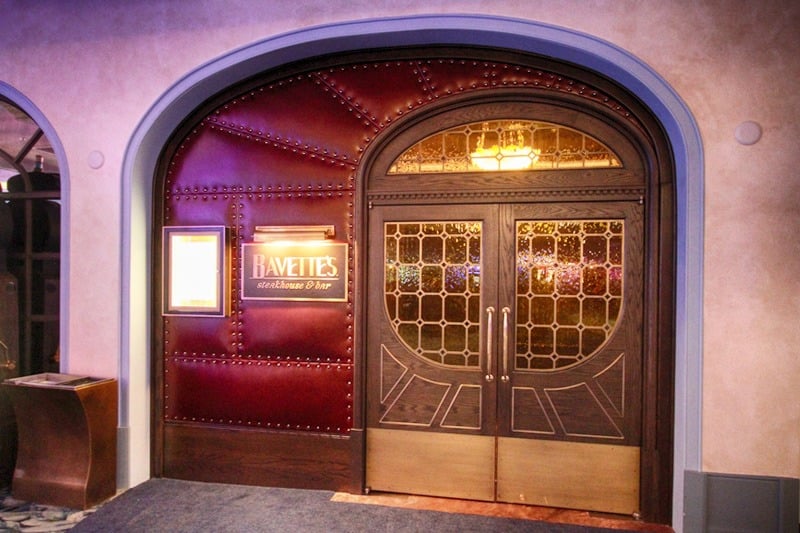 The original Bavette's is in Chicago, and it's won numerous awards for its classic steakhouse fare with French cooking influences.
It's almost entirely dark inside Bavette's, but here's a photo, anyway.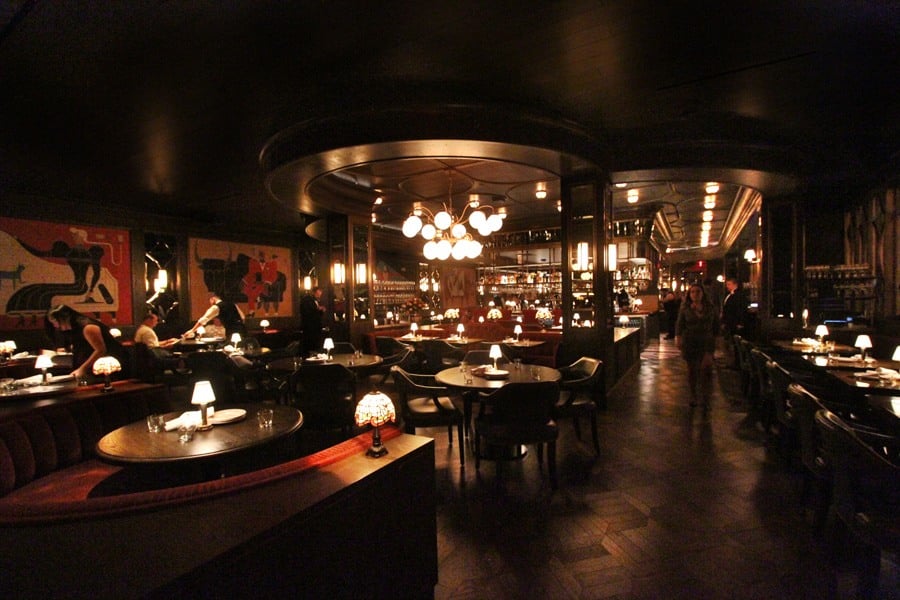 Strolling through the Monte Carlo casino is a surreal experience.
Construction walls conceal closed venues, and familiar features inside the resort have vanished.
Signs for Park MGM haven't really been put up yet, but this one was displayed prominently, including what appears to be an attempt at a logo.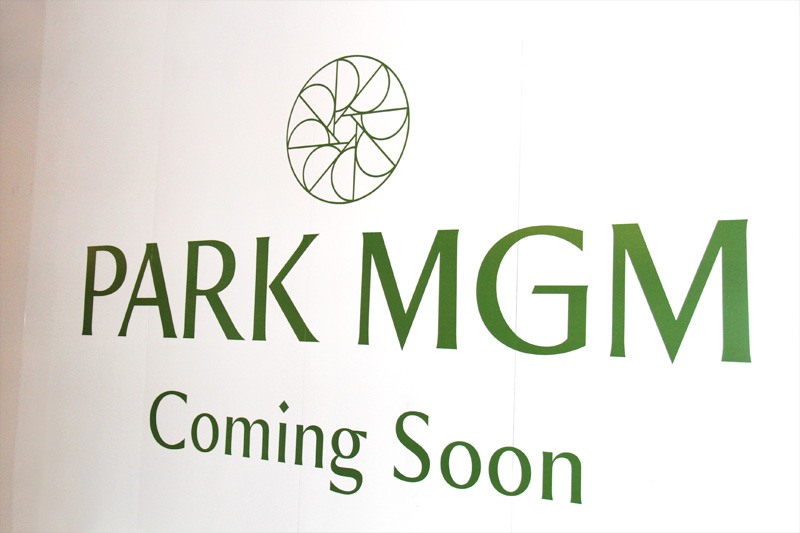 Changes are happening outside, too.
There's been a lot of work in the Monte Carlo's pool complex.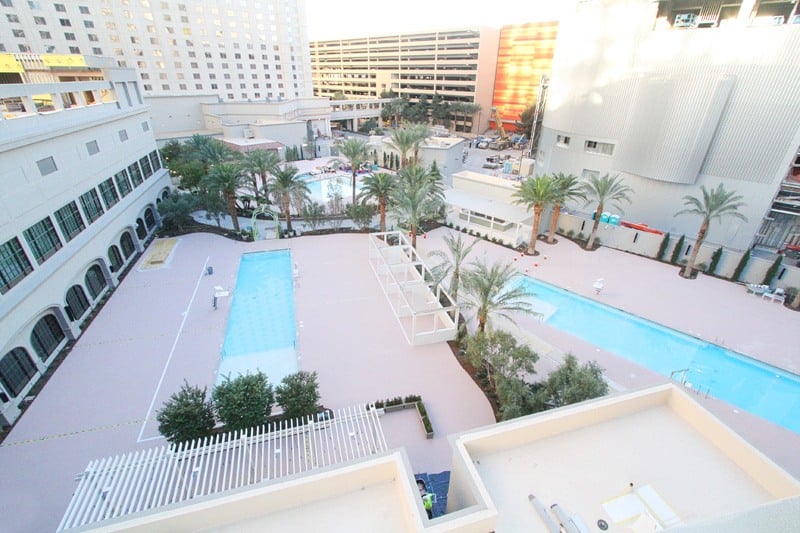 Now, there are three pools. One's square, the others are akin to lap pools.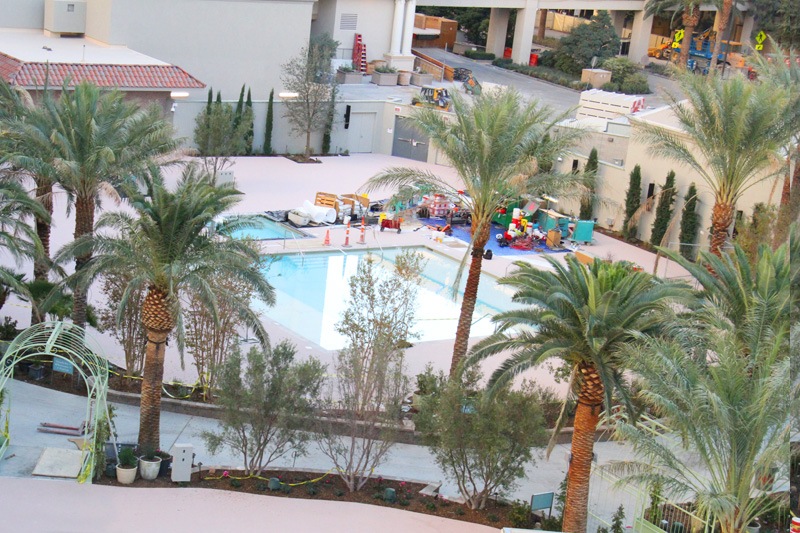 It seems like only yesterday we were breaking the story Monte Carlo would undergo a major renovation and rebrand. Now, it's becoming a reality.
MGM Resorts CEO Jim Murren has described the Monte Carlo transformation as a "top-to-bottom, stem-to-stern type of re-imagining." We can't disagree.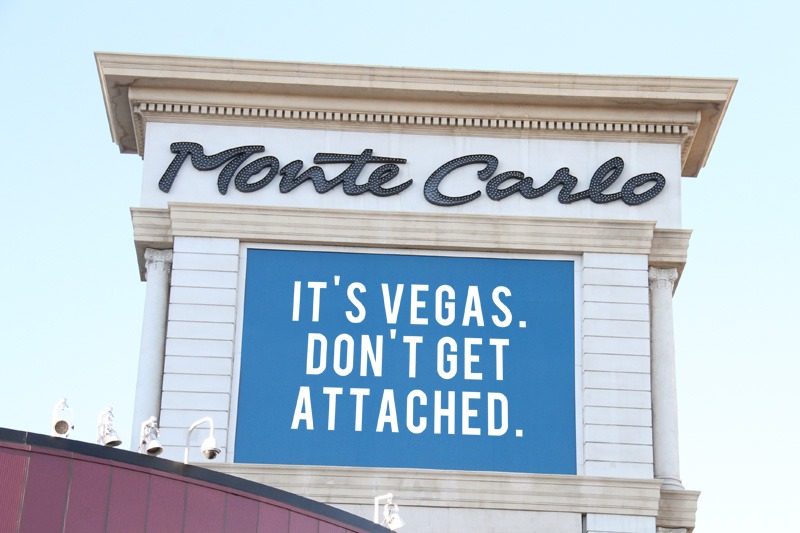 Some fret Monte Carlo will become an upscale resort and price out longtime fans. Others say it was time for a Monte Carlo refresh, and Vegas thrives on shiny new things, even when they're not completely new.
Many are taking the transition period as an opportunity to bid farewell to an old friend.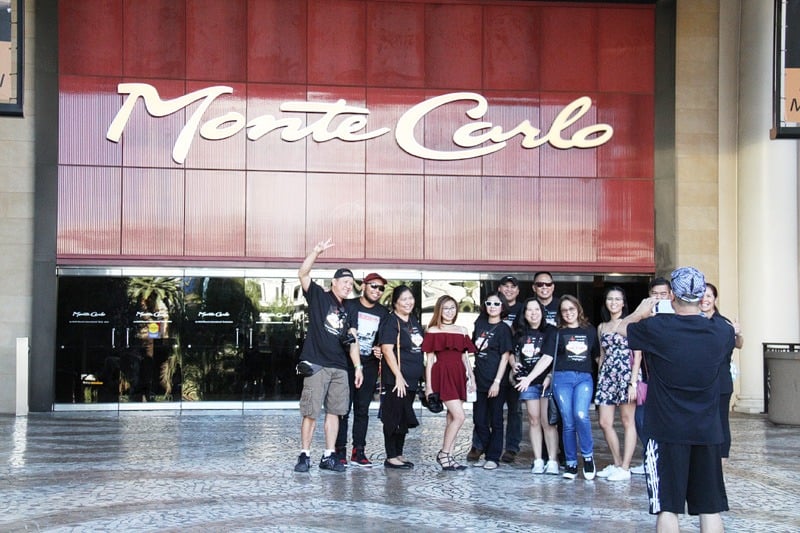 Enjoy a few photos from our recent walkabout at Monte Carlo, and we look forward to sharing more about Park MGM as it emerges, sticky and warm, from the womb of the wizards at MGM Resorts. Or something.