Mermaids Casino Will Give Away Thousands in Progressive Jackpots Before It Closes
Casino closings can often be sad things. There's always a bright spot, though. When they close, casinos are obligated to give away any outstanding progressive jackpots, and that's what Mermaids will do before it closes June 27, 2016.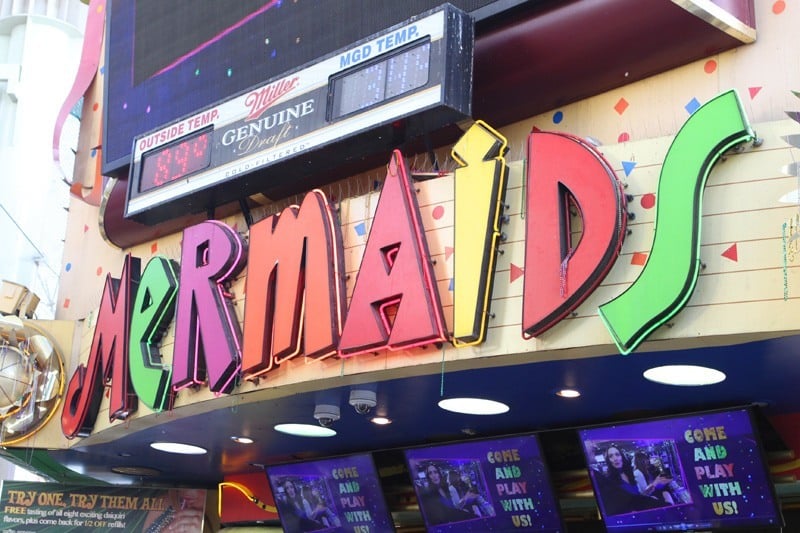 Mermaids, of course, is one of three downtown establishments closing on June 27.
Mermaids, La Bayou and the Glitter Gulch strip club were sold to Derek and Greg Stevens
for an amount we estimate to be "a metric hell-ton more than we have in our bank
account, or ever will, unless we are adopted by Derek and Greg Stevens."
Mermaids and Glitter Gulch will be integrated into a new resort (being informally referred to as 18 Fremont) that will include the site of the closed Las Vegas Club.
Don't freak out, the iconic Vegas Vickie sign above Glitter Gulch will be featured in the new hotel-casino.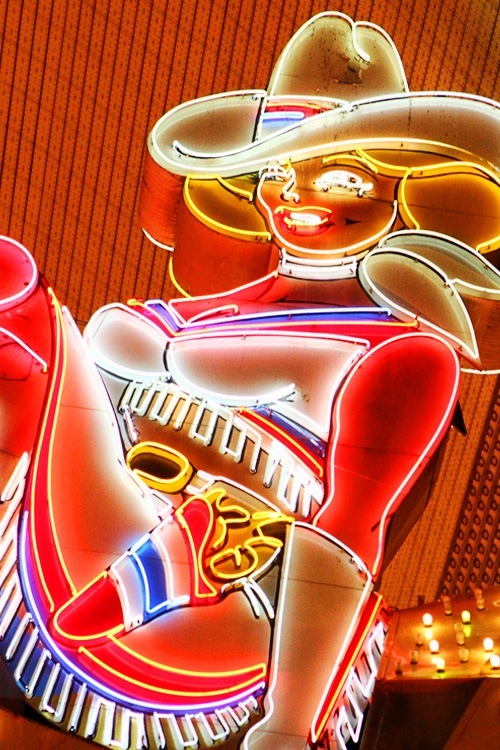 Nevada gaming regulations require a casino to distribute any outstanding progressive
jackpots prior to removing slot machines from its floor. Jackpots can be transferred to other machines, but if a casino is closing, they have to give the money away.
Remember the Lion's Share slot machine at MGM Grand? That's a well-known example of a
jackpot on an obsolete machine that had to either be transferred to another machine or paid out. Part of the lore around that machine had to do with the misconception that particular machine had to pay before it could be removed or retired. That wasn't the case, but it made for a great marketing device. Good times.
It should be mentioned the rules about giving away progressive jackpots only apply to
slot machines the casino owns, by the way. "Networked" progressive machines owned by
game manufacturers, such as Wheel of Fortune or Megabucks, and are excluded from the
prize pool.
So, Mermaids has to give away its jackpots. That means tens of thousands of dollars are
up for grabs. La Bayou is giving away its jackpots, too, although the amounts are much smaller.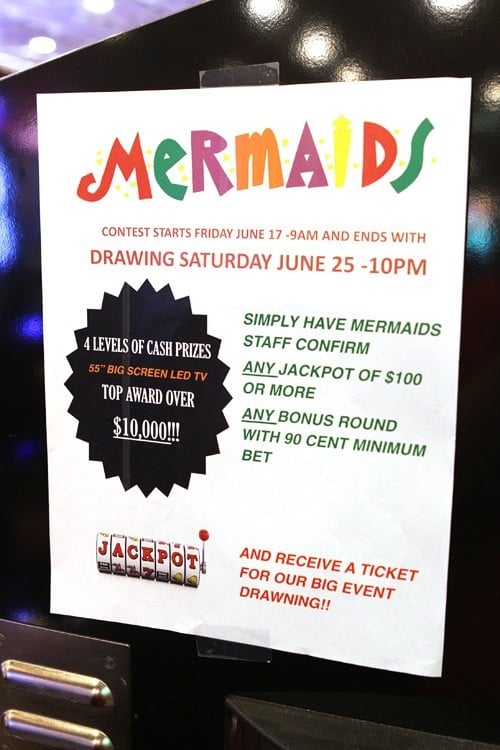 Here's how the giveaway will work. Mermaids will have a "contest" from June 17 (9:00
a.m.) to June 25 (10:00 p.m.), 2016. During that time, players will qualify for entries
in the form of tickets.
On June 25, at 10:00 p.m., winners will be chosen and the money will be given to a few
lucky players.
Because progressive jackpots will continue to increase through the giveaway date,
there's no way to know how much will be given away, but we can say there's a Triple
Double Diamond machine with a jackpot of $11,118.01 and a Red, White & Blue machine
with a jackpot of $8,385.69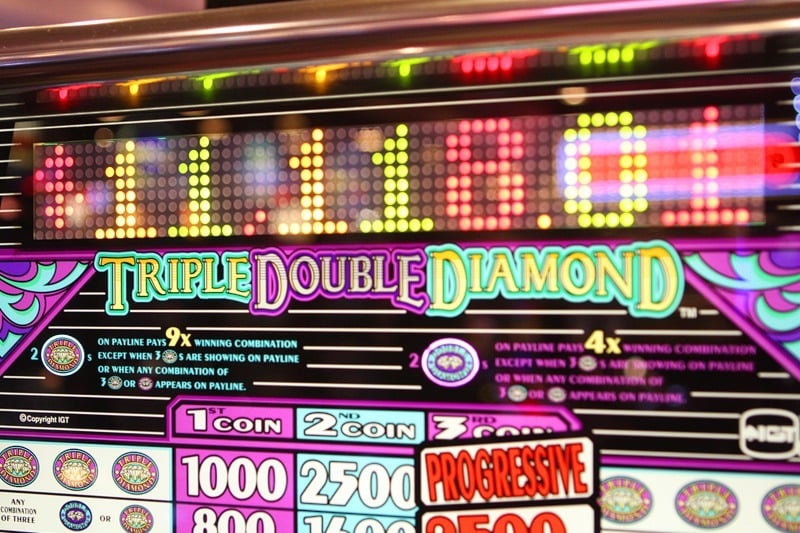 To get an entry ticket, you can do any of the following: Hit a bonus playing a 90 coin
bet minimum, hit a jackpot of $100 or more, get a keno payout of $100 or more, hit any
video poker four of a kind paying $100 or more or hit any royal flush on video poker.
How will the prize pool be divided up? It's complicated.
The first place winner will get 46% of the prize pool. Second place gets 28%, third
place gets 23% and fourth place gets 3%. Don't kvetch, fourth place winner. It's free
money.
Mermaids will also give away a 55-inch big screen TV. (Technically, that prize comes
from a Mermaids beer vendor, but let's not quibble.)
As for the drawing, entrants must be present to win. If no one claims a given prize,
they'll keep drawing until somebody claims their cash.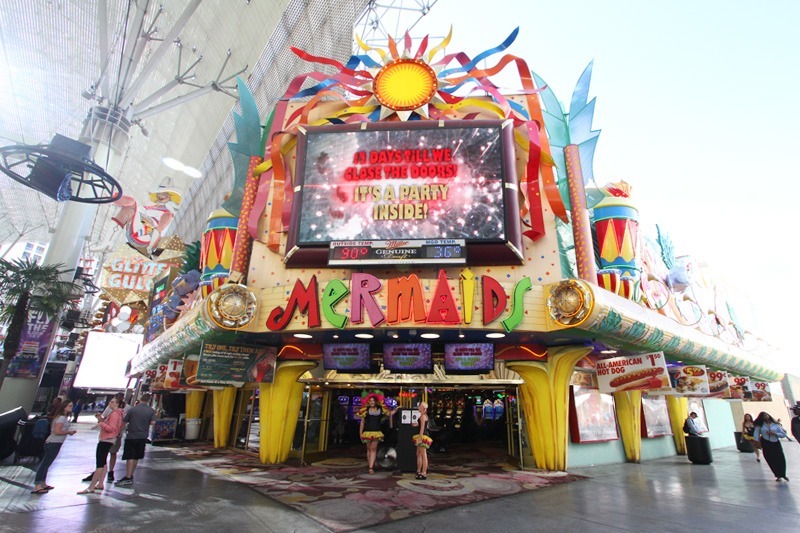 So, if you're looking for an excuse to visit Mermaids before it closes, this could be
it.
We've heard lots of visitors are planning to swing by Mermaids one last time for a
deep-friend Oreo or Twinkie, the casino's claim to fame. Go for it, thrillseekers!
Here's what's up at La Bayou, another slot joint across the street.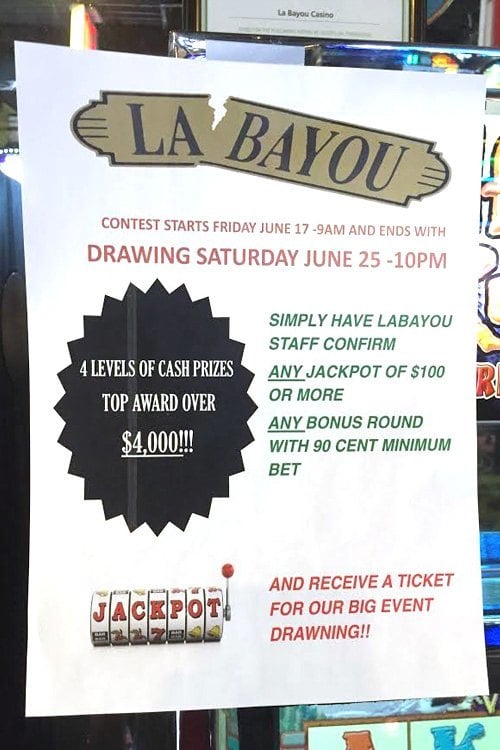 If you swing by Mermaids during its final countdown, you're likely to be in good company. Many folks who rarely (or never) visit a given casino will do so when it's closing.
The Riviera, for example, had a massive surge in guests and gambling in the final two months it was open. It's been said the Riv's last two months generated more casino play and profit than any two-month period in the 20 years prior to that!
Stop by Mermaids for its last hurrah—get some free beads, bid farewell to the deep-
friend eats and take a shot at winning the casino's remaining progressive jackpots.
Let us know how it goes!