Las Vegas Sands Corp. Announces Huge-Ass New Music and Entertainment Venue
A bigtime Las Vegas casino company has drawn a line in the (wait for it) sand with the announcement of a new live music venue just off the Las Vegas Strip.
Las Vegas Sands Corp. has partnered with the Madison Square Garden Company to build a 17,500-seat venue designed to host music and entertainment. The venue is expected to give the 20,000-capacity T-Mobile Arena and 16,800-seat MGM Grand Garden Arena a run for their
money.
The yet-to-be-named venue will be located on Sands Ave. between Manhattan Street and Koval Lane. Yeah, we didn't know where that was, either, so we took to the skies to figure it out.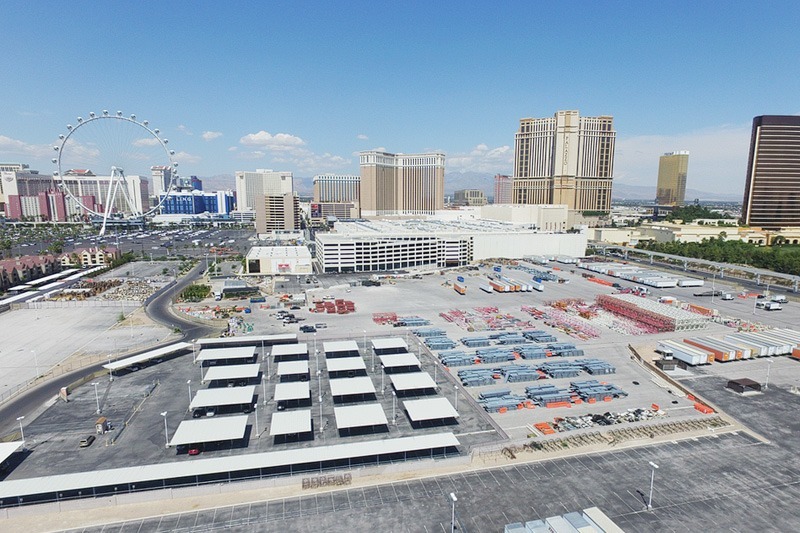 The official news release about the venue contains some interesting elements.
For one, it's claimed this 400,000-square-foot project "will be the world's largest venue
built specifically for music and entertainment."
The release also says "the venue will re-invent the VIP experience, with luxurious seating
options and exclusive clubs and lounges," and it will "feature first-class amenities in
deluxe, dedicated areas specifically designed to elevate the artist experience."
Oh, news releases.
Perhaps the most news release-like thing in the official news release is the assertion this
venue will "re-define the live music and entertainment experience."
We're going to go out on a limb and say that's not the case, but we love surprises.
Here's another look at the spot where the venue will be erected, mainly because we enjoy
the word "erected" so much.
Interestingly, the Madison Square Garden Company will own the venue, not Las Vegas Sands. The land is owned by Las Vegas Sands Corp., but Madison Square Garden Company will hold a 50-year lease agreement.
As part of the project, a pedestrian bridge will be built to connect the new venue to the
Venetian and Palazzo.
Officials from Madison Square Garden Company claim "Las Vegas has been under-served in
terms of large-scale entertainment." Which is weird, because most people associate Las
Vegas with being over-served, if you get our drift.
Well, we'll know soon enough. The project is expected to take two years to complete.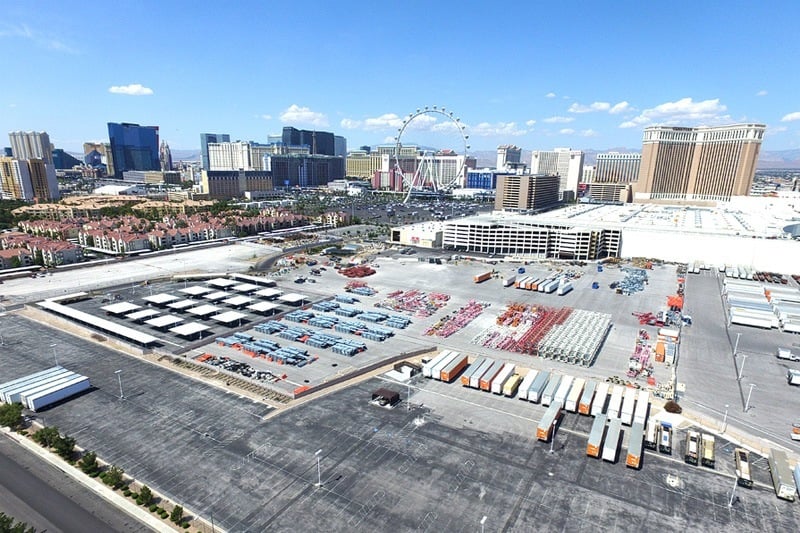 Financial details of the project haven't been made public, but Las Vegas Sands Corp. is expected to provide Madison Square Garden Company with $75 million to help fund construction costs, including the cost of the pedestrian bridge.
Assuming this new venue happens as planned, competition for big-name bands will be at a
fever pitch in Las Vegas, and that means escalating prices for talent. Those higher prices
tend to trickle down, so expect another bump in Las Vegas ticket prices when this new venue
comes online.
What do you think? Can Las Vegas sustain another massive music venue, even one that will
re-define what it is to re-define the entertainment experience?
Take a listen to our incoherent ramblings about this very subject on KNPR, an actual radio station.
Got questions about this music venue project? We've got answers!
Question: Is this project going to happen?
Answer: Sure! The key is the fact the project is privately funded. Las Vegas Sands is contributing $75 million to the project, but Madison Square Garden Co. will ultimately own and operate it.
Question: Can Las Vegas support another big arena?
Answer: Probably! Opinions differ about that point, though.
Nobody has been clamoring about a new venue of that size, but developers believe Las Vegas is "under-served" when it comes to large events.They say Las Vegas hosted 48 concerts in buildings with a capacity of more than 9,000 in 2015. During that same year, more than 180 comparable music and other entertainment events took place in L.A. Is that a fair comparison? Who knows, but they're moving ahead, anyway.
Project developers are saying a lot of interesting things, including, "There has not been an incentive for major, premium-quality acts to come to Las Vegas on a number of levels." Not sure that's true, but we appreciate their verve.
Question: Who wins with this project?
Answer: First, the artists! When the biggest venues were all owned by MGM Resorts, there wasn't a lot of competition for big acts. Now, the prices paid for big-name acts is going to spike. Las Vegas Sands will also be a big winner. They have minimal risk, but will have a shiny new amenity to offer guests of Venetian and Palazzo. Those hotels will also get first dibs on tickets to include in hotel packages. This new offering will keep guests in the neighborhood, rather than visitors seeking out entertainment, lodging and gambling elsewhere.
The new Las Vegas Sands and Madison Square Garden venue is still a couple of years away, but its impact is already being felt in Las Vegas concert circles. There's more fun to come!