Slew of Vegas Resorts Dangle No Resort Fee Offers
It seems the tide is turning as several Las Vegas hotel-casinos have offered to waive resort fees, even if only for a limited time.
Cosmopolitan has joined the fray with a "resort fees on us" deal.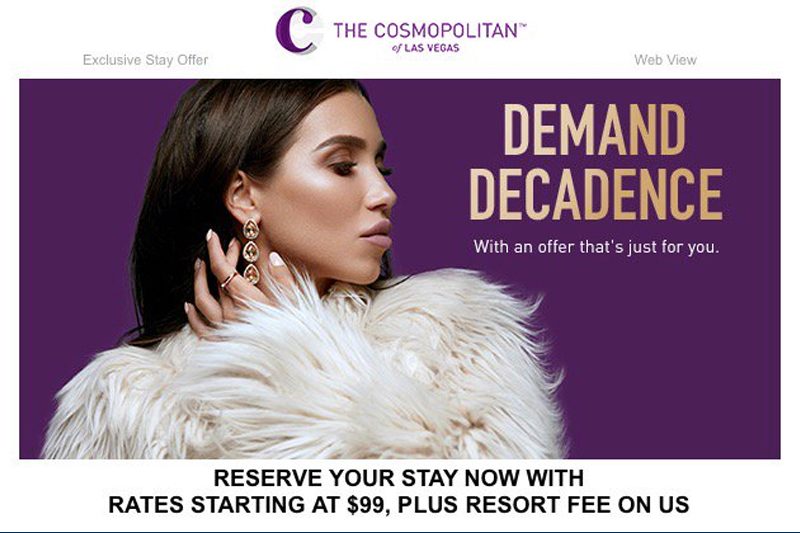 Resort fees are a source of ongoing frustration for Las Vegas visitors, and many say the practice has contributed to changes in their perception of Sin City as a value destination. Ditto the frequency of their visits.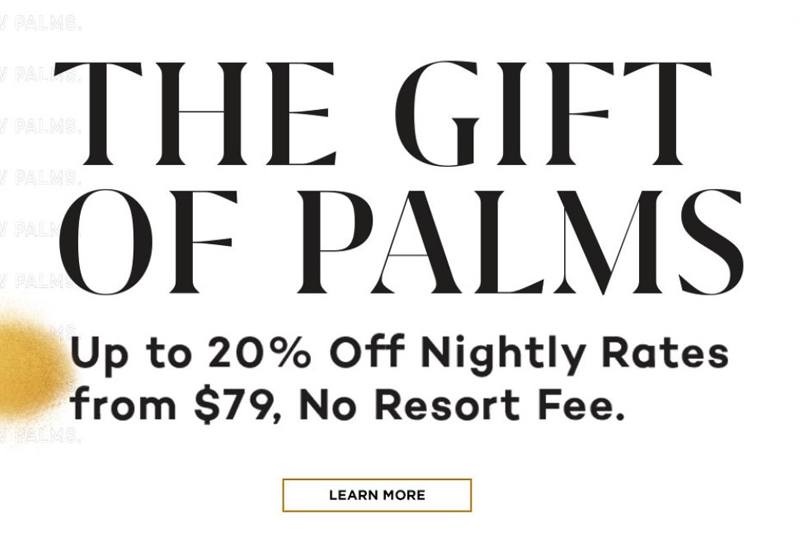 In recent months, Las Vegas visitation has dipped and casino stock prices have taken a tumble. Only now does it appear Las Vegas resorts are acknowledging nuisance charges like resort fees are doing more harm than good.
The two biggest casino companies, Caesars Entertainment and MGM Resorts, recently sent customer surveys specifically addressing the issue of fees, presumably with the goal of assessing how much damage has been done by the implementation of these charges.
Here's another offer for waived resort fees, this time from SLS Las Vegas. This is the kind of trend we can get behind.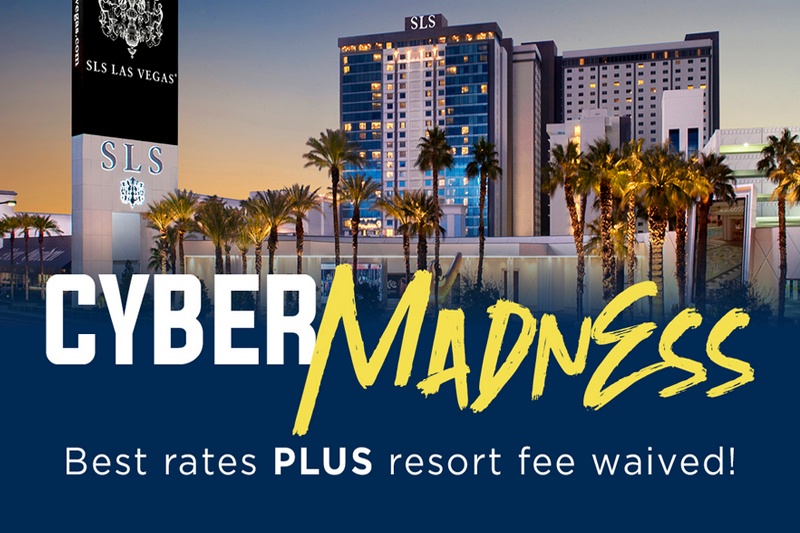 Resort fees are just one of the fees we hear about daily from Las Vegas visitors.
Wynn Resorts recently rolled back its paid parking policy so guests can park free when they spend $50 at the resort. It's a step in the right direction.
There are still quite a few Strip and Strip-adjacent casinos offering free parking:
Tropicana
Planet Hollywood
Treasure Island
Venetian and Palazzo
Casino Royale
Circus Circus
SLS Las Vegas
Stratosphere
Westgate
Hooters
Hard Rock
Tuscany
Silver Sevens
Ellis Island
Palace Station
Gold Coast
Rio
Palms
Orleans
South Point
M Resort
No, that's not an exhaustive list, we ran out of dots. Also, alphabetization is clearly not happening in our current state of inebriation. You'll manage.
There's no telling if moves like offering no resort fees or free parking are enough to stem the tide of discontent. It could be too little too late.
Some visitors point out it's little consolation resorts are waiving fees as they're the ones who instituted them in the first place.
We thought it might be fun to draft an ad to help reverse the changing perceptions of Las Vegas. This open letter is a bit of a pipe dream, but Las Vegas was built on dreams. And tax evasion. But mainly that first thing.
Please enjoy our fake ad.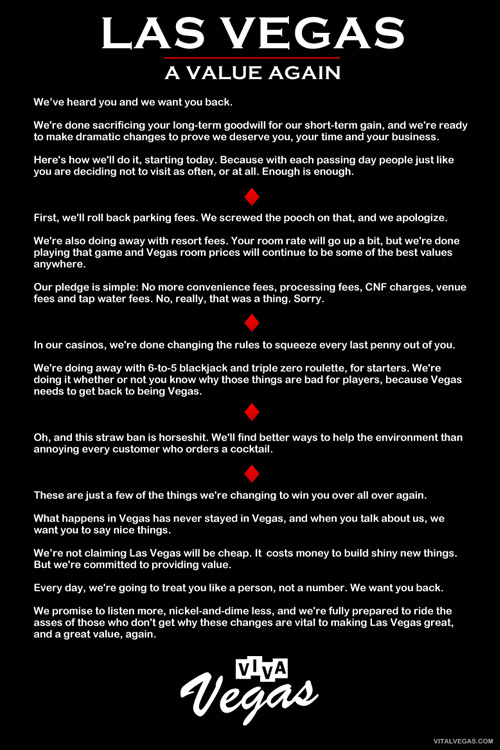 Click here for a larger version, because having your eyes pop out isn't a great look for you.
To-date, Las Vegas casino companies haven't really come to grips with how the perception of nickel-and-diming has hurt the image of Las Vegas. They prefer to describe it as a "blip."
Time, and RevPAR, will tell.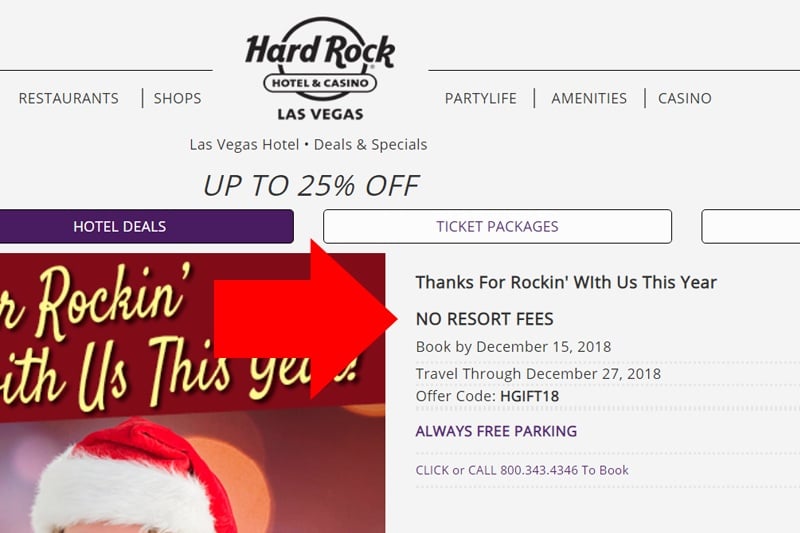 From the flurry of recent "no resort fees" offers, it's clear the hotels are starting to listen, but it remains to be seen what steps they'll take to address what they hear.
Update (4/29/19): On April 29, 2019, Wynn Resorts announced it would make parking free again at Wynn and Encore, no strings (or validation) attached. The free parking policy goes into effect May 1, 2019. They're listening.