Everything You Need to Know About the $100 Million Kind Heaven at Linq Promenade
Caesars Entertainment, Jane's Addiction front man Perry Farrell and other collaborators have announced an ambitious, $100 million project for the Linq promenade on the Las Vegas Strip, Kind Heaven.
Since we know how you like to skim, we're going to cut through the WTF and sum the project up in a way its development team and other publications have not: In English.
Kind Heaven is an Asian-themed walk-through attraction with music festival roots.
Don't say we never did anything for you.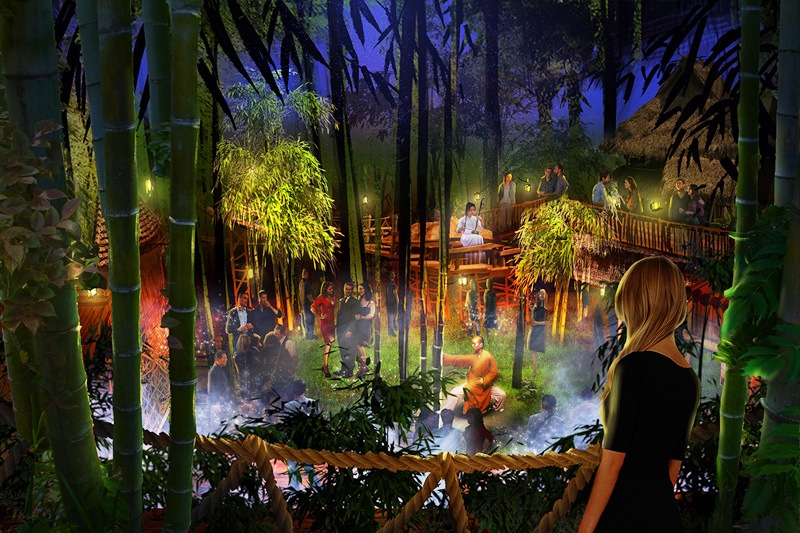 Yes, it's a bit more complicated than that, but that's the essence of Kind Heaven. The details range from breathtakingly original to laughably absurd.
Kind Heaven is a little bit theme park, a little bit interactive theater, all wildly original for Las Vegas, and the entire concept is based upon a dream. More on that in a moment.
The intention is for Kind Heaven to be a unique experience, and from what's been shared, it could actually end up being just that. It could also be a colossal disaster, which is part of what makes it so exciting.
Let's dive into this whimsically weird attraction set to open in 2019 in Las Vegas.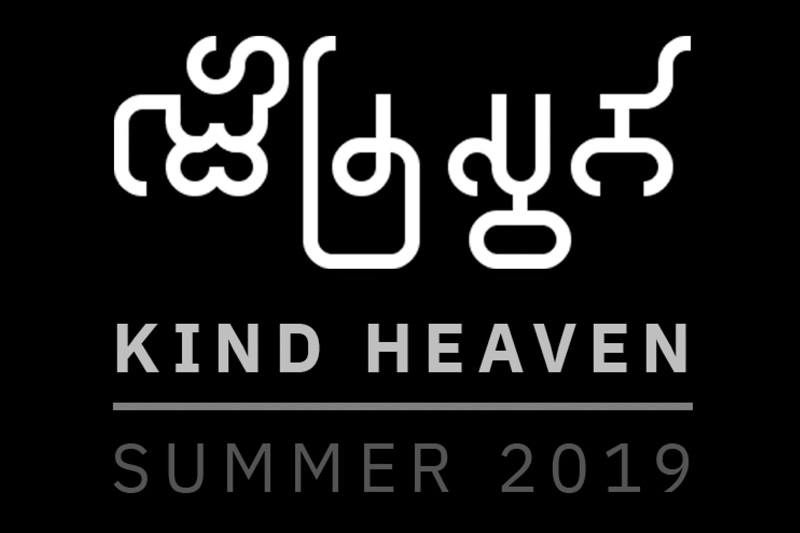 The project is being put together by a powerhouse team of creative minds and Caesars Entertainment. That may have come out wrong.
Aside from Perry Farrell (founder of the Lollapalooza music festival), there's also Cary Granat, co-founder and CEO of Immersive Artistry. Granat is also the former CEO of Walden Media (which produced the "Chronicles of Narnia" film series) and was formerly the president of Miramax.
Also on the team is visual effects pioneer, Ed Jones. Jones was involved with blockbuster films like "The Empire Strikes Back," "Indiana Jones" and "E.T." He's the president of Immersive Artistry.
So, there are some creative minds at work on the Kind Heaven project.
The driving force, though, is Perry Farrell. He's the one whose dream inspired Kind Heaven.
Farrell says that in his dream, he "descended upon an imaginary city from the sky and watched a girl pickpocket someone who was passed out on the street."
It takes a true visionary to have a dream and say, "That's a $100 million idea right there!"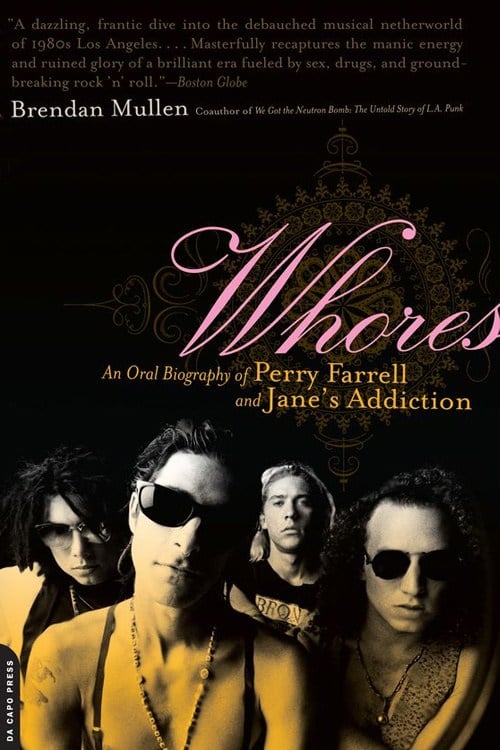 From there, back in 2014, Farrell tried to develop an "EDM-driven immersive theatrical production" called "Kind Heaven." That show, which was intended for Las Vegas, never became a reality, but the Kind Heaven dream apparently lived on. Read more in Rolling Stone.
The specifics of Kind Heaven aren't easy to pin down, but that's probably because its developers haven't quite sorted everything out yet.
What we do know is Kind Heaven will be located at the Linq promenade shopping center. The pedestrian mall is anchored by the world's tallest Ferris wheel, the High Roller. And In N Out.
Kind Heaven will cover a whopping 100,000 square feet of space with 40 food stations and bars. Hint: That's a lot.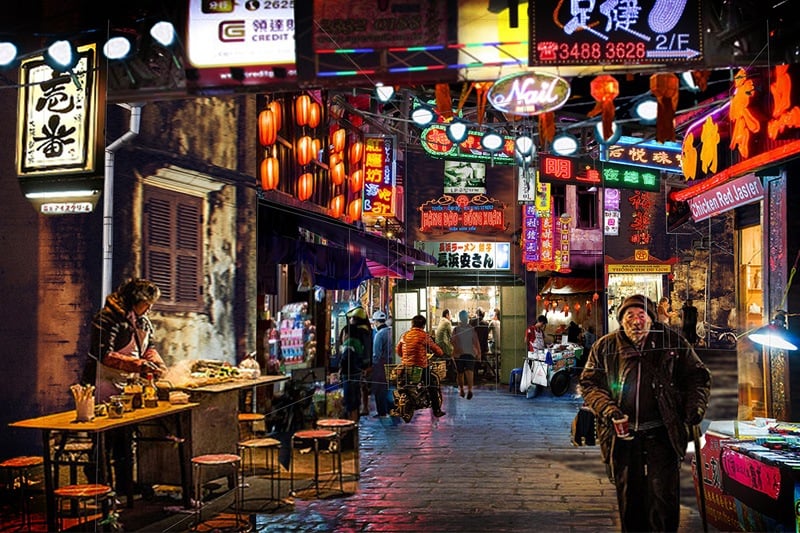 Kind Heaven will "transport visitors to Southeast Asia" via a "virtual train" and is set to feature holographic special effects, streetscapes and holy temples in Thailand, Vietnam, Nepal and Hong Kong.
According to Cary Granat, the venue will feature music from 130 artists on five stages. Hey, we said it's whimsical.
Farrell will curate the "audio soundscape" for Kind Heaven, because why would you ever want to just call something what it is? This is art, that's why.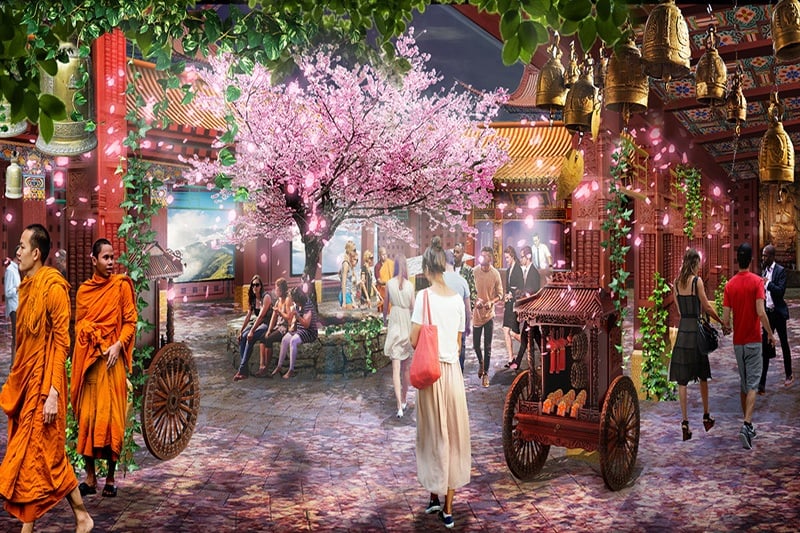 Kind Heaven will be family-friendly by day and adults-only at night. According to Farrell, the adults-only part will presumably include "street walkers, nightclubs and sake bombs."
We'll see how much of that makes it through Caesars Entertainment's notoriously stifling review and approval process.
Perry Farrell has provided some of the most vivid (and confounding) descriptions of the attraction.
He told Billboard, "You're basically walking through a 90-minute show routed in mythology and original content. When you're within the complex, you're free to roam around and discover hidden alleyways, visit nightclubs and eat from Hong Kong-style street food vendors. There will be improvisational actors, musicians, acrobats and comedians, combining elements of sensuality and espionage into an experience that will be a first of its kind."
Think Fremont Street Experience, but rather than downtown's casino "theme," an Asian one.
No, really.
Live musical performances on multiple stages (three on Fremont Street, five at Kind Heaven), street performers, bars and restaurants, roaming and exploring, sensuality and immersion.
Oh, and let's not forget, ziplines. Caesars Entertainment announced its Fly Linq project back in November 2017.
You think we're kidding about Fremont Street being the inspiration for Kind Heaven? They even included a vagrant in their rendering!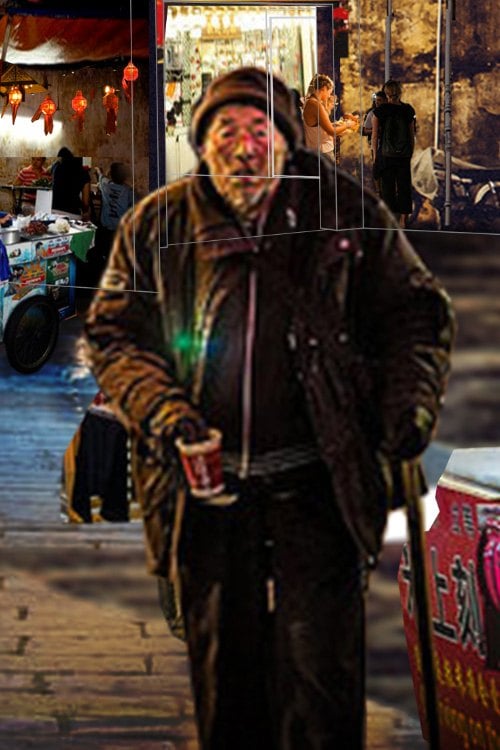 Full disclosure: We work in digital marketing at Fremont Street Experience, and worked in marketing at Caesars Entertainment as well back in the day. Our opinions are obviously our own, and God, we feel old.
Here are some other notable features of the Kind Heaven attraction:


Kind Heaven is specifically intended to appeal to Millennials.


It will be cashless. Our first experience with a similar cashless system was at Rock in Rio USA, the music festival held at the Las Vegas Festival Grounds across from SLS Las Vegas. Event organizers love RFID wristband payment systems because they help avoid employee theft and there's a windfall from the "breakage." Read more.


The attraction will accept digital currencies like Bitcoin.


It will feature "wearable tech."


The exact location of Kind Heaven isn't entirely clear at this juncture, but it's likely to span the space between Flamingo and the Linq hotel.


The attraction will be open to people of all ages from 11:00 a.m. to 5:00 p.m., close for three hours and re-open for those 21 and older.


The venue will have a "Dynamo" stage with a capacity of 1,000 people for concerts.


Objects inside the attraction will have RFID tags, and everything will be for sale. Well, almost everything. Farrell says, "Everything that you see, except for my wife, is for sale."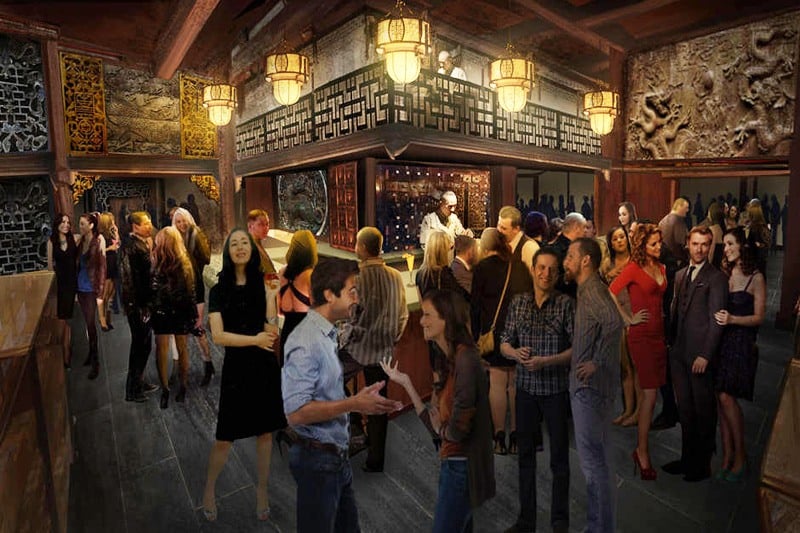 There may be holographic porn. Farrell says he'd like to have a holographic porn of himself. We are not making this up. Read more.


The venue will feature virtual monkeys that wrestle each other, robotic chickens and 20-foot snake. Guests will presumably be able to wager on the matches.


It will take 18 months of construction.


Kind Heaven will create 200 construction jobs.


The attraction will employ 670, exclusive of the holographic monkeys.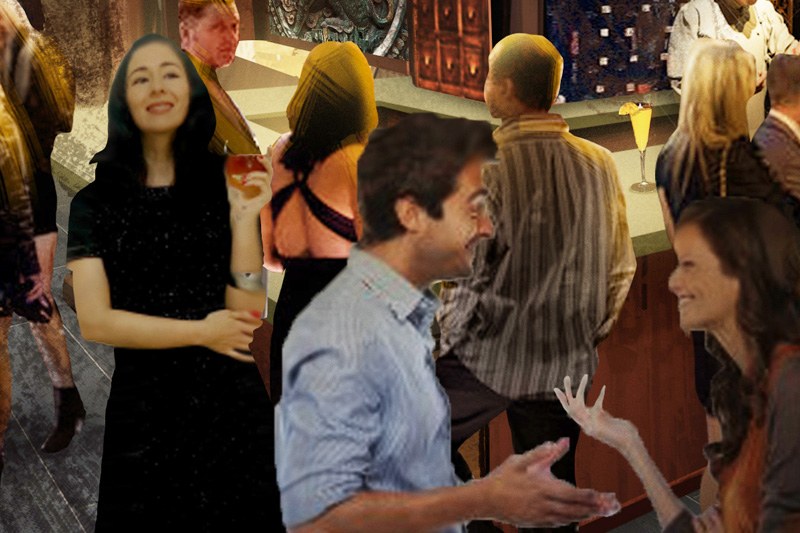 There have been conflicting reports about how many stories Kind Heaven will take up, ranging from three to five to seven.
Specifics of three levels of Kind Heaven have been shared, though.
Level one is a night market. On this level, at a bar called The Dispensary, guests will be able to order feelings. That is absolutely not a typo. We trust one of the feelings will be "WTF?"
Level two is The Forest, with lost temples and cities, tree houses and lush vegetation. Millennials love their vegetation lush.
Level three is The Sanctuary. This level will be above the Vortex (that colorful, tornado shaped structure at Linq hotel). This area is likely to feature EDM.
And more drama!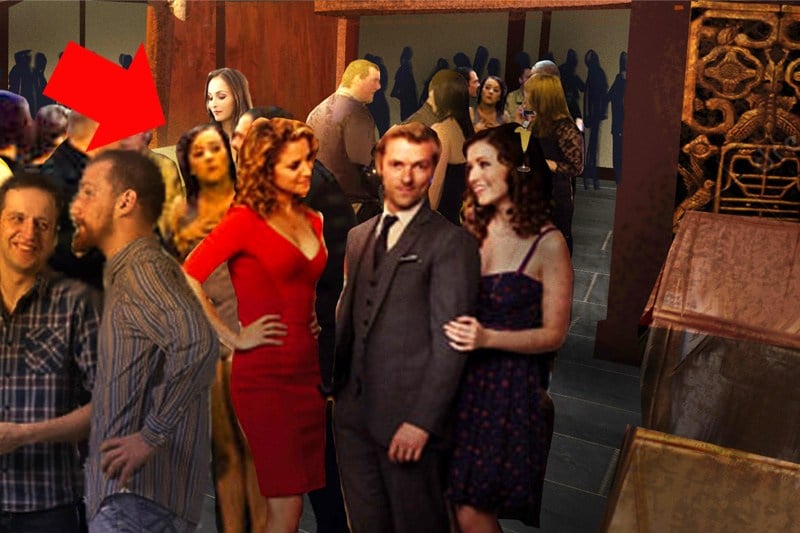 And while we're on the subject, Matt Goss is everywhere at Kind Heaven. Remember that rendering of "The Forest"?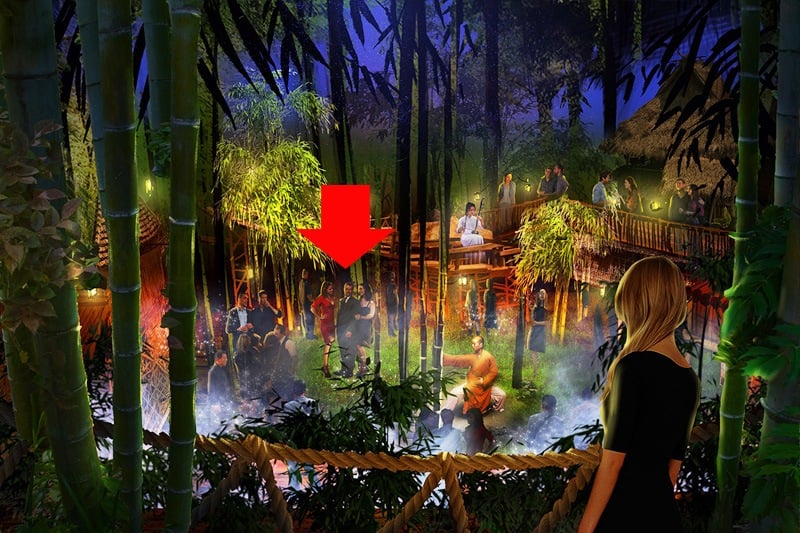 Yep, Matt Goss and friends.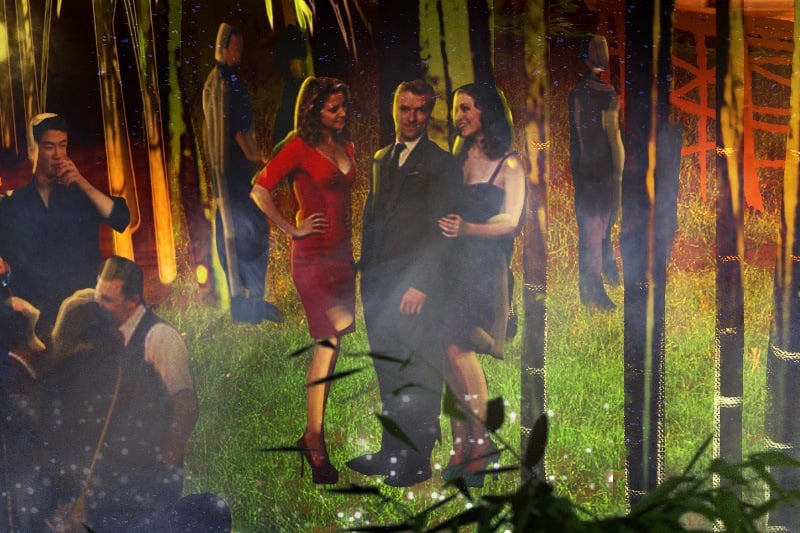 As we're taking a closer look at the Kind Heaven renderings, we would like to also point out there's more drama lurking in the forest image.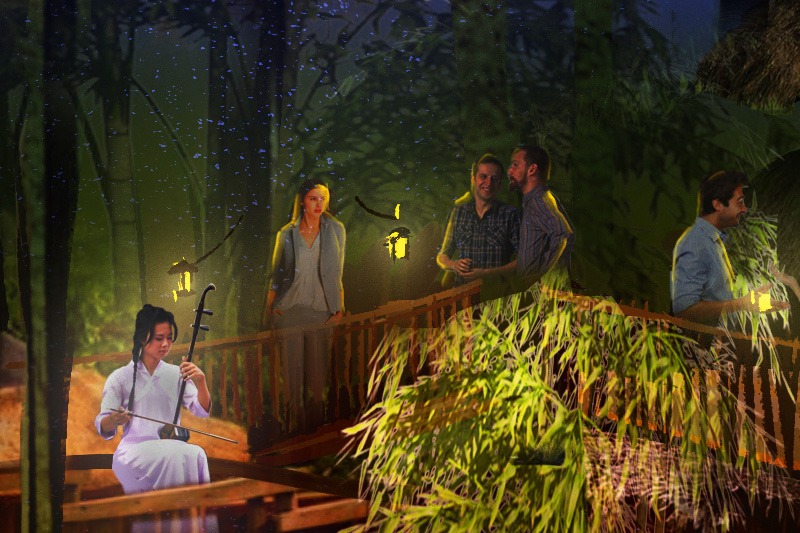 And don't get us started about what else is going on in The Forest!
The jealous confrontation in the bar has apparently resulted in the scorned woman having her leg amputated!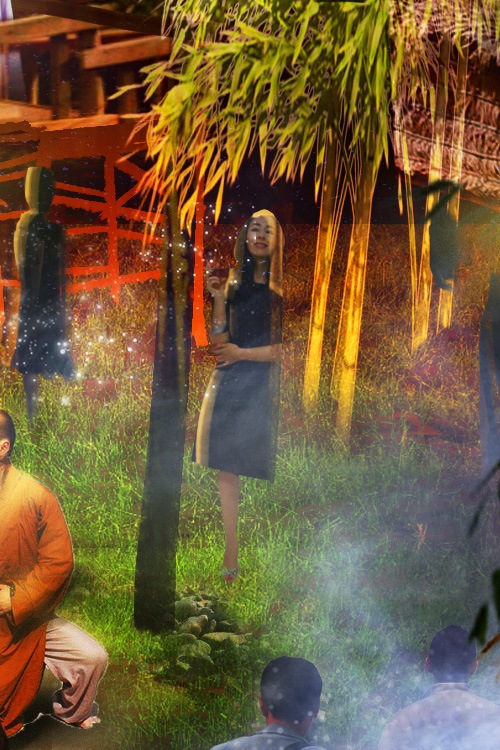 That just about covers what we know about Kind Heaven, and we're exhausted.
So, can a $100 million, Asian-themed attraction based upon a dream thrive on the Las Vegas Strip? We hope so.
Doesn't Disneyland feels like a dream made real? Come to think of it, doesn't Las Vegas?
We've heard convincing arguments from industry insiders saying Kind Heaven is set to be the biggest game-changing success in the history of Las Vegas. We've heard equally compelling arguments Kind Heaven will be the biggest flop in the history of Las Vegas.
Here's what we think.
Casinos are scrambling to draw the next generation of Las Vegas visitors. Skill-based slot machines, cornhole and eSports are feeble, fruitless attempts at doing so.
With Kind Heaven, Caesars Entertainment is being bold and Las Vegas was built on audacity.
Here's hoping the dream that is Kind Heaven pays off, because when bold wagers come through in Las Vegas, we all win.