It's Time for an Official Tupac Shakur Memorial in Las Vegas
Tupac Shakur was shot in Las Vegas on Sep. 7, 1996. He died six days later, on Sep. 13, 1996. He was 25.
As we approach the 25th anniversary of Shakur's death, it's time to think about a formal memorial to this iconic rapper in Las Vegas.
Why? Well, for starters, because there's already an informal Tupac Shakur "shrine" near the Las Vegas Strip, but it isn't really worthy of Shakur's enduring cultural significance.
It's a couple of power poles covered with graffiti. And other unidentifiable substances.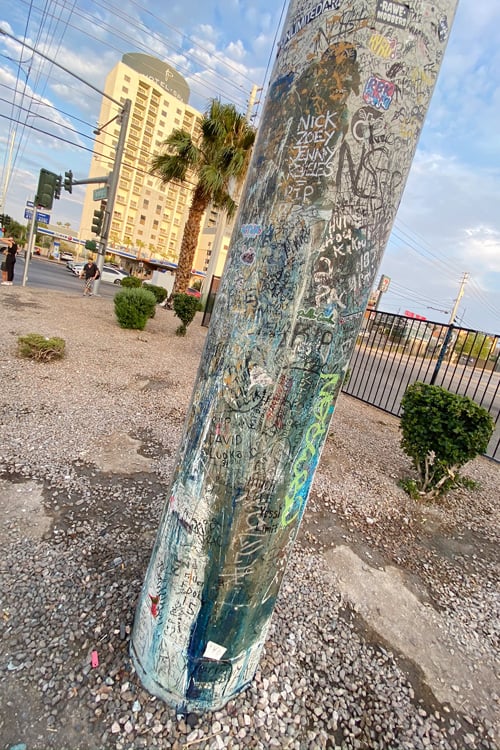 Still, for years, Las Vegas visitors have sought out the location of Shakur's shooting.
It's at the corner of Flamingo Road and Koval Lane, a five minute walk east of the Las Vegas Strip.
The heartfelt messages left by fans on the power pole are a powerful tribute to the lasting impact and legacy of Tupac Shakur.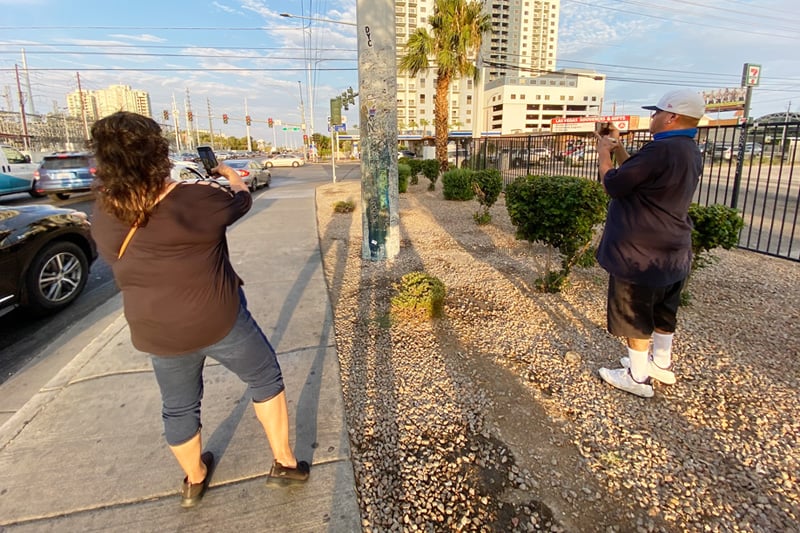 While Tupac Shakur's murder officially remains an unsolved crime, pretty much everybody knows the shooter was Orlando Anderson, who Tupac, "Suge" Knight and several gang members beat up earlier in the evening at MGM Grand.
Anderson was killed in a gang-related shooting in 1998.
While Tupac Shakur wasn't a saint (he had many run-ins with the law and served time for sexual assault), there's no denying the passion of his fans, and the fact they continue to visit the site of the shooting means his memory deserves commemoration by something a little more dignified than a couple of power poles.
Here's some video of the site of the Tupic Shakur shooting.
Why hasn't a memorial been created for Shakur? It's complicated, but we'll start by sharing the fact Sammy Davis Jr. couldn't stay in the Las Vegas hotels where he performed. Read more.
Beyond the obvious, other reasons would probably include the fact Las Vegas doesn't like to highlight the fact violence sometimes happens here.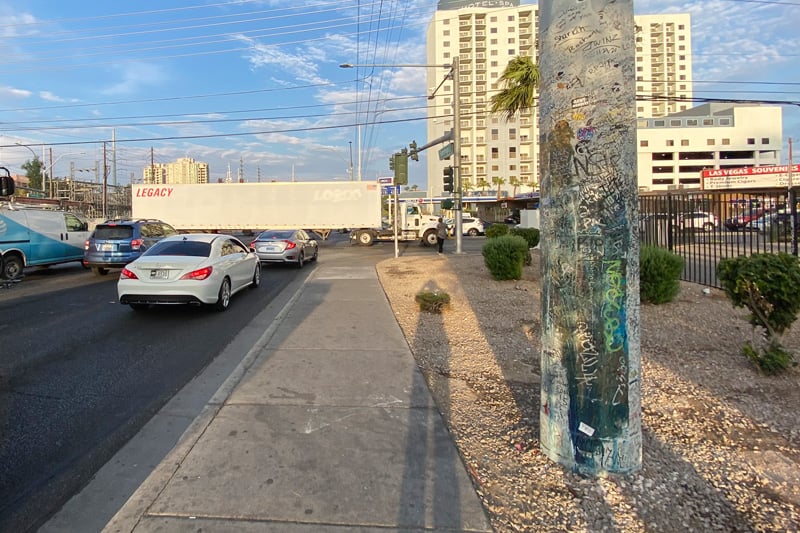 Tupac Shakur's history of gang involvement certainly hasn't helped the case for a memorial. The irony, of course, is Las Vegas has long glamorized gangsters. There's even a restaurant at the Flamingo resort called Bugsy & Meyer's Steakhouse, and El Cortez named its restaurant Siegel's 1941, after "Bugsy" Siegel.
There's supreme irony Las Vegas holds these "acceptable" (translation: white) mobsters in such high regard, but the site of Tupac Shakur's shooting is writing on a pole that's painted over every year or two.
Shakur wasn't a murderer. Bugsy Siegel and Meyer Lansky were literally part of an organization called Murder, Incorporated.
Just saying.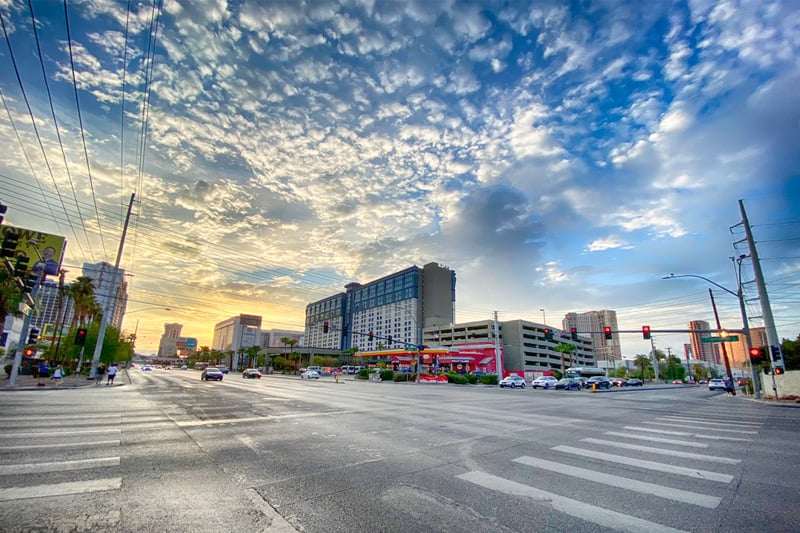 Not everyone would be onboard for a Shakur memorial, but it wouldn't be for them.
The memorial need not be anything fancy or expensive. Just a place for fans to visit and honor the memory of Shakur in a way that means something to them.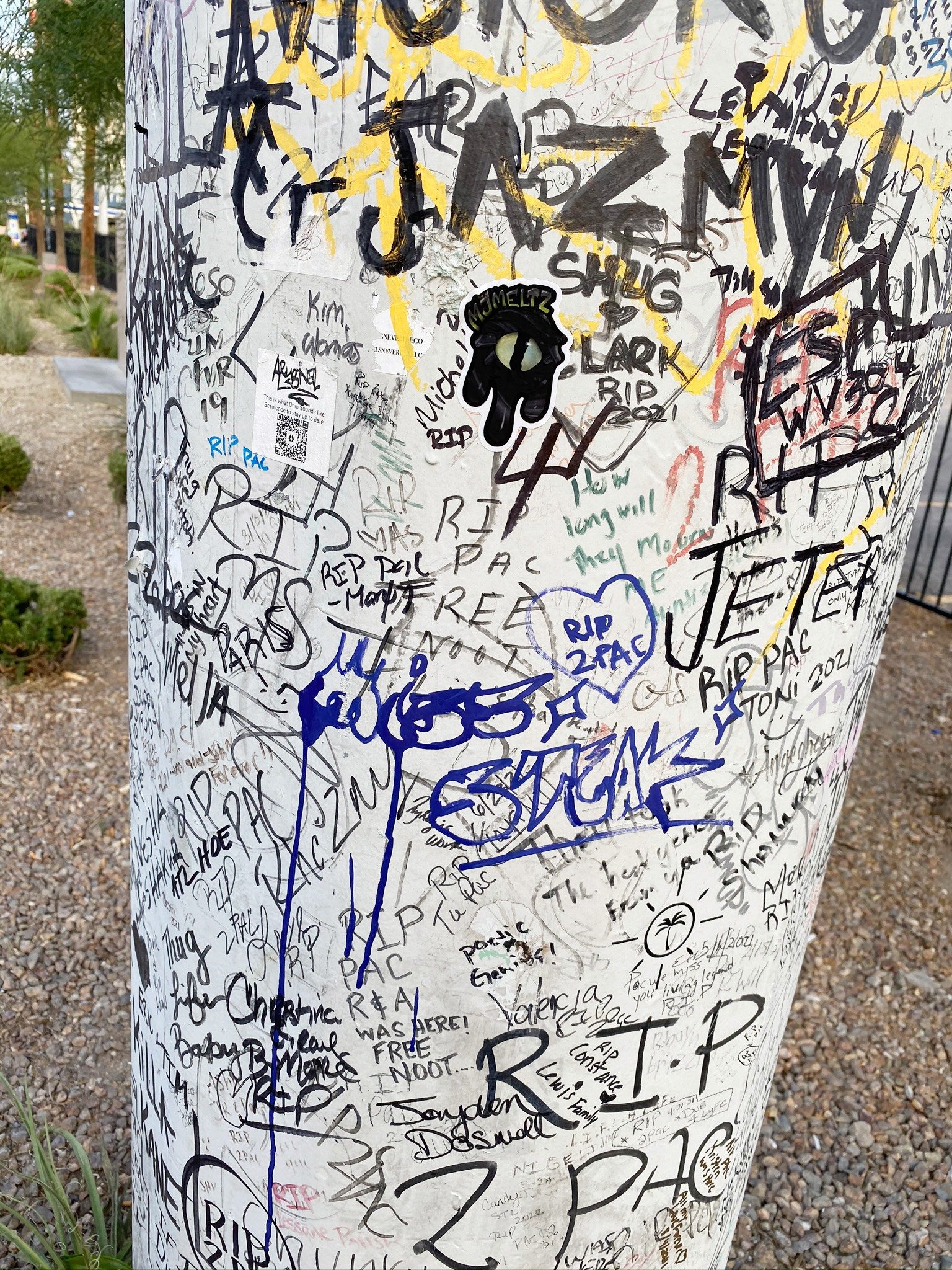 Yes, there are hard costs associated with designing, fabricating, installing and maintaining a memorial, but we don't have to think about such granular details as we are a blog, not a Clark County commissioner.
The fact is fans will continue to visit Flamingo and Koval whether there's an official monument or not, so let's give them a photo op worthy of their effort and devotion to the memory of Tupac Shakur.
We'd love to hear what you think. Is a Tupac Shakur memorial overdue, and if so, what form should it take?