Here's What's Really Happening at Resorts World
Resorts World. It's an enigma.
The Asian-themed resort from Genting Group is being built on the bones of the abandoned Echelon Place project.
Resorts World broke ground on May 5, 2015. Since then, progress on the bajillion-dollar resort has been agonizingly slow.
Here's a look at Resorts World today.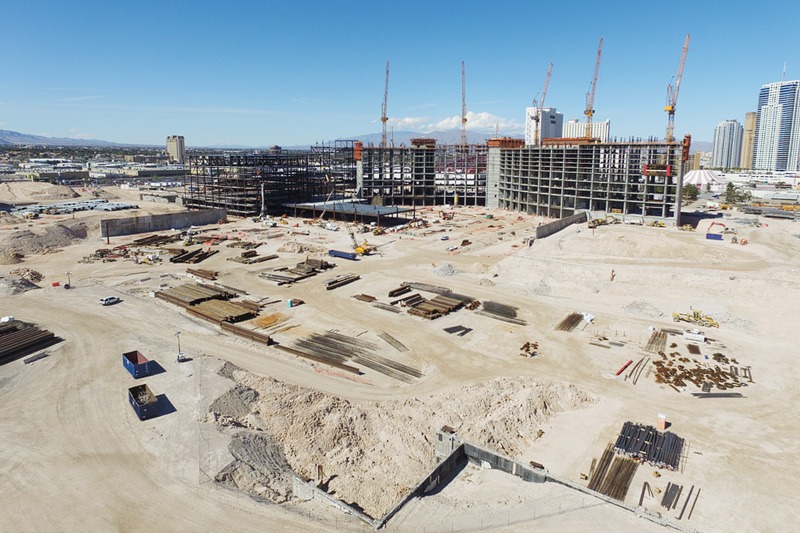 Oh, yes, there are cranes.
They showed up in late 2017, creating a warmth in our loin we had not experienced in some time given the repeated delays in construction of the $4 billion, 3,000-room hotel-casino.
The arrival of the cranes at Resorts World followed on the heels of hoopla about a construction manager being hired, as well as word Genting had finalized $400 million in contracts with vendors.
Anticipation was at an all-time high that Resorts World would actually be a thing.
Then came months and months of not a whole lot.
Resorts World has said publicly there are 400 workers on the site now.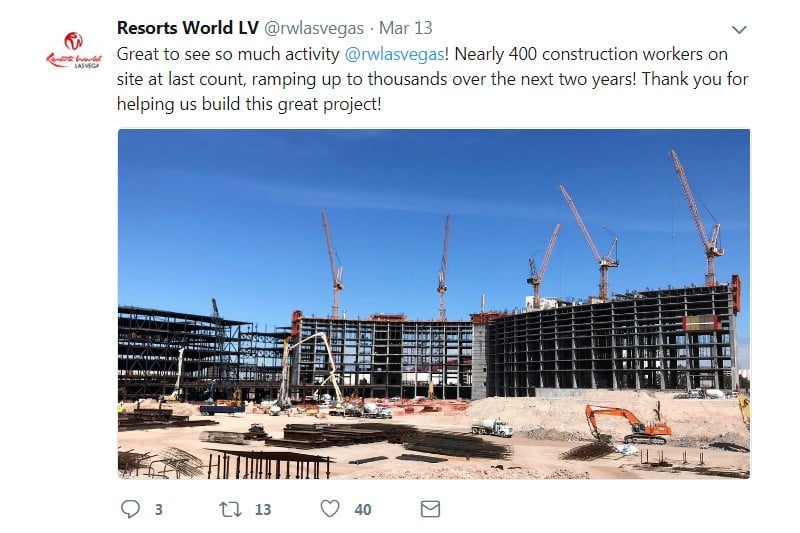 From our observations, Resorts World either has a counting problem or a lying problem. Since casinos never lie, we'll just assume the official Resorts World abacus is in the shop.
Here's a look at the Resorts World site.
Four hundred constructions workers? The over/under was about a dozen during our most recent visit.
Resorts World claimed it would have 1,000 construction workers on-site by early 2018. Yeah, not so much.
Unless the construction workers at Resorts World are wearing cloaks of invisibility, it appears the only thing Resorts World is building at the moment is an exemplary record of horseshittery.
Still, there are some symbolic things happening at Resorts World. Beyond the crane theater, that is.
For the most part, those things are orange.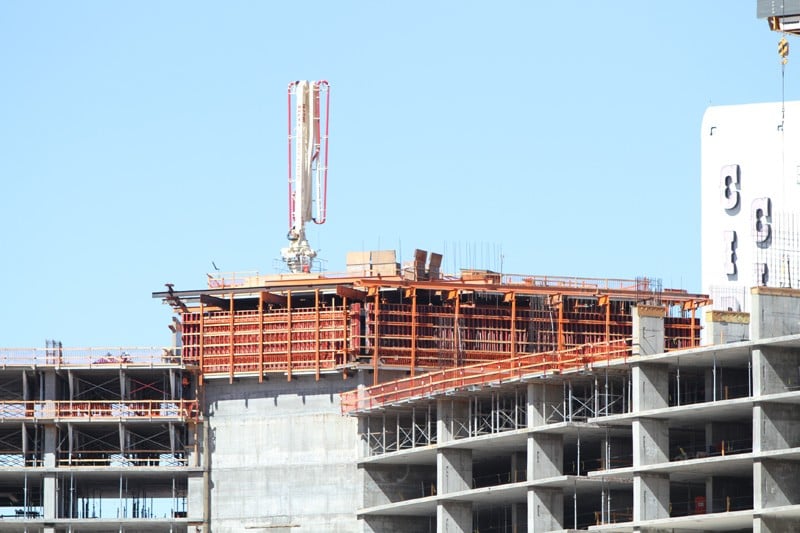 We are not a construction expert, but it appears concrete is being poured at various parts of the Resorts World hotel tower.
Here's another orange thing.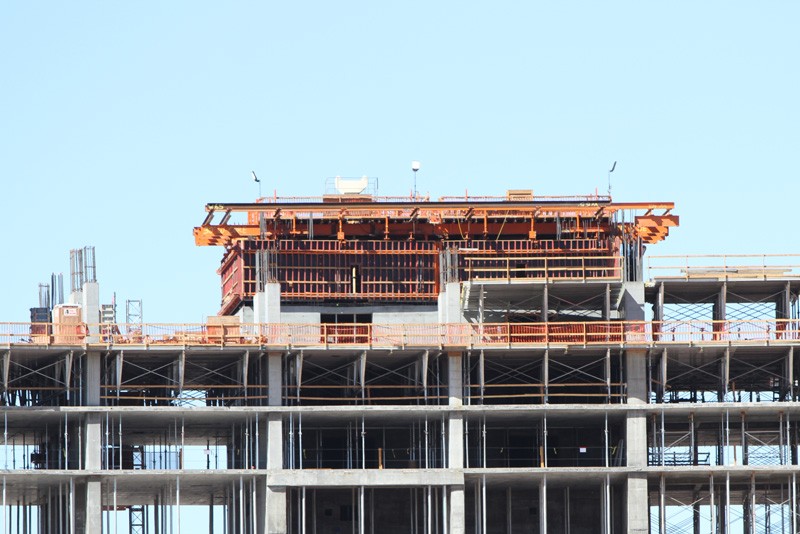 And let's not forget this orange thing on the Strip-facing wall of the structure.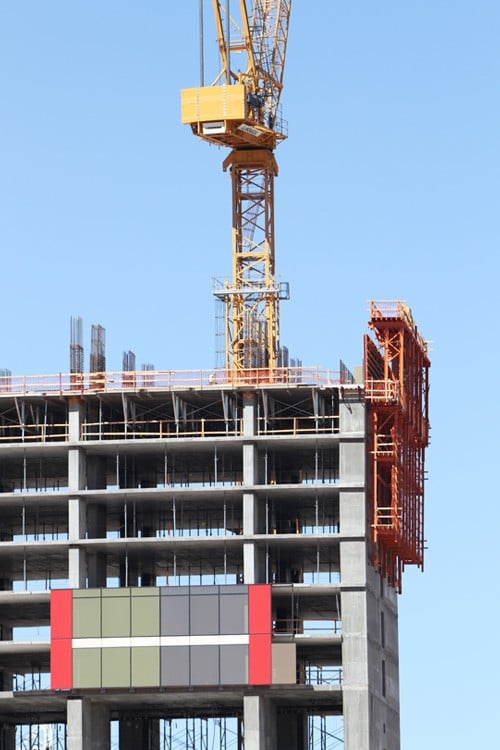 Update (3/28/18): A rep of Forming Concepts, Inc. has informed us those orange things are the company's "formwork," specifically, "elevator core forms and shear wall lifters." The forms represent 39 truckloads of equipment. We look forward to learning more!
Another area of progress is what's been described as a "swatch" on the exterior of the Resorts World tower. We should know because we're the one who described it that way. You can see it on the lower left of the photo above.
The "swatch" is a test of what the exterior of the hotel could look like, we assume.
Here's how it looked in July 2017.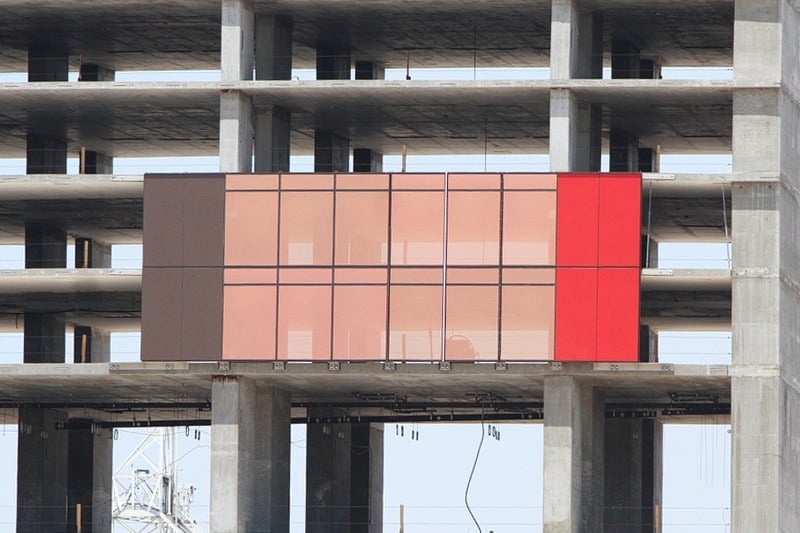 Now, here's what the exterior samples looked like in Sep. 2017.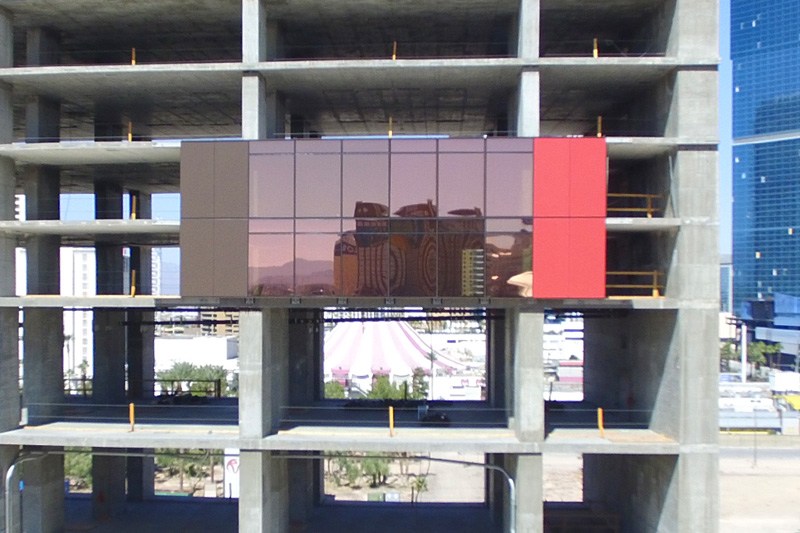 Here's what the exterior test looks like today.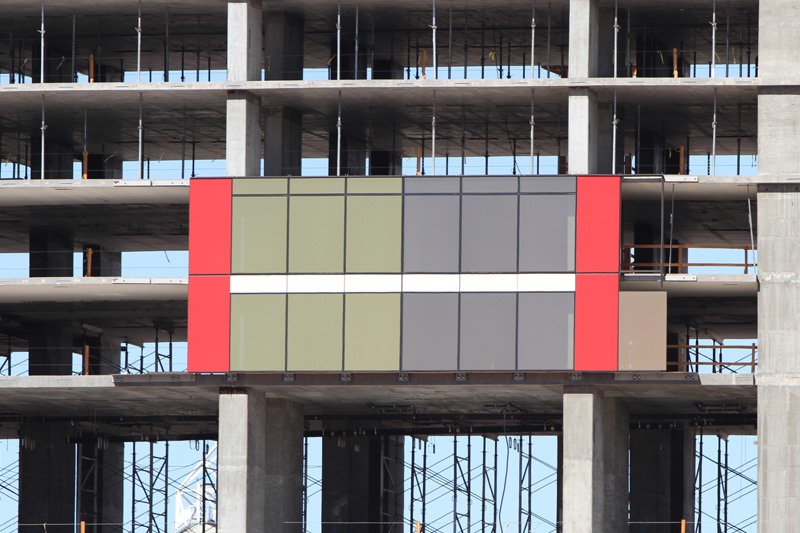 Somebody's taking a lot of time considering materials and color combinations to determine what Resorts World will ultimately look like.
As we're rooting for Resorts World to become a reality, we're going to go with "slow and steady wins the race" as Genting's construction philosophy.
An alternative philosophy might be, "We're not opening until we're sure this puppy is going to make a profit."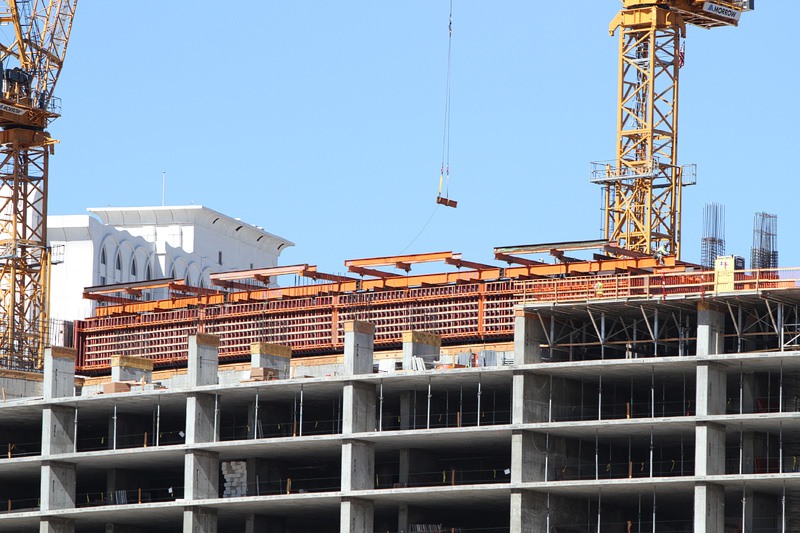 Resorts World sits at the north end of The Strip, so it could very well be waiting for the Las Vegas Convention Center expansion, the opening of The Drew (formerly Fountainebleau), the opening of Paradise Park (formerly Wynn Paradise Park), a renovation for The Strat (formerly Stratosphere), a new direction for SLS Las Vegas (formerly Sahara) and the sale of Lucky Dragon (formerly not in bankruptcy).
That's right, it could very well be Resorts World is biding its time until there's critical mass at the north end of The Strip. That's what we'd do.
If we were building a $4 billion Las Vegas resort. With all our mountains of blog money.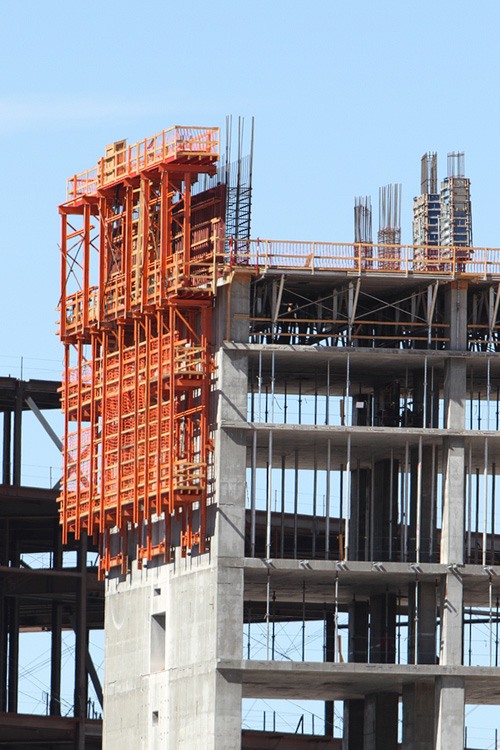 Ultimately, progress is progress, even if it isn't readily discernible to the naked eye.
Here's hoping "slow and steady" gives way to "a metric hell-ton of construction activity" in the months to come.
We can't bear any more heartbreak at the former home of our beloved Stardust.