Here's What's Next for Grand Bazaar Shops at Horseshoe
There's a lot in the works at the much-maligned Grand Bazaar Shops at Horseshoe (previously Bally's). We should know, we're usually the one maligning them.
But today, we're here to pass along a peek into the future of Grand Bazaar Shops.
There's a cavalcade of newness coming to this former outdoor swap meet, and it seems several new venues could dramatically change the appeal of Grand Bazaar Shops. Or, at the very least, obscure it from public view, which could only help.
Grand Bazaar Shops just shared some new renderings of its frontage, featuring Ole Red, which recently had a ground-breaking, and Bottled Blonde.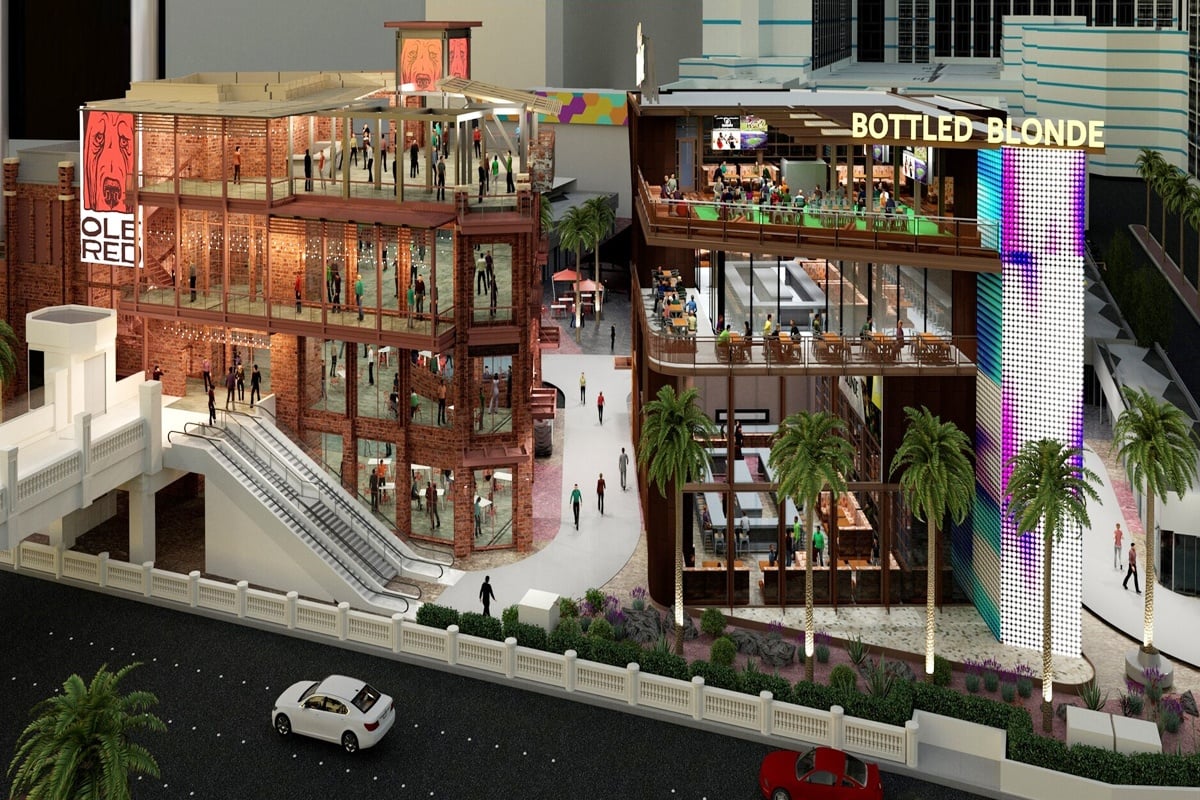 Ole Red, of course, is a restaurant, bar and music venue from our favorite country performer, Blake Shelton. We don't actually have a favorite country performer, but we made a joke about country music that Shelton's fans mistook as a swipe at him, and we had to listen to their bitching for 72 hours, so now he's our favorite because we just want them to STFU.
"Blake Shelton's Ole Red Aims To Be the Epicenter of Live Country Music in Las Vegas." We appreciate the warning. https://t.co/P0eYkUdAdc

— Vital Vegas (@VitalVegas) January 31, 2023
Ole Red will have four floors, including a rooftop restaurant and lounge. The venue will feature live music, of course.
The Ole Red at Horseshoe will be the sixth location for the brand. Ole Red is slated to open in late 2023. Here's the official Web site.

Set to open next door is Bottled Blonde, another existing brand. It's billed as being a pizzeria, beer garden and nightlife extravaganza. We added the "extravaganza" part to try and sexy it up a little.
Here's a look at where everything is going to sit at Grand Bazaar Shops.

Plans call for replacements for a couple of doomed venues, including a shuttered Starbucks (possibly the first recorded case of a Starbucks closing in human history) and Redneck Riviera.
The Starbucks space will get Bourbon St. Parade.
According to LEBO Design, construction of Bourbon St. Parade started in January 2023. The venue is scheduled to open by the end of 2023.
"Bourbon Street Parade" was a popular jazz song from 1949.
We couldn't find much about Bourbon St. Parade online, but it's possible that's because we only spent 30 seconds looking.
Bourbon St. Parade signage is up at Grand Bazaar Shops. (h/t @JamesInLasVegas) pic.twitter.com/Bjf5TT60Un

— Vital Vegas (@VitalVegas) February 2, 2023
We're fairly certain there will be food, drinks and music.
Also, it could be immersive. In our humble opinion, nothing could be more appealing than the descriptive line, "A brass band blares."
In a first, we're going to reserve judgment on this one.
Somebody has to.

The fairly distrous Redneck Riviera will be replaced by Rockwood Music Hall.
In case you skimmed over the graphic we just shared, Rockwood Music Hall is described as, "A beacon of emerging and established live music acts in New York City since 2005, Rockwood Music Hall has grown from a single stage venue to boasting three intimate stages, all with top-notch sound systems."
If these descriptions are underwhelming, it's worth noting they're part of a leasing document from realty persons. You can find the entire deck here.
The leasing deck has an interesting cover that refers to Grand Bazaar Shops as "The Pin Drop." Could this telegraph a rebrand of Grand Bazaar Shops? If such a rebrand is to happen, we assume Caesars Entertainment would have to approve the move and they've heard nothing about a potential name change.
We don't have a strong reaction to The Pin Drop, but Grand Bazaar Shops does have some stigma attached to it, and given the diversity of the new offerings, it seems this shopping district has evolved quite far from its "shops" roots, and a rebrand would certainly signal a seriousness about a re-imagining of what has become a go-to punchline for many Vegas fans.

We inquired with the leasing agents about a possible rebrand of Grand Bazaar Shops, but haven't heard back.
What's clear is Horseshoe and Grand Bazaar Shops seem committed to taking advantage of their primo location at the corner of Flamingo and Las Vegas Blvd.
Caesars Entertainment is no doubt glad to see the progress. We were told exclusively the company at one time attempted to buy out the lease for Grand Bazaar (to dump or transform it), but couldn't make it happen.
Horseshoe is still transitioning from Bally's, but there's already a lot going on inside (like a new poker room, video arcade and restaurants) and there are also plans for out back. Not "an Outback." Out back. Like behind. Eastward. Please keep up.
M.Y. Asia update at Horseshoe. (h/t @JamesInLasVegas) pic.twitter.com/3NdCFk6cQW

— Vital Vegas (@VitalVegas) February 2, 2023
Horseshoe's surface parking lost will be home to a "Game of Thrones" dragon attraction.
Here's where the attraction will reside, at the time of our original scoop, it was just labeled "future tenant."
"Future Tenant" sounds juicy. pic.twitter.com/wsDEoLKIg6

— Vital Vegas (@VitalVegas) October 2, 2022
While Horseshoe isn't the geographic center of The Strip (that's Linqish), it is arguably the heart of The Strip.
Millions of people walk by Grand Bazaar Shops every year, and it's about time the place gave people a reason to walk in, rather than just walking by.
There's a lot more new and shiny to come at Horseshoe. Stay tuned, if that's something people still do.