Shocker: Here's Why Bally's Replaced Its Sportsbook With an Arcade
We should say right up front, "shocker" was sarcasm. Although, you could be shocked by what we're about to share. Probably not, though. It's just that everything is more fun if there's a "shocker" involved.
Anyhoo, The Arcade has opened at Bally's, which is being rebranded to Horseshoe, in case you have been slacking on your blog reading.

While an update about the progress of the rebrand is probably a more interesting story, we aren't about what's "interesting." We are about, "What's on our mind right now?"
The answer, of course, is boobs. But in an effort to show our maturity, we are not going to write about boobs. Rather, we're going to share some insights into the casino business.
Yes, sometimes the Venn diagram of "boobs" and "the casino business" overlap, but in this case, we're just going to talk about family-friendly attractions and casino revenue, which generally has nothing to do with boobs, so feel free to stop thinking about boobs at any point. We'll wait.
So, The Arcade replaced the casino's sportsbook, also known as a "sports book."
That's a big deal, and many were baffled by the decision when it was announced. We were among the baffled.

Then we talked to a high-ranking executive at Caesars Entertainment. After about 45 seconds of intense questioning, the executive revealed the privileged and confidential reason the company opted to close (move and dramatically downsize, technically) its sportsbook, replacing it with an arcade.
To paraphrase, "Sportsbooks don't make money, arcades make money."
Which, again, isn't not a shocker, at least to many people who think sportsbooks print money.
"What happened to the Bally's sportsbook?," we wrote, assuming somebody will search for that in Google at some point.
Here's a look at the aforementioned downsized sportsbook at Bally's/Horseshoe.

We enjoyed this response to our Tweet about the Bally's sportsbook.
That's not a sports book. It's a sports pamphlet.

— Robert Berry (@RobertNBerry) October 11, 2022
The executive provided an additional insight that was an actual shocker: The average arcade machine generates as much revenue as the average casino slot machine.
We are not making this up, nor was the executive intoxicated.
It's true. A typical arcade machine generates $200-300 a day in revenue. The same goes for a typical slot machine.

So, in a way, an arcade is an extension of the casino floor. This is abundantly clear when you take a closer look at the games in arcades, many of which are similar to games of chance, and often even bear the names of popular slot machines.
Yes, it can get weird. Read more.

So, given the financials, it makes perfect sense to boot a sportsbook and open an arcade.
A lot of folks have asked an obvious question, though. "Is Bally's casino trying to attract kids and families?"
The answer we got was spot-on: "No. They're already here."

The number of people bringing kids to Las Vegas has spiked recently.
A Las Vegas Convention and Visitors Authority (LVCVA) survey showed 21% of Las Vegas visitors brought kids to Vegas in 2021, up from just 5% in 2019 and 6% in 2018.
We were interviewed on CNBC about this subject and we were, predictably, adorable.
So, if people are bringing kids to Vegas, why not give them more things to do?
Flying in the face of this trend is a new ad campaign from the aforementioned LVCVA that seems to discourage people bringing their kids to Las Vegas. Approved!
LVCVA returns to humor in newest video ad campaign → https://t.co/OLHU9dc3HM pic.twitter.com/vROQsOlxEA

— Las Vegas Review-Journal (@reviewjournal) October 11, 2022
While we'd prefer fewer kids in Las Vegas, it makes sense for Caesars Entertainment to serve families if they're already visiting.
More, then, about The Arcade.
The Arcade is cashless. You buy a "Fun e-Card" up front, the bigger the amount you put on the card, the better the value.

Like many arcades, when you play, you earn tickets. Redeeming arcade tickets is a time-honored tradition. At The Arcade, your tickets are virtual, and they go on your "Fun e-Card." You then use your card to redeem the tickets for prizes.

The Arcade is massive (about 7,000-square-feet), and there is an incredible variety of games. Here's a quick walk-through. Which we could've shared sooner, but then what purpose would all these words serve? Don't answer that, we're sensitive.
While The Arcade is open, it isn't finished yet. There's going to be a bar, which is under construction.

That's the latest from Bally's/Horseshoe. The Arcade is located downstairs from the main casino, near the hotel's food court.
Typically, there's surface parking right outside, but that lot is currently closed.

Arcades have always felt like a strange amenity at casinos. We'll probably never understand the mentality of people who bring their kids to Sin City, but we can't really blame casino companies for catering to those customers.
Once the bar opens at The Arcade, we might actually visit again and play some of the games. The visuals are incredible, and how can one resist the draw of gigantic claw game? It's worth noting similar, albeit much smaller, claw machines are in many Las Vegas casinos.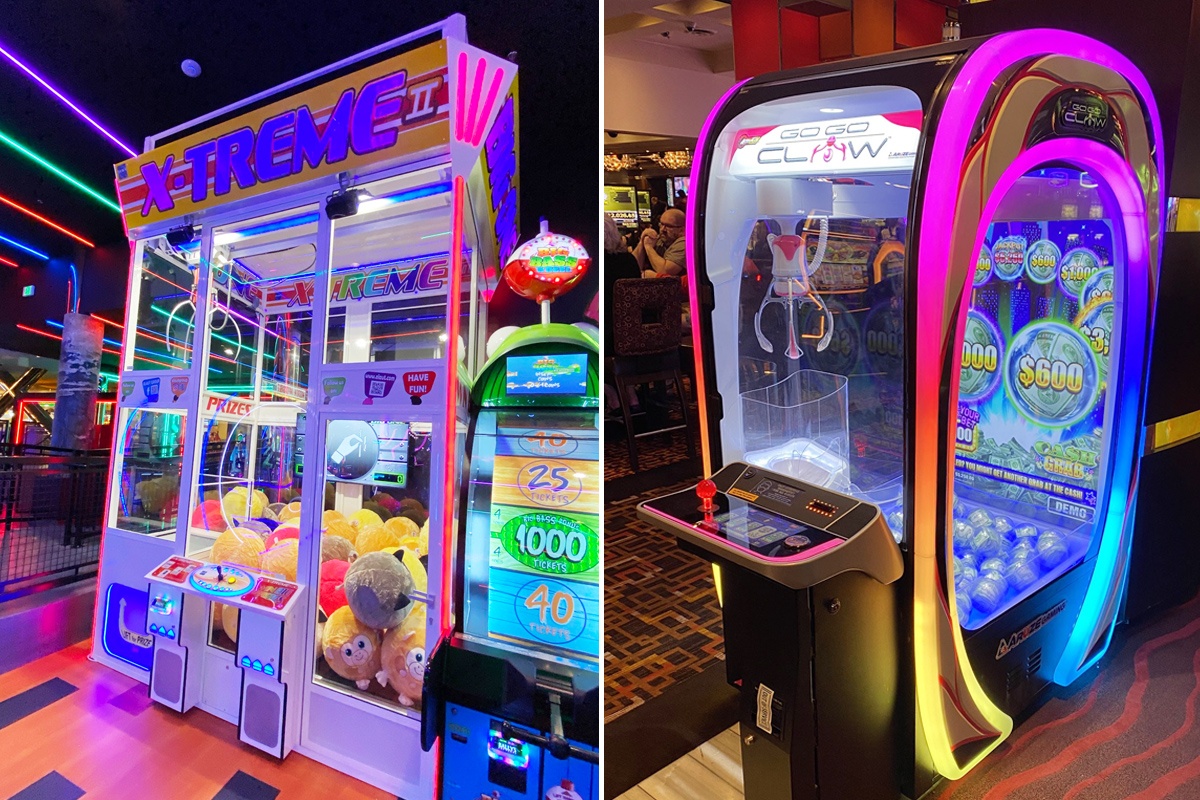 There's an argument to be made arcades offer diversions very similar to those in casinos, but at a much lower cost. Many arcade games are actually games of skill, as opposed to casino games that only give the illusion of being skill-based.
Ultimately, as long as arcades and their boisterous, sticky customers don't interrupt our casino experience, we should be able to maintain a peaceful co-existence.