Hard Rock Rolls Out Painless Drink Voucher System
The first time we ever saw a voucher system for free drinks on a video poker machine, we had a minor meltdown.
That was at Mirage, back in 2015.
Then Caesars Entertainment made a splash when it rolled out drink monitoring to all its casino bars.
We still had sort of a meltdown, but we learned some deep breathing exercises and started asking questions.
Let's just say we've done a 180 since 2015, largely due to understanding more about why drink monitoring systems are necessary and how, surprisingly, they help players.
This knowledge came in handy when we learned Hard Rock casino has implemented drink monitoring in all its casino bars. (Thanks to Lisa H. for the tip!)
Here's a look at the new message guests see when they sit at a video poker machine at Hard Rock.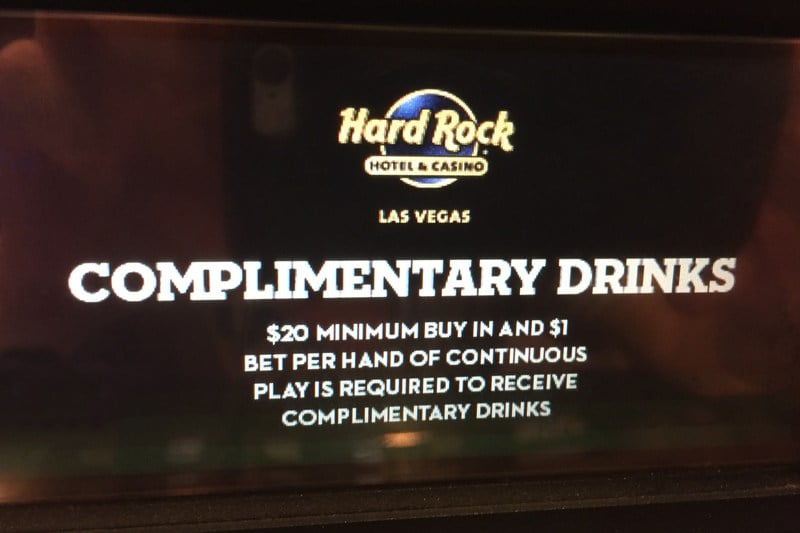 No meltdown. Either we're mellowing, or we're starting to get a clue. You decide, because we're drunk on comped drinks.
See, drink monitoring accomplishes a lot for casinos.
One, it cuts costs. Gone are the days when players would slip a dollar in a video poker machine and try to drink free all night. These systems assure players are actually playing, which is part of the deal to get drinks for "free."
That's the way it's always been in Las Vegas, by the way, the monitoring was just never automated before.
Two, it takes the drink monitoring burden away from bartenders. Their reaction to drink monitoring systems has evolved much as ours has over the last couple of years, by the way. It's no fun being a gatekeeper.
Three, drink monitoring systems prevent over-serving. The default in Las Vegas now seems to be players can earn about three free drinks per hour with continuous play. That's how it works at Hard Rock, too.
So, what do these systems do for players?
One of the best benefits is monitoring systems keep freeloaders from taking up seats where you want to play. You know, to gamble. Which is sort of the point of having video poker at casino bars in the first place. They're for gamblers.
Also, drink monitoring systems like the voucher system at Hard Rock take much of the mystery out of how much you have to play and at what betting level before you've earned more free hooch. You know where you stand.
The message on the machine at Hard Rock makes it clear. You put in $20, you get your first free drink. Then, just make $1 (or more) bets continuously, and you'll get a steady supply.
By the time we were done at Hard Rock, we had more vouchers than we could actually redeem. We also won $60.
It was yet another reminder why Las Vegas is the best place on Earth.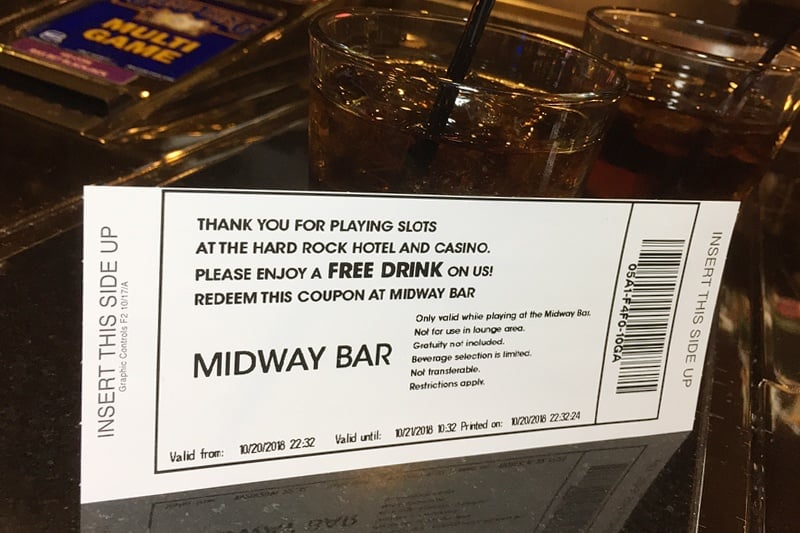 Some other small print at Hard Rock: The drink vouchers are only good for 12 hours, the vouchers aren't transferable and the "beverage selection is limited." They'll have what you want unless you're a snooty 60-year-old bottle of Macallan Valerio Adami person.
And, no, we don't actually know what that is, but you get our point.
So, has Vegas changed in recent years? Yes.
Would we prefer to get free booze anytime, anywhere? Sure.
Are drinking monitoring systems coming to all the slots on Las Vegas casino floors? You bet.
But drink monitoring systems like the ones at Hard Rock or Caesars resorts or Westgate don't even make the top three of our "Most Bothersome Things About Vegas Casinos" list.
That would be, in no particular order: 1) No plastic straws, 2) paid parking and 3) swapping out the liquor brand we order with a knock-off and lying about it.
By the way, parking at Hard Rock (soon to be Virgin Hotel Las Vegas) is free. Plus, they poured our Captain Morgan from a bottle and even included straws without our having to ask.
Man, alive, we love this town.