Guy Fieri's Vegas Kitchen & Bar Hits a Home Run at The Quad Las Vegas
We're glad we didn't bet against the success of Guy Fieri's new Las Vegas restaurant at The Quad, because it's a certified winner.
We'll admit we were among those who feared the worst (Fieri's over-the-top public persona does him no favors beyond his fan base), but we're relieved to report the Food Network star's new restaurant is what many new Las Vegas eateries aspire to be, an unforgettable experience.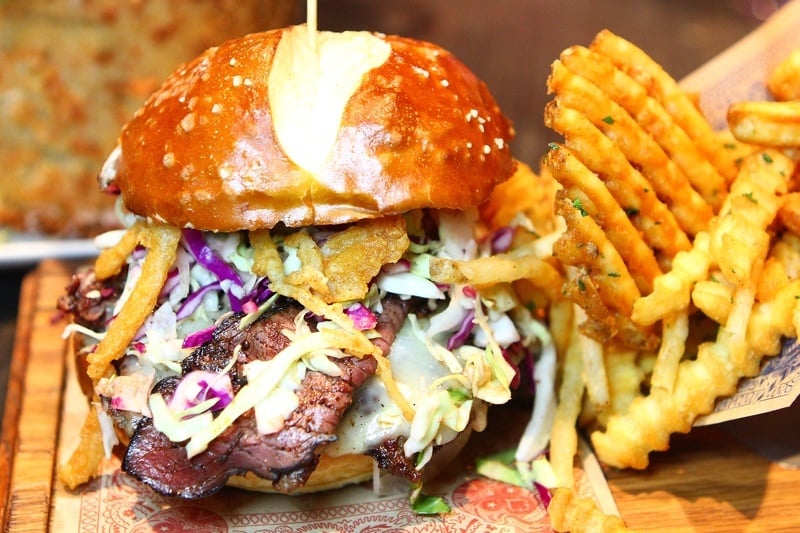 Right off the bat, Guy Fieri's Vegas Kitchen & Bar benefits from an incredible location.
The restaurant sits in a spot where millions of Vegas visitors stroll by each year, on the north side of the newly-renovated Quad, next to the popular Carnaval Court at Harrah's Las Vegas.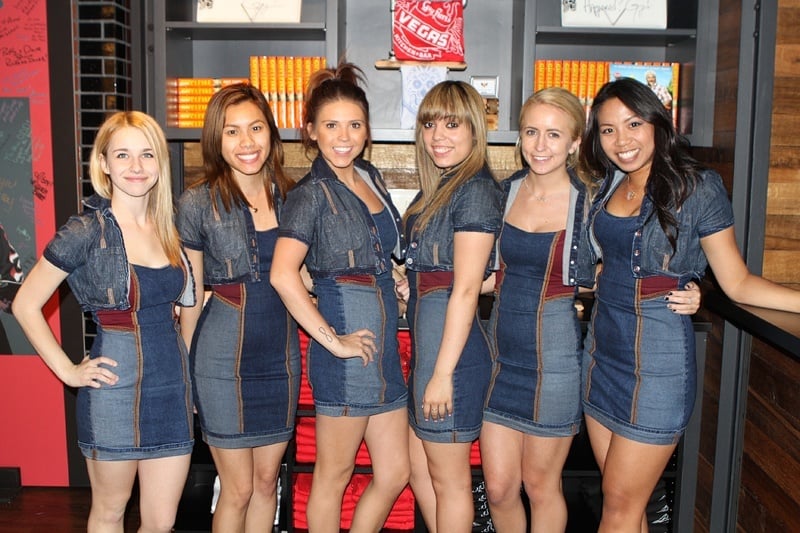 Guy Fieri's restaurant is already a success (rumored to be doing 1,200 "covers" a day, although it's not uncommon for Strip restaurants to do 1,800 or more), so there might be a wait.
Feel free to roam as you wait, though, because the restaurant has a handy texting service to let you know when your table is ready. We are not making the following message up, unfortunately.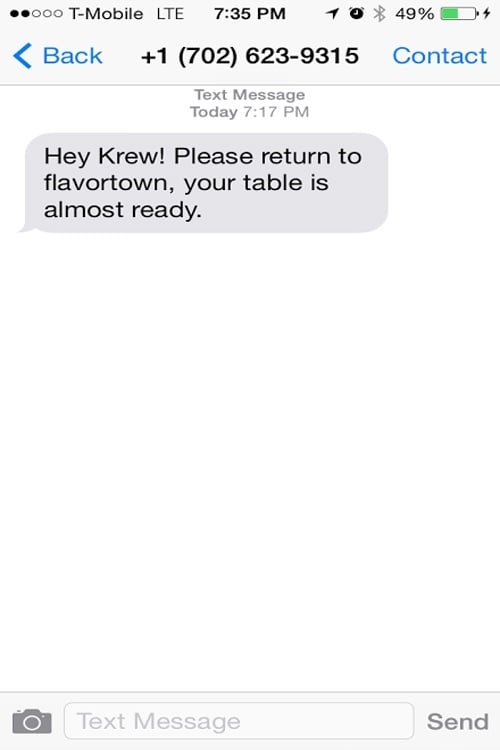 Guy Fieri's restaurant doesn't merely rely on its stellar location. It nails all the other aspects of what make a Las Vegas restaurant worth a visit: The atmosphere is electric, the service is extraordinary, the cocktails are delicious (and strong) and the food is a pleasing mix of both satisfying succulence and, well, spectacle.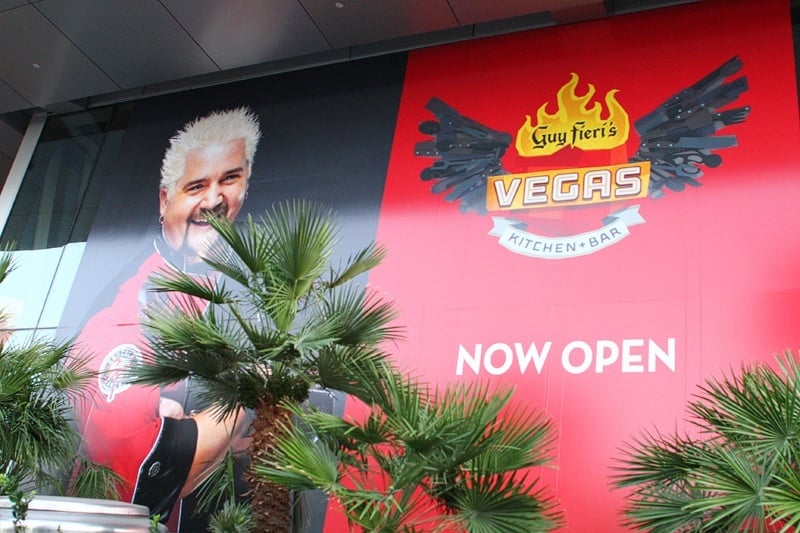 This isn't fine dining, by any means, but the food is consistently appealing.
When your meal arrives, you can't help but be drawn in by the sheer charisma of it. That's right, it's food with charisma. It's big and bold and doesn't give a damn about your diet. Las Vegas isn't about diets. It's about going big or going home, and Guy Fieri's new restaurant delivers the "big" in a big way.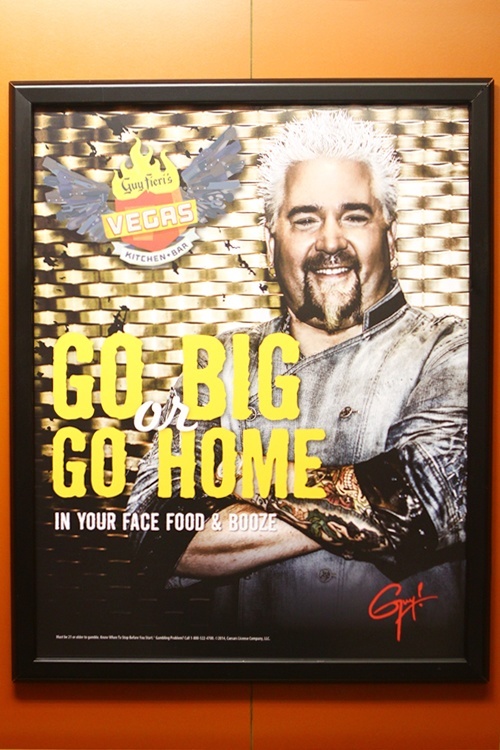 Let's talk food.
We should probably give credit where it's due on that one. In partnering with Caesars Entertainment, Fieri developed his menu in collaboration with some of the sharpest food and beverage pros in Las Vegas. These are the same folks who run Gordon Ramsay's restaurants at Caesars, Planet Hollywood and Paris, Nobu Restaurant at Caesars Palace, KGB: Kerry's Gourmet Burgers at Harrah's and who will soon run Giada's at The Cromwell.
Celebrity names may be on these places, but since celebrity chefs don't actually cook in their restaurants, they lean heavily on the expertise of their hotel partners to come up with design, food and drink concepts, and to make those ideas into a reality.
Guy Fieri's menu is all about drama. It's comfort food, but of the best quality, presented in a way that demands your attention. The casual offerings include burgers, wings, tacos and small bites. First up, chicken wings!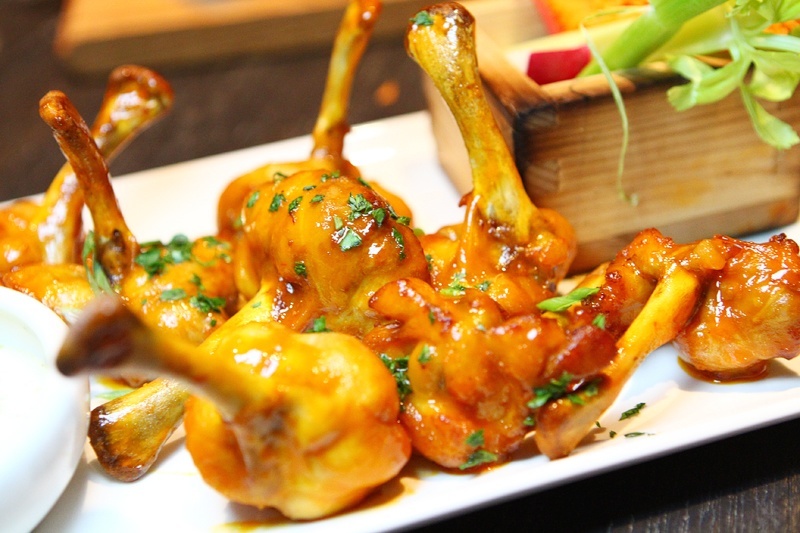 One eye-popping appetizer boasts bread sticks wrapped in pepperoni. Yeah, we had the same conflicted feelings, but quickly got past our concerns and felt a deep, abiding love for these indulgent treats.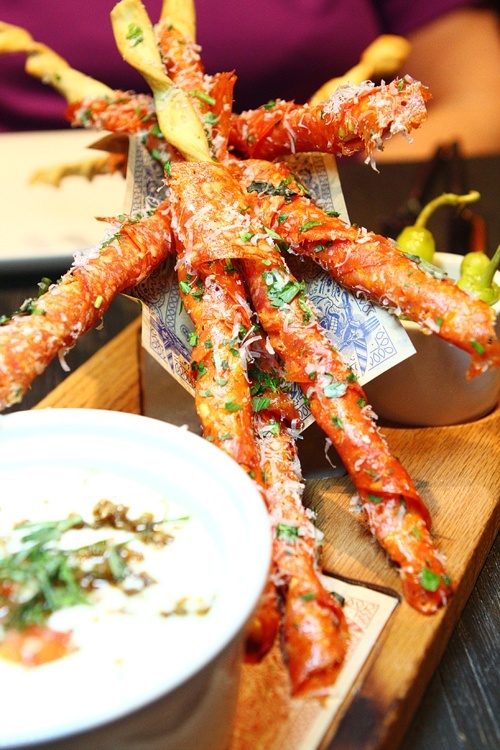 The OMFG just keeps on coming with the Caesar salad served in a bowl that's one giant crouton.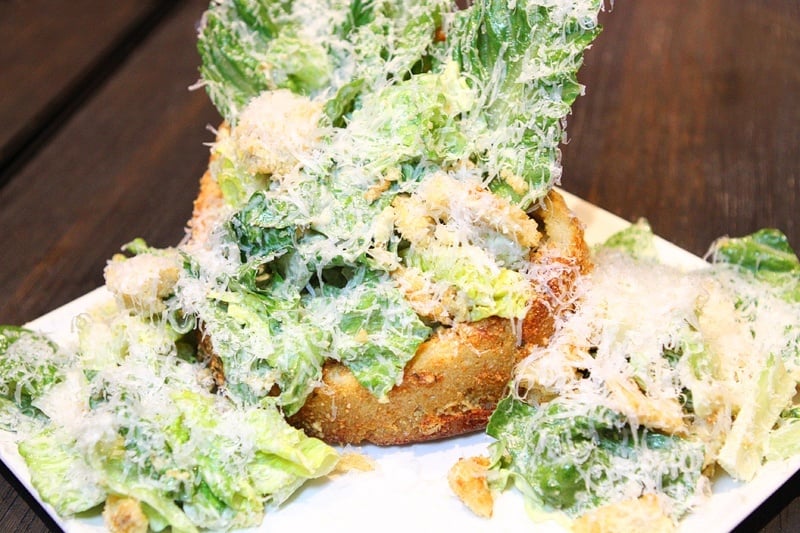 See the full menu here and additionally here.
Prices are about what you'd expect of a restaurant on the Las Vegas Strip, and maybe a tad less. Many appetizers and shared items are $12-15, while burgers, tacos and sandwiches get up into the $16-20 range. (Use your Total Rewards players club card and get a buck off most items on the menu.)
If you can't splurge and spend $20 for a burger if it comes with a memory-making night out in Vegas, you might be on the wrong vacation!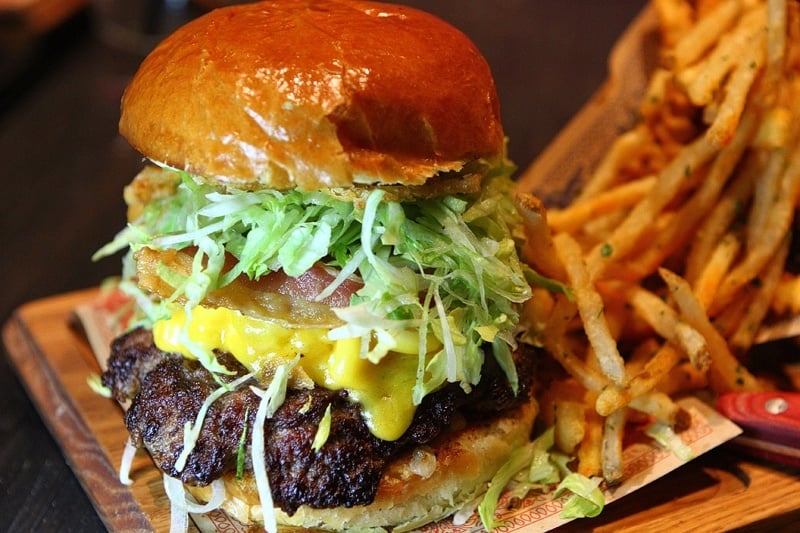 The cocktails, too, are just plain great. No fancy mixology here, just reasonably-priced ($12, reasonable for The Strip, anyway) signature cocktails with names like the Monkey Wrench, Smoke & Mirrors (below), Rattlesnake and the Crazy Hagar.

See the signature cocktail menu.
The restaurant serves up 16 craft beers, wine and sports a frozen tap system shot bar. (Ice dilutes the liquor, a frozen tap does not.) Here's the beer and shot menu.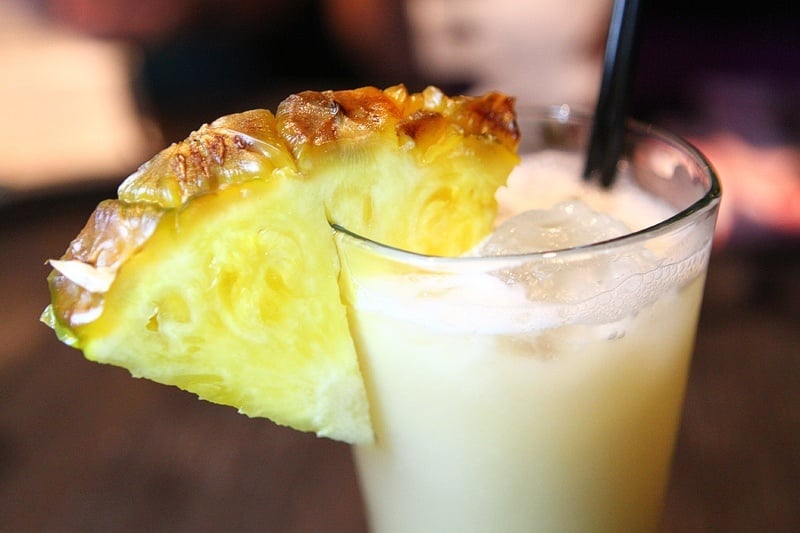 Our only complaint about the liquor (and the whole enterprise, really)? No Captain Morgan spiced rum, a cardinal sin in our book. The solution? Before you visit, stop by the Quad Wine & Spirits store, a few steps from the entrance of Guy Fieri's Vegas Kitchen & Bar.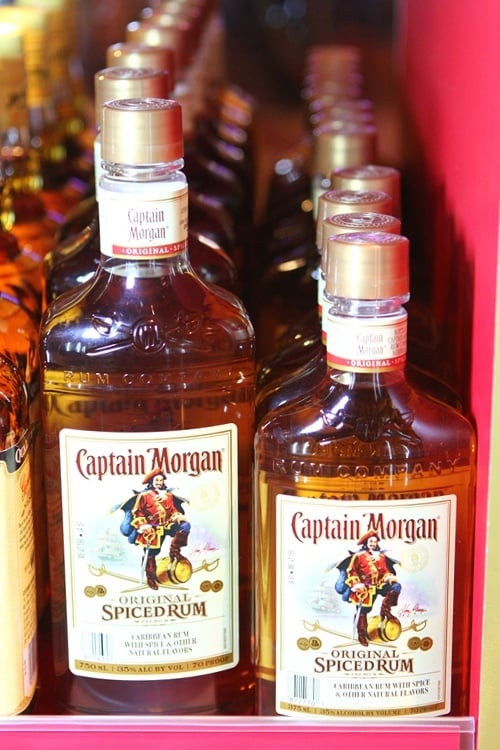 Oh, one more stand-out cocktail, the Java Guava.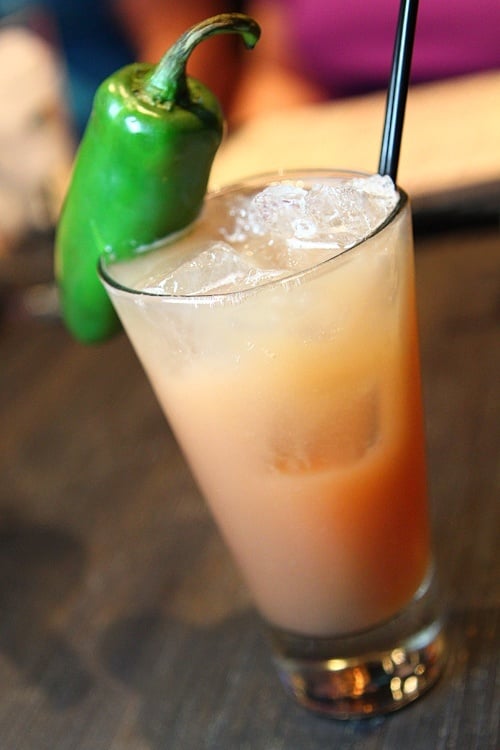 Fieri's restaurant has just the right vibe (a "We're having the time of our lives in Vegas!" vibe), and its music is, surprisingly, set at just the right level–loud enough to keep the energy up, but not too loud as to prevent conversation. A delicate and deal-breaking balance when it's not done right.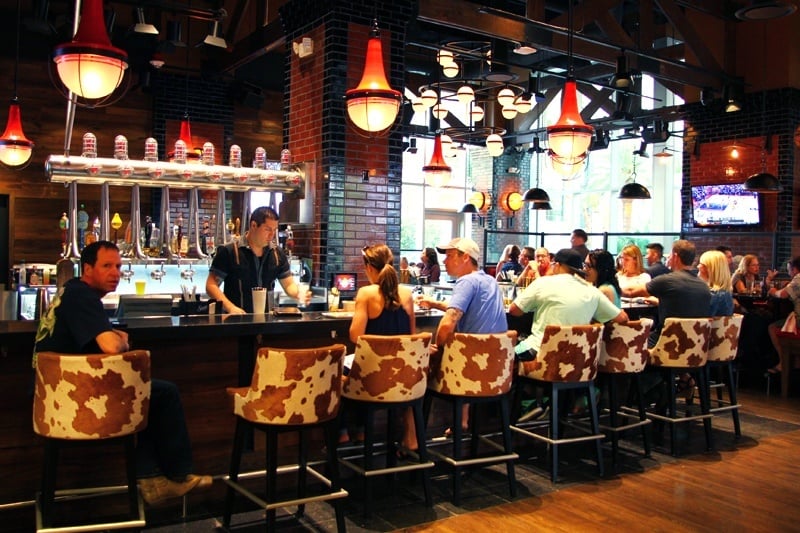 The restaurant isn't massive by Vegas standards, it's 6,500-square-feet and seats 200, but it has indoor and patio seating. The patio is already one of the prime people-watching locations on the Las Vegas Strip.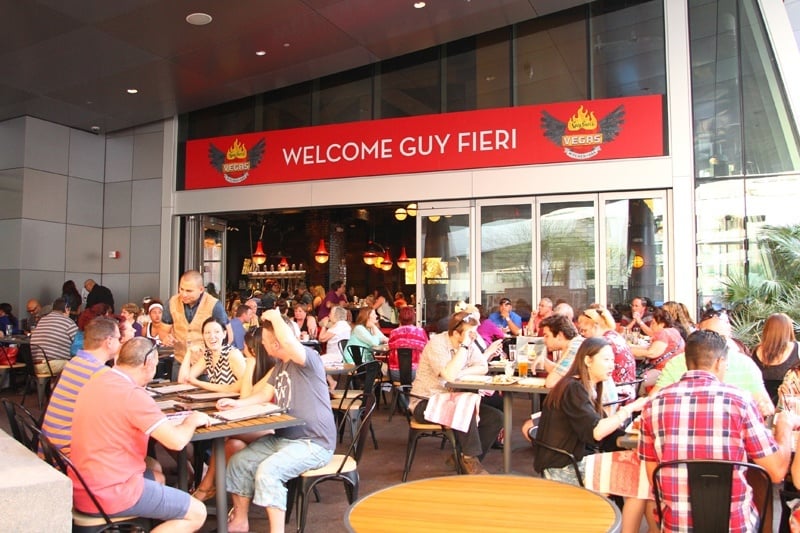 As we mentioned, the service is truly top-notch. Our waiter, Adrian, was outstanding, and his knowledge of ingredients and food preparation was impressive. His food and drink recommendations were all spot-on, and he and his busser were attentive without being intrusive.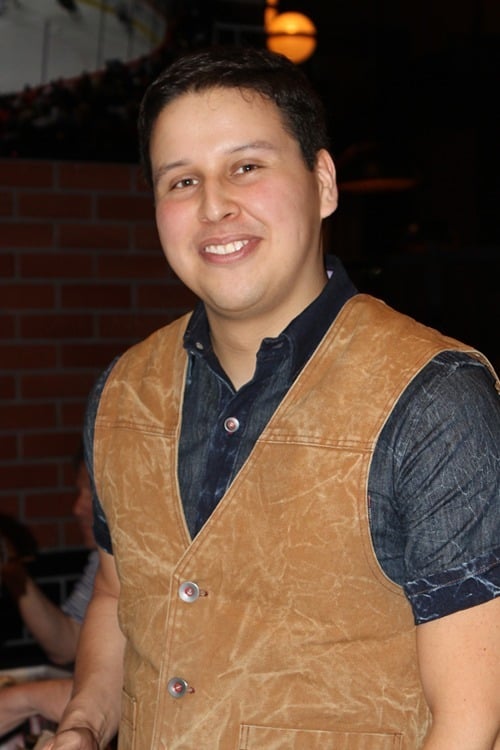 Overall, Guy Fieri's Vegas Kitchen & Bar is just about the perfect Las Vegas restaurant. Not too casual and not too pretentious. It's real food for real people, where every dish feels like a discovery and an only-in-Vegas good time is pretty much guaranteed.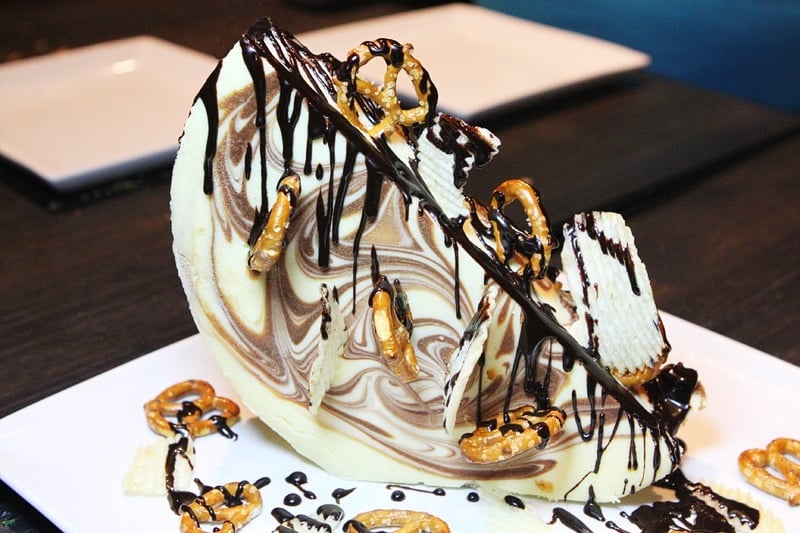 Guy Fieri's Vegas Kitchen & Bar is open each day from 10:00 a.m. to 2:00 a.m.
For now, however, you're at a computer or fiddling around on some smart phone or tablet, so photos of Guy Fieri's junk will have to suffice. Have at them.
Guy Fieri's Vegas Kitchen & Bar