Gambler Wins $229,000 Jackpot, Doesn't Know It for Three Weeks
Talk about delayed gratification.
On Jan. 8, 2022, a player at Treasure Island won a $229,000 slot jackpot. It was $229,368.52 to be exact.
The twist: He didn't know it.
According to the Nevada Gaming Control Board, "a communications error on a progressive slot machine prevented the value of the jackpot from being known."
The slot machine malfunction prevented the lucky winner, later identified as Robert Taylor, from realizing he'd won!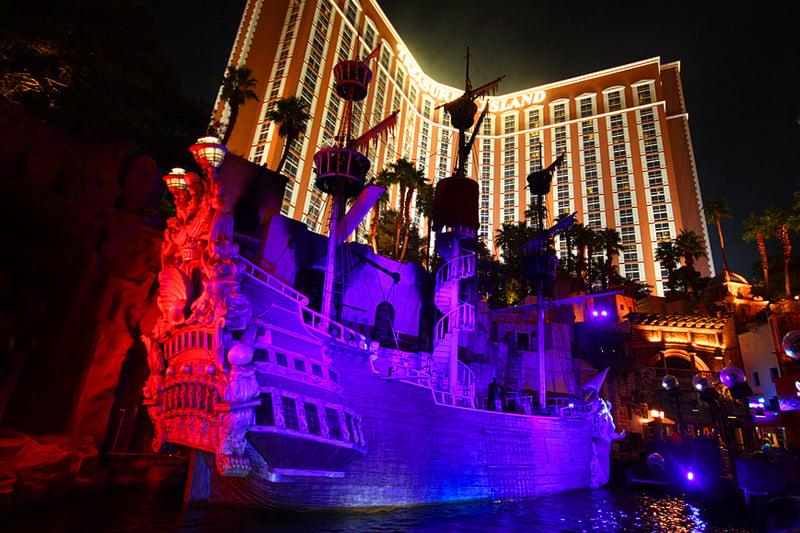 Taylor lives in Arizona, so by the time somebody figured out the progressive jackpot had been hit, he was back home.
There was an immediate investigation, but Treasure Island and the Gaming Control Board were initially unable to identify the winner.
The Gaming Control Board reviewed hours of surveillance footage, interviewed witnesses, studied purchase records and even obtained rideshare data to try and identify who'd won the jackpot.
Eventually, authorities determined it was the aforementioned Robert Taylor, otherwise known as "one lucky bastard."
After almost three weeks, on Jan. 28, 2022, Taylor was notified of his jackpot. He's expected to pick up his winnings at TI this weekend.
You can see further details in a Tweet from the Nevada Gaming Control Board.
The statement from the Control Board was light on details about the specific nature of the "communications error" that caused this kerfuffle.
The story we hear far more often is when a technical glitch prevents a jackpot from being paid, even when someone appears to have hit one on the machine. Slot machine malfunctions famously "void all pays and plays."
It's much more uncommon to hear the slot machine didn't show a jackpot, even when it legitimately hit.
The bottom line: What a great story!
Gaming authorities went to such great lengths because the industry relies on the perception slots and other forms of gambling are legit and honest and fair and you're damn well going to get your jackpot whether you knew you hit one or not.
James Taylor (no relation to Robert Taylor, we trust), Chief of the Board's Enforcement Division, said, "The Nevada Gaming Control Board is charged with the strict
regulation of the gaming industry, the protection of the gaming public and ensuring that the industry benefits the State of Nevada."
In other words, the public trust is paramount.
It's wild to think had Robert Taylor not taking rideshare, he might never have gotten his $229,000 jackpot.
Now, he just has to figure out who in the hell to tip.
Update (1/5/22): Treasure Island shared a photo of the lucky winner. Taylor won his jackpot on The Mask. He picked up his money while wearing a mask. Coincidence?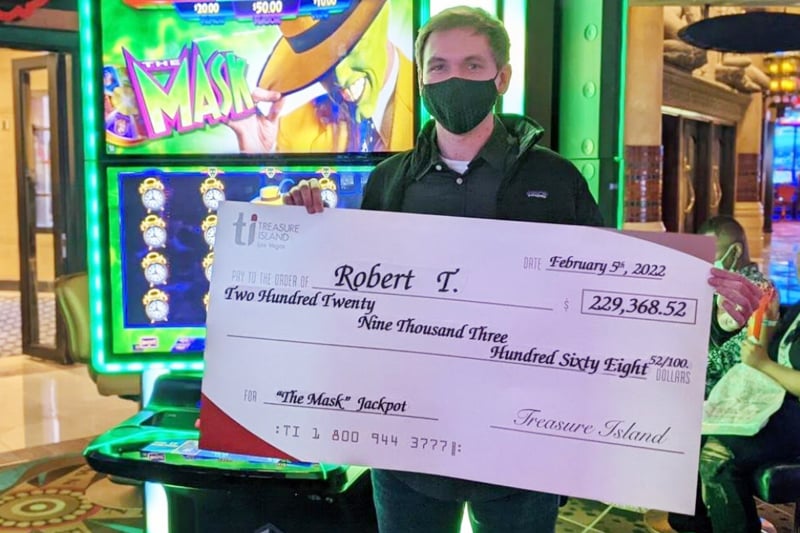 Update (2/16/22): This story was so intriguing, we decided to delve further into what happened.
We learned that on Jan. 8, 2022, Robert Taylor (the player identified later), was playing on a Mask machine for a short time when an error box popped on the screen. He was in the bonus cycle, and told the Las Vegas Sun, "It froze up multiple times, so I thought it was just malfunctioning. "I was in a bonus feature, and the wheel on the game just kept spinning. There was no indication that I had won anything at all, no bells or whistles."
Eventually, a note came up on the machine that said, "Resolving progressive prize, please wait."
All three of the slot machines on that progressive bank shut down when this occurred. These machines are linked to others in Nevada and New Jersey. Typically, when a progressive is won, the machines reset to $100,000, these didn't.
Technicians from the slot manufacturer, Everi, and Treasure Island, tried to figure out what happened but were unable to get the machine back online. These machines are newly-approved in the Nevada market and TI wasn't able to figure out what went wrong.
After a couple of days, on Jan. 10, they put it all together. It was verified that the jackpot had hit, and the technicians could see when the machine tried to communicate with the "command center" to get the current jackpot amount. That communication tripped an error code and locked down the machine.
Taylor and his family waited around following the glitch, but had dinner reservations at another casino and needed to leave. By then, he was informed the machine had malfunctioned and there was no jackpot. TI refunded his credit ($25) and added an additional $15 for the inconvenience. TI did not get his identity or have any way to contact him.
That's when the Gaming Control Board got involved and the search was on. As reported, Taylor learned of his jackpot on Jan. 28, 2022.
We've been told if regulators, TI and Everi had been unable to locate the player, the money would have been put back on the progressive meter for another lucky player to win.