The Exclusive Scoop on the Greatest Las Vegas Keepsake, Ever: Casino Felt T-Shirts
In the past, as visitors returned home from Las Vegas trips, there were certain things they just had to take home. Dice clocks. Shot glasses. Playing cards. Swizzle sticks. STDs. You know, classics.
There's a brand new novelty collectible that's about to crush them all, however: T-shirts made with felt from casino table games.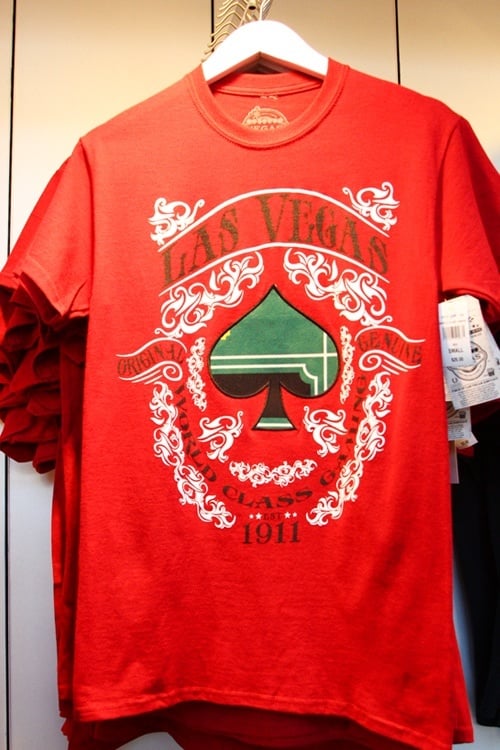 We first heard of this brilliant idea a couple of years ago when we bumped into the the creator of the T-shirts, Seth Debowy. He's the Owner and President of the Vegas Felt Company, but we would add a little something to that title: Flipping Genius.
Two years later, Debowy's dream has finally become a reality, and the shirts are popping up in places like the Sky Shop at The Linq.
We decided to find out more about these epic T-shirts straight from the source.
Vital Vegas: It's hard to express how much we love these shirts. Where did the idea come from?
Seth Debowy: Thanks, I am really proud of the first group of shirts. The idea came to me two years ago. I have always been interested in authentic collectibles of all kinds. When I found out that casinos discard table layouts after they get cigarette burns or stained or just worn out, I thought it would be really cool for people to be able to take a part of the gaming experience home with them. I liked the recycling aspect of the project, also. Like so many good ideas, it came to me in my garage while my wife Kristin and I were chatting about unrelated topics.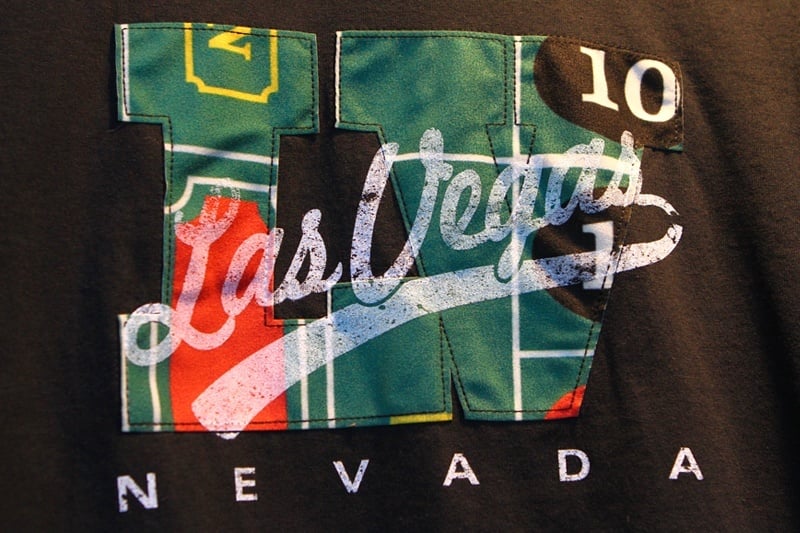 Vital Vegas: Two years! What took so long?
Seth Debowy: Since nothing like this has ever been done before on the retail market, every step was an industry first. Legal issues had to be addressed and contracts had to be drawn. During this time all the logistics had to be figured out step-by-step. I had no game plan to follow. It was really building the process from the ground up. All these things take time. The longest however was waiting for the legal contracts to be drawn.
Vital Vegas: What's your background? Have you ever done anything like these products before?
Seth Debowy: I would like to say "yes," but I have never done anything even remotely close to this before. My background is in radio and television. Before I moved to Vegas in 2007, I was the morning drive general talk show host out of Elmira Heights, New York. My show was called "Seth in the Morning." It was also broadcast on the local UPN television station in a half-hour show with the same name. The show was current events/call in and I had many politicians from local to national, authors, celebrities, and all other types of newsmakers. I had a large geographic audience that extended into central New York and Pennsylvania. One of the funny things was my show reached Cornell University so I had to keep my facts straight all the time. On a couple of occasions when I had a technical question I would toss it out to the audience and would have a professor from Cornell call with the answer. Before that I was in Buffalo radio, WGR and WBEN. At one point, I worked as an intern for the Howard Stern show at WWOR TV in Secaucus, New Jersey.
Vital Vegas: How many shirts were produced, using how many felts?
Seth Debowy: The current production was small due to the fact we had to introduce it to the market. In the current production run, only 576 shirts in the stores now were made. The size and shape of the cutouts determines how many felts are needed for the production.
Vital Vegas: What were some of the challenges of producing the shirts?
Seth Debowy: There were many, but mostly technical. In the very beginning, I had to sell the idea to many people without pictures or samples. Just the concept. I was lucky in that, at every step, those I talked to loved the idea and were interested in proceeding. Since these products are recycled, and collectible, and just cool, it appealed to a large group. There's nothing quite like this on the market now.
Vital Vegas: Are there four designs at the moment?
Seth Debowy: There are just four designs at the moment due to the small initial shipment. Of course, we already have many more items and designs ready to go in the future.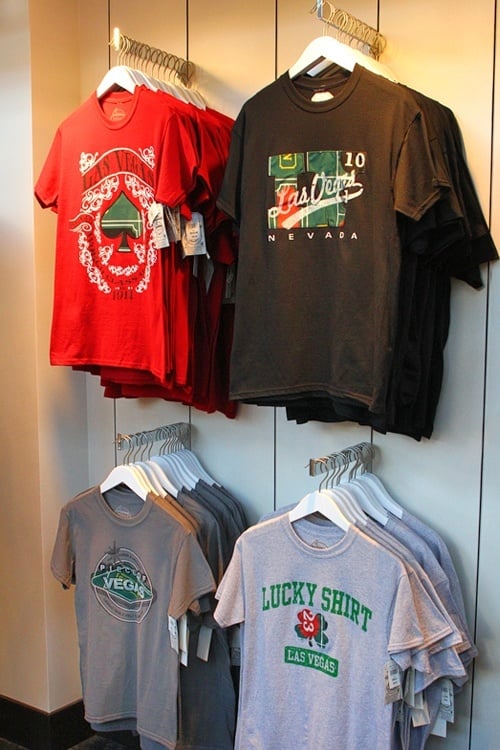 Vital Vegas: These are washable, right? Doesn't felt shrink? Any other special care instructions people should know?
Seth Debowy: The items are washable, with care instructions on the label. Nothing unusual. Wash in warm water, etc. Think of how many drinks and just general abuse the fabric gets while it is on the table. It is a lot stronger and durable than people think. We, of course, wash it before it gets put into production so the items are clean when sewn onto the shirts.
Vital Vegas: We looked for a craps felt, but only roulette felts are being used. Could you talk a little about that?
Seth Debowy: Sure, the retail department at Caesars Entertainment felt using the recognizable roulette pattern would be best for the initial shipment. All table games will be used in future items, so if you're a blackjack or craps or baccarat player, have no fear.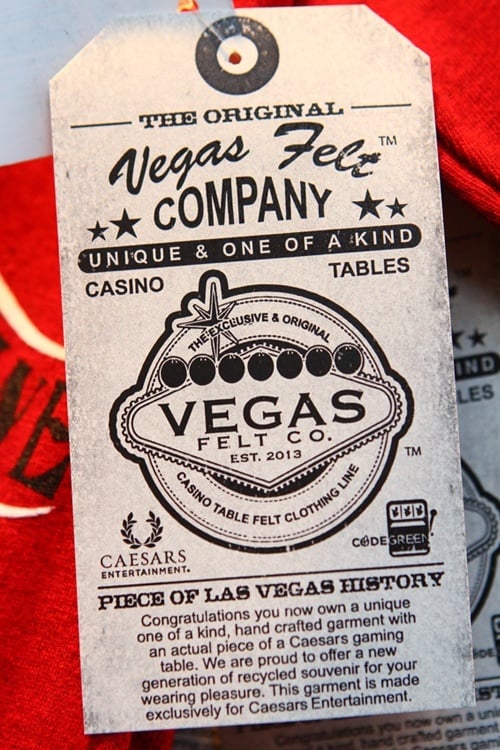 Vital Vegas: So, these are felts from actual Las Vegas casinos. Which ones?
Seth Debowy: This first shipment was from Caesars Palace. The future of this line will expand to many other casinos.
Vital Vegas: If the shirts become wildly popular, how will the supply of used felt layouts keep up?
Seth Debowy: First, let me say I hope it does become wildly popular. I have a stockpile of layouts in safe storage so we should be good for a while. The nature of the product puts us in the category of "limited edition" due to the fact it is not an unlimited amount of layouts, but we should be fine.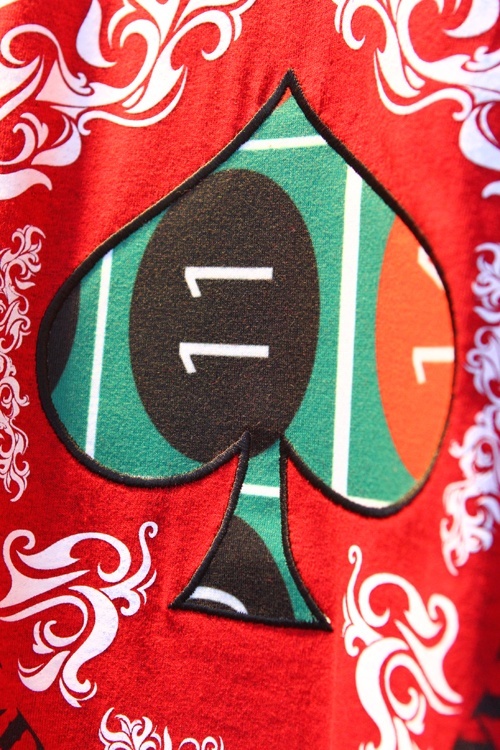 Vital Vegas: Where can people get them? Just in stores or online, too?
Seth Debowy: Right now, they are in the Sky Shop at the end of The Linq, in the Caesars Forum Store and at either of the Strip Store locations in Bally's and Flamingo.
Vital Vegas: The price is $25, which isn't much more than other shirts sold on The Strip that don't have felt in them. How is that possible?
Seth Debowy: It isn't. We actually lost money on this first shipment due to the fact that our production costs weren't really figured out until we produced the items. That's another reason you start with small shipments first. If you want one of these shirts, save some money and buy them now. Future prices will be slightly higher.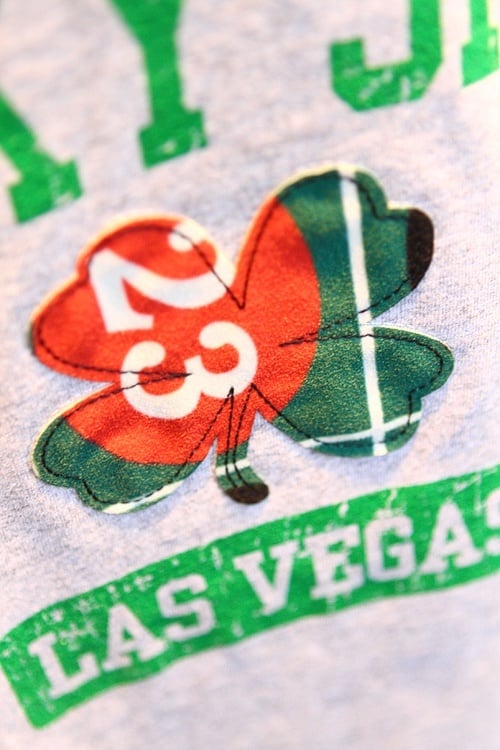 Vital Vegas: Any interesting stories about customer or store feedback? We hear people are looking for shirts with their lucky number or their favorite sports hero's number.
Seth Debowy: It was always part of the attraction of these items to find your lucky number or match the number with your favorite sports hero, etc. We have heard of people looking for specific important numbers and since all the items are one-of-a-kind, due to the cutting process, it has become an interesting side story. People have also brought back items for people back home because they're unique. Just think of all the people who slid those chips over the exact felt you can wear? Think of all the celebrities that touched it and all the stories shared over it. If only the felts could talk.
Vital Vegas: Anything else of interest people might like to know?
Seth Debowy: Just that no two items are exactly alike. In the future, we're expanding into other items besides clothing and there are some very exciting prospects are on the horizon.
Thanks to Seth for taking the time to chat with us about these fun new products. The bottom line is if you love Sin City and the feel of casino table game felt, these T-shirts are the single best Las Vegas invention since free cocktails.
And you can't wear a free cocktail on your flight back home. Because that would be weird.