Downtown Grand's Marketing Takes a Shocking New Direction
Amidst lukewarm reviews during its soft opening, the Downtown Grand Las Vegas Hotel & Casino has gone in a decidedly surprising direction with its marketing.
Note the recent change to the massive billboard on one of Downtown Grand's hotel towers.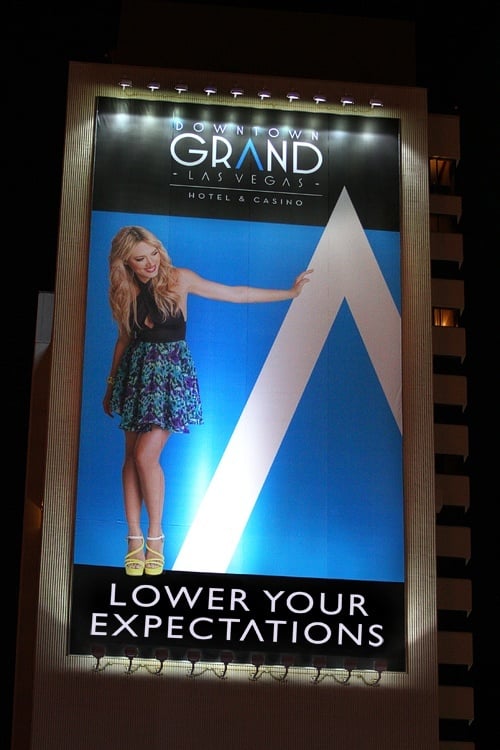 An executive with the newly-opened hotel states, "Here at Downtown Grand, we're all about keeping it real, and we feel there's a substantial benefit to people lowering the bar a little. Or a lot, if they're so inclined."
Downtown Grand decided to go with a more audacious, forthright approach to its marketing strategy after some underwhelmed customers expressed concerns over the casino's less-than-desirable odds, disappointing food at its Stewart + Ogden restaurant, so-so specialty cocktails, a poorly thought-out sports bar and, perhaps most damning, a relocated Mob Bar with dueling pianos and no video poker.

The Downtown Grand executive was quick to point out, "If customers compare us to resorts on the Las Vegas Strip, they may experience a certain degree of disappointment. We don't have gondolas or contortionists or a beam of light you can see from the surface of Uranus. We don't have cocktail waitresses in sexy outfits. But we like their matronly shorts, and we're standing by them."
"We're asking our customers not to compare us to The Strip," says the hotel official, "but rather to other downtown hotels. Not the good ones, of course. Compare us to the Las Vegas Club. Because if you do, we're the freaking Bellagio."
Downtown Grand officially opens Nov. 12, 2013.