Downtown Grand Offers "Rebate" of $1,000 in Slot Losses
Downtown Grand appears to be getting serious about making its floundering casino a success. The casino is offering to "rebate" up to $1,000 in slot losses.
The shiny new promotion at Downtown Grand is similar to other rebate offers, including previous reimbursement programs at the now-closed Riviera and the Palms. Other Vegas casinos have also offered rebates as well, for smaller amounts, including The Trop and Cosmo.
The Downtown Grand $1,000 rebate offer is so new, they don't even have the brochures printed up yet. But they do have these signs dangling from slot machines throughout the casino.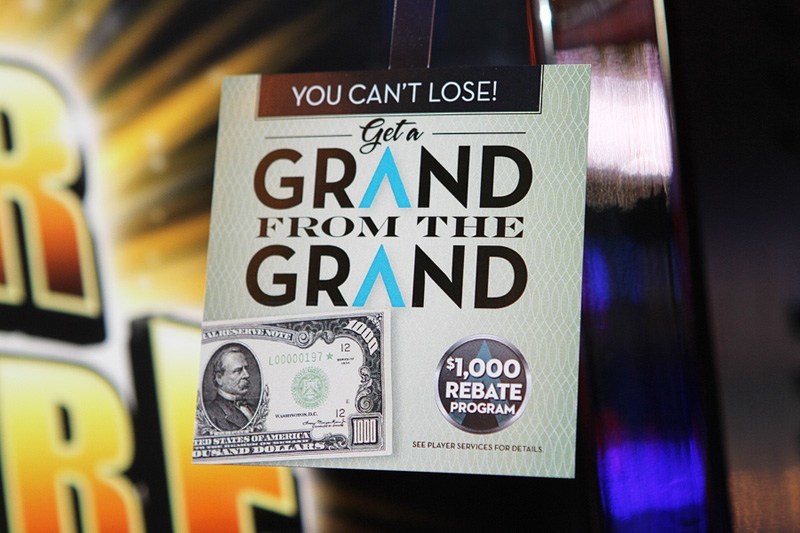 The sign above is significant in that: 1) you can lose, actually, 2) you don't actually get a grand from the Grand, and 3) it's not a rebate, per se. But other than that, it's on point.
Here's the way it works.
The promotion is for new loyalty club sign-ups only. Hey, everything in Vegas has small print!
The offer covers losses up to $1,000 within the first 24 hours of signing up for the loyalty club. By "covers," though, we don't mean you get your losses back. You do, however, get free slot play equivalent to what you lost. Except you don't get your "rebate" all at once.
If you live in Las Vegas, you get half the value of your losses right away, then 25% a week later (the Monday following your membership sign-up), and the remaining 25% a week after that (again, the following Monday).
If you don't live in Vegas, they change up the payback schedule a bit. You still get your 50% in play right away, but the window to get the rest of your play is three months.
The idea here is Downtown Grand wants you to visit again, preferably multiple times, as all casinos do. Staggering your "rebate" gets you back in the casino.
As long as you know what you're in for, this is a perfectly good way to see some additional play for your investment.
The ideal scenario, of course, is to win, which means you get to bypass the rebate process altogether. Win big enough and you can buy the Downtown Grand outright and you get to make up the promotions.
Stranger things have happened in Las Vegas. Some of them in our pants.
Thanks to our friends at Las Vegas Advisor for the tip about this new promotion. The Downtown Grand's $1,000 rebate promotion will run through the end of 2015.