Confirmed: Wahlburgers Coming to Mandalay Bay
If you follow this blog closely—and you should because we'll help you win lots of bar bets—this news isn't particularly new. Sorry, not sorry.
Back in January, we shared exclusively Burger Bar would close at Mandalay Bay and would be replaced with Wahlburgers Burger Restaurant.
That's been confirmed.

The restaurant opens "late March 2023." Actually, it's already late March, so we have to assume Wahlburgers will look a lot like the former Burger Bar, just without the atrocious service, hopefully. More on that in a minute.
Wahlburgers, of course, comes from brothers Mark Wahlberg (former rapper and movie star), Donnie Wahlberg (a New Kid on the Block) and Paul Wahlberg (the chef).
This is the second Wahlburgers in Las Vegas. The other seems to be doing solid business, despite its challenging location in the Grand Bazaar Shops at Horseshoe. Here's our review.
The Grand Bazaar Shops location opened in 2016.

While the burgers aren't going to win any awards (especially given the number of extraordinary burgers in Las Vegas), they're reliably good and Wahlburgers will definitely be better than the most recent version of Burger Bar.
Yes, there's more to the story. It's Las Vegas, there's always more to the story.
Originally, Burger Bar was a big hit. That was when it was run by chef Hubert Keller.
Lease negotiations got heated, and the rumor is MGM Resorts kicked Keller to the curb (in Jan. 2021) and took over management of the restaurant. Disastrous.
During our most recent visit, we sat the bar, where service tends to be faster, and after at least 15 minutes we hadn't been greeted or acknowledged by staff, never mind being able to put in our order. Customers on both sides of us at the bar were regaling others guests with how what they ordered had been screwed up, never a good sign.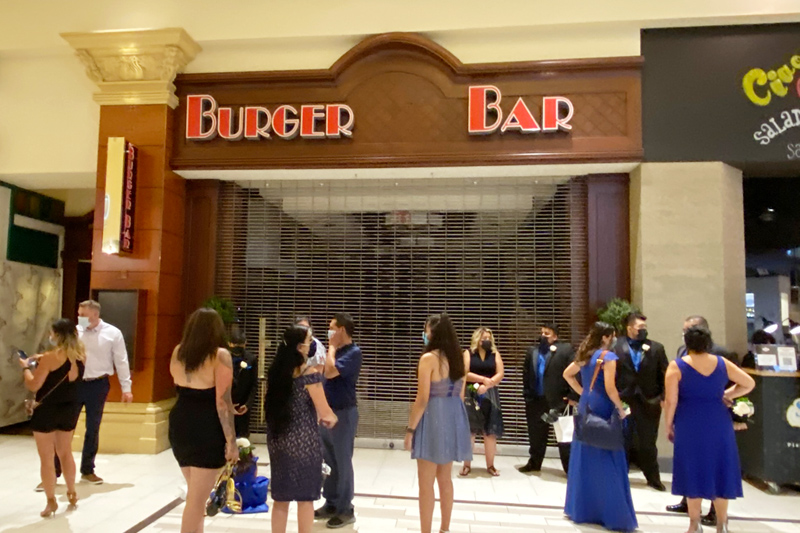 So, the hope is Wahlburgers will be a step in a better direction, and we can only pray the restaurant won't be managed by MGM Resorts.
This is fairly common with celebrity-branded restaurants, and it's not always a bad outcome. All the Gordon Ramsay, Guy Fieri and Giada De Laurentiis restaurants in Caesars Entertainment hotels are operated by Caesars Entertainment's food and beverage team, and they tend to do a great job.
The celebrities are obligated to show up for photo ops occasionally, and that's about the extent of their involvement, other than collecting licensing fees. We trust that will be the case with Wahlburgers, too, but hopefully the star power will inspire greater scrutiny and more hands-on management.
You never get a second chance to make a first impression.
Unless we're really drunk, then you get another chance, but that's it.
Co-owner Mark Wahlberg recently relocated to Las Vegas, so maybe he'll pop in more often to check up on the place. Watch for his Vegas-filmed movie, "The Family Plan" coming to Apple TV at some point. Other Las Vegas news outlets will breeze by Mark Wahlberg's controversy at the SAG Awards, but we are not other Las Vegas news outlets. Everyone's got skeletons in their closet (Wahlberg was a teen when he committed his crimes, he's now 51), the hope is people can learn from their mistakes and try to make amends. It's nuanced, so we delve into it further as we have already been canceled 12 times this week.

Here's more about Wahlburgers, coming to The Shoppes at Mandalay Place: "The centerpiece of the mouthwatering menu, which is inspired by the family's recipes, is the selection of Chef Paul's signature burgers. The 'Our Burger' is made with a 1/3-pound beef burger patty, 'government cheese' (a tongue-in-cheek name for their premium American cheese), lettuce, tomato, onion, pickles and Paul's housemade Wahl Sauce; As a nod to their hometown, "The O.F.D." (Originally From 'Dorchestah') is stacked with two burger patties, Swiss cheese, bacon, sauteed mushrooms and tomato jam. And for the consumer seeking a plant-based option, there's the Impossible burger (Mark's favorite) with smoked cheddar, lettuce, caramelized onions, housemade chili spiced tomatoes and Wahl Sauce."
First, it's a sad time in America when you have to explain that "government cheese" is tongue-in-cheek. Second, government cheese was a thing in the Reagan era, which means most people younger than 40 have no idea what they're talking about. Anyway, we appreciate irreverence in any form in news releases, so kudos to Wahlburgers.
Wahlburgers at Mandalay Bay will take up a hefty 5,000-square-feet and will accommodate 150 guests. The bar remains and there will be ample TVs, because it's the law.
While we may have ruined the surprise a little, we're appreciative our scoop was officially confirmed and we can't wait to sink our teeth into this new offering at Mandalay Place.
The pizza place next door is tasty, but sometimes, you just need a burger, tots and some Socialism cheese. (Note: This joke was intended to be tongue-in-cheek. Also, we're all doomed.)