Bellagio Grandstand Plans for F1 Are an Abomination
The degree to which Las Vegas is willing to bend over (including backwards) for a car race seems limitless.
Need proof?
Check out this abomination. MGM Resorts plans to build a grandstand atop Bellagio's iconic lake for F1's Las Vegas Grand Prix. Gird your Dramamine.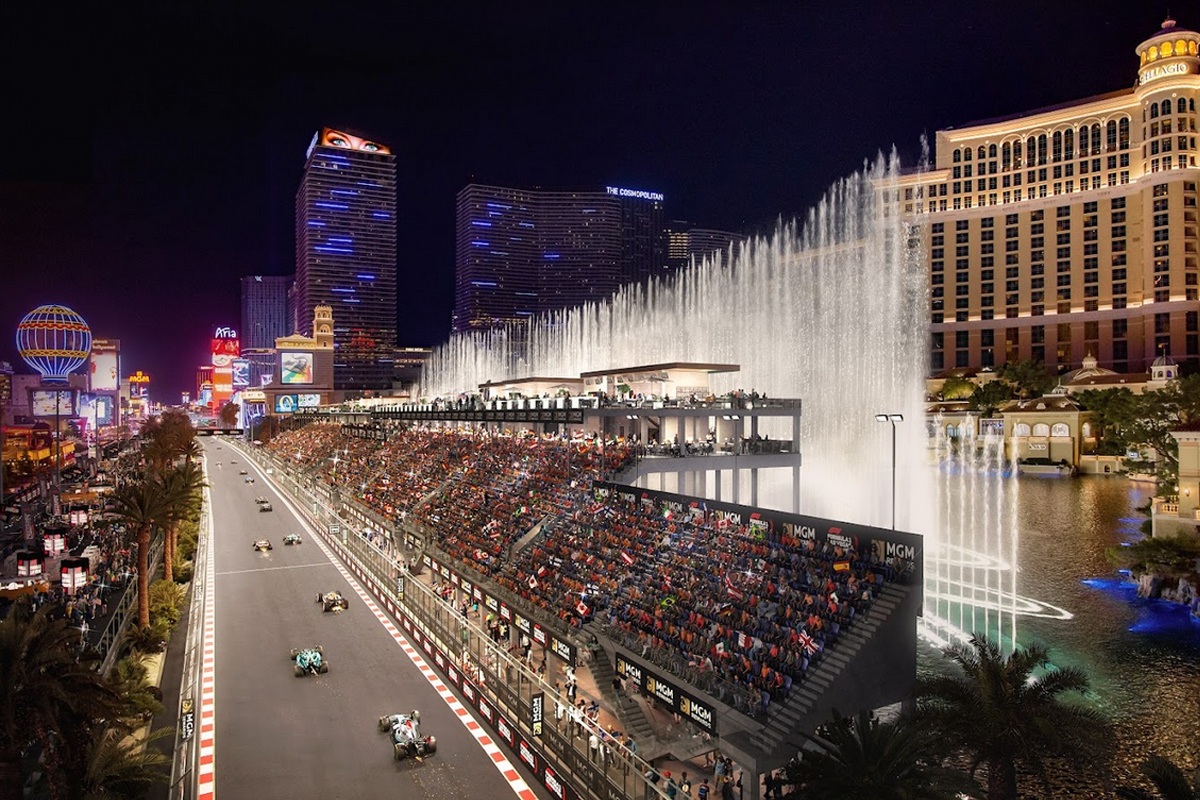 Seriously, WTF is going on? It's like that idiot who threw cake at Mona Lisa.
Are casinos so enamored by the financial windfall of F1 they're willing to desecrate a beloved attraction, the Bellagio fountains, that's been photographed by millions of tourists for decades and inspired millions more to visit Sin City?
It's a rhetorical question, of course, because that's a hard yep.
Casinos are also the same folks who put costumes or sports uniforms on statues, ruining photo ops for additional millions of people, apparently oblivious to the fact most visitors to Las Vegas couldn't give a rat's ass if the Raiders or Golden Knights are playing, or if a new pastry shop is opening.
Stop putting clothing on statues. Even if it's pastry-related. (h/t @JamesInLasVegas) pic.twitter.com/cEfYa4j9cd

— Vital Vegas (@VitalVegas) October 24, 2022
No dressing up statues, ever. It should be a law.
Adding to the sheer stupidity of this eye-assaulting grandstand idea is the fact it doesn't benefit Bellagio as the stands are facing the other way, toward Paris and Planet Hollywood and Bally's/Horseshoe, all owned by Caesars Entertainment, a competitor.
And don't get us started about the fact Bellagio hotel guests won't be able to see the race from their rooms (it will be obscured by the grandstand), presumably one of the reasons they'll be paying an ungodly premium for a room at that time.
Who signed off on this at MGM Resorts? No government official had a moment of hesitation about approving this monstrosity?
Nevermind the fact the construction of the grandstand and the Las Vegas Grand Prix are going to cause weeks of traffic and other disruptions on the Las Vegas Strip.
"Screw you, casino employees!" everyone involved seems to be saying.
Beyond that, they're also saying, "Screw everyone who doesn't care about auto racing." News flash: The vast majority of people do not care about auto racing.
Compounding this travesty is the fact the race isn't until Nov. 2023, a year away.
We've blocked the terms "F1" and "Formula One" and "Formula 1" on Twitter, but we can't make it stop. It's going to be another year of this nonsense.
Yes, casinos are going to make bank from F1. One three-day Bellagio grandstand ticket, for example, is going for $2,827. Oh, and you'll have to wait to buy a ticket, too.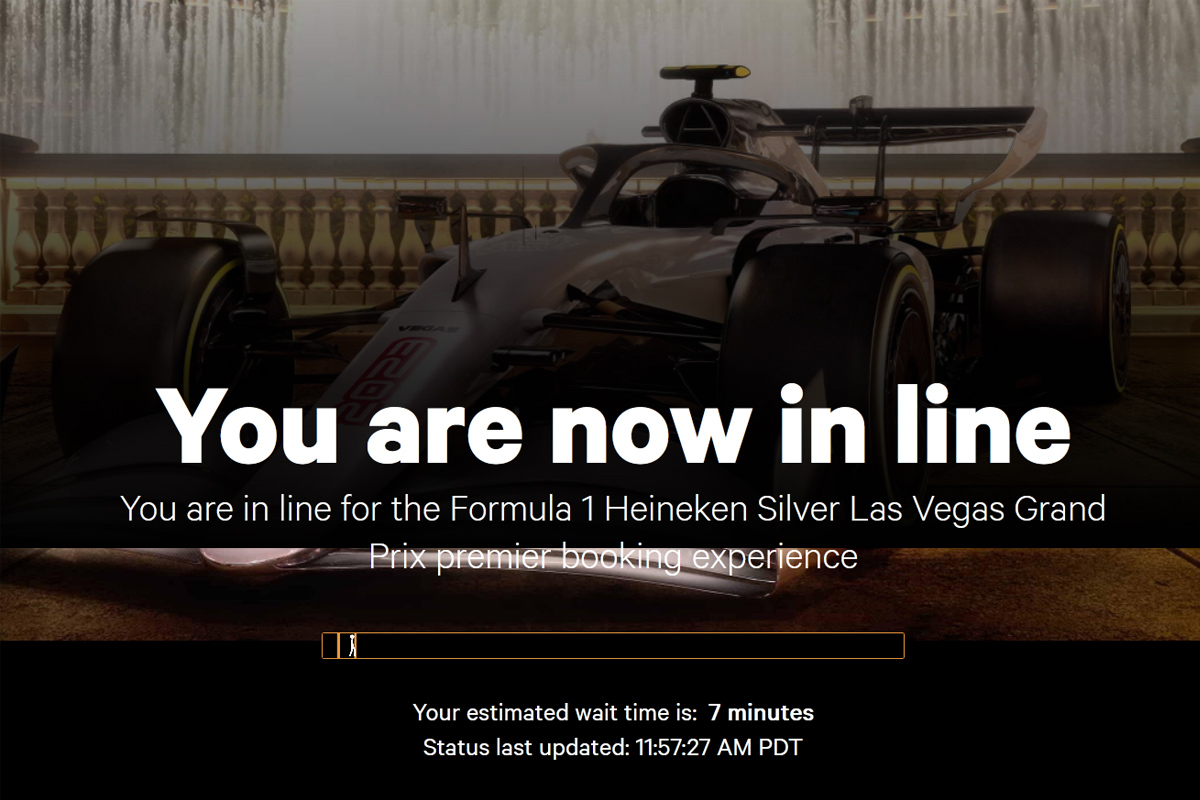 That price doesn't include a room, of course.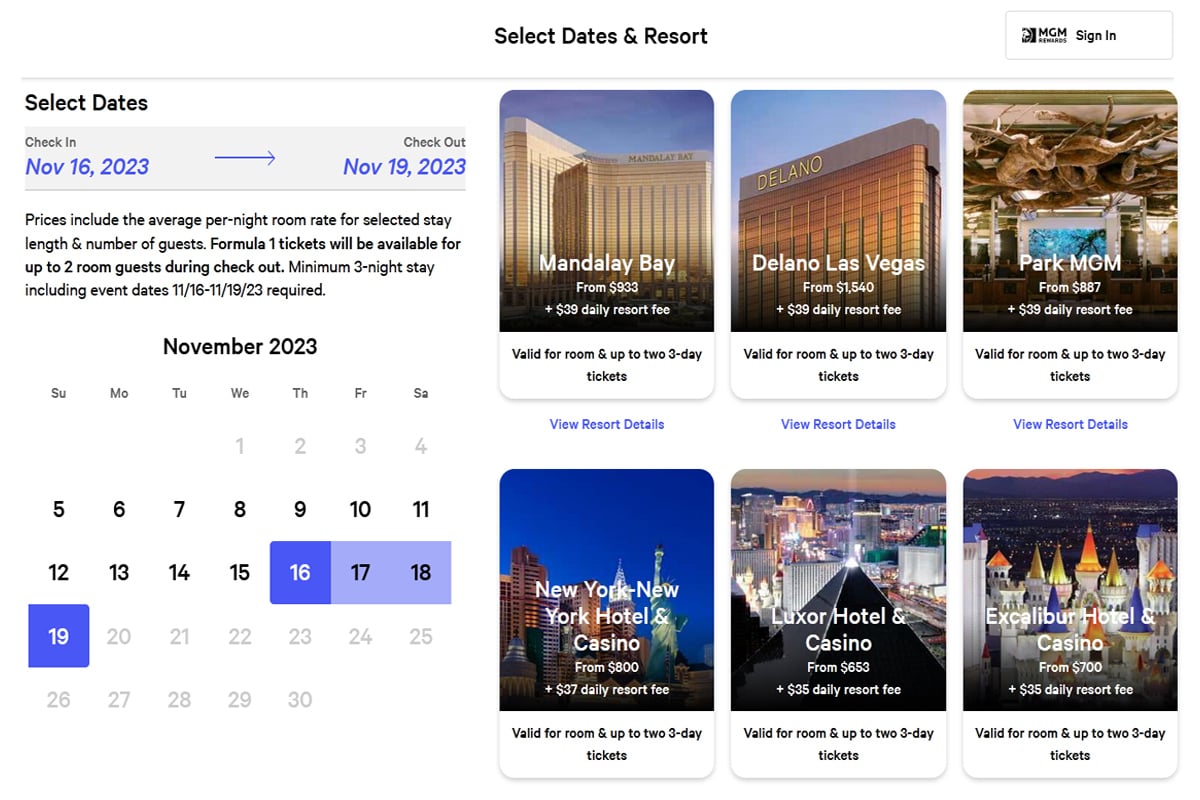 Here's the thing. Who cares how much money casinos make? We are not a casino. We want to visit the Strip without waiting 45 minutes to move a block while a grandstand is being built or a road is being resurfaced.
We want to watch the Bellagio fountains like Rusty and Linus and Saul and the rest of the "Ocean's Eleven" crew did after their heist.
We want to not have a sport consume the whole town like it's a royal funeral or something. (By the way, royal funerals don't block the view of Buckingham Palace or Big Ben. Just saying.)
We want Las Vegas to come to its senses. The damage to Las Vegas isn't temporary, it's longterm. People want a photo or video of the fountains, not photos of a grandstand, especially one they can't afford to sit in.
F1 is acting like bands who play in restaurants and bars. They feel like they should be the center of attention, while ruining the vibe for everyone in the venue. Music should be in the background, as should F1.
Having F1 in Vegas is fine until it encroaches on the Vegas experience. The Bellagio grandstand is going to take a steaming fecal discharge on it.
An F1 takeover should be happening at the Speedway, not on The Strip. A grandstand should be anywhere but there. How are all the casinos in the neighborhood onboard with this lunacy?
Some days, we feel like we need more faces and more palms.
Want to explore more stories? Read about US gambling here:
You can also learn about online gambling in Canada here: