Austin "Chumlee" Russell Arrested for Drugs, Guns and a Metric Ass-Ton of WTF
In a world with a seemingly boundless supply of suck, the arrest and fall from grace of beloved "Pawn Stars" goofball Austin "Chumlee" Russell ranks right up there with resort fees, paid parking and running out of Captain Morgan.
Chumlee was nailed for felony weapon and drug charges on March 9, 2016 when police showed up at his home following a sexual assault allegation.
In all, Chumlee was charged with 20 felony counts, although he's not been charged with sexual assault yet. Bright side!

The list of items seized by police is impressive and sad: A bag with 4.4 grams marijuana, two jars of marijuana (8.2 grams and 2.8 grams), a Ziploc bag with a quarter pound of marijuana, 17 Xanax bars (also called "Zanies"), and seven capsules of methamphetamine powder.
It all seems pretty harmless, except what's not being too widely reported is the fact police found "tin paper containing brown oily substance/residue." Dude, that's heroin. There was also a "baggie with white residue," or cocaine.
Read the horrible and wildly entertaining arrest report here.
As if that weren't bad enough, the police report says "It should also be noted that the amount of narcotics, narcotics paraphernalia and narcotics-related items found throughout the residence suggests [Russell] openly allows and participates in the unlawful use and possession of narcotics. Many of these items are commonly found with persons who package and sell controlled substances, i.e., plastic baggies and digital scales."
So, yeah, they think he's also a drug dealer.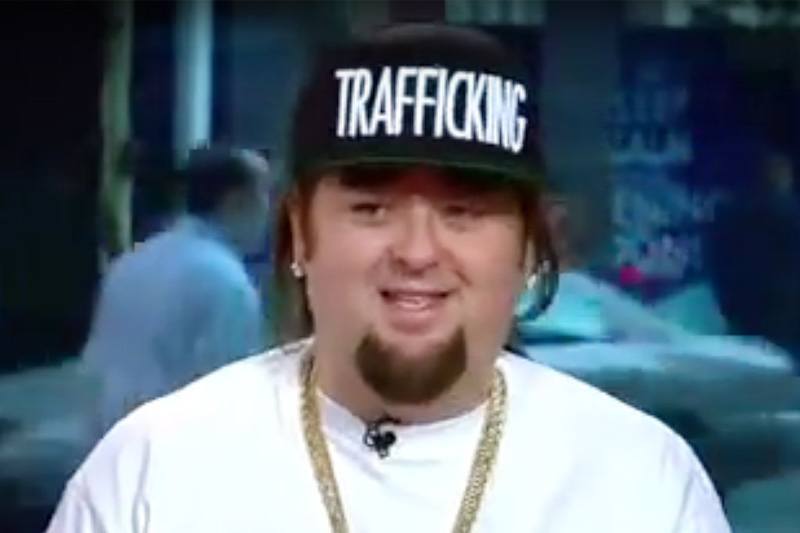 Among the other revelations resulting from the police search of Chumlee's house was a "Chum Chum room with dance pole."
Chumlee's castmates have issued curt statements of support, and the networks which air "Pawn Stars" have kept mum following Chumlee's arrest.
Chumlee is currently out on $62,000 bail. The court wanted bail set at $90,000, but Rick Harrison talked them down. Kidding.
This whole drama is bittersweet for fans of "Pawn Stars," including this Las Vegas blog. We've met Chumlee on several occasions, and he's always seemed to be a likable goofball, pretty much as depicted on the show.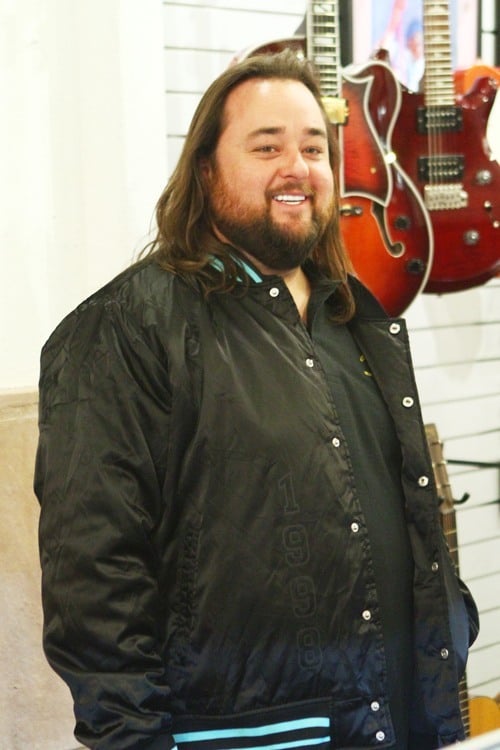 Ultimately, Chumlee is just an average guy, thrust into the limelight because of a twist of fate. Who ever imagined a reality show about a pawn shop would break ratings records and draw thousands of tourist to a seedy part of downtown Las Vegas to visit the World Famous Gold & Silver Pawn Shop? (That was its name before it became famous, by the way.)
Chumlee has acquired more wealth than he ever imagined having. Combine that with a degree of celebrity, as well as all the temptations available in Sin City, and Chumlee's fall feels inevitable.
The reality is that even if he doesn't serve jail time, and that's a big "if," it's likely we'll never see him on "Pawn Stars" again, other than in reruns. The smooth move, of course, would be for Chumlee's drama to be integrated into "Pawn Stars." The show is only marginally a "reality" show at this point. The show is heavily scripted and isn't even taped in the actual pawn shop (there's a duplicate of it built elsewhere on the site, closed to the public, used for taping). The world has a lot of affection for Chumlee, and his story could revitalize the show. Just saying.
Of course, if Chumlee is charged with, or convicted of, sexual assault (or worse, rape), all bets are off. The most he'll ever be able to do is perform a one-man show at a major Las Vegas resort. Ahem.
It's unknown what this incident will do to the "Pawn Stars" brand. Ironic given the sketchy reputation of pawn shops before the show gave the industry a boost in the public consciousness.
We sincerely wish Austin "Chumlee" Russell the best as he navigates these serious allegations.
In the meantime, we're definitely not going to refrain from sharing this excerpt from our podcast.