Amorino at Linq Promenade is Destination Gelato
Linq Promenade has had a recent string of successes with openings including In-N-Out and Gordon Ramsay's Fish & Chips. A new gelato shop, Amorino, could end up stealing the spotlight, though, especially when summer rolls around.

Amorino is a gelato brand already familiar to Europeans, and now the delicious Italian ice cream has made its way to the Las Vegas Strip. (There's another location at the Las Vegas North Premium Outlets, but this one's better because, well, The Strip.)
Amorino replaces a failed gift shop, Koto, adjacent to Chayo Mexican Kitchen.
Guests will immediately notice Amorino's signature offering, cones with gelato scooped to resemble flowers.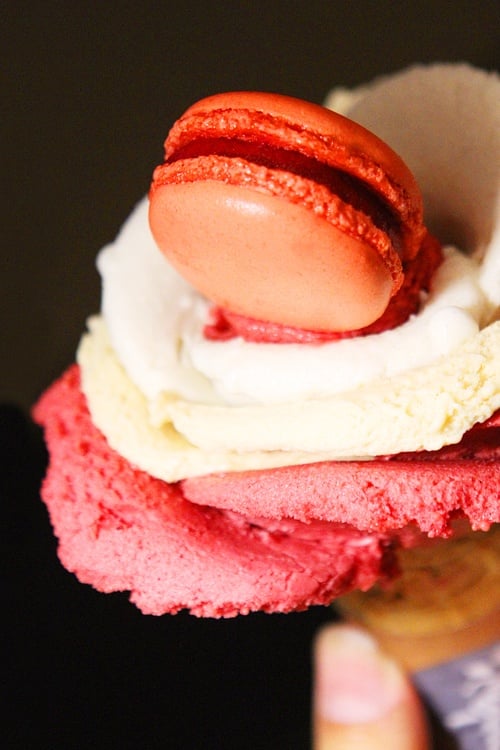 Thank you, tourists, for letting us take photos of your gelato flowers, which definitely sounds dirtier than it is.
Amorino also offers a wide variety of gelato-filled macarons, sweet, meringue-based confections that definitely aren't the same as macaroons. Thanks, Wikipedia.

Amorino's gelato comes in a dizzying variety of flavors, including our personal favorite, stracciatella.
Fair warning: Strip pricing is in full effect at Amorino. A small cone will run you $5.50, the large ("Classic") will set you back $8.50. Gelato is also available in cups, running from small ($5.50) to the Maxi ($14.00). It's great gelato, so it only stings for a minute.

The "Macarons al Gelato" are $2.50, but you can save a couple of bucks if you get them in bulk. Twelve cost $28.50, 24 cost $56.
Also available in the 1,500-square-foot shop are several items we didn't pay nearly as much attention to as the gelato, like specialty coffee, crepes, waffles, hot cocoa and chocolates.

The world of frosty treats center-Strip has been in turmoil of late, with our favorite ice cream place, Ice Pan, closing at Harrah's. Amorino is worthy successor, so be sure to put your tongue on it. Unless that makes you feel uncomfortable, then definitely do it. You're in Las Vegas.
Amorino Gelato at Linq Promenade