Las Vegas Chick-fil-A Restaurants Are a Monster Success
It's been just a couple of weeks since two Chick-fil-A locations opened in Las Vegas and both joints are, as predicted, enjoying a mind-boggling level of success.
The two restaurants have been at virtually maximum capacity since opening on Jan. 26, 2017. According to a law enforcement official, one Chick-fil-A location (9925 S. Eastern Ave., Henderson) served a staggering 70,000 customers in its first four days of operation.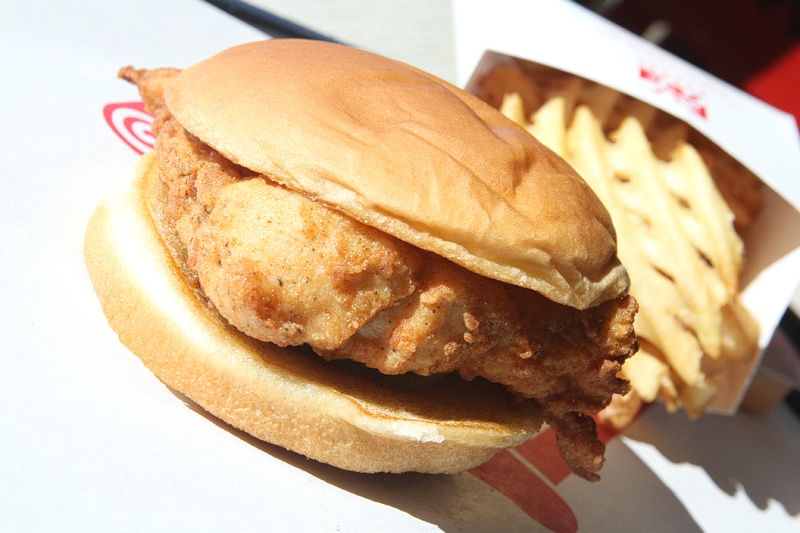 The massive demand for the best chicken sandwiches on Earth has led to some impromptu measures on the part of management. Numerous Henderson police officers have been brought on (with Chick-fil-A picking up the tab, of course) to redirect an influx of vehicular traffic.
Why all the cars? About 60% of Chick-fil-A's business happens in the drive-through.
Below is a bird's eye view of one Chick-fil-A location. The line of cars waiting for drive-through snakes out of Chick-fil-A, down an access ramp, down the street, around a corner and along the back of a nearby Lowe's. It's a jaw-dropper!

While lines are long, service times remain surprisingly short. (We haven't tried it yet, but the Chick-fil-A app is said to help cut wait times.)
A quick flight over the Eastern location shows both the drive-through line and a crowd gathering
outside the restaurant. Those dining in can expect a wait of about 15 minutes. It's longer for
drive-through (Chick-fil-A's goal for drive-through service is three minutes per car or less), so
park and dine inside (or take your meal to go).
Chick-fil-A has service down pat. Employees work the line with tablets, sending orders wirelessly
to the kitchen. This advance ordering system means once a guest pays, the order is already in the works or even done by the time payment is made. So, don't be discouraged if you see a line.
Chick-fil-A has got this.
As we've said all along, there's a lot of pent-up demand for Chick-fil-A in Las Vegas, and it's likely the long lines and extremely high demand will mellow out with time, especially as other locations open.
A key location appears to be progressing quickly, so we stopped by there, too.
The next Chick-fil-A will be at the corner of Sahara and S. Rancho Drive, right across the street from Palace Station.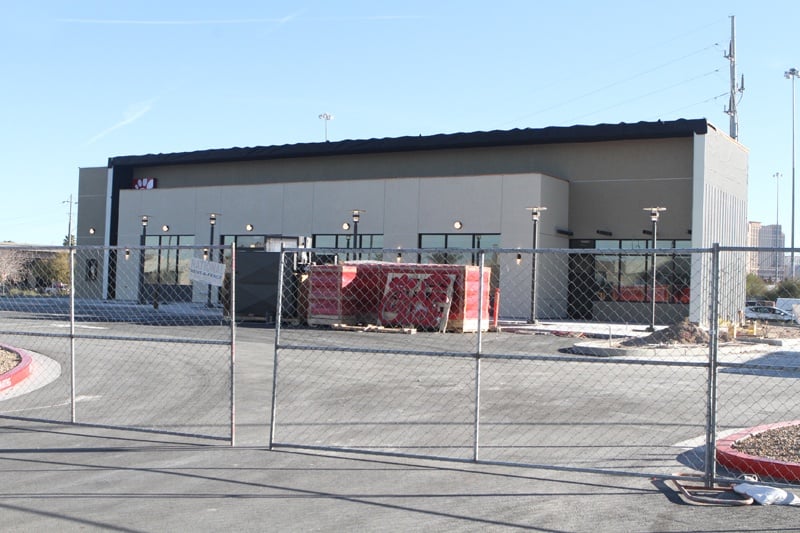 We got a look at some external signage awaiting installation.

As our love for Chick-fil-A knows no bounds, we couldn't resist getting a better look at the new
location.
After multiple Chick-fil-A visits since the Las Vegas locations opened, we've yet to have a
disappointing experience. You'd expect employees to be frustrated with the crush of customers, but they are universally friendly and cheerful.
The food is consistently hot and fresh, and there's no sign resources or supplies are under
any strain.
We'll be checking back often at Chick-fil-A, you know, for blog research. If you're hungry for some insider skinny about Chick-fil-A, check out our interview with a Chick-fil-A franchise owner on the Vital Vegas Podcast.