Yankees Stun Indians in Game 5, World Series Odds Move in Dodgers' Favor
Posted on: October 12, 2017, 01:00h.
Last updated on: October 12, 2017, 11:58h.
The World Series odds of the Cleveland Indians returning to the Fall Classic for the second straight year were quite strong heading into the American League Division Series (ALDS).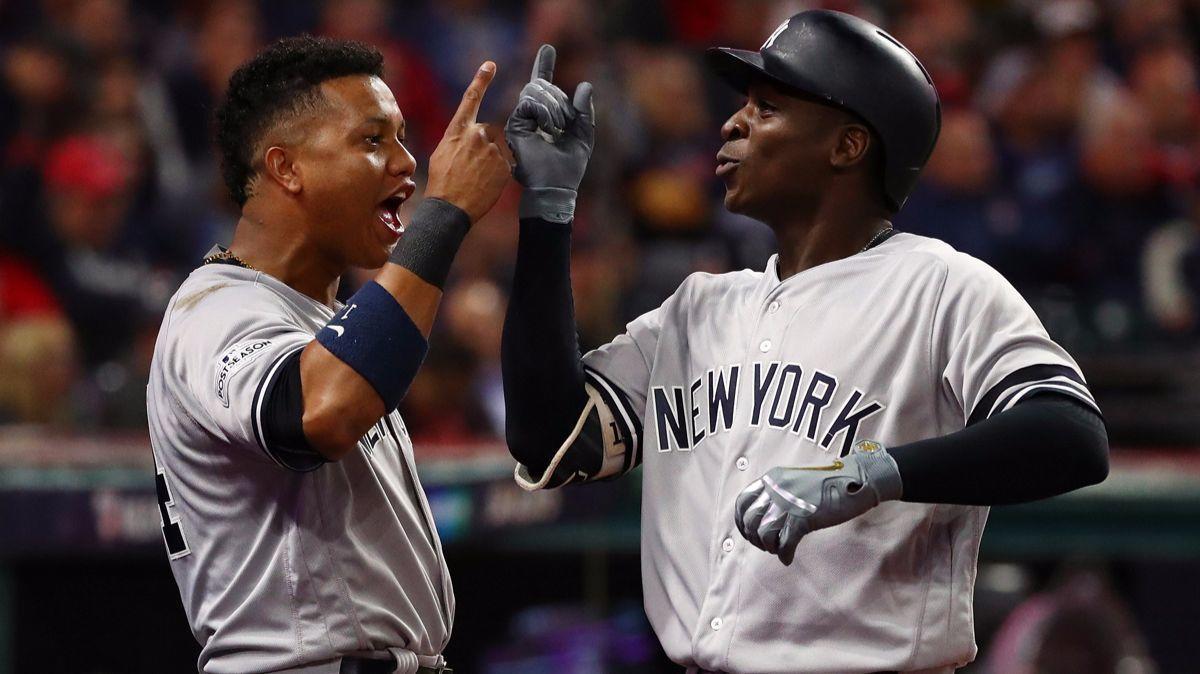 They only shortened after the Tribe went up 2-0 on the New York Yankees, but anything can happen in the MLB Playoffs, and the unthinkable did.
Call them the Baby Bombers, but the so-called rebuilding Yanks grew up quickly, overcoming a seemingly insurmountable hole against the defending AL pennant holders. At online sportsbook Bovada, the Bronx pinstripes have seen their odds of winning the World Series shrink from +1000 in early October, to just +375.
The Los Angeles Dodgers, owners of the best regular season record at 104-58, made quick work of the Arizona Diamondbacks in the National League Division Series. They remain the World Series favorite, and with Cleveland eliminated, which had the second-best regular season record at 102-60, the Dodgers' odds of winning their first title since 1988 is becoming a bet with a smaller winning return.
Bovada has Los Angeles at just +195 to win the World Series. The Houston Astros, which now get the Yankees in a best of seven, are next at +225. The Washington Nationals (+700) and defending champion Chicago Cubs (+750) face off in a series-deciding game five tonight in the nation's capital.
Game 5 Drama
The Indians and Yankees provided plenty of entertainment during their game five winner-takes-all showdown. Baseball fans get another one tonight in DC.
The Nats forced a game five with a 5-0 win yesterday afternoon in Wrigley, with ace Stephen Strasburg throwing seven complete innings, striking out a dozen on just three hits.
Oddsmakers feel it's even money as to which team will prevail. Sportsbooks have the lines at around -110 on both the Cubs and Nationals. That gives each team about a 53 percent chance of winning. A $100 bet nets $90 and change.
Chicago will send Kyle Hendricks to the mound, who was the winning pitcher in game one. Nationals manager Dusty Baker hasn't decided who will get the start, saying he would make up his mind later today after evaluating his rotation.
Cleveland Misery
Few fans could have saw this coming. From August 24 through September 15, the Indians set a new American League record by winning 22 straight games. They won 100 games for only the third time in franchise history, and held home field advantage throughout the AL playoffs.
They were led by ace Corey Kluber, the likely 2017 AL Cy Young winner who went 18-4 on the season with a 2.25 ERA. But in his two starts in the ALDS, he pitched just over six innings, giving up nine total earned runs on a 20.25 ERA.
"Nobody wanted the season to be over," Indians manager Terry Francona said after the upset. "It doesn't wind down, it comes to a crashing halt."